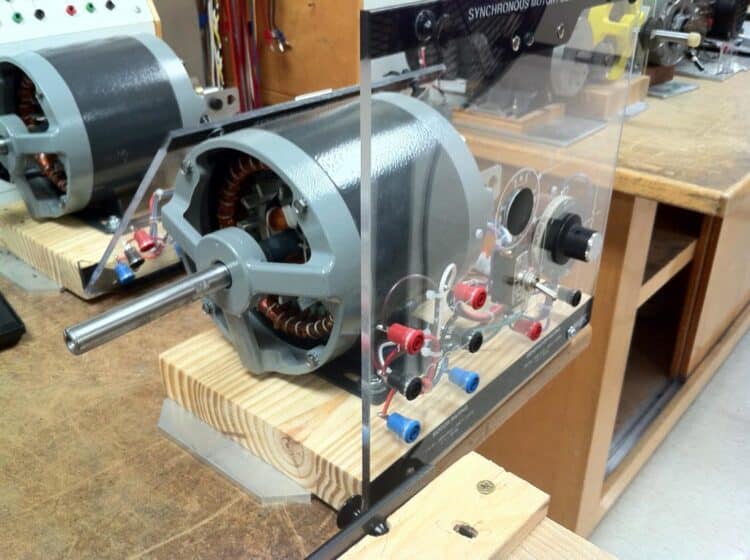 You need to know the differences between a portable vs standby generator. For the sole reason of preparing before power interruptions occur. The stationary and portable units of the generator can provide you power in cases of a power outage.
The stationary and portable units may have advantages and disadvantages among each other. The pros and cons of a generator will help you determine what type of generator will suit your needs.
How does a generator generate electricity?
It is one of the most important things to know how a generator generates electricity. The knowledge will help every user understand its capabilities and how it works.
Generators do not generate electricity themselves. Instead, they convert mechanical or chemical energy into electrical energy to create electricity. Electromagnetic induction influences the process mentioned.
An electromagnetic coil or a coil wrapped around a metal core rotates. The rapid movement of the coil produces electrons in the magnetic field. These electrons then carry the electricity through a metal wire.
The flow of electrons in the metal wire is now the electric energy. It enables generators to supply electric energy in case of power interruptions.
Generally, generators are electrical motors that are working in reverse.
These generators help protect you and your family by ensuring adequate electric supply.
Generators also help in coping with problems relating to water and food supply. The lack of electricity affects the food and water supply. But the generators will provide you with it.
One example of the outage of power supply affecting the food supply is that you can not cook. When using an electric stove, it won't turn on without a power supply. Thus, it affects the food supply.
The power outage can also affect the water supply. The water pump that makes the water flow into your home can not do its job because of the power outage.
The same with your electric stove, a water pump would also not function if there is no electricity supply. Thus, there will be no water flowing into your faucets.
Practical Uses of a Generator
Emergencies
Power Outages
Standby Power for Business
Camping
Construction
Mining
Agriculture and Ranching
Night Working
Fairs and Carnivals
Main Parts of a Generator
To be able to produce electricity, a generator consists of the following:
Engine – The main source of input of mechanical energy. The greater the size of the generator's engine, the larger power it can supply.
Alternator – The part that produces the electrical energy that comes from the engine. It is also called the "genhead".
Fuel System – Usually has enough capability of keeping the generator working for 6 to 8 hours.
Voltage Regulator – This part of the generator controls the output voltage a generator.
Cooling & Exhaust System – This part of the generator helps in the cooling and ventilation. The continuous use of the generator can damage it without the cooling and exhaust system .
Lubricating System – This part of the generator ensures that the generator can last for a long time. It takes care of the durability and smooth operation of the inside of a generation for a long period of time.
Battery Charger – This part of the generator is where you will plug its charger. The battery charger keeps the battery of the generator charged. The battery needs to be working to enable it to turn on the generator.
Control Panel – The user interface of a generator that contains the controls of the generator.
What is the difference between a portable vs standby generator?
You may wonder what are the pros and cons of using a portable generator vs standby generator. Both the stationary and portable units are primary types of generators. Yet, they have their own differences.
Both the stationary and portable power units can differ in price, fuel type, and power outputs. Also, they have an advantage and a disadvantage among each other.
Main Difference
A portable generator is a generator that you have to operate. In cases of a power outage, you have to turn it on yourself before it starts to function.
At the same time, a stationary generator is a generator that operates . When its automatic switch sensed a power outage, it then begins to supply power to the circuits. Thus, it also results in the generation of electricity.
Installation Method
Portable generators do not need installation. You put the right fuel, plug the generator into a power outlet, and then turn it on. Even if you are not experienced, it is easy to learn how to turn a portable generator up and running.
Stationary generators need a professional installation. As this is an automatic type of generator, its installation can be complex.
Hooking up the fuel source to the generator needs the professional service of a plumber. The process requires a thorough inspection by the fuel supplier. It also needs a permit before installing it. With that, the stationary generator installation cost can be expensive.
Price
Portable generators are cheaper when compared to stationary generators. One of the reasons is that stationary generators are automatic. As for the portable ones, they are manual.
A portable generator can range from $500 to $2000. But, as stationary generators are automatic, it is much expensive. It can range from $2,500 up to $5,000 for the generator itself. Also, a stationary generator installation costs an extra $5,000.
Power Output
When compared to stationary generators, portable generators have a lesser power output. A portable generator can output an average of 7,000 watts. That power output is already enough to supply electricity to your appliances at home.
Other places such as trailers, farms, camping trips also use These portable units. . Generally, in all other places where a small power output is enough.
The stationary power generation outputs a higher power than the portable one. On average, it can output up to 20,000 watts. That is also one of the reasons why this kind of generator is expensive. These units can support high levels of needed power output for an extended period.
Hours it Can Last
The life of stationary and portable units of the generator will depend on the quality of its engine. A portable generator can last for up to 1000 to 2000 hours. So, for example, you use your portable generator for 100 hours per year, it can last up to 10 to 20 years.
The stationary generator can last longer compared to the portable generator. An average lifetime of a stationary generator is up to 3000 hours. With that, you will be able to use the generator for 30 years, if you will use it in 100 hours per year.
Maintenance
There is also a difference in how to maintain the health of the stationary and portable units. The stationary generators need extensive maintenance compared to the portable ones. Every week, the maintenance for the stationary generators is 15 minutes.
The easy maintenance of the portable generators is one of the unit's advantages. You have to ensure that you remove all fuel in the generator before storage. You also have to make sure that there are no loose wires before turning them on. Simple as that!
Noise
May it is a stationary or a portable unit, you will be able to hear noise coming from it. No matter what type of generator you will buy. The good thing is that stationary generators tend to produce less noise or are quieter.
Safety
In the safety aspect of a generator, a stationary generator is safer than the portable one. That is because portable units produce high amounts of harmful carbon monoxide gas.
Fuel Type
Stationary generators use natural gas or liquid propane. Another this is that it does not need refueling. As for the portable generator, it uses gasoline, and refueling is required and needed.
Conclusion
You have to consider a lot of things when choosing what type of generator to use. It is important to know each of the stationary vs portable generator's capabilities. You should consider the power you need and the type of your property where you will use it. It will be such a waste of your money if you buy a generator that will not suit your needs.
Stationary generators are capable of supplying huge properties when power outages occur. If your property requires a large power output, then you have to use the stationary generator. Properties such as business buildings are some examples of that. It is because it produces a high power output. Another great thing about the stationary generator is that it is safer than the portable one. Yet, if your property does not need high power output, then the portable generator is the one for you.