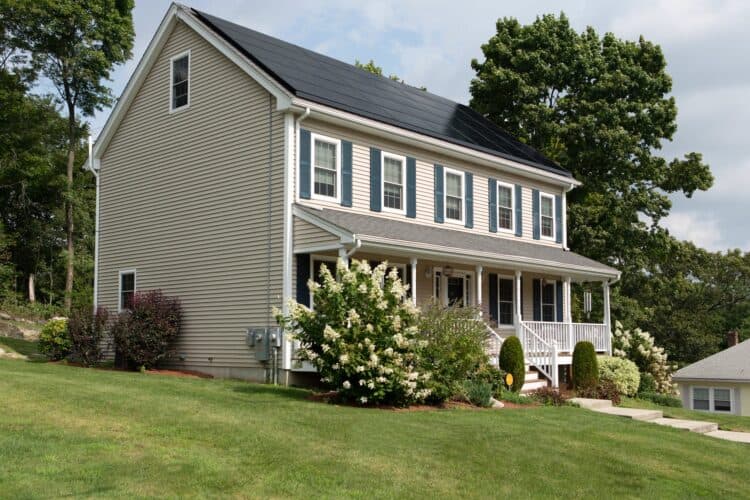 Green energy is a growing trend. A lot more people are interested in it. And it's no surprise given all the benefits to the environment and our pockets. Solar panel use is one of those growing trends. But before you decide to jump in, there are a few things you should know. The decision to get solar panels may be a simple one to make. But the process takes some thought. One of the things you need to think about is the power rating of these solar cells. They are not all the same. You will find that panels range from 50 watts to 350 watts and more. The more common power rating used is 300. And if you want to invest in those, you need to ask yourself a question. What Can a 300 watt solar panel run?
A 300-watt panel is a powerful piece of equipment. It is the standard rating used in setting up whole-house solar panel system designs. But one 300 watts solar panel is puny in the grander scheme of things. It cannot supply electricity to an entire household. For that, you will need a lot more power. But, we will get come back to this in a bit.
First, let's take a look a look at how much electricity a 300-watt solar panel can generate.
300 Watt Solar Panel Power Generation
In an ideal situation, your 300-watt solar panel will receive about 8 hours of sunshine a day. In this case, it will produce about 2.5 kilowatt-hours of electricity.
Let's take that number and multiply it by the number of days in a year. That will be 2.5×365.
A 300 watt solar panel will have an output of about 900 kilowatt-hours in a year.
But those are under ideal circumstances and your house burns a lot more electricity than that.
Technological advancements have made solar panels more efficient. But, there are a few things that can affect the output of your solar panels. Even a powerful 300 watt solar panel system can suffer or thrive because of them.
Sun Intensity Is Essential To Solar Panel Output
Throughout the day, how hot the sun gets influences how well solar panels work. Solar cells produce more power in the afternoon when the sun is at its brightest. That is the time they can capture more energy from the sun.
Cloud Cover/Shade Affects Solar Panel Output
Cloud cover interrupts the amount of sunlight that hits the solar panels during the day. A cloudy atmosphere reduces how efficiently the panels work and lowers output.
Heat build-up Is Not Good For Solar Panel Longevity
Solar panels cannot function well at higher temperatures. Heat build-up in solar panels is a common concern in warm temperature locations. The power output can be reduced by 10% to 25% due to extreme temperatures. Heat can enhance the conductivity of solar cell semiconductors. This will result in charge balance and a lower electrical field.
The Best Way To Set Up Solar Panels
Your solar system should produce as much energy as possible. As a result, avoid installing panels near trees or other objects that obscure the sun's path. Each solar panel must spend a lot of time in direct sunlight. In that area, it will work at its best and produce the most electricity.
It's better to put solar panels on a south mounting plane in the northern hemisphere. If a south mounting plane is not accessible, east and west mounting planes can be used instead.
Solar panel mounts have an angled design, so the panels tilt at the proper angle. A 45-degree inclination is the ideal positioning to capture more energy from the sun.
A Solar Panel With 300 Watt Capacity
Before learning what a 300 watt panel can run, we have to know how much electricity it produces. A 300 watt panel exposed to steady sunshine for an hour produces 300 watts of electricity.
On a cloudy day with little sunlight, the power generated will be modest. If you use a battery to provide backup on a cloudy day, the battery's power rating should be equal to the panel's.
What Can A 300 Watt Solar Panel Run?
A 300-watt solar panel will charge a 300 watt battery. The ideal option is to use a 12-volt battery, which allows for efficient energy storage. For the battery to perform the way it should, electrical equipment must have the same voltage. That is if you use a battery with your system.
If you revert to using the grid, when your panels do not perform, this does not apply.
With a single 300 watt solar panel, you can transmit power to a few appliances.
Television
Wireless Router
Charge laptops
Charge phones
Power LED lights
Stereos
ceiling fans
lamps
These appliances do not take up much power. But, if you try to run all of them at once, you will find that they run out of juice fast.
A 300 watt solar panel is not strong enough to supply more power-hungry appliances. These include:
refrigerator
washing machines
dishwashers
heaters
garbage disposal
air conditioning unit
These appliances need a solar panel system that generates more than 2.5 kilowatt-hours a day. If you want to run these appliances on solar power, you will need a series of 300 watt solar panels.
How Many 300 Watt Solar Panels Do I Need?
On average, homes in the United States use about 10,400 kilowatt-hours of electricity in a year. To generate that amount of electricity, you will need to install quite a few 300 watt panels. But that should power your entire home. We will get more specific with numbers in a bit. First, here is a list of things you need to know to design your system.
An average of how much energy you need
How much energy do you consume in watts
How much sunlight does your area receive
How much power the solar panels will generate
The size of the panels you want to get
How To Design A Solar Panel System
There are three steps you must follow.
Calculate how much electricity you use.
Consult your monthly bill for this information. If for some reason you can't find it, you can contact your electricity provider. Some people estimate the total. But if you use this method, I recommend inflating the numbers a bit. That way, you do not fall short. Some online websites and apps can help you.
Calculate the peak hours of sunshine
Peak sunlight refers to the time when the sunlight is 1000 kilowatts in an hour per meter square. To estimate how many 300 watt panels you need, calculate how much energy your home uses in an hour. Then multiply that number by the peak hours of sunlight in your area.
The peak hours of sunlight vary from place to place. Find the total specific to the place where you live.
Divide the number you get by the wattage of the panels
This final step will tell you how many panels you need to buy.
Here is an example of this calculation.
Let's say you use 10 524 kilowatt-hours every year. Divide this number by 12. You get 877 kilowatt-hours per month.
Let's say there are four peak hours of sunlight in your area each day. Multiply the number of peak hours of sunshine by the number of days in the month.
30×4 gives you a total of 120 peak hours of sunshine.
Calculate how many times 120 can fit into 877 kilowatt-hours.
877/120 gives you a total of 7.3 kilowatt-hours and tells you that you need a solar panel system with that kind of power output.
In this step, you learn how many 300 watt solar panels will power your home.
Convert the 7.3 kilowatt-hours to watts. Do that by multiplying by 1000 since 1000 watts is equal to 1 kilowatt.
7.3×1000 gives you a total of 7,300 watts.
Divide the 7,300 watts you just calculated by the production estimate of a solar panel. Here we are using 300 watts.
7,300 divided by a 300 watt panel leaves you with 24.3.
That means you will need about 25 solar panels to meet the electricity needs of your household.
Of course, these numbers are mere estimates. Not all houses have equal electricity needs. Many factors influence our power consumption and the number of panels that will do the job.
But you can use the example above to help you estimate how many 300 watt panels you need to run your home.
Frequently Asked Questions
Can My Home Run On Solar Panels Only?
Yes, you can power your entire home using solar panels alone. Many people choose to live off the grid, and their solar panel setup works just as well.
If your system is not tied to the grid, then you will need to store the energy your system produces using a battery. You should note that energy storage is quite costly.
I Want To Live Off The Gird. How Many Panels Do I Need?
There is a lot to take into consideration here. But you can use the example above to calculate your electricity needs and how many panels will supply it.
What Is The Amperage Of A 300 Watt 12 Volt Solar Panel?
This solar panel generates 25 amps.
300 Watt Solar Panels Are Power Houses
Solar panels do not come only in 300 watt packages. They range from very small panels of 50 watts to larger panels of 500. But a 300 watt panel is the more traditional and common choice. They are power houses. On it's own, a 300 watt panel will take care of your smaller appliances. With a larger system of these wattage panels, you can power your entire house.
Give careful consideration to what you want out of your solar panel system. Then you can decide what size panels are best for you.