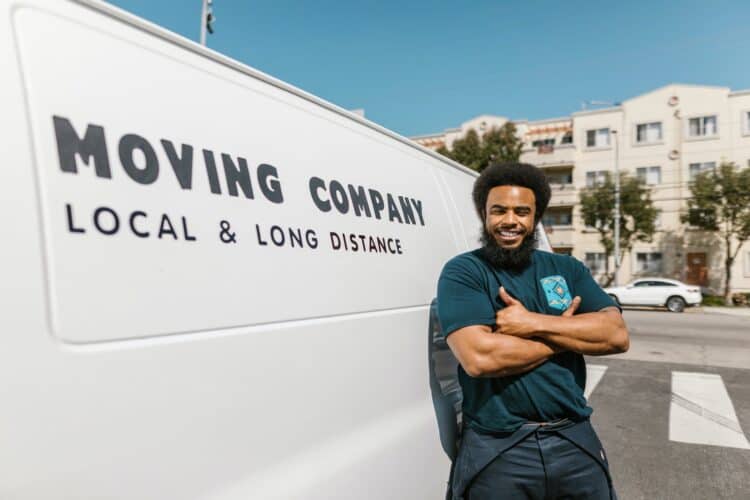 Homeowners put a lot of time, effort, and money into designing and installing solar panel systems. And there are quite a few good reasons for going through the trouble.
So when the time comes to leave their home for something new, many homeowners wonder, can I take solar panels with me when I move.
But could it be simpler, cheaper, more profitable to leave it to the buyers of their old home. Start the solar panel journey over again with a new system.
There are no yes or no answers to these questions. A lot of thought has to go into making that decision.
We want to help.
In this article, we will look at what it takes to move with solar panels.
By the end of your reading, you will be able to decide whether taking them with you or leaving them behind is better.
Can You Move With Your Solar Panels?
The simple answer to this question is yes, you can take your solar panels with you. Anyone can have solar panels uninstalled, loaded up in a truck, moved, and reinstalled. But here's the question that you really want answered.
Is it worth it? And that depends on a few things.
There are quite a few crucial points to consider before you can find an answer. We will start with the most basic and move on from there.
Solar Arrays Can Leave A Real Mess Behind On Your Roof
When the installers mounted your panels, they had to secure them to a surface. In this case, let's imagine you have a roof mount. Most times, they bolt or drill the mounting frame into place.
During the removal process, those nuts, bolts, and screws have to go too.
Getting the solar panels off a roof may leave some damage behind, including holes. If the installers did not do a good job mounting them, the damage may be much worse.
The roofing material may also appear discolored. Sections opened to the sun may look faded. The other parts shaded by the panels will seem healthier or brand new.
If you have an inverter secured to a wall, removing it may leave some damage as well.
One of two things can happen if you remove the solar panels from your roof.
The damage could drive the value of your house down.
Or
You can spend money to fix the damage to prevent the value loss.
A new or repaired roof is also a great selling feature.
Weigh what you stand to lose against what you stand to gain if you remove the solar panels.
Taking Down A Pole-Mounted Or Ground-mounted Solar Array
You may have your solar array setup somewhere on your property other than your house.
Taking down these types of solar panel setups will not damage your home, but they can make your yard an eyesore. Remember, to design this system you had to dig holes, pour in concrete, set up concrete blocks, and run wires underground.
Uninstalling the panels goes a lot deeper than just unhooking them from their mounting spot.
Consider The Differences Between Your Old Roof And Your New Roof
If you had a roof installation, your solar array would have been custom-fitted for the mounting surface of your former home.
The chances that your new roof will have what you need to mount the same system is unlikely. Your panels will end up being a lot less efficient.
You will have to then make changes to your panel design. It may be the only way to get the most out of your solar system. Making those changes could be costly.
These are some of the things you need to keep in mind.
The roof size
The roof shape
The roof orientation
The number of obstructions on the roof
The roofing material
Does Your New Home Have Enough Sunlight Exposure?
How much sunlight your new home will get is also something to consider when deciding the fate of your solar array.
Going through all the hassle to move them to somewhere they will not thrive may not be worth the effort.
Is your new home in a colder climate?
Is there little sunlight?
Will trees or tall buildings cast too much shade over the panels?
Know the answers to these questions before deciding to move with your solar panels. Using another form of renewable energy may be a better decision for you.
This takes us into the next part of the moving with solar panels decision.
Is Your Move Local?
A local move will most likely allow homeowners to uninstall their solar panels without too much hassle. That's because they can secure the help of the installation company if that company is within service range.
You can call them up, and chances are they will unmount the panels, move them safely, and reinstall them for you. Of course, this may come at a cost. But at least, you do not need to worry about that part of the project.
You can leave it to the experts with the right equipment and the know-how to get the job done risk-free.
Using the same company does not only allow you to remove your panels safely. You also do not need to worry about voiding your warranty when you do it yourself or hire someone else.
Does Your Move Take You Across State Lines?
The first thing I will say about this is taking your solar panels on the road will terminate your warranty. That alone is a risk.
You cannot depend on the solar panel installation company to help you with this project. Uprooting, relocating, and reinstalling the panels will be yours to do.
The process to remove the panels alone can be a difficult one if you do not know what you are doing. There is a high risk of PV cells suffering damage during the move. The risk is even higher if you do know how to pack them the right way.
The cells in the panels are very fragile. The wiring system within them is just as delicate. With incorrect handling, you stand to ruin the entire system.
The warranty will not cover these damages since they happened during relocation. Talk about a huge financial loss.
Are You Moving Overseas?
You cannot look to the installation company to help you with this either. And I can say right away that this option is not worth the hassle or the price tag that comes with it.
Think of dismounting the panels. Consider hiring a shipping company, paying for freight, and all the other costs that come with large overseas shipments.
Now, we will look at how much it will cost you to relocate with your solar panels.
Cost Considerations
When moving with solar panels, you will have to pay for the following.
Uninstalling the modules.
Shipping the modules to the new address.
Reinstalling the modules at the new property.
Fixing the damage caused when you removed the panels.
Buying and installing a new system may be less expensive. It will also be less stressful.
What Is The Cost Of Moving With My Solar Panels?
Taking your dismantled solar panels on the road will not be cheap. Let's break down the figures.
On average, the cost of moving with solar panels can cost up to $8,000. But note I said average. Several things can affect the final figure which may drive up the price.
The figure here includes removal and disassembly, packing up, shipping, and reinstallation.
Here is a breakdown of some other costs you can expect to pay.
Fixing the damaged roof on your old home can cost up to $1,000. But that number depends on how much damage there is to repair. It may be more. It also may be less.
The cost of getting new permits to install the panels at your new home will vary from place to place. It depends on where you are. In some areas, the permits do not cost a thing. In other areas, you could pay up to $500.
Keep in mind that because you had permits for panels at your old house does not mean those permits travel with you to your new home. Your new address may have different regulations. But we will talk more about this in the next section.
The roof of your new home will be different. You have to get your solar panel system outfitted to suit the new roof. We cannot put a figure on this as it depends on where you are and the installation company rates.
The price of moving with solar panels is high. But that does not mean it is not doable. I suggest doing some research first. Find out what it will cost to set up a brand new system at your new location. Then find out what it will cost to relocate with the old one. Get as close an estimate as possible, then compare the two.
If it will cost you less to remove your old system and you do not mind the hassle or fear of the risk, you can do that.
New Regulations & Rules
From place to place, laws governing the use of solar panels are different. Speak with the power company and other relevant authorities before moving with your system.
Find out what it takes and how much it will cost to get your system up and running.
Frequently Asked Questions
Here, we will answer some popular questions homeowners ask when deciding whether to move with solar panels.
How Can I Take Solar Panels With Me When I Move?
You may decide that moving with your solar panels is worth it. In that case, you need to know how to pack them so they remain safe.
There is no guarantee that they will suffer damage during the move. But there are some things you can do to lessen the chances of that happening.
Use the same method that diligent manufacturers use to transport their panels.
Get a pallet.
Place the first panels bottoms up on the pallet.
Place a piece of plastic or corrugated cardboard between this panel on the next.
Continue this process until you get to the last panel.
Place the last panel face up.
Use foam pads and corner protectors as you add the frames.
Use a strap to secure the panels at both ends, close to the corners. Do not secure them around the middle.
Cover the shipment in foil.
It is also a good idea to box up the panels to add an extra layer of protection. Use a corrugated cardboard box.
Will Solar Panels Add To The Value Of My House?
This is one of the reasons many homeowners decide to leave their solar panels behind when they move.
solar panels raise property value and they are a great selling feature if you find buyers who live eco-friendly lifestyles. Many home buyers want a house with clean energy standards, so they do not mind paying more for a solar-powered home.
Homes with solar panels mounted sell for a lot more and a lot faster than homes without.
What Happens To My Feed-In Tariffs?
The feed-in tariff scheme is one of the things that makes putting solar panels worthwhile. It ensures that you begin to see returns on your investment earlier. So what happens with the feed in tariff once you move?
If you sell your property with the panels, the buyers will get payments from the Feed-In Tariff. But, taking down the panels and moving with them also disqualifies you from receiving those payments.
That's because, once you remove the panels, they become a second hand system. As such, they no longer qualify to benefit from the FiT scheme.
The only way around that is if your solar system is large and registered with a business. Then you can move it from one place to another and remain a part of the Fit scheme.
Keep in mind that there are conditions that you have to meet. So, do some research to find out how this system works in your area.
Can I Take Solar Panels With Me When I Move If I Have A Lease?
Some homeowners have a lease on their solar panels. They do not own them. If this is the case with you, contact the leasing options to get a better idea of your options.
If your move takes you within the service range of the company, they will likely uninstall the panels and remount them for you. You can expect to pay a fee for those services. But that makes the job of moving them easier.
If your move takes you out of the company's service range, your new buyers may choose to inherit the contract. Of course, they could always decline, at which point, you will have to pay the balance.
Conclusion
The short answer is yes, you can.
As long as you own the property with the solar panel installation, there is nothing wrong with removing them and moving with them. But homeowners must decide whether the cost to take that step is worth it.
If you ever installed solar panels, I am sure you remember the process well. Depending on where you move to, traveling with your panels makes no difference. You may have to go through the entire process with permits all over again.
Installing solar panels is costly. Uninstalling them costs a pretty penny too.
Weigh the advantages and disadvantages of moving with your panels and see which decision works out better for you.