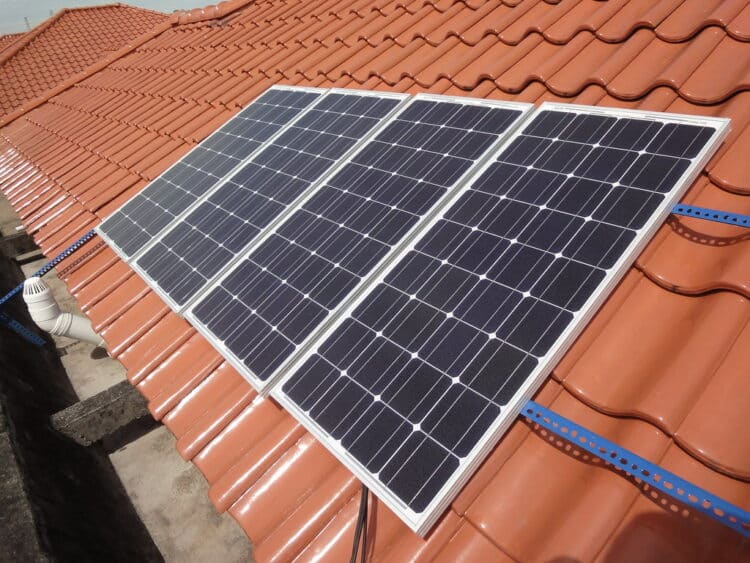 An off-grid solar generator has lots of uses. You can use them as backup power whenever there is a power failure. They are also perfect for family camping.
If you plan to live off the grid, solar power systems are perfect for you. But, buying a solar generator could be daunting. There are lots of questions running in your mind, such as "What is the best solar-powered generator?" "What are its pros and cons?"
The following are the things you should know first before investing in a solar power system.
What is an off grid solar generator
An off-grid solar generator refers to a machine that uses solar energy to work. Although it uses sunlight to provide power energy, some also come with batteries. Batteries will act as a backup power source whenever the sun is out.
If you live in sunny countries, you may purchase a solar generator alone. But, if you plan to use this power system to run your appliances at night, consider investing in a solar power system with batteries.
Solar-powered generators are quite small. That's why it is not perfect to power your whole property. But, it might be a great help to power RVs or boats.
How does a solar generator work
A solar generator comes with four different parts. These are the:
Inverter
Solar batteries
Solar charge controller
Portable solar panels
Through solar panels, your solar generator produces direct current electricity from the sunlight. The electricity will travel through the solar charge controller. Then, the controller will balance and store the electricity voltage in the battery. The solar battery will hold the electricity for future use. Most of the solar generators these days are available with lithium-ion batteries.
The inverter works by converting the electricity to AC power. AC energy is the type of electricity that powers your devices and appliances. You can power your devices using AC outlets or USB ports.
What are the pros and cons of an off-grid power generator
An off-grid solar power generator can offer you multiple benefits. Although it comes with lots of advantages, it has also minimal drawbacks. You need to weigh their pros and cons before coming up with a decision.
To help you decide, the following are the benefits and drawbacks of a solar-powered generator.
Advantages
It helps you to save a big amount of money
One benefit of using an off-grid solar generator is it helps you to save some amount of money per month. Your savings will vary depending on the type of solar power system you use and your location. But on average, you can save at least 20,000 Dollars per month using a solar generator.
You will not experience blackouts
If you are using conventional electricity, frequent power failures are possible. But, if you decided to go off-grid, you can mitigate power outages. These are all possible using a solar-powered generator.
You don't have to depend on conventional electricity
When you decided to use an off-grid generator, you don't have to worry about power interruptions. You don't also need to follow the terms and conditions of a utility company. What's more, you can cut down your electricity bills. In that case, you don't need to worry about a possible energy price hike. This kind of independence is what a lot of people dream to have.
Disadvantages
It needs high initial cost
If you want to go completely off the grid, you should invest in a high-quality solar generator. Installing solar generators need high upfront cost. The initial price covers solar charge controllers, inverters, and batteries. Its expensiveness may be the reason you might turn your back from investing in this system.
It has short supply of solar power storage
If you want to have more backup power, you need to invest in top-rated solar batteries. As mentioned, solar batteries are expensive. Also, you need to invest in a large-capacity solar generator. This will help you to store enough solar energy for future use.
If you have a small solar generator, you will have limited power energy backup. In that case, you may not have enough electricity to power your devices. This scenario always happens, especially when the sun is out.
Energy efficiency might still be a problem
When you decided to live off the grid, there are several factors to keep in mind. One of these is to ensure that your solar generator system works efficiently. It is your responsibility to keep maintain your power system in a good condition.
Maintenance cost is an extra price you need to pay either monthly, quarterly, or annually. Thus, you need to be more mindful and careful when decided to have an off-the-grid living. This is because if your system malfunction, you will absolutely get in trouble.
Solar generator vs. Fuel generator
Solar generators and fuel generators could give you benefits in different ways. But the question is, "Which is the best type of generator for power outages?"
You need to prepare yourself in case of a big blizzard or hurricane. You need to ensure that you won't experience power outages during these times. Lights and heaters are the two important appliances you need to run during natural disasters.
In this case, it would be better to invest in a fuel generator than its solar counterpart. They are way bigger than solar generators. All you need is at least two jerry cans of fuel to ensure the power won't go out when the storm happens.
You should install your fuel generator near your property. After that, you need to connect it to the extension wires. But, make sure that it is far enough to keep the fumes out of your home. A fuel generator can power your essential appliances for several hours. Just make sure you won't run out of fuel.
Solar generators, on the other hand, are also ideal for these scenarios. But, you have to make sure it has stored enough power energy to supply your home during an outage. Also, invest in a medium- to large-sized battery for an additional power backup.
Solar generator to power refrigerator
Can a solar generator power your refrigerator? You can find solar generators that can power your refrigerator. But there are some considerations you need to keep in mind.
First, you should know the wattage requirements of your fridge. Your refrigerator's wattage will depend on its size. The smaller your ref, the lower its wattage will be. This concept also goes the same to large refrigerators.
Next, you need to look for a solar generator that can meet the wattage requirement of your refrigerator. Make sure to choose a solar generator with more wattage than your refrigerator. For instance, if your fridge needs 900 watts, choose a solar generator with at least 1,000 watts.
Lastly, you should know how long you want to power your fridge. You should invest in a solar power system that can power your fridge for the period you need.
A solar-powered generator could power your refrigerator depending on the factors mentioned above.
How to build 5000 watt solar generator
Are you planning to build your own portable solar generator? If so, how will you do it? What are the materials you will need?
The following are the basic steps of building a DIY portable solar generator.
Know your energy requirements
When building your DIY solar generator, you must know your energy requirements. You may use your energy bills as a reference. Through this, you will know how much load your solar power unit should have. If you want to create a 5000-watt solar generator, you need to use materials that can manage your preferred load amount.
Pick your materials
Of course, you don't want to waste your energy, money, and time on useless materials. That's why you need to check the wattage and other details of your appliances before buying your materials.
Check the components
Before going to the next step, make sure that each component you purchased is working. You may refer to various YouTube videos on how to test each material safely.
It's time to join your components
If you want to build a 5000-watt solar generator, you may need 16 solar panels of medium size. Aside from that, you also need to mount the battery bank. Make sure to strictly follow the instructions for building a solar generator. This will help you avoid accidents in doing this step.
Wire each component together
The next thing you should do is to wire the components. Make sure to do this step properly to avoid possible electrical damages. Wires are essential to charge your electrical devices, such as mobile phones, laptops, and tablets.
Plug your electric devices
After setting up your solar generator, you can now plug in your electric devices. Before doing so, make sure that the components work properly. At this time, your DIY solar generator should convert solar energy to AC electricity to charge your devices.
What size of solar generator do I need
When buying a solar generator, its size is an important factor to consider. A small-sized solar generator is ideal to charge some of your devices, like mobile phones. But, if you need to power your home appliances, invest in a medium-sized off-grid solar generator. Lastly, a large-sized generator is ideal to power your whole house.
To determine the size of solar generator you need, you should know the types of appliances you want to run. Also, if you want to have higher power backup, larger solar generators can do a better job.
How long do generators last
A solar generator is one of the great investments you could have. In that case, you may want to know a generator lifespan.
Different generators have different lifespans. It all depends on the size and type of solar generator you have. But on average, a solar generator could run around 3,000 hours. You also need to maintain your generator to keep it well-functioning. Maintaining your generator means powering it for at least an hour each week. This means you need to run it for at least 26 hours annually.
During extended power failures, your solar generator needs more running time. In terms of the average lifespan of a solar generator, it ranges from 30 to 40 years. But their lifespan will vary depending on how well you maintain or run them.
What is the best solar powered generator
It is always better to have backup power as a preparation for possible power outages. Considering the number of solar generators on the market, you may have a hard time choosing the best. To help you out, the following are the best emergency solar power systems you may consider.
Goal Zero Yeti 1500X Portable Power Station
This is a perfect solar generator to power your fridge, coffee maker, drill, phone, and laptop. This power system allows you to power all the mentioned appliances at the same time.
MAXOAK Bluetti Portable Power Station
This solar power generator can store lots of energy for future use. What's more, it is available at an affordable price point.
Jackery Solar Portable Generator
Its portability is what makes this solar generator popular. It only weighs 13.3 lbs. which is light enough to carry anywhere.
Jackery Explorer 160 Portable Power Station
This is another budget-friendly solar generator you can have. It is available for less than 150 Dollars. What's more, it also comes with a two-year warranty.
Conclusion
An off-grid solar generator has its pros and cons. You need to weigh its advantages and disadvantages before making a decision. You don't want to spend your money on something that won't do any good to you. Off-grid generators are available in different sizes. The right generator size will depend on your needs. So, if you want to completely go off the grid, a solar generator would be a big help for you.