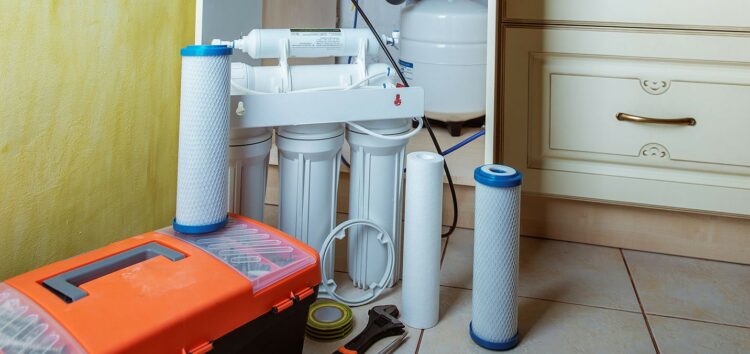 A responsible homeowner knows the importance of keeping family members safe and healthy with the help of home maintenance equipment – this includes safe drinking water with water filtration systems.
While some areas have tap water safe enough to drink, most homeowners still need to take precautionary measures to ensure that their drinking water is safe from physical, chemical, and biological contaminants. Water can be contaminated through natural or synthetic sources – ranging from lead, pesticides, industrial waste, and other heavy metals.
Not all homeowners have the budget to install a whole-home water filtration system. Thanks to technology, affordable yet effective water filters are now available on the market. Most in line filters can be easily installed into your primary drinking supply. This small investment can last up to half a year, a small price to pay for clean drinking water for the whole family.
To give you peace of mind, we've compiled some of the best in line water filters money can buy. We'll also guide you through the key factors to consider when buying a water filter. When it comes to your family's safety, no leaf should go unturned!
6 Best In Line Water Filters in 2021
Culligan RC 4 EZ-Change Premium Water Filtration Replacement Cartridge
You can never go wrong with this household name. Culligan has provided safe drinking water for families for decades. Install this powerful premium water filter for purified and clean water for your household.

Specs
Removes 99.9% contaminants and chemicals
ANSI/NSF certifiend
Removes unpleasant taste and odor
Filter up to 500 gallons of water (6 months)
Flow rate: 0.5gpm at 60psi
Easy and user friendly
For busy homeowners, this replacement water filter is a great option! This cartridge is easy to remove and install because of its quick-connect fittings. Simply twist on and off when needed! Each filter can also last up to six months. That's about five gallons worth of water.
Culligan filters are also a great option for homeowners on a budget. They have adapters available that can accommodate almost any size of pipe tubing. There's no need for complicated construction.
Thorough cleansing
With any Culligan product, users are guaranteed premium-grade service. This product is certified by NSF international to improve turbidity, taste, and odors. It's also certified to remove any trace of contaminants.
To explain in detail, this in line IC-EZ-4 filter can effectively remove harmful chemicals such as lead, mercury, lead, cysts, Lindane, Atrazine, and chlorine. This home filtration system can also improve your water supply's turbidity, providing you with clear and purified water.
Individuals who are particular about water taste and smell can opt for this Culligan filter. It is certified to improve overall water quality. Homeowners can safely cook, drink, wash sensitive skin, and garden after purifying their water with the Culligan inline filter.
Pros
Easy installation and maintenance
Certified by NSF/ANSI
Ideal for cooking and drinking
Affordable price
Cons
Only compatible with Culligan RC-4
Watts Inline Water Filter
Watts has been around for over 130 years, and there's a good reason why they've been trusted by homeowners for years. Watts is well-loved by homeowners around the world because it accessible and effective water filtration system that is versatile and easy-to-install.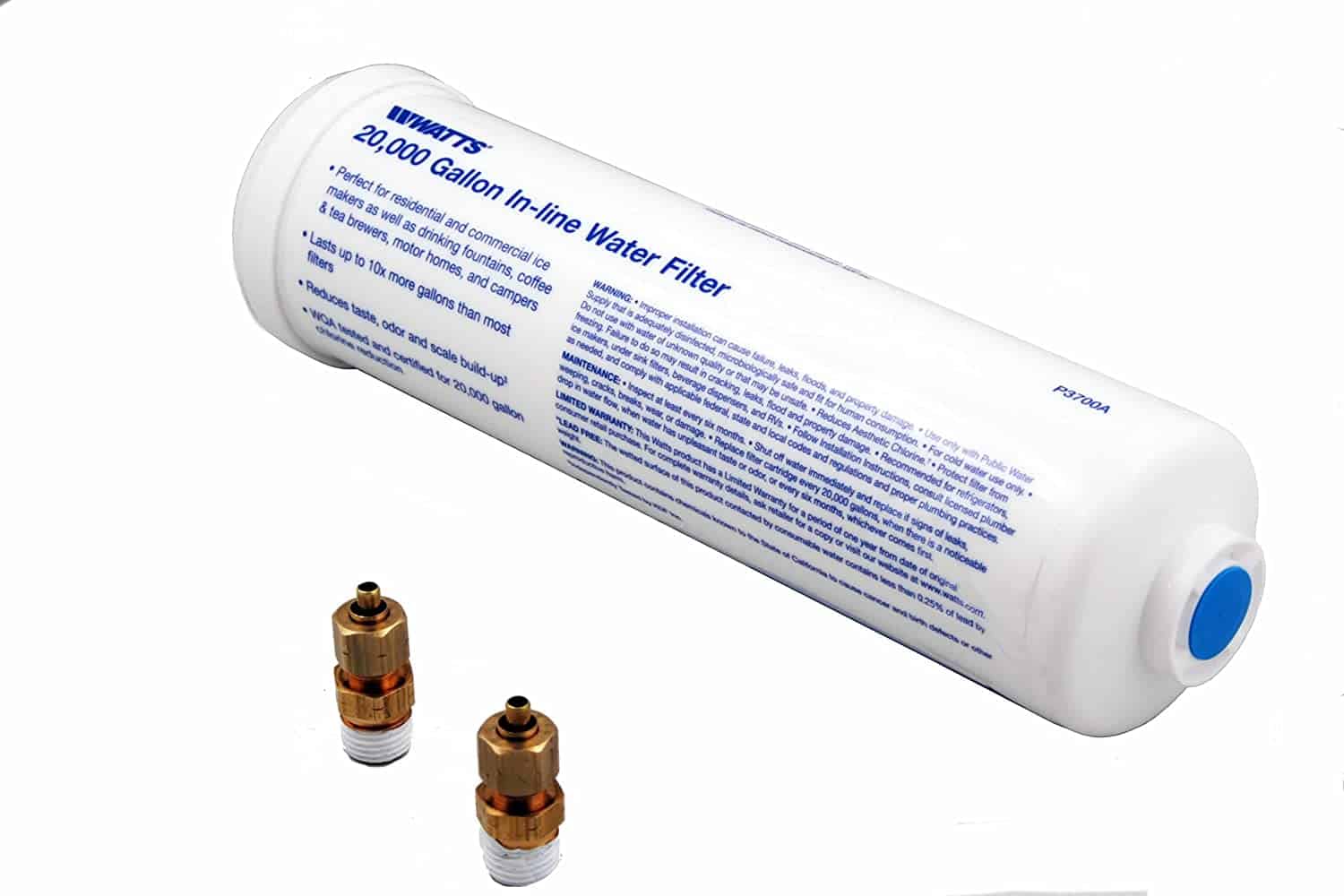 Specs
Filter up to 20,000 gallons (1 to 2 years)
1 year limited warranty
ANSI/NSF certifiend
Improves smell and taste of water
KDF filter system
Flow rate: 0.5gpm at 25 to 125psi
Efficient and practical
This powerful in line water system from Watts has a high-capacity filter of 20,000 gallons. That's enough to provide your home with fresh and clean water in the next one to two years! It's also effortless to maintain for busy and on-the-go homeowners. Simply do a routine check-up every half year to ensure the system's efficiency and health.
This system is also versatile and can be used for multiple applications without the fuss. Easily install the system with its quick-connect adapters that can directly be connected to the plumbing system. Install Watts filters for use with ice-makers, refrigerators, water fountains, and coffee makers! Homeowners who love to travel can also install this system in RVs, boats, and campers.
Watts in line water filters are for everyone!
Quality and pure drinking water
You'll never go wrong with the Watts in line water filter when it comes to purity and safety. Watts water filters are NSF/ANSI certified to reduce chlorine and scale build-up, providing homeowners with clear and pure water for all their needs. The system is guaranteed to prevent bacterial growth and improve the odor and taste of water through its comprehensive filter system – the KDF fluid treatment.
The KDF Fluid treatment uses a copper and zinc formula to induce redox chemical reactions that will ensure quality and safe drinking water for your needs.
Pros
Easy installation and maintenance
Certified by NSF/ANSI
Ideal for various appliances and applications
Impressive filter capacity
Cons
Some reviewers experience leakage issues
Waterdrop 10UA Under Sink Water Filter System
Homeowners and commercial establishments will agree that this convenient and effective system is the water filter of their dreams! The Waterdrop in line filter can be used for a variety of applications, and you'll be guaranteed fresh and clean drinking water for the long haul!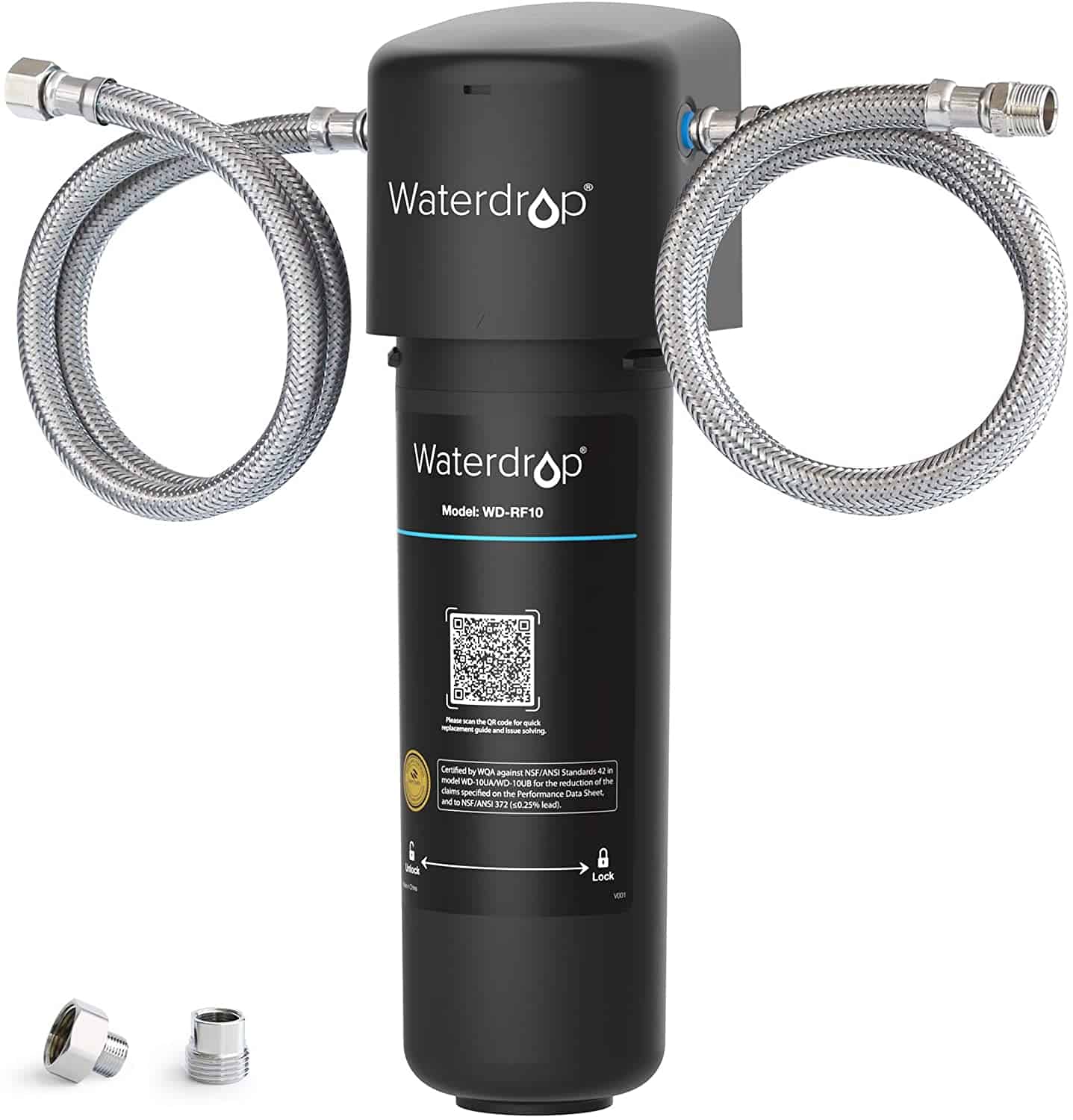 Specs
Three-stage filtration system
Filter up to 8,000 gallons (1 year)
Flow rate: 0.5gpm at 60psi
Improves smell and taste of water
Made from stainless steel
NSF/ANSI certified
Versatile and reliable
This water filter from Waterdrop was engineered to have an efficient and long service life! When properly maintained, the Waterdrop can have a service life of 12 months. The system can treat up to 20 gallons of water in a single day, which will amount to almost 8000 gallons of water annually!
During its long service life, the system can provide a fast and reliable water supply that provides the purest water imaginable. Water treated by the Waterdrop filter is ideal for drinking, cooking, cleaning, and even skincare.
This in-line filter has a flow rate of 2gpm at 60 psi. This powerful feature is ideal for multiple applications so homeowners can install the system in the bathroom, kitchen, RV, or commercial establishments without worrying about stressful maintenance.
Healthy and safe water
The Waterdrop in line filter undergoes a rigorous three-stage filtration system to ensure the safest and cleanest drinking water. Rest assured that this under-sink system rids water of harmful contaminants like lead, chlorine, mercury, heavy metals, and other sediments. The system will also ensure that water is rid of unpleasant smells and flavors.
While the water filter meticulously filters the water supply, rest assured that healthy minerals such as calcium, potassium, magnesium, and sodium are retained.
Pros
Easy installation and maintenance
Retains beneficial minerals
Ideal for various appliances and applications
Long service life
Cons
Users report slower water flow after installation
Finefilters Cryptosporidium Removal Ultracarb Undersink Drinking Water System
Finefilters Cryptosporidium system is powerful in line water filter system that will guarantee that no contaminants and chemicals are left in your water supply. Rest assured that this system can effectively keep your family safe from waterborne illnesses and diseases.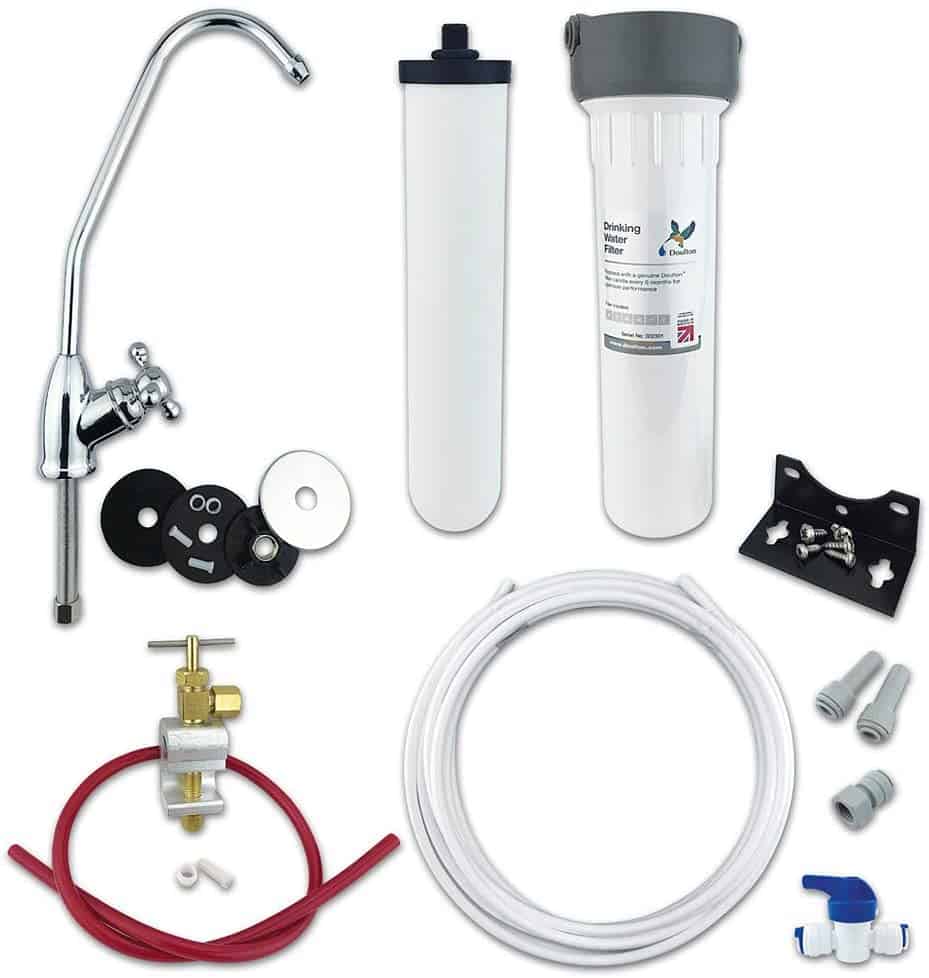 Specs
WRAS approved Doulton housing and filter with 0.9 micron rating
Removes heavy metals
Multi-stage filtration
Includes silver-impregnated ceramic candle to prevent bacterial growth
Improves water taste and odor
Ultimate safety and protection
The Finerfilters Cryptosporidium system was specifically engineered to remove harmful pathogens and bacteria in water supplies, specifically cysts. This system comes with a highly effective WRAS-approved Doulton Ultracarb water filter that can filter water to a rating of 0.9 microns.
This filter effectively removes 99.9% of the most harmful pathogens and bacteria like cholera, typhoid, and e. Coli, and shigella. The filter is effective against cysts, including cryptosporidium and giardia.
The Doulton Ultracarb filter is also effective at removing harmful heavy metals from your water supply. This includes iron, mercury, cadmium, and lead.
Convenient and user-friendly
Since this water filter was specifically engineered to protect homeowners against cryptosporidium, the system comes with a convenient water board that will notify users of a cryptosporidium outbreak. Users will conveniently find a "boil water" notice in these cases.
Since this method is time-consuming, installing this home crypto kit will ensure that your water is safe for immediate consumption.
Pros
Easy installation and maintenance
Retains beneficial minerals
Specifically engineered to protect against harmful pathogens, bacteria, and cysts
Long service life
Cons
More expensive than most in line water filters
Home Master TMAFC-ERP Artesian with Permeate Pump
This water filter is a real gamechanger when it comes to water quality and enhancement. The system has an innovative design that is guaranteed to eliminate all watery supply issues.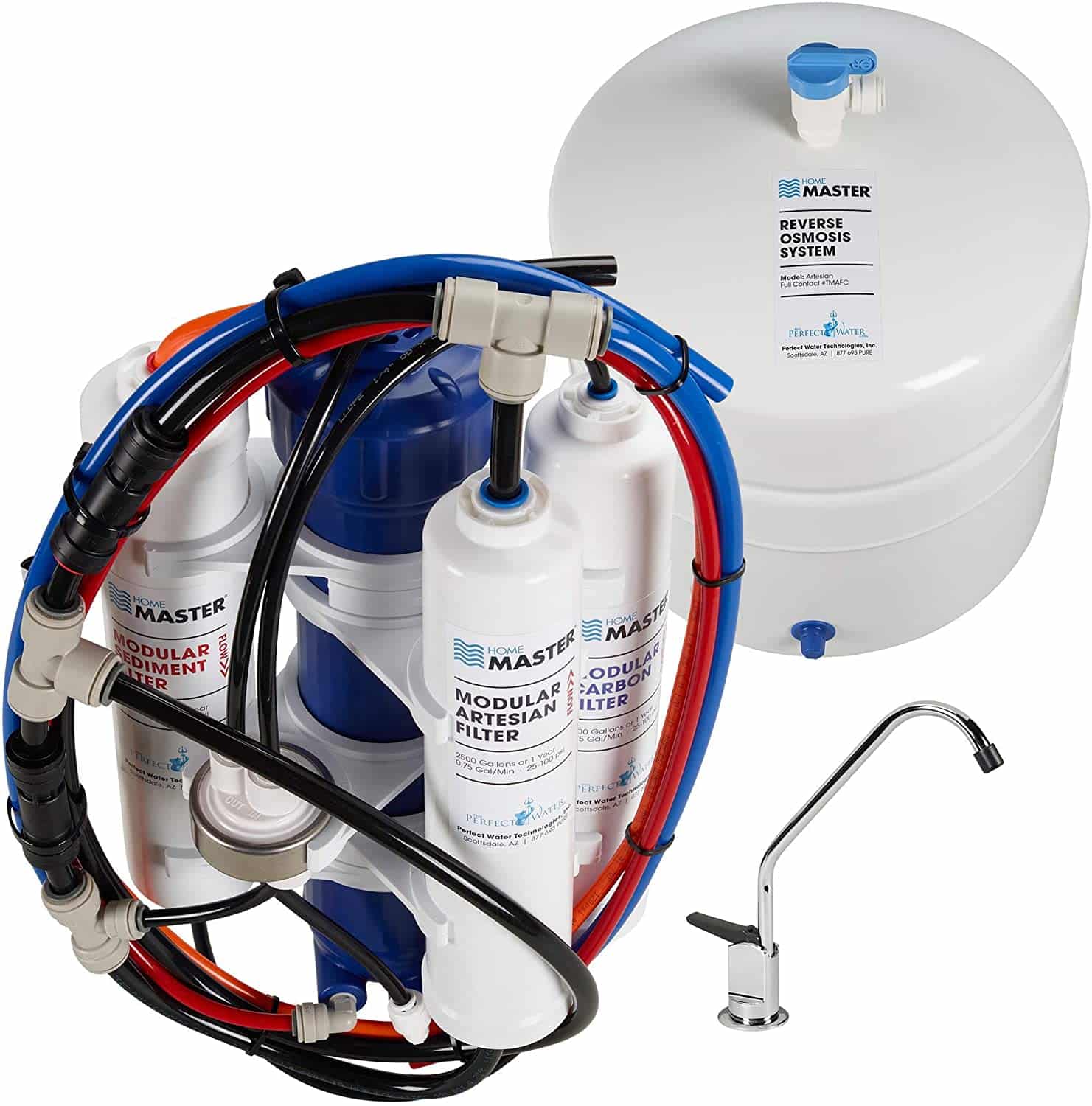 Specs
7-stage filtration system
Reverse osmosis purification method
Design solves common cannister and tankless issues
Removes 99% of chemicals, heavy metals chlorines, microplastics, and chromine
Filters up to 2000 gallons (1 year)
NSF/ANSI certified
Thorough purification
This water filter system goes through comprehensive 7-stage water filtration and enhancement! The model is guaranteed to remove up to 99% of contaminants. This includes chemicals, heavy metals, VOCs, and sediments. Protect your family from harmful pharmaceuticals and chlorine as well.
The system uses a reverse osmosis system that has a catalytic carbon filter as a pr-filter. This is effective in removing chloramine, a contaminant that basic water filters aren't able to remove.
Convenient features
Unlike most reverse osmosis systems, this water filter has a robust housing that helps to fight against the production of microorganisms, sediments, and biofilm that cause material degradation and leaking. The system's innovative design will ensure no signs of filter housing leaks, slow flow rate, high water waste, and slightly acidic water, which can all lead to system breakdown.
The Home Master TMAFC-ERP Artesian Full Contact in line filter is further backed by a 5-year limited warranty. Homeowners can rest assured that this water filter system will last for years!
Pros
Protects against usual system failure
Long warranty period
Meticulous filtration system
Improves water pressure and reduces water waste
Outperforms most active carbon filtration systems
Cons
More expensive than most waterfilters
iSpring RCC7AK 6-Stage Reverse Osmosis Drinking Water Filter System
This robust water filtration system from iSpring is meant to transform drinking water as it should be – clean, pure, and healthy. While working hard to filter water, the iSpring also efficiently restores your water supply's natural alkalinity and mineral balance.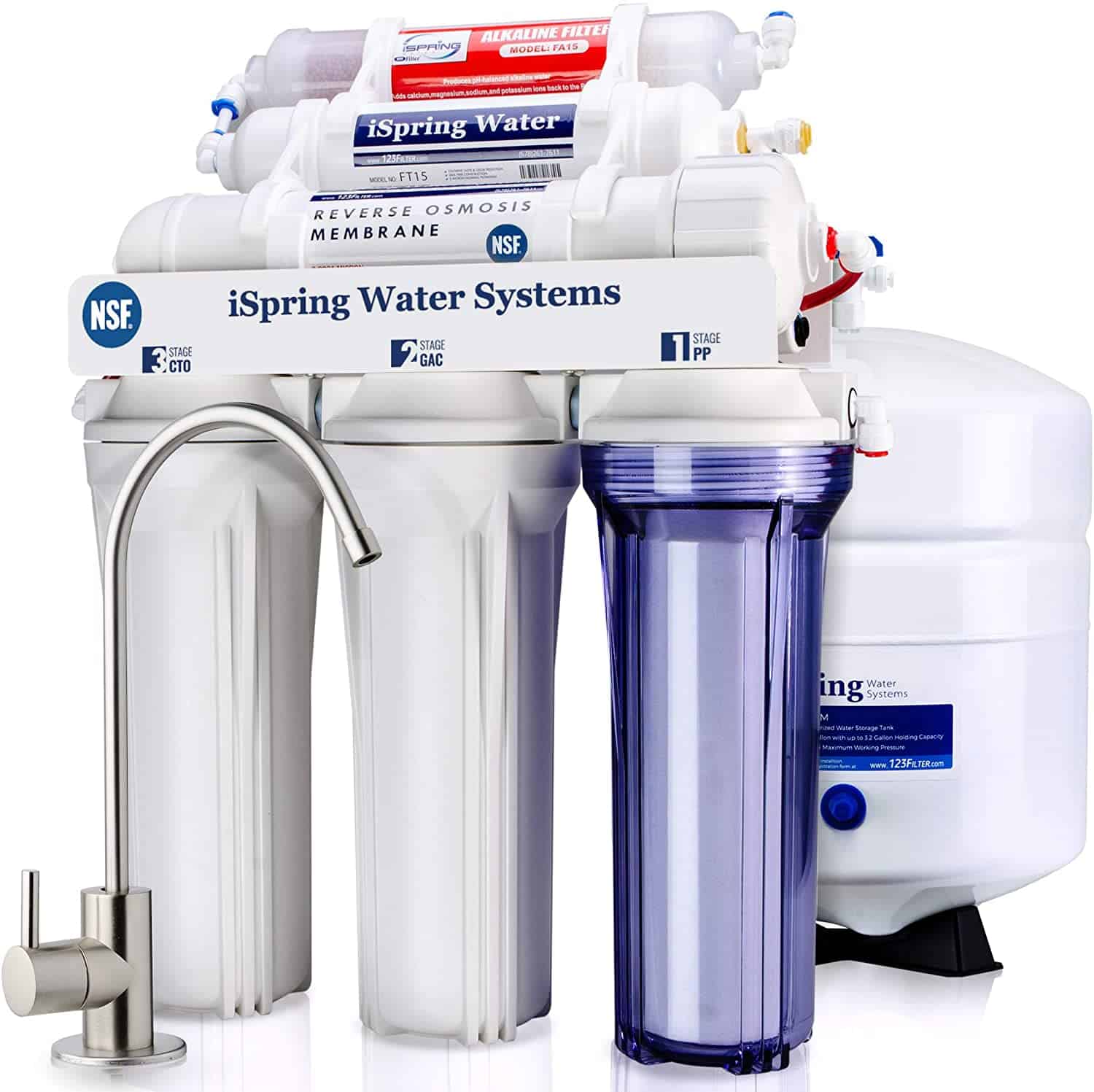 Specs
6-Stage Alkaline Remineralization Layered Filtration
Reverse osmosis purification method
Designed to improve mineral content and water alkilinity
Removes 99% of chemicals, heavy metals chlorines, microplastics, and other contaminants
Filters up to 2000 gallons (1 year)
Includes European-style kitchen faucet
NSF/ANSI certified
Safe and reliable
The iSpring in line water filter incorporates a 6-stage Alkaline Remineralization Layered Filtration system. This works to effectively restore the mineral balance and natural alkalinity of water for safe consumption. This ensures homeowners that they can still benefit from all the healthy minerals present in their water supply.
The system also uses the ever-reliable reverse osmosis treatment to convert water into its purest and cleanest form. This filtration system removes up to 99% of harmful chemicals and contaminants, including chlorine, mercury, lead, arsenic, fluoride, and more. iSpring claims that the multi-layered system is able to filter as many as 1000 different types of contaminants for optimal protection!
What's more, each product from iSpring undergoes rigorous lab-testing for air leaks and pressure and cycle resistance. Users can rest assured of only high-performance and premium quality products from iSpring.
Convenient and user-friendly
This complex water filter system is straightforward when it comes to installation and maintenance. iSpring provides a complete and easy-to-understand installation manual complete with well-organized written instructions and videos!
Newbies to DIY home maintenance can easily get in touch with iSpring's friendly customer support. Rest assured that there are no hassles when it comes to working with any product from iSpring.
Pros
Improves mineral content and alkalinity for a healthy water source
Easy installation and maintenance
Meticulous filtration system
Improves water pressure and reduces water waste
100% customer satisfaction
Cons
More expensive than most waterfilters
| In line Water Filter | Capacity | Water pressure | Warranty | Amazon Link |
| --- | --- | --- | --- | --- |
| Culligan RC 4 EZ-Change Premium Water Filtration Replacement Cartridge | 500 gallons / 6 months | 60 PSI | 1-year limited warranty | https://www.amazon.co.uk/dp/B000NNPVVW?linkCode=gs2&tag=sawlab-21 |
| Watts Inline Water Filter | 20,000 gallons (1 to 2 years) | 25-125 PSI | 1-year limited warranty | https://www.amazon.com/Watts-Capacity-refrigerator-Chlorine-Sediment/dp/B000E77I0Y |
| Waterdrop 10UA Under Sink Water Filter System | 8,000 gallons (1 year) | 60 PSI | 1-year limited warranty | https://www.amazon.com/Waterdrop-Capacity-Filtration-Fluoride-Chlorine/dp/B083NPW1DN |
| Cryptosporidium Removal Ultracarb Undersink Drinking Water System | 6 months service life | 7.5-125 PSI | 1-year limited warranty | https://www.amazon.co.uk/Cryptosporidium-Removal-Ultracarb-Undersink-Drinking/dp/B07R84JQ4P |
| Home Master TMAFC-ERP Artesian with Permeate Pump | 2000 gallons (1 year) | 40-90 PSI | 5-year limited warranty | https://www.amazon.com/Home-Master-TMAFC-Artesian-Undersink/dp/B005A3WM6C |
| iSpring RCC7AK 6-Stage | 75 GPD | 45-70 PSI | 1-year manufacturer warranty | https://www.amazon.co.uk/iSpring-RCC7AK-Under-Sink-Filtration-Remineralization/dp/B005LJ8EXU/ |
Shopping considerations for Best In line Water Filter
To ensure the safety and health of your family with safe drinking water and in line filter is a great choice, especially if you're on a budget.
To guide you through this important decision, read up on the key factors you need to consider when choosing the best in line water filter for your home.
Key Features of Lawn Mower Trailer
There are several key considerations to research to ensure that you're providing your family with drinking water safe from contaminants and chemicals. It can get complicated to try and find the best product for your home considering the wide variety of in line water filters in the market, varying in construction, design, and filter medium.
The first thing to do is to evaluate your water source depending on your area. Most rural areas will have hard water high in metals and damaging contaminants. In these cases, it will be best to conduct a water quality test from your local water treatment facility to monitor the specific elements present in your water.
From here, you can get a general idea of your specific water filtration needs. When reviewing in line water filters, make sure to consider these key factors:
Filter medium

The first thing to take into account is the filter medium. The most popular filters by far are: granular, carbon-activated, and charcoal filters. Each of these different filters will have varying effectiveness levels and strengths. Some filters work best to eliminate chemicals, bacteria, and pathogens, while others are great at improving water taste and odors.

It's essential to try and research the specific chemicals, substances, and impurities these types of mediums target. Carbon-activated and charcoal filters focus on removing carbon-based toxins and chemicals. They're also widely used as effective physical barriers against harmful contaminants.

Granular filters are a well-rounded choice for homeowners that are looking for a filtration system that can deal with all sorts of issues.

Filter rate

Water filter rate refers to how many gallons of water a system can treat in a single day. This is usually indicated by a number in GPD or gallons per day. From this, users can estimate how much water a system can treat during a period of time.

Filtration rate also gives the user an indication of the lifespan of their system – higher filtration systems are more expensive. Still, they will last longer and work better in larger households.

Installation and maintenance

Make sure that the system you are buying has a user-friendly installation and maintenance system. Most filtration units will come with a comprehensive guide, so it's best to go with a product that is convenient and hassle-free.

Most filtration units will require routine maintenance. Go with a convenient filter system that requires check-ups and maintenance only twice a year.

Durability

Make sure to check the materials that your water filter is made from. Since chemicals and sediments will go through your filter, it's particularly important to ensure that the construction is of high-quality.

Products that ensure low acidity will retain the structural integrity of your filter system. It will best if you also check your filter's warranty to ensure you get the benefits of clean water in the years to come.

Certifications

All water filter products will claim effectiveness and reliability. Take the benefit of the doubt by ensuring that these claims are backed by recognized NSF/ANSI certifications.

The more common NSF/ANSI certification standards include protection against bacteria, pathogens, and cysts. Ensure that the system is also certified to remove chemicals such as chlorine, mercury, and lead. Water filter systems also need to be certified to effectively remove unpleasant odors and flavors.
Conclusion
Investing in a high-quality in line water filter guarantees the safety and health of any household. Make sure to get a water filtration system that is specific to your water supply needs.