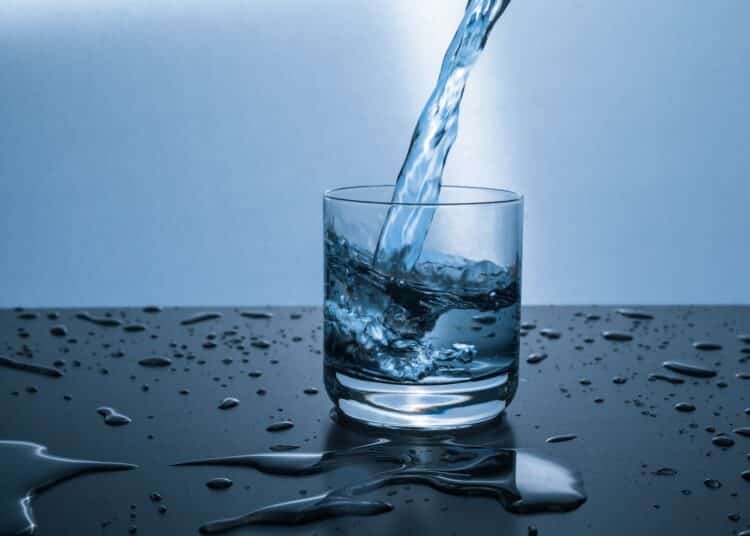 Reverse osmosis is one of the best water filtration systems available today. It is convenient, easy to install, and effective. No wonder it is the top choice of many people. But to keep it in tiptop shape, you need to know the basics of how to sanitize a reverse osmosis system.
If you already have a RO system at home, congratulations! You have made a wise decision for your health and that of your family.
If you are still undecided and want to know all the facts first, you are on the right path. We will give you all the basics on reverse osmosis. Then we will look at ways to maintain and sanitize a reverse osmosis system.
What is reverse osmosis?
Reverse osmosis is a water filtration method that applies pressure to water by passing it through a semi-permeable membrane. Water can come from the tap, deep well, or even the sea. It produces pure water since the process filters salts and other substances. Reverse osmosis can even remove bacteria from the water!
To be technical, it is a by-product of a natural process called osmosis. It happens when two sections of water with different concentrations flow from one side to the other side. The side with lesser substances dissolved in water will move towards the side with a heavier concentration.
Reverse osmosis, as the name suggests, is moving water in the opposite direction. So, from a high concentration to a lower concentration. Since this is not the natural flow of water, how is it done? By applying pressure on the darker side, the water flows in the other direction towards the cleaner side.
The semi-permeable membrane traps the dissolved particles in the darker water like a net, resulting in clearer and cleaner water. It blocks ions, substances, and microorganisms from passing through but allows water to flow freely.
Reverse osmosis can remove up to 99% of contaminants in water. Some of the substances removed are saturated salts, sediments, and elements like iron. It also separates bacteria and other smaller organisms from water.
What are the benefits of reverse osmosis?
Using a reverse osmosis system has many advantages. Here are some of them:
It filters most contaminants in water with 99% accuracy. No less than the EPA or Environmental Protection Agency confirms this. It is common knowledge that reverse osmosis is an effective method of removing organisms and contaminants in water.
It is environmentally friendly vs. using bottled water. Plastic bottles pollute the surroundings, period. Also, the quality of water used in commercially packaged water is not safe. Some claim they come from natural springs. Others say they use multistage filtration systems. But there is no standard or regulation on this industry.
It is safer to drink water that uses a RO system at home. Not to mention it is economical. You will save hundreds of dollars every year. Money that you can use for other vital expenses like food and bills payment.
Results in better food quality. It may sound weird that the quality of water affects the taste of food. The water you use in cleaning your vegetables and fruits can bring out the fresh taste of these healthy foods. Cooking soup-based dishes with clean and clear water also brings out the natural flavor of the ingredients.
Many restaurants already use water filtered using a reverse osmosis system. You can also use it for your home cooking. Start now and taste the difference it makes!
What are the disadvantages of reverse osmosis?
While there are many benefits from using a RO system for purifying water, it also has disadvantages. Here are the top three:
Filters out essential nutrients. The ability to filter out 99% of substances dissolved in water is impressive. But not all dissolved elements in water are harmful. Some nutrients such as calcium, iron, and iodine are essential nutrients that make life possible.
Some reverse osmosis system adds another layer in their water treatment process. It is to address this loss of essential nutrients. A process called remineralization adds minerals like potassium, magnesium, and calcium to filtered water.
It uses a lot of water. A typical RO system can use as much as three times the volume of water it filters. So, if your device can store 5 liters per cycle, the water needed to produce this much water is 15 liters. And the higher percentage gets discarded as wastewater.
If your water source is from a local water distributor, this will mean higher water bills at the end of each month. It comes not only from higher consumption of fresh tap water but also from more sewage water.
During dry months, this becomes a bigger problem. Imagine if everyone uses three times more water than they usually do. It will deplete whatever limited water supply we have at a much faster rate.
Wastewater disposal concerns. As we discussed, in reverse osmosis, one part of the water comes out clear, but the other part becomes super concentrated with contaminants and bacteria. The problem is how to dispose of this dirty water without affecting the environment.
You cannot throw it in the sewage as this will contaminate the water supply of the community. Dumping it on lakes and rivers will be dangerous to animals and plants that depend on that water source.
Some people throw wastewaters in the oceans. It has organisms that feed on microbes and other substances. But for most people who have no access to the seas, the alternative is evaporating wastewater. But this is an added process from the reverse osmosis system. And will require additional investment.
After discussing the pros and cons of a RO system, you can now decide if it is suitable for your needs and that of your family. There are many devices available online of varying costs and sizes. If you check Amazon now, you can even get a promotional price or cash discounts.
But before purchasing your unit, you must consider one more aspect. That is, ensuring that the reverse osmosis system keeps running smoothly. People sometimes forget this. What matters most to them is the low initial cash-out and the hard-to-resist features. Things that are typically manipulated and staged by marketers and companies.
What maintenance should I do with a reverse osmosis system?
As with any device, a RO system must be kept clean. It also has parts that will eventually need replacement. The good thing is that you have no need for a plumber or specialist for it. You can do it yourself.
The first thing to remember is that a RO system has filters that collect all particles like dirt, chemicals, and bacteria. As it accumulates these contaminants, the filters become full of particles. You will notice that its color will change from white to yellow to brown.
Waiting for it to turn brown is not the best standard before replacing the filter. When it reaches this point, the filter already lost its dirt-trapping properties. Most RO systems recommend replacement every three to six months. Consult your user manual for the manufacturer's suggested timeline for filter replacement.
Another vital part of regular replacement is the semi-permeable membrane. It is the heart of this water treatment process. It is where most bacteria and smaller particles get removed from the water.
The membrane is due for replacement every year. So, by the time you replace it, you have already changed filters twice. Schedule the replacement of the membrane at the same time you change the filters. It will save you time and effort assembling and disassembling the parts of the reverse osmosis system.
Sometimes you will need to replace the membrane earlier than twelve months. It happens when the water source is very acidic or ultra-hard from the concentration of metallic elements. You can check with your water provider about the pH level of the water supplied to your home.
Another part of the system that needs cleaning is the pipes. All RO systems connect to the water pipeline of the house. For smaller setups, you can install it to just the kitchen water pipe.
You can do simple cleaning of the pipes by using everyday household items. Regularly flush the pipe system with a mixture of hot water and salt. Hot water can melt or loosen dirt and grease. Salt can rub off grime and slime.
Lastly, the system must be drained and sanitized. Remember that reverse osmosis does not kill bacteria and other microorganisms. It simply separates them from the water. Over time, bacteria can overwhelm the system. So, you must sanitize a reverse osmosis system regularly.
Read on for a step-by-step guide to do this. It is simple to follow even without professional training.
How to sanitize a reverse osmosis system?
Sanitation is the procedure done to keep things clean and hygienic. In an RO system, sanitation is the removal of harmful bacteria accumulating in the water filtration system.
Most makers recommend sanitizing a RO system once a year. If you tend to forget, make a calendar entry from your smartphone or email app. It will ensure that you get alerted once it's cleaning time.
Here is the step-by-step guide for sanitizing your reverse osmosis system:
Prepare for the task at hand. Clean up. Ensure that your cleaning area has no standing water or dirt.
Get the replacement parts ready. If you are replacing the filters, they should be within your reach. But keep them in the original packaging first, at least not until you are ready to install them.
Turn off water valves that supply water to the RO system.
Disconnect it from the ice machine or fridge.
Wash hands with clean water and soap to avoid contaminating the system. Wear hand gloves and eye protection if necessary.
Open the faucet of the RO device and drain all water from the system.
Once fully drained of water, close the faucet again.
Look at the pre-filter and remove it first. It is the first filter from the water source. Twist the plastic casing and discard the filter inside.
Repeat the same steps for the other two filters. But dismantle the second filter first since this also houses the membrane.
After removing the second filter, you can dismantle the membrane. If it is not due for replacement, set it aside in a clean area.
Reattach all the filter housings without any of the filters inside.
Add your sanitizer into the pre-filter housing (it is the first filter casing). You can use Sani-system sanitizer or unscented household bleach.
Turn on the water supply and fill the system with water.
After about 10 to 15 minutes, the water level should be at max. Check for any leaks. If there is water dripping, recheck the casings and tighten the screws.
Once the water flows out of the system, the sanitizer has reached the whole setup. Leave it there for 30 minutes if you use bleach. If you used Sani-system, you only need to wait for one minute.
After letting it sit for one to thirty minutes, open the faucet. Let it flow for about five minutes or until the bleach smell has gone.
Repeat the process of filling up with water and then draining it at least two times.
If you still smell bleach, continue flushing the system a few more times.
Turn off all water valves and prepare to disassemble the filter casings again.
Unscrew all the filter housings. Unpack and place the new filters inside the casings.
Turn on the water supply again. Check for any dripping water.
Refill the water tank by letting water flow through the RO system.
Put back the connection with your ice maker or fridge.
Congratulations! You have successfully sanitized your reverse osmosis system. Keep a regular schedule of cleaning and sanitizing for your RO system. It will ensure that you will have clean and clear drinking water for many years. You can now enjoy healthy water for yourself and your whole family.