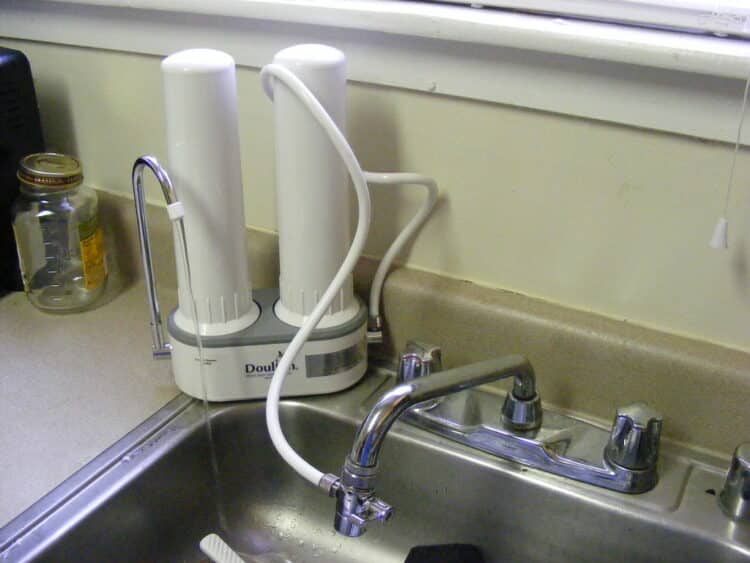 Water is the most essential need for humans, especially in the pyramid of physiological needs.
Humans can live a week of two without food, but they'd be dead in days without water. That's how important water is.
It purifies toxins in our bodies and helps wash off germs that are on our bodies. It also allows for easy dissolution of chemicals.
The water cycle is one of the fundamentals of our environment. From the ground to the skies, then back again. It's a way of preservation and a means of survival.
This is why it's so important to take care and be cautious of the water we're using for our personal needs.
When it comes to faucet water filters, they are usually used to remove dirt and impurities from natural water that comes from the environment.
With the right techniques, we can filter those impurities out of the water system for better and healthier water qualities.
However, filtering is not the same as purifying. Purifying functions the same way our bodies eliminate dangerous viruses that enter our systems.
Purifying water works the same way. Toxins are removed from the water, while filtering usually just removes unwanted sediments found in our water whether they are harmful or not.
In a way, filtering is like using a broom while purifying is spraying disinfectant everywhere.
Two Methods of Filtering
Physical Filtration
It is similar to using a strainer to remove larger particles from the liquid.
Chemical Filtration
Chemical filtration is more advanced and a little complicated. Through chemical filtration, water flows smoothly through an active agent (or chemical) which removes dirt as it passes.
Types of Water Filters
There are five common types of water filters. These filters use both physical and chemical techniques in water filtering.
The technological water filters are activated carbon, reverse osmosis, ion exchange, distillation, and ultraviolet (UV filters):
1. Active Carbon (AC)
It is the most common and effective water filter that people use these days. It is usually made out of charcoal.
By using active carbon, it removes filth by trapping the chemical contaminants into solids or liquids through a process called absorption.
However, it cannot filter things such as heavy metals, sodium, and microbes. One of the disadvantages of this filter is that it can clog from trapping too many impurities.
It will have to be replaced often.
2. Reverse Osmosis
Reverse osmosis forces filthy water to pass through a fine filter (membrane) under tremendous pressure so that the pollutants are left behind the membrane.
This process uses energy because it relies on energy to create pressure. Electrical pumps are necessary in order for it to operate.
Reverse osmosis may be good at removing contaminants—including healthy minerals—but it's less effective when it comes to removing bacteria.
3. Ion Exchange Filters
They are similar to water softeners because they "soften" water to an extent.
Ion exchange filters can be used for removing hard minerals that an active carbon water filter is unable to do.
These filters take out contaminants through its ionic charges. Because of this, it may leave unwanted residual minerals in the chemical solution.
4. Distillation Water Filter
A distillation water filter is one traditional filtering type that people often know by now. The process involves boiling water first to kill bacteria.
Then, it "catches" the water vapor or steam and through condensation, cools down the water in a different container.
Although this works, it's not that effective because some pollutants like organic compounds aren't removed during the distillation process.
5. Ultraviolet (UV) Light Filters
UV light filters are really efficient because it can kill waterborne microorganisms with 99.99% effectivity. Germs aren't destroyed entirely, but it is still an effective way of eliminating most of them.
It's better paired with an active carbon filter because UV light filters can't remove common impurities the way active carbon can.
What are water filters necessary?
Most people trouble themselves on phone brands and which shoes to wear for the day. They rarely worry about the water they're drinking and using every day.
Water filters are a need because they omit unhealthy impurities trapped in our water. Second, they improve the taste of water. And most of all, they reduce health-related risks.
Health-related risks are not just about drinking dirty water, but the way it can affect your physical health even though you haven't consumed it.
For example, a Urinary Tract Infection (UTI) can be contracted if you are exposed to filthy bathing conditions.
Prioritizing water filters is more important than fulfilling wants because health should always come above everything.
Why do I have to keep changing my filters?
Bacteria is one of the main reasons you need to change your filters. You have to change them regularly or else they use their effectiveness.
Similar to a salt bridge found in a water softener that causes clogs and unsoftened water, regular maintenance and cleaning is also required if you choose water filters.
All filtering processes are similar because they all pass through water in order to remove things. If filters clog, then this will leave room for bacteria to grow along with it.
As more bacteria grows, you put yourself at higher risk for a bacterial infection. Water that passes through a clogged filter unfortunately gets even dirtier in the process.
It is unhygienic and dangerous to the health of everyone in the household. This is why you have to regularly replace the water filters.
What else are faucet filters good for?
When it comes to softening water, it is possible that not everyone is able to afford and maintain a water softener.
There are faucet filters that work on softening only the water that passes through it. It can save you money because there is no need to splurge on an expensive water softening unit.
Alternatively, you can use them on showerheads to get soft water (and filtered water) for your showers.
Conclusion
Water filters come in all shapes and sizes that suit every consumer's needs. You just have to find the right one for you.
Regular maintenance is inescapable. You have to replace or clean out the water filters to ensure you are getting the full extent of their filtering properties.
They are a good alternative for households who don't want to buy a house wide water filtering system and instead just want to focus the filtration through different parts of the house.