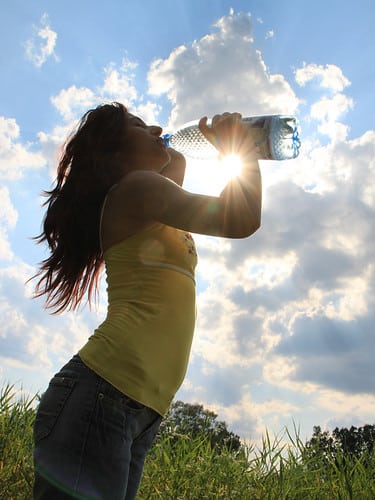 Which is better water for drinking, purified vs distilled water? Are the differences significant, which makes one better than the other?
Water is essential to all life forms and necessary for survival and longevity. Without it, life would cease to exist, and Earth might just be another deserted planet in the solar system.
All plants and animals need water, and every living cell needs water to function. And for higher life forms like human beings, constant hydration is necessary to survive throughout the day.
All people know the importance of water, but not many know the best type of water to drink. You cannot drink any water that comes your way. You have to consider how it was processed and cleansed.
This article will instruct you on how you can distinguish the best water to drink and perhaps learn how to make it for yourself.
Purified vs. distilled water: What are they?
Purified water
Purified water comes into existence from filtration, treatment, or processing methods to get rid of impurities and contaminants in the water. Its origin usually comes from regular tap water or even well or groundwater.
Through the method of purification, assorted pollutants are removed like:
Algae
Bacteria
Parasites
Fungi
Heavy metals like lead or copper
Chemical contaminants
There are many purification processes, which are done commercially and within the household. In developed countries, their public water supply is made pure and potable for everyone to ingest.
Yet, different countries have varying water standards. Of which are based on the rules and regulations of their respective governments.
There is a statistic from WHO or World Health Organization that states approximately 2.1 billion people all over the world don't have safe drinking water.
Here are the basic water purification steps, which can be used in-home or large-scale treatment plants:
Flocculation and coagulation- Raw water is added with positively charged chemicals to be able to bond with particles that are negatively charged. This way, the water can be filtered out. Floc is then formed, which are larger particles.
Sedimentation- The floc then separates and descends to the bottom of the water due to its bigger and heavier sizes.
Filtration- The clean water situated on top of the water supply then passes through many types of filtration media like charcoal, gravel, and sand. At this stage, pollutants are removed like chemicals, viruses, bacteria, dust, and debris.
Disinfection- Chemical treatments are added like chlorine or chloramine to exterminate the leftover contaminants like viruses and harmful microorganisms that weren't killed off in the first steps.
Purified water health benefits
The municipal or city tap water is relatively safe to drink in many areas. However, there may still be few remaining contaminants.
The EPA or Environmental Protection Agency has regulations for the legal limits for about ninety contaminants that are safe for people to ingest along with water.
There is also the Safe Water Drinking Act, which enables each state in the USA to regulate its potable water standards. It is only as long as they adhere to the above-mentioned minimum contaminants requirement by the EPA.
It means some US states have more rigorous regulations than others.
Even though there are strict regulations in place, harmful heavy metals like copper and lead are sometimes present in tap water. These leach through from natural sources.
If you use a full-fledged water purification system in your home, it undergoes another layer of filtration that gets rid of harmful contaminants.
Its drawbacks
The entire water purification system necessitates constant maintenance.
It cannot get rid all the harmful contaminants.
It is expensive to install a home purification unit and buy purified water bottles.
It results to a lot of waste like empty bottles, wastewater, and used filters.
Distilled water
Distilled water is another kind of purified water but undergoes a different process.
This method has been utilized since ancient times. It is not as famous and used widely as reverse osmosis or activated carbon, yet it is effective in filtering out pollutants.
It works by heating and evaporating the water using electricity, up until it boils. The steam is trapped and condensed into pure distilled H2O.
It is utilized for industrial purposes since this process only produces a small amount of distilled water. It also takes a long time to make it.
Its benefits
Pathogens and disease-causing microorganisms are present in municipal and well waters, but they can be terminated if the water is boiled. Since the distillation does this, you won't worry about ingesting them, and the steam also doesn't deliver them to the bottles.
Distilled water is the cleanest water and preferred by worldwide industries that manufacture and process perfumes, medicines, food, and many more. They utilize it because it's the purest method of filtration.
Drinking it always will flush out harmful toxins in the body. If you want an inexpensive cleansing procedure, ingesting distilled water is the key.
Ingesting it is more inexpensive than purchasing purified bottled water. Plastic bottles might cause harm due to their chemicals seeping into the water.
Its drawbacks
It has a low output.
It necessitates constant maintenance and has a high cost of operation
The entire process takes a while
It has a flat taste.
Is purified or distilled water better than tap?
In most situations, the city or municipal tap water is safe to drink due to strict water treatment regulations.
Yet, it still has a possibility of contamination due to human behavior, intentional or unintentional.
So to be sure, it's an excellent idea to purchase a complete home water purification and filtration system. It will benefit people who have sensitive dispositions and hypersensitive to impurities found in water.
In poor and developing countries where sanitation and water pollution are a nationwide problem, selecting purified water is the better and safer alternative.
There are many purification methods you can select for your home like UV purifiers, water softeners, charcoal filters, etc. Potable water should be a priority in all households and shouldn't be taken lightly.
Conclusion
There is no contest, and both purified and distilled water is good for you. One may have a slight edge over the other, but each does the job of exterminating harmful contaminants in the water.
However, always choose them over regular tap water. Comparatively speaking, they're safer to drink, and you won't worry about getting sick. So get a water purification or distillation unit for your home now!