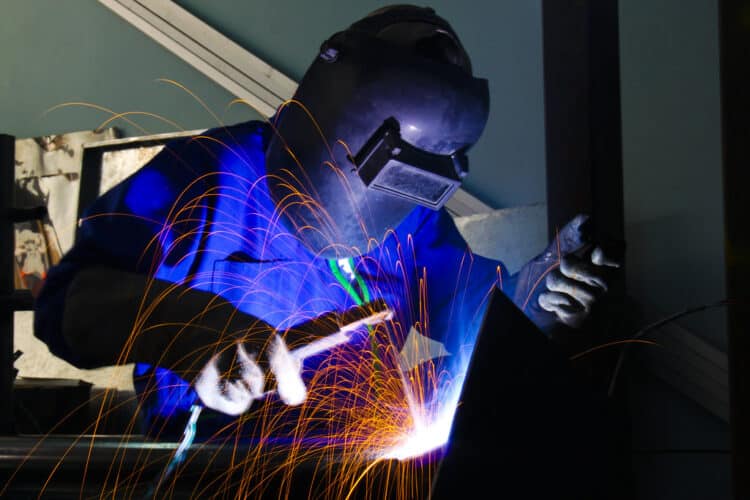 Welding is an essential industry that literally forms the backbone of modern society. We depend on the products of welding for our families – our homes, furniture, appliances, and cars. Welding makes up the structure of everyday society from skyscrapers, buildings, bridges, and space vehicles!
Industries such as construction, aviation, aerospace, and automotive will not be made possible without the robust and reliable products of welding. Although welding is an in-demand career, a highly skilled welding operator is hard to come by simply because of the job's complexity!
Whether you're starting out your journey as a welder or you've been wielding the machine for years, you'd know that the job isn't as simple as it used to be. Innovations have improved the art and science of welding. There are now several welding techniques to choose from – gas welding vs. arc welding. Under the latter, there's stick, TIG, and MIG! Did we mention all the welding tools and safety equipment you need to invest in?
We didn't mean to overwhelm you, but welding is one of the most complex and dangerous trades to get into. Aside from understanding welding types and applications, a successful and responsible welder should be informed on welding maintenance and safety. At Kyle's Garage, we work to give our loyal followers and supporters the most comprehensive and relevant information on power tools – including welders. This includes every single part that makes up your welder. We want to help you know the ins-and-outs of your welding equipment so that we can help you use your power tools to the fullest.
Getting started with welding
Types of welding
The first thing you need to understand is that not all welding is the same. Different welding types will call for different equipment, processes, and applications.
We can categorize the different types of welding into five main branches:
Arc welding: uses electrical currents
Gas welding: uses oxygen and fuel gas
Resistance welding: uses pressure and electric currents
Newer welding: uses electron or laser beams
Solid-state welding: coalescence at solid-state due to high pressure
Under these categories are many other types of welding techniques that differ greatly in their processes. While each one will have its pros and cons per application, the most common welding technique used across all industries is arc welding.
At Kyle's Garage, we want to help you reach your potential with whatever welding technique you choose. We'll provide you with the most relevant information on the different welding techniques and the equipment you'll be needing. Let's focus on the two most popular types of arc welding processes: MIG vs. TIG welding.
MIG welding
Metal Inert Gas welding is an arc welding process that uses an electrical current to feed a metal wire into a weld pool. Since a filler metal is being used, this technique can get very dangerous due to the high amounts of spatter produced.
MIG welding is commonly used for large-scale and industrial applications in the manufacturing and construction industry, such as in steel structures, automotive, and pressure vessels. Since it's also the easiest arc welding technique to learn, many professionals and even DIYers use MIG welding for home improvement projects.
Production and training expenses are also much less than the more complicated TIG welding. If you're a beginner at welding, consider starting out with MIG welding. Keep in mind the MIG welds are less clean, less precise, and weaker than TIG welds.
Most homeowners and DIYers are willing to spend around 300 to 500 USD on a good quality MIG welder for its various applications around the house. Since MIG welding can be a particularly dangerous job with all the spatter and debris produced, make sure to get a quality machine, even if you're a beginner.
Arguably the best MIG welder for a beginner is one made by Forney, a renowned welding brand known for its high-quality products. The Forney Easy Weld MIG Welder offers a Start-up Kit that is a fantastic choice for beginners with zero-welding experience.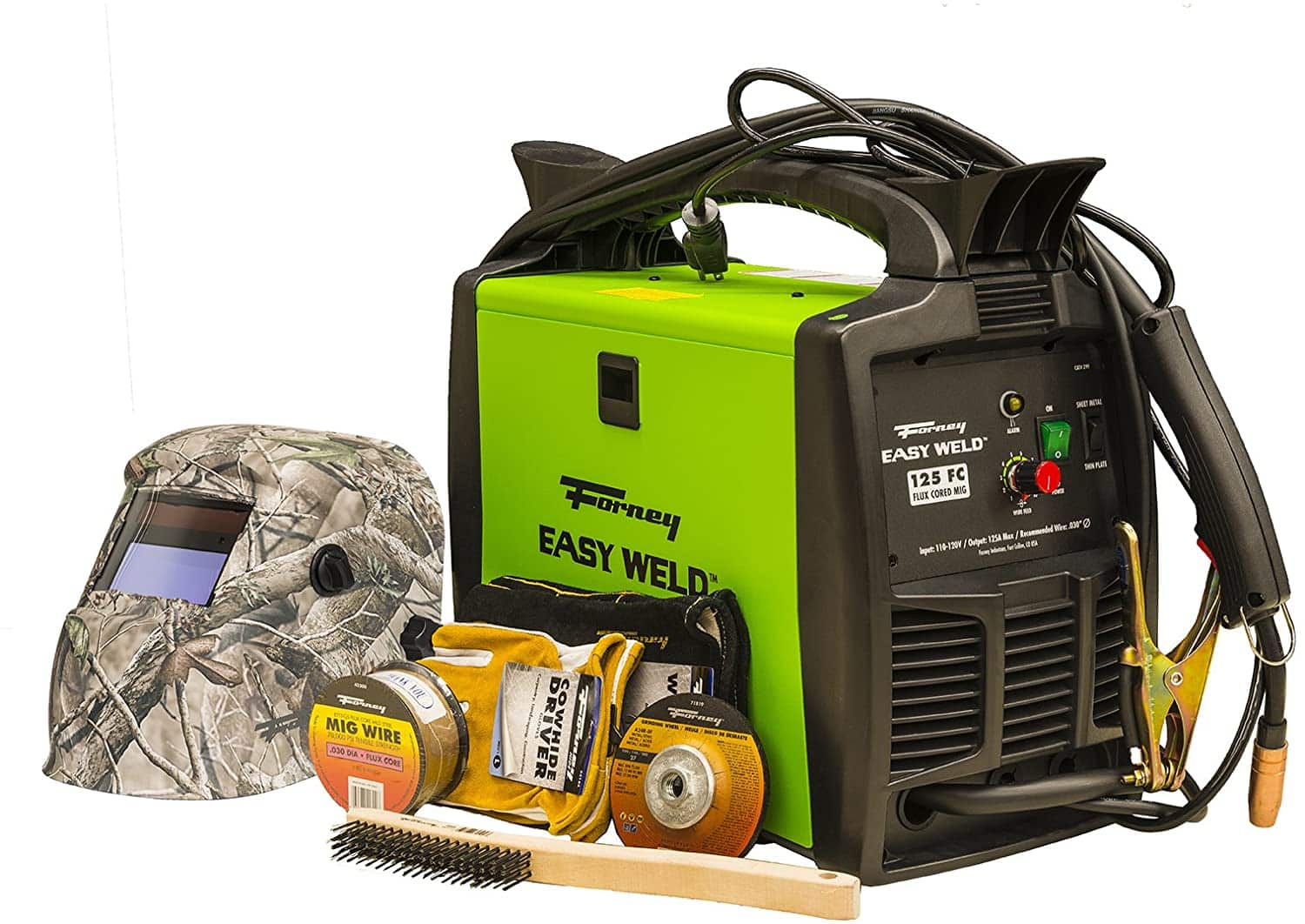 This Forney starter kit with a power rating of 120V Amp output is perfect for a simple at-home project. Though it might not handle your heavy-duty metal-work, it can efficiently weld up to ⅛ inch of metal. If you're looking for convenience, this welding machine is compact and weighs less than 8 pounds, so it's easy to transport and it doesn't get in your way.
TIG Welding
While TIG welding is significantly more complicated than MIG welding, if you're planning to do a ton of detailed metal work with thinner metal pieces, you should start learning TIG welding. If you're looking for an in-demand trade, a TIG welding career is one of the most lucrative jobs out there. You'd need to invest a lot of time, patience, and money to be able to go for specialized training and learn this complicated skill.
Tungsten Inert Gas welding uses a tungsten electrode to heat metal and form a weld pool. Unlike MIG welds, TIG doesn't need a filler metal. This makes TIG welding more ideal for delicate, clean, and precise metalwork. The downside is that this process is costly, time-consuming, and not ideal for beginners.
TIG welding needs special training to master a high level of dexterity and hand-eye/hand-foot coordination. It's most commonly used for sensitive industries like aerospace, aeronautics, and nuclear power. It's also used to create intricate artwork and ornamental designs.
TIG welding is one of the most expensive welding techniques because of the training and equipment. Expect that a high-quality industrial-grade TIG welding machine will cost more than 1000 USD.
If you're in the TIG welding business, there are a few key features you should look for in a quality TIG welding machine. The best machine for you will depend on the type of work you need to get done and the metal you'll be working with.
If you are working with steel and stainless steel, find a welding machine that has a DC output. For aluminum and magnesium welding, go with an AC output welder. If you are working with a wide range of metals, invest in a quality machine with a combination AC/DC power source. Heat control should also be a top priority for sensitive material. Look for a welder that has a high duty cycle.
If you're a TIG welder on a budget, there's no need to worry! There are a lot of high-quality machines out there for under 1000 USD. One such machine is the Welpro 200G. This heavy-duty machine allows for versatility – you can use it for both TIG and stick welding, and it also has a combination AC/DC for when you want to switch up your metals.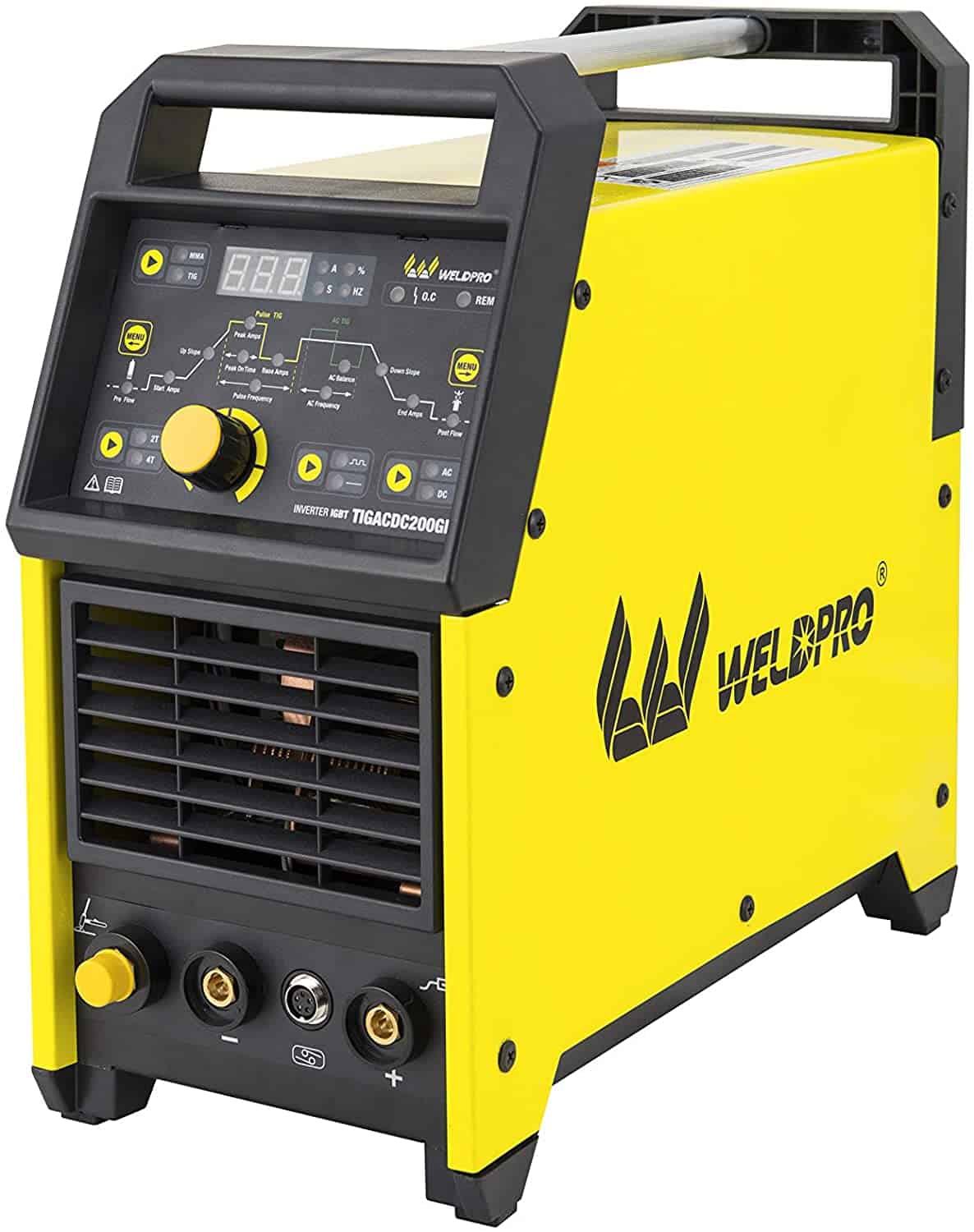 For only 750 USD, the possibilities for your welding projects are endless!
A more comprehensive list of the best welders under 1000 USD is available at Kyle's Garage. Even affordable welding machines can give you a flexible range of applications, safety features, and an ergonomic design. We promise to provide you with honest reviews and critical insight on the best machines that will address all your welding needs.
We also offer detailed information on the best care and maintenance practices for your welder. We'll help you wield your machine for years to come with the best maintenance tips and products on the market.
Regular maintenance includes
Cleaning equipment from dust and debris
Oiling
Checking all connectors, brushes, and accessories
Aside from DIY maintenance, consider regular servicing of each part, especially electric cables. If you want your welder to work effectively, make sure to invest in professional servicing and maintenance products.
Welding Safety
At Kyle's Garage, we want to provide you with the most relevant information on the best welding safety and protective equipment. Welders are exposed to safety hazards such as hot slag, sparks, spatter, radiation, and metal fumes.
Regardless of skill level and the type of welding technique, personal protective equipment (PPE) and safety measures should be the number one priority. Ensure that your workplace also takes the necessary steps for a safe welding environment. This includes proper ventilation and respiratory protection at all times.
PPE should be worn from head-to-toe. Special attention should be given to sensitive areas such as the face, eyes, and hands. The most important piece of equipment is a quality welding helmet and goggles.
Conclusion
At Kyle's Garage, we believe in each homeowner's capacity to build forge their DIY skills! We are passionate about sharing our knowledge about power machines that can make your yard work and DIY projects successful and safe!
Welders are powerful machines that offer countless applications and uses at home and in society. Visit Kyle's Garage for the most up-to-date and current information on welders and other power tools.