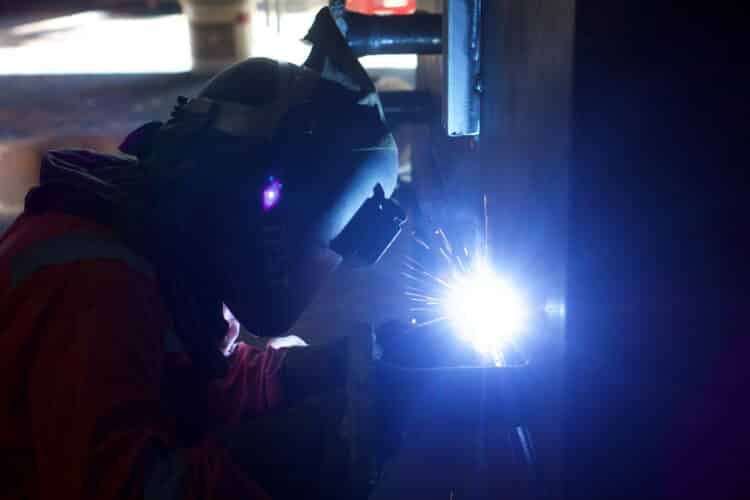 Welding is a high-risk career with constant exposure to chemical and physical hazards such as toxic fumes, harmful UV/IR radiation, and sparks and spatter that can cause severe burns.
Whether you're a beginner or a professional welder, personal protective equipment (PPE) and safety protocol should be observed at all times.
PPE are designed to protect the user against any health and safety risk at work. Welding exposes operators to safety hazards that can harm the entire body–head-to-toe PPE is critical.
One of the most essential PPE is the welding helmet. To protect yourself adequately, you need to know the different types of welding helmets available.
What is a welding helmet?
Welding helmets provide necessary operator protection and safety during welding and grinding operations.
All welding helmets should meet ANSI (United States) or CSA (Canada) standards. Each welding helmet should be thermally and electrically insulating. Helmets should also have a noncombustible design.
All helmets should have basic protective features, including protection of the eyes, face, and skin from chemical and physical hazards.
Workplace safety has been given more attention in recent years. Developers have now released a wide variety of helmets that give specific attention to reliable protection, functionality, comfort, and, most especially, productivity.
Due to the advancements in welding safety, users are guaranteed to find a helmet that suits their specific welding needs and applications.
A quality helmet is designed to be lightweight and well-balanced to provide ultimate comfort during extended work hours.
Modern-day helmets have been developed to guarantee maximum comfort to enhance productivity and efficiency. These were designed to reduce operator fatigue that can compromise safety and quality of work.
What are welding helmets made of?
The material of the welding helmet shell will depend on the type of welding work.
Nylon
Most entry-level welding helmets are made of nylon, which is lighter than fiberglass but is extremely durable.
Noryl or Amodel
Industrial-grade welding helmets are often made with Noryl or Amodel, high-quality materials that are even more durable and long-lasting than nylon. These two materials were proven to outperform nylon in essential welding-related applications.
What are the different parts of a welding helmet?
Different models of welding helmets are differentiated through their various components. The basic parts of a welding helmet are:
Helmet Shell: this protects against light damage and must be resistant to physical impact, heat, and electricity.
Cover plate: the outer cover plate is made with a polycarbonate plastic, which is an effective protection against radiation, impact, and scratches
Filter lens: made of glass and contains a filler, which significantly reduces the amount of light reaching the eyes. Shade levels define how dark a lens will be. These range between 2 to 14–the higher number indicating a darker shade.
Retainer lens: prevents broken pieces of filter lens from damaging the eye.
Gasket: insulating material located between the cover plate and the filter lens and is designed to protect the lens from bursting due to sudden heat changes. Instead of a gasket, some models will have heat insulation integrated into the frame mount.
What kind of PPE are welding helmets?
Recent innovations to welding safety helmets guarantee users next-level safety and protection. Specifically, welding helmets are designed to protect the eyes and the face from chemical and physical damage.
These include:
Protection from Physical Hazards
Burns, eye damage, cuts, and irritation are common Injuries that can be avoided with welding helmets. Helmets protect the eyes and the face from flying debris, hot slag, sparks, and spatter.
Exposure to Radiation
Welding helmets effectively protect the skin and eyes from the damaging effects of ultraviolet (UV) and infrared (IR) rays. Long-term exposure to these rays can cause extreme physical damage such as blindness and even cancer.
Exposure to Intense Light
The damage of looking directly into the welding arc is likened to looking directly into the sun. Welding helmets are available in varying shade levels from 2 to 14 (with 14 being the darkest) to accommodate different welding processes and amperage.
Exposure to Toxic Fumes and Gases
Many welding helmets also offer protection of the lungs with built-in respirators. These are effective for protection against the inhalation of toxic fumes and oxides.
What are the different features of a welding helmet?
Modern-day welding helmets offer endless versatility and customization to suit every welder's needs. With all the different models available, choosing the type of welding helmet that is best for you may be a little confusing.
To give you an idea of the different types of welding helmets, we will focus on these three features:
Passive or Auto-darkening lens
Fixed or variable shade lens
Power
What are the types of Welding Helmets?
Passive or Auto-darkening
1. Passive Welding Helmets
The passive helmet is the most basic type of welding helmet. Passive welding helmets feature only a single color and shade of glass, and it does not change.
Passive welding helmets' shade level is usually between 10-12, which is flexible enough to be used for low to medium amperage welding processes.
Advantages
This type of helmet is very affordable compared to auto-darkening lenses.
While passive lenses are more traditional, it is still very effective and durable. These helmets are made of strong material that effectively protects users from flying debris, impact, UV/IR radiation, and extreme heat.
This type of helmet is also very easy to use.
A welder simply has to put on the helmet by nodding their head before striking the welding arc, hold the helmet in place during welding, then tilt the head up to remove the helmet.
Disadvantages
This type of helmet is not recommended for the beginner.
Extreme caution should be taken to ensure that the welding helmet is on before striking the welding arc. Otherwise, the welder may sustain an injury due to the arc flash.
It will also take some practice to get the electrode into the correct spot when the helmet is down. Mistakes with weld starts will cause defects.
The need to repetitively lift up and pull down the helmet during the welding process is inefficient and significantly affects productivity. This repetitive motion can also lead to strain injury.
Passive welding helmets also do not completely cover the head and neck, increasing the probability of personal injury.
Holding the helmet in place is also inconvenient, time-consuming, and can lead to significant fatigue and strain.
2. Auto-darkening helmets
While the passive welding helmet fulfills its general purpose of safety, the inconvenience of repetitively lifting/lowering the helmet significantly affects productivity and efficiency and heightens the risk of injury. The development of an auto-darkening lens is one of the most useful innovations in welding helmet technology.
When the welding arc is struck, the auto-darkening lens will detect light energy and automatically adjust to the correct shade level that will offer protection. When the welding arc is not active, the lens stays at a shade level of 3 or 4.
This is light enough to provide clear visibility to observe the weld and work surroundings and dark enough to offer protection should there be unexpected arc flashes.
Advantages
This feature is extremely convenient and boosts productivity and quality.
Most companies have stopped producing passive helmets and focused on the innovation of auto-darkening helmets. Recent advancements in technology have resulted in a wide variety of auto-darkening lenses based on fixed/variable shade levels and a power source.
Disadvantages
The main disadvantage of auto-darkening helmets is their expensive cost.A high-quality auto-darkening lens costs between 100 to 250 USD.
Secondly, auto-darkening lenses need a power source (battery/solar) to function, which may cause some project limitations.
Fixed or variable shade lens
3. Fixed-shade Welding Helmet
Fixed-shade auto-darkening lens feature only one shade level when the welding arc is struck.
This is best for operators who work on the same welding process and similar materials. These lenses usually sit at a shade level of 10 and do not adjust the shade level according to arc brightness.
The welder must ensure that the welding process used will require only the same amperage and materials that will not require a darker shade level to protect the eyes.
Advantages
Fixed-shade welding hoods can be used easily by beginner welders who work on a single welding method for all their projects.
This fixed shade welding helmet is often called the "daddy" helmet. Many DIY-savvy dads often choose this helmet as a convenient option to fix things around the house.
Disadvantages
On the other hand, fixed-shade helmets considerably limit work flexibility. If a welder plans to weld different materials and wants to switch between stick, MIG, and TIG welding, then a variable-shade lens is the best choice.
4. Variable-shade auto-darkening helmet
Operators who have various project tasks such as cutting, brazing, and welding can get a helmet with a variable-shade lens to allow for more work flexibility.
Welders who need to use various welding processes with different materials and amperage should opt to get a variable-shade helmet.
Advantages
This type of helmet offers great convenience and flexibility.
A variable-shade lens automatically adjusts the shade level according to the light emitted by the welding arc, allowing the operator to work with different materials and welding processes without replacing the lens.
This type of helmet also offers increased protection from light damage. It also enhances user visibility considerably, therefore improving weld quality and productivity.
Disadvantages
While a variable-shade lens offers much more convenience and flexibility, this added feature will definitely cost more. If you are only using one welding process and one material, a fixed-shade helmet is a great option.
Power source
5. Battery-powered welding helmet
A battery-powered auto-darkening helmet uses either rechargeable or replaceable batteries. The most common type of battery is a lithium battery.
Advantages
Choosing between a solar-powered and battery-powered helmet is really a matter of personal preference. Battery-powered helmets are convenient because you can use them immediately compared to a solar-powered helmet that takes a lot of time to charge under the sun.
Disadvantages
On the other hand, having to replace the battery often can also be inconvenient. You will also have to keep spare batteries on hand to avoid the inconvenience of having to stop welding operations mid-way.
To ensure safety, make sure that your helmet has enough power and is powered-on during every welding session.
Battery-powered lenses often switch on/off automatically, but new welding helmets now feature an additional screen filter to protect from unexpected arc flashes.
6. Solar-powered helmet
These types of helmets need to be left under the sun to charge. The solar panel effectively captures sunlight and UV rays to transform their energy into a usable power source.
Advantages
Solar-powered helmets are a great option for welding work that is done outdoors with a lot of sunlight.
This type of helmet removes the inconvenience of having to check and replace batteries often. It also turns on/off automatically. These features not only improve productivity but also ensure user safety.
This type of helmet is also more lightweight and is the more economical alternative to battery-powered helmets.
Disadvantages
Solar-powered helmets have a fixed-battery that cannot be replaced. This is the reason why solar-powered helmets usually have a short lifespan of only 1 to 3 years.
In addition, solar-powered helmets usually offer fewer control settings.
For helmets that are solely solar-powered, users need to charge their helmets under the sun, which may take a lot of time. The development of a helmet that combines solar-power and battery-power effectively addresses this issue.
7. Solar and battery powered helmets
Newer models of welding helmets that combine solar and battery operation ensure welding operations continue under any circumstance.
This type of helmet does not depend solely on solar power.
Solar powered welding helmets recharge through exposure to the sun or the welding arc. It uses a built-in or replaceable battery to initially start-up the helmet.
Once the welding arc is activated, the solar panel will use the welding arc's UV light to power the helmet.
Advantages
This type of helmet is the most economical.
When the welding arc is struck, solar-power does the majority of the work. This effectively saves up battery power.
Automatic on and off functions not only save battery life but also ensure operator safety. Newer models also feature a lightweight and comfortable design that will allow for extended work hours.
Disadvantages
While solar-powered helmets are a good investment, some models have a short life span. Some models are prone to damage after being recharged multiple times.
Some models use lithium batteries, which can be expensive and difficult to replace. Other models don't offer the option to replace the batteries, which shortens the product's lifespan considerably.
What are the other features of welding helmets?
Apart from optic and lens technology and power source development, welding helmets now offer more flexibility in terms of functionality.
Before settling with a welding helmet, consider your specific applications and operations. Equally important features that you should consider are:
Lens material: The lenses in auto-darkening helmets can either be made of plastic or glass. Generally, the glass would be the better option because plastic can distort light and color profile.
Viewing area: This can range between 6 to 9 square inches depending on personal preference and the welding process. A larger viewing area increases peripheral vision and gives better visibility of the weld and the worksite. On the other hand, a smaller viewing area offers a more focused view and a more lightweight helmet.
The number of sensors: More sensors will ensure better coverage to ensure safety from the welding arc. Entry-level helmets generally have 2 sensors, while professional helmets that require out-of-sight and more complicated welding would have 4 sensors.
Sensitivity control: This setting controls the amount of brightness needed to trigger the adjustment of shade levels. For intermediate and professional operators working on different welding processes, a helmet with sensitivity control is absolutely necessary to avoid injury.
Delay control: This setting controls the amount of time before the darkened lens returns to the light state. A long delay is useful for welding operations that involve high amperages that leave a longer glow once welding stops. On the other hand, adjustment to a shorter delay is more convenient for work, such as tack welding.
Lens reaction times: This refers to the amount of time it takes for lenses to adjust to the correct shade level according to light emitted from the welding arc. Reaction time should be appropriate for the type of welding process. Entry-level models usually have a lens reaction time of 1/3,600th of a second, while professional models can have a reaction time of up to 1/20,000th of a second.
Lighter-weight and comfortable design
What is the best type of welding helmet?
With all the different types of welding helmets, it may be confusing to choose the best one for you.
The important thing to remember is to keep in mind the specific tasks and applications you need to perform and the safety measures these entail. The choice of the "best" welding helmet will all boil down to personal preference and what works best for you.
Many developers and manufacturers combine two or more of these helmet types to further enhance convenience for welders.
The specific safety measures to keep in mind include protection from physical and chemical hazards, including flying debris, UV/IR rays, heat, light damage, and toxic fumes. It should be sturdy enough to withstand these forces and stressors.
The best welding helmet offers balance, comfort, and a lightweight design to maximize productivity.
To choose the best helmet for you, keep in mind essential safety measures, your budget, as well as your specific needs and personal preferences.