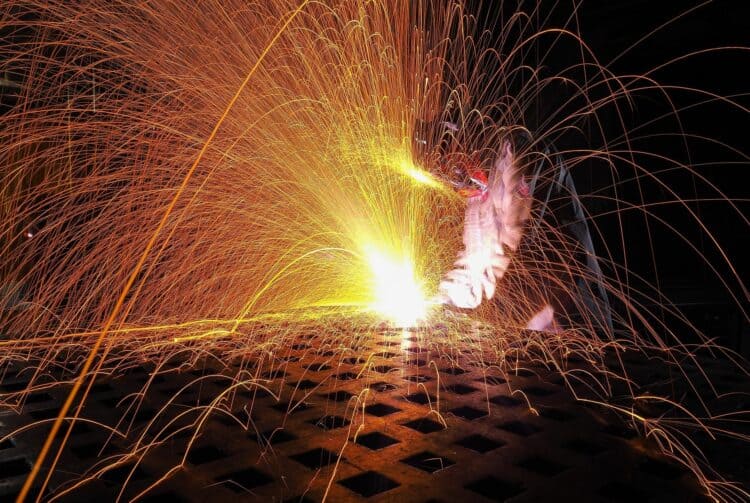 Most laypeople may already know that welding involves heat of some kind, but specifically: how hot is a welding arc?
Welding is defined as a process done to metals that involves softening the pieces with heat and applying pressure, thus fusing them.
Welding is also an unusual trade compared to other tradecrafts like carpentry or masonry, wherein they are observable and easily discernable to people who may not be familiar with either craft. A carpenter or mason's output is easy to gauge, whether the job is almost done or not.
But with a welder, it is difficult to find out how far along the welding task is. Only the welder will know if the job is finished.
A welder uses a welding helmet or hood to protect himself from the bright glare and sparks of the welding torch. He can still see through the lenses and continue his welding task.
Being protected is merely one side of welding, and another is to know the different welding processes.
Some welding procedures heat metals using flames, and other types use electrical currents, like arc welding.
How hot is a welding arc?
As you already know, welding functions by using extremely high heat temperatures.
The average temperature of a welding arc is between six thousand five hundred to ten thousand degrees Fahrenheit, and a plasma arc can even go as high as fifty thousand degrees Fahrenheit.
However, the precise temperature is dependent on many factors concerning the welding machine like its amperage, shielding gas type, etc.
Welders will use DC (direct current) or AC (alternating current), or consumable or non-consumable electrodes, which will depend on the welding method.
And also, welders have to know that welding spots should be shielded with a cloud of flux or a protecting gas made by a few filler metals.
What are the components that make up a welding arc?
Electricity
A typical welding arc is powered by electricity from a power supply. The electrical current courses through the welding piece that cause a short circuit, thus melting the filler and base metal at the same time.
As with all devices that are connected to electricity, you have to be careful.
For instance, never perform welding tasks while stepping on water or in the rain since water conduct electricity, or you might get electrocuted.
Light
Some people incorrectly assume a welding arc is brighter than the rays of the sum. However, it does not mean that getting exposed to its light is not harmful.
The welding arc emits UV or ultraviolet light that can burn your skin and eyes if fully exposed.
Heat
As mentioned earlier, the heat of a welding arc can be as hot as the sun's surface, which is about ten thousand degrees Fahrenheit.
The way to make the welding heat capable of being endured by a typical welder is to wear protective gear like welding goggles, etc.
Also, the heat is only concentrated in the weld zone at the arc point, but it still radiates, so you have to be careful.
How do you protect yourself from the welding arc?
The heat and brightness of a welding arc are potentially harmful, so you have to take safety measures.
There is a bigger risk if you do your welding tasks outdoors, so you have to make sure you are wearing dry clothes at all times. Do not let any moisture seep into the weld zone, or disaster might happen.
UV or ultraviolet rays at their full blast will burn your skin, similar to getting a sunburn while on a beach. It will happen to you after an hour without protection.
If you continue this way, it will lead to health problems skin cancer. Make sure you are wearing work clothes that cover your arms. Along with it are proper welding gear, like a welding hood with a clear lens with no cracks.
While thick and loose work clothes are a great aid in doing welding tasks, it offers little protection from the heat. Welding in the proper position can keep the heat at a manageable distance.
Another excellent piece of protective clothing is a welding apron or jacket. It can protect the welder from hot sparks, slag, or grinding dust,
What are the different types of welding processes?
There are many welding techniques that welders use, but only four are the most popular and always utilized for many welding applications:
GMAW/MIG or gas metal arc welding
This welding technique is usually known and referred to as MIG or metal inert gas.
Its main feature is a shielding gas that is situated along the wire electrode. This position enables it to be able to heat two metals to be fastened.
This welding technique necessitates never-ending voltage from a direct electrical power source. It is the most common welding method in many industries, like producing large-bore pipes and plates.
Here are the four welding procedures that GMAW/MIG uses for metal transfer:
Globular transfer – This technique is practicable in welding thick metal plates in horizontal positioning.
Short circuiting – This method works by contracting the base metal by the welding wire using a tapping technique done a few times per second.
Spray transfer – This technique works by transmitting small drops of molten metal and still maintaining a contact arc weld.
Pulsed spray – It works similarly to spray transfer, but utilizes a higher to lower current pulse that allows periods of micro-cooling.
GTAW/TIG or gas tungsten arc welding
This arc welding technique is mostly used in welding non-ferrous metals like stainless steel. It uses a fixed tungsten electrode to weld sections together.
The TIG welding process takes longer to finish compared to other welding methods like Stick, MIG, or flux-cored arc welding.
Non-ferrous metals melt in varying degrees, which depends on the metal type. It is why intense care must be taken in distinguishing the makeup of the base metal.
Both steel and stainless steel contain iron, and to be regarded as stainless steel, it has to have about eleven percent chromium. And carbon steel will melt at a temperature ranging from two-thousand six-hundred to two-thousand eight-hundred Fahrenheit.
TIG welding is practicable with aluminum, wherein the welder needs to be proficient in creating an excellent and smooth weld.
Stick/ SMAW or shielded metal arc welding
This type of welding method adopts a manual procedure. An electric current is used to create an arc between the metals and the stick to be fastened.
This technique is mostly utilized in constructing steel structures and fabricating iron and steel. It also used the open V-Groove method in mild steel pipe welding.
It is essential that the welder has to be proficient in this welding method and passes a risky type of bending test.
Stick welding is mostly utilized in fastening alloyed steel, carbon steel, cast iron, ductile iron, and stainless steel. It also works well in welding copper and nickel but rarely in aluminum.
FCAW of flux cored arc welding
This type of welding method was created as an alternative to shield welding. It employs a semi-automatic arc weld utilized in construction due to it being light enough to be carried and welding speed.
FCAW welding has many components that make it essential in various welding tasks that are dependent on the welding machine and the kind of wire selected.
Its flexibility is apparent from its many voltage levels, operating angles, and polarity, including the rapidity of the wire feed.
Since it has a faster welding speed, the newly fused metals do cool quickly. If the welder utilizes a flux-cored wire, he should be aware of the welded joint's porosity.
FCAW welding can be used to full effect in outside settings or underneath ventilation hoods because of the quantity of fumes and gaseous particles made during its procedure.
What are the different types of arc welding?
The arc welding process is grouped into two types, and some are already mentioned above:
Consumable electrode methods
MIG or metal inert gas welding and MAG or metal active gas welding
SMAW or shielded metal arc welding
FCAW or Flux cored arc welding
SAW or submerged arc welding
ESW or electro slag welding
SW or arc stud welding
Non-consumable electrode methods
TIG or tungsten inert gas welding or GTAW or gas tungsten arc welding
PAW or plasma arc welding
Conclusion
From what you have learned, all welding types (including arc welding) deal with extreme heat that is potentially hazardous and lethal. And you have to make sure you are properly protected while engaging in it.
But the good thing about arc welding, in particular, is that it is inexpensive. A typical arc welding machine will cost you about two hundred dollars and necessitates little training to operate.