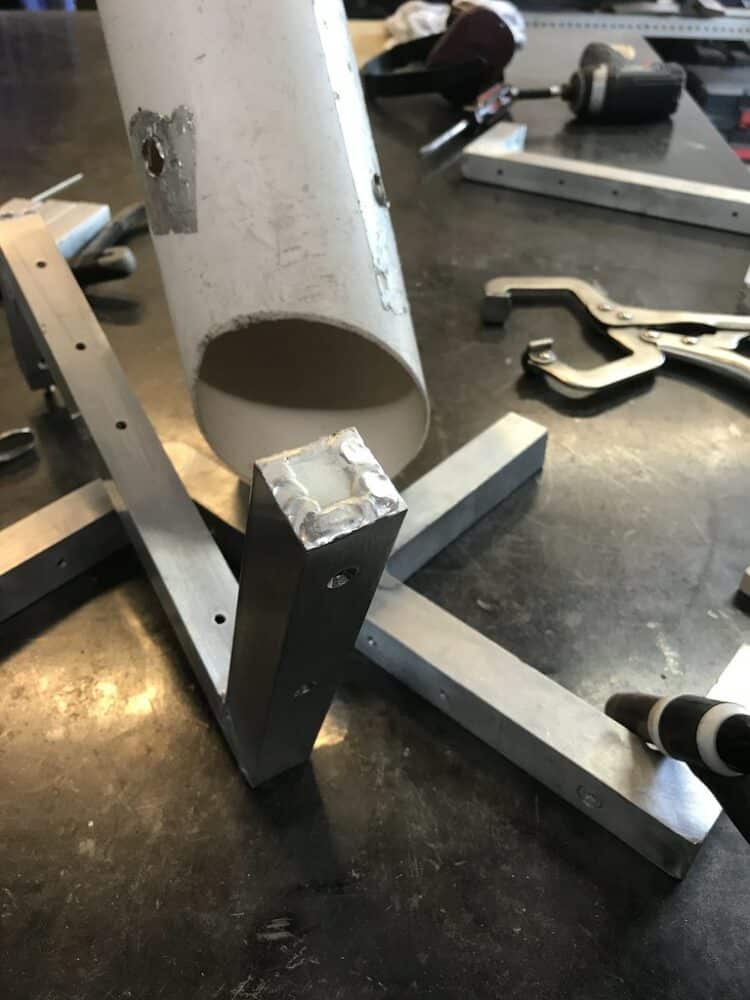 Welding aluminum can be a tricky task, even for professional and experienced welders. The entire process demands the use of different aluminum welding techniques. Additionally, it requires specifications, post, and pre-weld processes than welding steel. It's essential to understand these differences. After that, you can get excellent weld results and handle various projects flawlessly.
Although wielding aluminum tends to be tricky, it is a skill you can develop using apt knowledge. Here, we'll discuss various aluminum welding techniques to use for a successful weld.
Aluminum Welding Techniques and Processes
Below are the most common techniques for welding aluminum:
Tungsten Inert Gas (TIG) Welding
This is a popular method for welding aluminum, also known as GTAW (gas tungsten arc welding). It is an excellent process for welding aluminum that many welders prefer. That's because it doesn't need mechanical wire feeding, which may cause feed-ability problems.
Instead, it uses a filler material joined into the puddle using the hand. This process uses a long tungsten electrode or rod and inert protective argon gas to give the weld. Besides that, it is super clean. And this helps protect the aluminum from catching contaminants from the atmosphere.
Tools you need:
Argon gas
TIG welder
Aluminum filler electrode or rod
Steps for Welding
Below are the various steps to follow when using this welding technique:
Preheat the aluminum material before welding. This helps to restrict the material from cracking during the welding process.
Grasp the torch aptly with your hand against the table at a 90-degree and move it at a slow pace away from you.
Once you're ready to start welding, put the two pieces of aluminum together firmly and secure using a clamp.
After setting the TIG machine's amperage, start welding.
Upon forming the puddle, add the filler rod until the joint becomes full and shift to the other area to weld.
Maintain the tungsten at least a quarter-inch from the puddle always. Then, move it slowly to prevent gaps in the weld.
MIG (Metal Inert Gas) Welding
The MIG, also known as GMAW (gas metal arc welding), is yet another popular arc welder for aluminum welding. Unlike in TIG welding, this process involves faster heat transfer speeds and excellent rates of deposition. And this affects the final quality of the weld.
However, you'll need to use a feeding system that requires a mechanical wire. This implies that you'll need a push-pull gun or a spool gun to make the wire feeding efficient.
To avoid the risk of porosity, always ensure the filler rod and base material is clean. Plus, make sure it's moisture-free and boasts better protecting argon gas coverage.
Tools you need
Spool gun
MIG welding machine
Non-metallic liners
Aluminum filler
Drive rolls
Shielding gas argon
Procedures for welding
If you want to weld aluminum using this technique, follow these steps:
Start by joining the spool gun and the positive stud found on the welding equipment.
Once you clean and preheat the aluminum material, push the gun's tip forward alongside the joint at an angle of 10-15-degree.
Continue moving the tip until the joint gets filled.
Hold the torch at a right angle with the surface as you push it away from you.
Laser Beam and Electron Beam Welding
Generally, the beam welding methods can also weld aluminum. The former method is ideal for a quick, clean weld. For this reason, it's best for use on materials that are prone to cracking, like aluminum. In the latter, you can control the correct heat settings. This makes it excellent for aluminum.
Resistance welding
In this method, pressure and current are used to join the materials. Therefore, it can be ideal for use with aluminum. It would help if you were careful as this metal boasts high heat and electrical conductivity.
SMAW (shielded metal arc welding)
You may use this welding aluminum technique though it's not often recommended. In some instances, you can use it to repair cast aluminum but with the help of constant equipment. It should also have an aluminum electrode using a positively polarized electrode.
How to Weld Aluminum Properly
Typically, there are various methods for welding aluminum. If you desire better results, choosing the appropriate welding process should be a priority. You'll find tons of methods and tools designed for welding steel. But, you'll need unique equipment and technique to get the job well done as for aluminum.
Before you start welding, you should first clean your aluminum piece rigorously. That's because aluminum is often susceptible to impurities. Thus, proper preparations of the aluminum material are vital. Here are some tips to consider:
Use mild alkaline solution or acetone to remove impurities from the metal surface.
Remove oxide coat from the aluminum surface using stainless steel. A strong acid or alkaline solution also works best here. Always rinse and dry the parts well before welding.
If you're planning not to weld aluminum immediately, set up the joint and cover it. By doing so, you'll prevent it from getting contaminated by dirt or grit.
Keep the aluminum surface dry at all times and store it at room temperatures. However, be sure to weld it in few days, and if not, make sure you clean it again.
What makes welding aluminum tricky?
Aluminum is a popular metal type preferred for fabrication. You'll find it lightweight, elegant, and non-corrosive. Hence it stands out as a better option for a vast range of welding projects. Unfortunately, these features make aluminum quite tricky to weld. Here are the reasons why this metal is difficult to work with:
It's incredibly soft and very sensitive; hence it has a robust layer of oxidation
In the molten state, this metal is prone to impurities which may cause porosity and makes the welds weak
The metal, together with its alloys, boasts a higher affinity for oxygen. So, it requires higher temperatures to melt it
It has a low melting point and more excellent thermal conductivity. Thus offering a narrow window to work with and can easily cause burn-through.
Conclusion
Welding aluminum tends to be a tricky task, especially if you don't apply a suitable technique. There are various techniques or processes you can adopt. However, not every method is ideal for welding aluminum. With the above aluminum welding techniques, you can be sure to get excellent weld results.