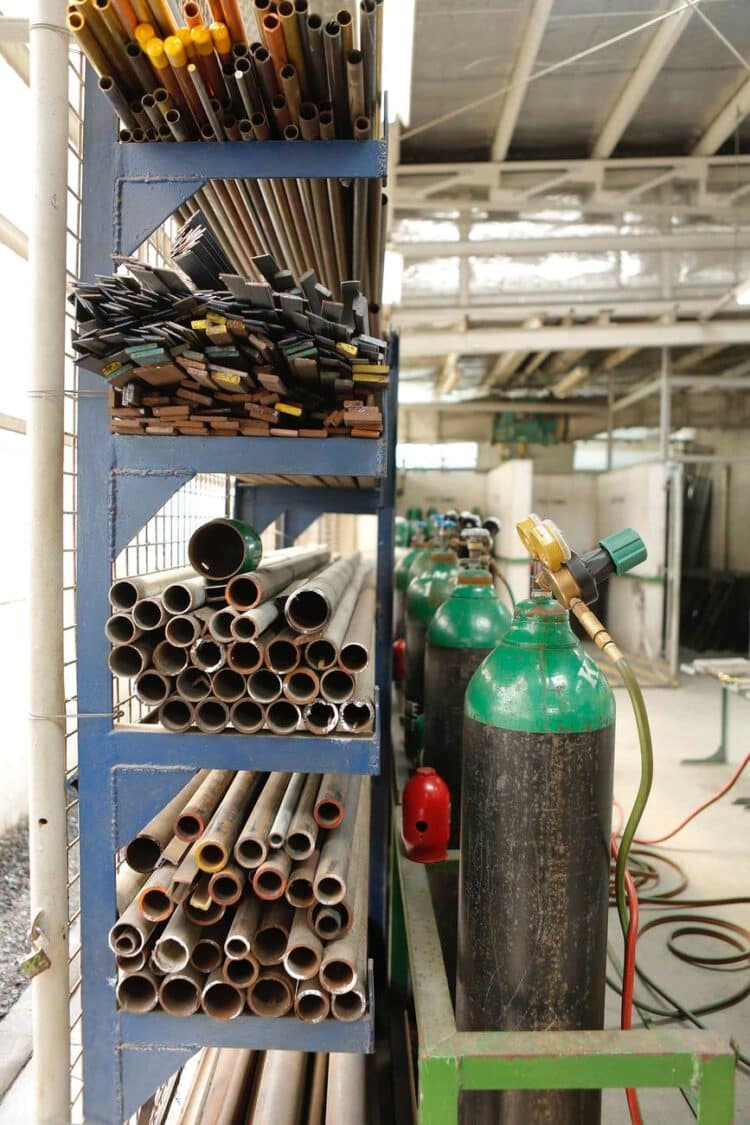 Nothing is more frustrating and depressing than running out of welding gas. It is worse when it happens in the middle of a welding project. It is critical to know how long your gas is going to last so that you remain prepared. Stay tuned and learn what welding cylinder sizes are available. You should also know where they are best suitable.
Nobody likes running out of petrol every other day. Unfortunately, buying massive gas tanks is a huge inconvenience. Those gigantic tanks are difficult to store and transport. As a result, knowing the duration of various sizes of gas tanks last is critical. It might assist inexperienced welders in determining the best size for their needs.
If you are unsure of what to do, you have come to the right place. Use the guidelines in this article to determine how long your cylinder will last. This of course depends on the type of welding you plan to do. It is critical to establish the predicted duration for better planning and peace of mind. So we've put the information into this handy reference guide. We hope that it may assist those who are new to welding in selecting an appropriate sized tank.
How to Know What Kind of Gas is in the Cylinder
If anyone claims that the color of a cylinder can tell you what kind of gas is in it, know it is a lie. Smile, acknowledge them, and walk away fast because that is quite misleading.
Manufacturers like to use different colors when manufacturing their gas cylinders. But, the colors do not signify anything. The purpose of the color is to allow them to identify whether the canisters are theirs.
The only way to know for sure what's inside that gas cylinder is to check the label. If you are thinking about purchasing a tank with no instruction, you should find a different one. It is not worth the risk of buying a tank that contains another gas other than what you want to use.
Weight and size are always crucial, and we've given the size and weight of the different tanks as well. You ought to determine if a particular gas tank will fit in your car, soldering cart, workshop, and so on.
Popular MIG and TIG Welding Gas Cylinder Sizes
MIG and TIG welding methods are the most used welding methods in all industries. It implies that certain gases are now a critical component of any welder's workshop. A right-sized welding tank will be crucial to finish your projects. Many individuals find it hard to choose the optimal welding gas tank size for various uses.
Does this sound tricky? Worry not. You'll learn the critical things necessary to make an informed buying decision.
There are many factors of consideration when you are making this decision. The available space and your location are critical. Others are the nature of the projects, and the frequency of your welding.
Critical Safety Caution when working with welding gas cylinder
Before we proceed, know the requisite safety protocols when working with gas cylinders. Different gasses come with varied pressures and need unique working conditions. Some cylinders come with extremely high pressure, much as they are small. A good example is the smaller version of the Argon cylinder. The cylinder can meet a pressure of up to 20000 psi.
So, this can be a cause of injuries if you do not handle them with care. You must get familiar with critical safety guidelines. It applies to all welding cylinder gas sizes.
What Welding Gas Canister Capacity Do You Need?
Perhaps you don't have a lot of knowledge on how much welding you will do. It is true if you are new to TIG or MIG welding. Hence, it is a good idea to estimate how long your welding gas cylinder will last. This article teaches you how much welding to expect from the most welding gas cylinders. Next, compare dimensions to ensure that the gas canister will fit in your welding cart or truck.
But, in general, you'll want a tank that's 40, 60, 80, or 125 cubic feet. These are the standard sizes for an amateur welder or a modest welding shop. You can find larger gas cylinders on the market with a capacity of up to 300 cubic feet. But these are mainly for industrial purposes.
But, larger welding gas cylinders equal more problems. They are harder to operate and provide a greater risk of tipping over. Refills, on the other hand, are less expensive. The reason for this is because the price of a large refill is constant.
Fortunately, if you make a mistake, you can rectify it in your next fill. For example, if you buy a gas cylinder that is too big or too small, you may replace it at your next refill. Trading in cylinders is a common practice; but, there is a charge involved. So, if you have a small welding gas cylinder, you could trade it in for a larger tank. However, make sure to confirm this with your local gas supplier ahead of time.
MIG/TIG Welding Gas Cylinders in Common Use
As we have already mentioned, many welders will go for 80, 40, or 125 cf cylinders. All three of them have their advantages, and any welder would go for any of them. If you are not a professional welder, a small size tank will be fine. You will easily manage their size, and they will not cause a heavy toll on your pocket as well.
You may prefer to go for the largest size. However, but you must also be ready to compromise on the portability and storage space. Small cylinders are easy to drag around. On the other hand, you have to keep the big ones in only one place and look for longer pipes. However, the problem with having longer tubes is that there is a risk of leakages.
If you are not bothered by the money implications, you could probably buy the bigger 125 cf and the smaller 40 cf. If you are a professional welder, this is the perfect approach. It ensures that you are ready to handle both onsite and remote assignments.
All cylinders measure 7 inches in diameter. It is the length that varies depending on the size. So in terms of space on the floor, all the tank sizes will occupy the same area and fit in the same cart or tank holder.
However, the longer 125 cf cylinders can exceed the capacity of the average welding cart. An overburdened cart could become unsteady and hard to maneuver..
You will probably have two tanks since you don't want to run out of gas or replenish a tank before it's empty. You can always use tanks of the same size. You can also use one large 125 capacity gas tank and a tiny 40 gas capacity cylinder as a backup. It provides you with a portable tank for minor jobs outside of the shop.
Measurements specification for Welding Gas Tanks for MIG/TIG Welding
The following are the standardized specifications for Argon or MIG welder tanks blend:
40 cf gas cylinder tank
As already mentioned, this is the smallest of the gas tanks. It measures 22 inches in height and 6¾ inches in diameter. It weighs 24 pounds when empty and 28 pounds when full. That means that the volume of the gas is 4 pounds. It has a maximum pressure of 2015 psi.
80 cf gas cylinder tank
It is the middle ground for most welders. It measures 35 inches in height and 7¼ inches in diameter. It weighs 47pounds when empty and 56 pounds when full. That means that the volume of the gas is 9 pounds. It has a maximum pressure of 2015 psi.
125 cf gas cylinder tank
The 125 cf gas tank is the largest and heaviest of the gas cylinders. It measures 45 inches in height and 7¼ inches in diameter. It weighs 58 pounds when empty and 71 pounds when full. That means that the volume of the gas is 13 pounds. It has a maximum pressure of 2015 psi.
As you can see, all three produce the same maximum pressure of 2015 psi. This pressure is the most suitable for domestic and small to medium welding projects.
The above measurements and weight specifications are the popular. They are the same across different manufacturers. You are not likely to encounter varying dimensions. The only element that can tilt the specifications above is the temperatures. The reason for this is gas properties depend on temperatures. So when temperatures change, the pressure is also likely to change.
Before purchasing, double-check the tank's size and other features.
I've seen tanks with lettering representing their sizes. You may observe several capitalized letters written with volume, which represent tank sizes.
The cylinders of sizes 40, 80, and 125 cf can use letters V, Q, and D instead to denote the sizes. Other manufacturers combine both; i.e 40 cf (V), 80 cf(Q) and 125 cf(D).
If a gas supplier is available in your area, you can ask them to verify the available sizes. They can advise you on which options are best for your needs and why.
A gas provider can also clarify beforehand which tanks they can and cannot refill. It is important they do this to prevent an issue when you go for your first refill. They can also provide insight into specific details, such as storage. Of course, this depends on your local climate.
How Long Is Welding Gas going to last?
The amount of welding duration you'll get on each container will depend on the rate of flow. This you can specify on the controller. Depending on the job environment, the setup is typically around 10 and 40 cubic feet per hour. We denote this with cfh. So if you set your welding to 40 cfh, expect it not to last as long as the one of 10 cfh.
As we have already said, the environment determines the rate of flow of the gas. For example, a higher flow rate is necessary to maintain shielding gas protection. That is, if you work in a windy place. As long as the weather is calm, you can obtain decent results with the controller set to 10-20 cfh for MIG welds.
So how long will your cylinder last? It is crucial to learn how to calculate the number of hours your cylinder will last for easy planning. We use a simple formula outline below:
To determine the gas duration, divide the volume of the cylinder by the rate of flow. If you are using an 80 cf cylinder and you have set the gas cylinder regulator to 10 cf, the gas welding duration will be:
Gas welding time in hours = the cylinder volume in cf / the flow rate in cfh. So in the above example, we can expect our cylinder of 80 cf to last for 8 hours if the flow rate is 10cfh.
It is crucial to remember that these theoretical times. That means that your actual results may differ. Temperature changes and the rate with which you stop and start have an impact on your actual run. Also, pre/post-flow parameters will all have an impact on your actual run duration. So, the actual figures may be different from the theoretical figures.
It is good to keep checking your regulator as you weld to avoid running out of gas unexpectedly. You are likely to notice the pressure of the cylinder drops as the level of gasses decreases with use. So, this is another factor to take into consideration.
Conclusion
Welding gas tanks not as complicated as you may think. It is simple, especially after you get the hang of it. If you have an issue that does not fit within the domain outlined in this article, contact your gas supplier. You could encounter a specific welding application that you do not know. Hence, you may need advice from the supplier. They will be happy to help.