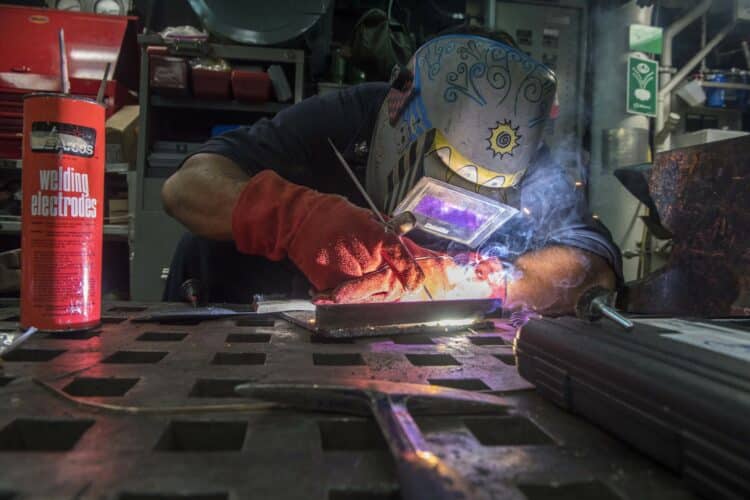 Welding is defined as the process of joining two metals by heating their surfaces to melting point. It is a process that is very technical and comes with a variety of types and techniques that are learned by skilled workers through constant application and practice.
There are a lot of different kinds of welding:
Arc Welding
Metal Inert Gas (TIG) Welding
Tungsten Inert Gas (TIG) Welding
Flux Cored Arc Welding (FCAW)
Shielded Metal Arc Welding (SMAW)
Plasma Arc Welding
Submerged Arc Welding (SAW)
Gas Tungsten Arc Welding (GTAW)
Metal Active Gas (MAG) Welding
Gas Metal Arc Welding (GMAW)
Friction Welding
Electron Beam Welding
Laser Beam Welding
Resistance Welding
Resistance Spot Welding
Resistance Seam Welding
As you can see, Shielded Metal Arc Welding (SMAW) is another term used to define Stick welding. It is not the only type nor technique. There are numerous others that can be used. However, this article aims to answer the question, "What is Stick welding?"
What is the equipment involved in Stick Welding?
Power supply
A stick welder usually uses a power supply with a consistent stream of either Alternate Current or Direct Current. It can use about 7 to 12 kilowatts of power.
Ground clamp
The ground clamp is a common piece of equipment used by welders. It connects a ground cable to the work piece in order to integrate the use of an electric current during welding.
Stick welder
A stick welder can usually be used across different types of welding techniques. But if you're looking for a cheaper alternative, you can just use a regular welder that's specifically for stick welding.
Stick electrodes come in many types. You have to choose the correct kind based on the welding project you're trying to do. They are classified into 4-number combinations and each digit means something different:
1st and 2nd digit
The first and second digits are the minimum tensile strength. For example, if you have a tensile strength of 50,000, then the number classification starts with 50. These are your first two digits. This has to match the properties of the strength of the base metal.
3rd digit
This shows which positions you can use the electrode in during welding. A digit of "1" shows that you can use any position while welding while "2" means you have to use it on a flat position.
4th digit
This informs you of the current you have to use while using that electrode. It can also tell you about the electrode's coating
The most popular classifications for an electrode stick are 6012, 6013, 7014, 6010, 7018, etc. 7018 is the most popular out of them all, but if you are a beginner then 6013 may be more appropriate.
Tools to remove slag
Slag is what happens to gases that cool onto your workpiece after welding. You can use a chip and hammer to chip off the slag, then using a wire brush to scrub it away.
Personal Protective Equipment (PPE)
PPE protects you from long-term health conditions brought on by welding. Make sure they are of high quality and that there are no repairs needed. Standard PPE includes, but is not limited to:
Welding helmets that have side-shields
Respirators
Ear protection
Boots and gloves
Fire-resistant clothing
PPE protects your body from the UV rays and the heat you will be exposed to during welding. Don't forget that you may also need proper ventilation if you are doing the welding indoors. Make sure you're in a place with an exhaust (or you're outdoors) so that you don't inhale the fumes.
What is the history of Stick Welding?
Stick welding dates back all the way to the 1800s with Sir Humphry Davy, a British chemist and inventor. He was able to develop an arc between a battery and two electrodes.
By the mid 1800s, gas welding and cutting was introduced and it was around that time when welding with a carbon arc and a metal arc was developed.
Auguste de Meritens, a French electrical engineer, was able to figure out that he could join lead plates by using the heat of an arc. Nikloai N. Bernardos, Meriten's student, received a patent for welding. 8 years later in 1890, C.L. Coffin from Detroit was allowed a U.S. patent to develop and begin an arc welding process via metal electrode.
10 years later, Strohmenger, a British inventor, figured out how to make a stable arc. He would use a thin coating of lime or clay. In the early 1900s, Oscar Kjellberg from Sweden invented a coated electrode.
As the years went by, inventors and engineers would dip pieces of iron in thick mixtures of silicates and carbonates to create what is now known as stick electrodes.
What are the basics of Stick Welding?
Stick welding uses an electric current and electrode in the weld pool in order to join metals. An electrode is a stick made out of solid metal that has a coating surrounded by metal powders and compounds. The coating is bound to the surface by a binding agent.
Then, an electric current (AC or DC) creates an electric arc between the electrode and the workpiece called a weld pool. The stick conducts electric current into this arc and also provides the metal to fill the joint and bead.
Stick welding is usually used while welding iron and steel so it is famous in industries that do maintenance and repairs as well as constructing heavy steel structures.
What is Stick Welding? How does it work?
Stick welding uses an electrode coated in flux in order to form a weld. An electric current is conducted through this coated electrode as it creates an arc over the weld pool or base metal. The flux-coat on the electrode prevents the molten metal from oxidizing.
It is what acts as a shielding gas without necessarily needing one. It's called shielded metal arc welding because of this. As the molten metal cools and a gas cloud settles over it, the gas turns into slag.
Slag has to be chipped of once welding is complete. As you can see, stick welding is not as complicated as other welding techniques, but it does require more experience as you're handling it.
What current is used in Stick Welding?
Alternate Current
Alternate current, otherwise known as AC, is recommended if you want there to be less penetration.
Direct Current
Direct current is preferred in stick welding because it has more applications. Specifically, DC is better when you're welding steel and if you want to weld in different kinds of positions. There is also less splatter and more stable arcs when you are using DC.
What metals can be welded using Stick Welding?
You can stick weld the following metals: stainless steel, regular steel, nickel-based alloys, aluminum, and chrome. Stick welding allows you to work on thicker metals. It really isn't recommended for thin, sheet metals. MIG or TIG is more appropriate for thin sheets.
What are the applications of Stick Welding?
Stick welding is used in plenty of industries:
Construction
Mining
Nuclear
Aerospace
Marine
Petroleum
Shipbuilding
Field Repair
Manufacturing
Steel Fabrication
Structural Welding
What are the advantages of Stick Welding?
Stick welding comes with a lot of advantages:
Its equipment is inexpensive
External shielding gas is not required, meaning there are less costs
Welding can be done no matter the weather
Electrodes can easily be switched out while working on different metals
Stick welding can weld a wide range of alloys and metals
It results in clean welds
It can be used on surfaces that have rusted or have been painted over
What are the disadvantages of Stick Welding?
It is not recommended for some thin metals because they are hard to work on
Slag is left behind, allowing for it to be chipped away once welding is finished
Compared to the other kinds of welding, it is slow
You can only weld for a short amount of time before you need to insert a new electrode
Welders need to have a higher skill level and must have significantly more experience before they can try stick welding
What are the limitations of Stick Welding?
Compared to other processes, stick welding has low operator duty cycles. The cost of weld metal deposits can be very high
It has low deposition rates
It can be mechanized easily so it cannot be considered "manual"
Metals such as Zirconium, Tantalum, Titanium, and Columbium cannot be used in stick welding because they are reactive. Shielding gases can't stop oxygen from contaminating the metal during welding
How can I avoid defects in Stick Welding?
Beginners at stick welding can make mistakes and these are some of the most common mistakes one can make while stick welding. They are usually caused by using the wrong drag angle, wrong temperature, or even when you weld too fast or too slow.
Too much spatter
If you think there is too much spatter during welding, you have to check your arc. If an arc is too long, it can cause more spatter than there should be. Hold the electrode slightly above the workpiece so that the arc can focus on it. Otherwise, it is going to stay erratic and give you unsmooth results.
Turn down the amperage if the spatter is making a screeching sound.
Undercut
An undercut is like a small crater at the toe weld. You can see it between the metal plate and the weld. It reduces the integrity of the weld and makes it weaker. It can be caused by extremely high temperatures. Turn down the amperage if the weld and undercut look burnt out.
Weld bead is lumpy
The lumpiness in a weld bead is caused by the electrode being pulled too slowly. This causes the metal being used as a filler to pile up. If you observed a normal pace in pulling the electrode, then the amperage is probably too low, and penetration is limited. This makes the filler metal just sit on top of the joint instead of joining it.
Porosity
If you are seeing some porosity, it's probably because you're holding the electrode in an angle that's too steep. Keep the slag behind the weld pool so that it doesn't mix in with the molten puddle. You can do this by keeping or pulling the electrode back at a better angle.
Weld bead is too thin
A weld bead is about 2.5 times bigger than the diameter of the electrode. An extremely narrow weld won't allow it to penetrate the metal. Slow down so that you can give it time to spread and penetrate.
The arc won't start
Turn up your amperage to 15 because it may be too cold for the arc to start. If it's too cold, then you may have a weak arc that won't be of much use while welding.
What is the difference between MIG, TIG, and Stick Welding?
Both TIG and Stick welding are similar in that they use a power supply with a constant voltage. The only difference is that TIG uses a torch but Stick Welding can easily use a torch instead so that it can turn into TIG Welding.
Meanwhile, MIG Welding uses a power supply with a constant current. A constant current is not recommended or used for TIG and Stick welding. However, both MIG and Stick Welding need a bottle of shielding gas to work.
Conclusion
So what is stick welding? It is a process that requires some skill and training before you can try attempting it. You can try to perfect your welding technique in order to have a neater weld and so that you can go about it faster.
A wide range of alloys and metals can be welded using stick welding and can be used on services that have rusted over. It has its limitations, but it can still get the job done.
Make sure you wear the appropriate equipment and follow safety procedures while stick welding.