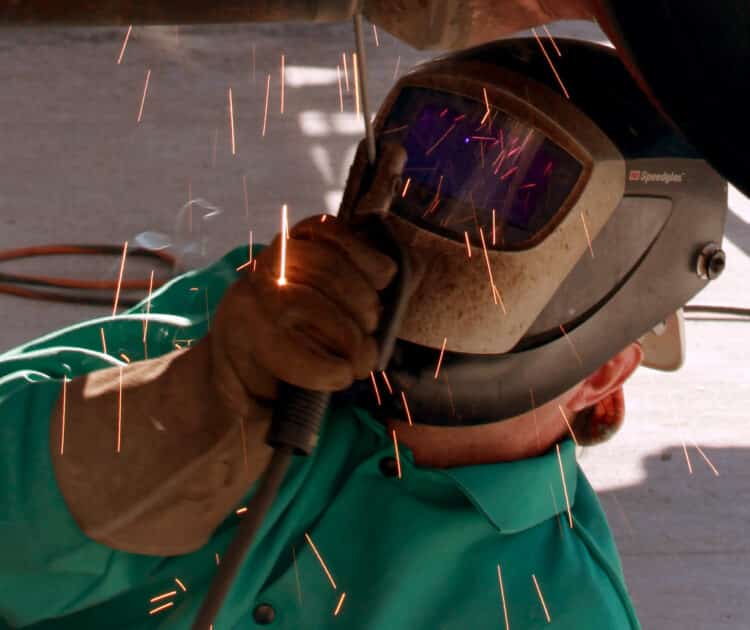 Do you have a passion for welding?
Are you planning to start minting money from it?
In that case, it's the right time to start setting up your welding workshop at home!
But before you do that, you need to be cautious of the several physical dangers associated with welding and the ways in which you can protect yourself.
Here we will take you through some of the standard protective clothing articles and accessories that you need to stock up on before you get started.
What Is The Meaning Of PPE In Welding
PPE is short for Personal Protective Equipment.
Welding is a high-risk job involving fire, electric shocks, radiation and noxious gases. PPE is any welding safety gear that helps you save yourself from unwanted accidents.
If you are a welder, you must never hesitate in spending on a proper PPE for welding.
This article takes you through some of the common dangers involved in this line of work and how you can protect yourself from them using some standard personal protective equipment for welding.
What Are Some Potential Hazards While Welding
Electric Shock
Many welders regularly get injured or even die from accidental electric shocks while welding or repairing one.
The welder case or its electric distribution system typically carries a voltage anywhere between 230 to 460 Volts.
A 50-volt shock or even less from a welding circuit can be sufficient to maim or even kill a person. So imagine what a voltage of 460 can do when a worker accidentally touches the welder case. This results in a primary voltage shock which can lead to instant death.
More frequently though welders get injured from arc welding circuits that run on an average voltage of 20-100 volts, also known as secondary voltage shock, which is perhaps less deadly than the primary one, but can still be fatal.
AC current can stop the heart even at that voltage!
Here's a checklist to ensure your safety during welding:
Always Wear dry gloves and never touch electrode or its associated metal parts with bare or wet hands.
Make sure to prepare good insulation between yourself and the metal you are welding.
Inspect the insulation of the electrode holder before starting your work. Faulty insulation would lead to unwanted shocks and jeopardize your safety.
Fumes and Gases
Another risk of welding comes from noxious fumes that emerge from burning metal alloys. These gases can burn your lungs and can lead to severe problems like cancer.
Adequate ventilation and exhaust are necessary to channel out such gases. Also, you need to wear safety masks and respirators to make sure you don't breathe in any of these toxic gases.
There are permissible threshold limits for toxic fumes that workers can be safely exposed to throughout their careers.Some specialized hygienists can test the air sample in your work area and tell you if your exposure exceeds this threshold value.
To ensure your welding safety, always keep an eye out for faulty ventilation systems, check your safety gears and contact the doctor urgently in case of any health effects.
Fire & Explosion
Did you know that a welding arc can reach a temperature of 10,000 degrees Fahrenheit?!
That's an incredible amount of heat when you compare it to your average body temperature of a mere 98.6-degree Fahrenheit!
The actual danger arises from sparks that fly out from the arc travelling a distance of up to 35 feet. These not only have the potential to burn your body but with flammables nearby, these can easily lead to a raging fire within minutes.
So before you, weld makes sure rid your workspace of any solid, liquid and gaseous flammables.
Stuff like wood, paper and cardboard make up solid combustibles.
Chemicals like acetylene, propane and hydrogen make for dangerously flammable gases.
Gasoline, paint and oil make up the liquid inflammable substances.
There are other things you can do to prevent serious injuries:
Know where the fire extinguishers are kept and be ready to use them whenever needed. Keep regular checks to ensure they are in working condition. Also, know the route to the nearest fire exit.
While welding, have someone keep track of the fire sparks that come out. Stay back in your workplace for up to a half-hour after your welding is done so you can put out any accidental flames.
Also, if you are unable to remove any flammable items in your area, cover them up with a fire-resistant blanket before you start work.
List of Welding Protective Clothing and Equipment
In this section, we will tell you about what PPE should be worn by welders. Ensure you tick off every item in this list of workshop safety devices before you get started on your welding job.
Welding Gear To Protect Your Eyes and Face:
As described above, you can see why a good eye and face gear easily tops the welding PPE list in its rank of importance.
A flying spark or a piece of burning debris from your welding arc can hit you right in your eyes and face if you are not careful enough.
So if you don't want to be blinded or disfigured by a chance mishap, make sure you invest generously in a good pair of goggles and a helmet.
Welding Helmet
These helmets are a top priority in any list of welding safety accessories. They cover your face and eyes entirely and give adequate protection from accidental sparks.
Here we give you a brief outline of the three main components that make a helmet ideal for welding protection.
Helmet shell – This needs to be opaque towards light and must be strong enough to protect your head from any impact, heat and electric shocks.
Outer Cover Plate – It is made from a particular type of plastic to protect from radiation
Special filter lens- This help in safeguarding your eyes from intense glares. They come in different shades with numbers. Higher the number, darker the lens.
Top 4 Tips About Using a Welding Helmet Properly:
The filter lens can be protected by using a cover lens. In case of cracks in the cover lens, replace it.
Clean lenses from time to time and do away with damaged lenses.
Do not expose lenses to sharp changes in temperature or sudden impact as these may cause cracking.
Go for a tightly fitted helmet and wear it correctly.
Ear Plugs:
A loud explosion or flying sparks while welding can damage your ears permanently.
So make sure you use a good pair of fire-resistant earplugs while working.
Advances in technology and designs have made earplugs more comfortable, better protections against loud noise and apply less pressure to the ear canal.
Welding Safety For Your Lungs
Welding Respirators
Welding gases emitted from burning metal are a mix of highly toxic metallic oxides, silicates and fluorides. Breathing these can cause a range of short term and more serious terminal health problems.
Respirators are a useful way to filter these out from the air you breathe in. These are high-quality masks designed to give you maximum protection against the noxious fumes.
If you work in an outdoors area which is very well ventilated, you may skip this item and opt for something simpler.
However, if you are working indoors, in closed spaces, you must use a suitable respirator.
Welding Safety for your Skin
Heat Resistant Welder Jacket
Invest in a good sturdy flame-retardant jacket to protect your body from flames and UV radiation.
A spark that leaps out into your jacket pocket can be difficult to put out. Hence a good idea is to tape shut all the pockets before starting work.
Welding Protection for your Feet and Hands
Welding Gloves
Get yourself gloves that are specifically made for welders. These can insulate your hands and wrists from fires, electric shocks and radiation.
These are made from strong materials like animal hides that do not conduct electricity.
Usually,there are 3 different types of welding gloves:
TIG welding gloves are made of goat, pig or bovine skin.
MIG gloves provide the greatest amount of protection and made of deer and cow skin
Stick gloves are made of elk skin and are the most durable of the three.
Welding Leg Protection Pants
Get yourself a pair of trousers made from heavy materials that can save your legs from accidental burns. Usually, welding pants are made of leather or cotton.
The high density of leather prevents heat from penetrating to the skin, also making them very durable.
Disadvantages of leather include its high cost and discomfort it causes. It's high insulation prevents body heat from escaping thereby making it very uncomfortable.
On the other hand, cotton can be very comfortable, light and good in putting out fires. Its much cheaper compared to leather as well.
On the flip side, cotton doesn't provide as much protection as leather does and also its not as durable.
So before purchasing a pair, think through your priorities depending on the kind of welding you do.
A handy tip while wearing any trouser for welding protection, is to make sure there is no gap between the trouser and your work boots to prevent any exposure of the ankles. Also, get yourself trousers with no cuffs.
Welding Work Boots
A good pair of boots make up another important item in your welding safety equipment list.
Your boots can help you from shocks, fire burns and accidental falls.
Purchase a sturdy rubber-soled pair of boots made of flame-resistant materials and with steel plates on top of the sole.
Top 12 Do's and Don'ts To Ensure Welding Shop Safety
Do's
Scrub clean all your welding protective clothing to rid them of oils, paints and other flammable substances
Wear shirts with long sleeves and buttoned-down collars to protect your wrists and neck
Repair all holes and tears in your clothes
Never carry around matchsticks or lighters in your pockets
Use a welding safety vest to give your chest extra protection from fire sparks
Use a skull cap made of non-combustible material underneath your helmet. This gives an extra layer of protection to your head against radiation and fire
Wear a face shield to prevent damage from radiation and flying welding debris.
Don'ts
Wear clothes made of synthetic material. These are highly combustible and can catch fire easily
Wear rings and jewellery
Touch welding parts with bare or moist hands
Wear insufficient welding protective gears
Weld in a poorly ventilated area
Conclusion
An alert mind and some common sense can help avert major disasters in your welding workshop.
While you need to stock up on the essential welding protective wear, it is equally essential to be able to think on your feet and respond swiftly in the event of an accident.
While welding has its dangers, if you are a stickler to rules and follow the laid down guidelines for welding safety, you need not worry much.
So toss on your welding hat and get the show started!