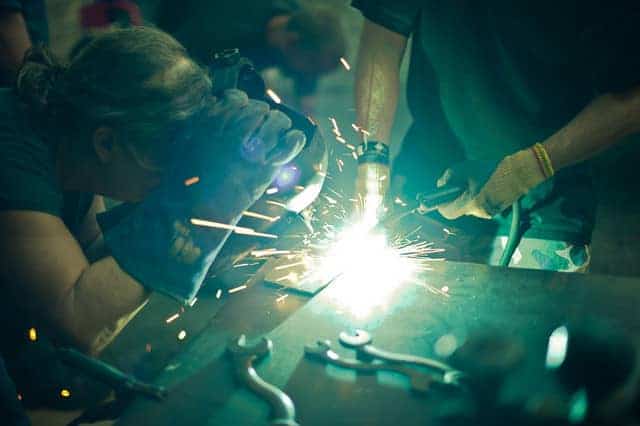 Do you want to know what is resistance welding, and all its essential facts?
In today's modern age, there have been many welding techniques invented and added to the list of tried and tested welding processes.
Simple welding methods of the past are now replaced with novel techniques using large welding machines in massive industries like manufacturing steel pipes and car assembly lines.
Resistance seam welding is one such method that has become vitally necessary in these large manufacturing companies. They use these incredibly efficient welding methods to mass-produce many items we own and use every day.
What is resistance seam welding?
In simple terms, resistance seam welding is the process of fusing two materials (usual metals) by using pressure and an electrical current.
For the most part, this technique is utilized for metals because they are the best conductor of electricity and can remain workable in high temperatures.
It is one of the most prevalent welding methods for continuously welding and fusing metals sheets.
When the materials (either similar or dissimilar) are compressed together, there will be a slim gap between them because of their irregular surfaces.
This gap will produce an electrical resistance between the two similar or dissimilar materials that result in the seam heating up.
The electrical current is what makes seam welding work, and the amount of heat rendered will depend on how much electricity will course through it.
However, too much electricity can cause expulsion and the electrode to deteriorate. So to properly manage this, an AC or alternating current is the best electrical current for seam welding.
The seam welding method utilizes electrodes shaped like wheels, which enable electricity and force to the workpieces.
Its welding force should be relative to how hard the materials are, so harder metals necessitate more force than softer metals.
What are the three types of seam welding?
Intermittent motion seam welding
Since you already have general knowledge about the way resistance seam welding works, intermittent motion seam welding takes it one step further.
The welding technique is mostly used for thicker metals if you are not able to continuously weld it.
It works by having the electric current and rollers remain active until obtaining the weld position. It enables welding to happen in specific areas only instead of a continuous pattern.
Intermittent welding is further classed into two types:
Roll spot weld
Overlapping seam weld
Continuous motion seam welding
With this type of welding method, it is possible to weld continually.
The way continuous motion seam welding works is, as the metal goes through the electrodes at an unceasing speed, the metal pieces will be fused. It develops a consistent overlapping weld as they stay under pressure.
The electrodes that you will use in this type of welding will depend on the kind of metal being welded.
For instance, if aluminum is the material used for this welding, do not use copper electrodes. It is due to copper alloys is not compatible with aluminum and causing the electrode to deteriorate rapidly.
Laser seam welding
When people talk about the resistance seam welding procedure, they might be referring to laser seam welding instead.
Laser seam welding has similarities to resistance seam welding but is a variation of another procedure: laser spot welding.
In laser spot welding, a laser beam points to a spot, which causes it to melt and weld.
In laser seam welding, the laser beam creates a continuous weld by moving along the seam. This type is mostly used in welding insulin pumps, radar components, pacemaker cases, and many more.
What are the advantages of resistance seam welding?
The reason why resistance seam welding is prevalent in many industries is that of its distinct features:
It has airtight welds – It is the primary benefit of resistance seam welding is its capability to do continuous and airtight welds, which creates watertight seals.
It is crucial for metal structures that need to be protected from air or water leaks.
It has a quick welding process – Since resistance seam welding is done by machines, it provides faster welding compared to manual welds, which is tedious and long.
Its process is done automatically and even faster than spot welding.
Does not require flux or filler – This welding type is doable without the use of flux or filler materials.
What are the disadvantages of resistance seam welding?
Even though the resistance seam welding process seems to have no flaws, it still has a few disadvantages or limitations:
It has limited weld lines – Due to the welding setup only involves rollers, it can only weld uniform curve lines and straight lines.
It has thickness limitations – The sheets used for resistance seam welding cannot be more than three millimeters since it will be difficult to handle ut.
What are the various recognized applications for resistance seam welding?
Resistance seam welding has various applications in many industries:
In fuel talk assembly lines since it has to be watertight
In welding planes or boats because they have to be either air or watertight
In welding tubes and pipes
In manufacturing sheet metal tanks to become containers for gasoline, kerosene, etc.
What are the safety gear needed for welding?
Safety goggles or glasses – Your eyes need to be protected while in the weld zone since anything can accidentally fly and hit your eyes like sparks, slag, etc.
Welding gloves – These are essential gear for welders to prevent burns from sparks.
Work boots – A welder's workshop has many sharp objects strewn about on the floor, and you thick boots with thick soles to traverse the vicinity.
Welding helmet – It provides total protection for your head and eyes, and make sure it has a tinted lens.
Ear plugs – Earplugs can be optional if your workspace is not noisy. If you need it, make sure it can block the noise but would not be a hindrance to your welding tasks.
Apron or leather jacket– Welding sparks will fly, and you need to protect your skin and clothing, so these serve as appropriate covering.
What are other important and popular welding processes aside from resistance seam welding?
Besides resistance seam welding, there are other tried and tested as important welding procedures:
GMAW/MIG or gas metal arc welding
This welding technique is usually known and referred to as MIG or metal inert gas.
Its main feature is a shielding gas that is situated along the wire electrode. This position enables it to be able to heat two metals to be fastened.
This welding technique necessitates never-ending voltage from a direct electrical power source. It is the most common welding method in many industries, like producing large-bore pipes and plates.
Stick/ SMAW or shielded metal arc welding
This type of welding method adopts a manual procedure. An electric current is used to create an arc between the metals and the stick to be fastened.
This technique is mostly utilized in constructing steel structures and fabricating iron and steel. It also used the open V-Groove method in mild steel pipe welding.
It is essential that the welder has to be proficient in this welding method and passes a risky type of bending test.
Stick welding is mostly utilized in fastening alloyed steel, carbon steel, cast iron, ductile iron, and stainless steel. It also works well in welding copper and nickel but rarely in aluminum.
GTAW/TIG or gas tungsten arc welding
This arc welding technique is mostly used in welding non-ferrous metals like stainless steel. It uses a fixed tungsten electrode to weld sections together.
The TIG welding process takes longer to finish compared to other welding methods like Stick, MIG, or flux-cored arc welding.
Non-ferrous metals melt in varying degrees, which depends on the metal type. It is why intense care must be taken in distinguishing the makeup of the base metal.
Both steel and stainless steel contain iron, and to be regarded as stainless steel, it has to have about eleven percent chromium. And carbon steel will melt at a temperature ranging from two-thousand six-hundred to two-thousand eight-hundred Fahrenheit.
TIG welding is practicable with aluminum, wherein the welder needs to be proficient in creating an excellent and smooth weld.
FCAW of flux cored arc welding
This type of welding method was created as an alternative to shield welding. It employs a semi-automatic arc weld utilized in construction due to being light enough to be carried and welding speed.
FCAW welding has many components that make it essential in various welding tasks are dependent on the welding machine and the kind of wire selected.
Its flexibility is apparent from its many voltage levels, operating angles, and polarity, including the rapidity of the wire feed.
Since it has a faster welding speed, the newly fused metals do cool quickly. If the welder utilizes a flux-cored wire, he should be aware of the welded joint's porosity.
FCAW welding can be used to full effect in outside settings or underneath ventilation hoods because of the number of fumes and gaseous particles made during its procedure.
Conclusion
From what you have learned, resistance seam welding is an ideal process that can weld in a rapid and precise manner. Thus, creating workpieces that are air and watertight, and making it a preferred welding output that everyone will appreciate.