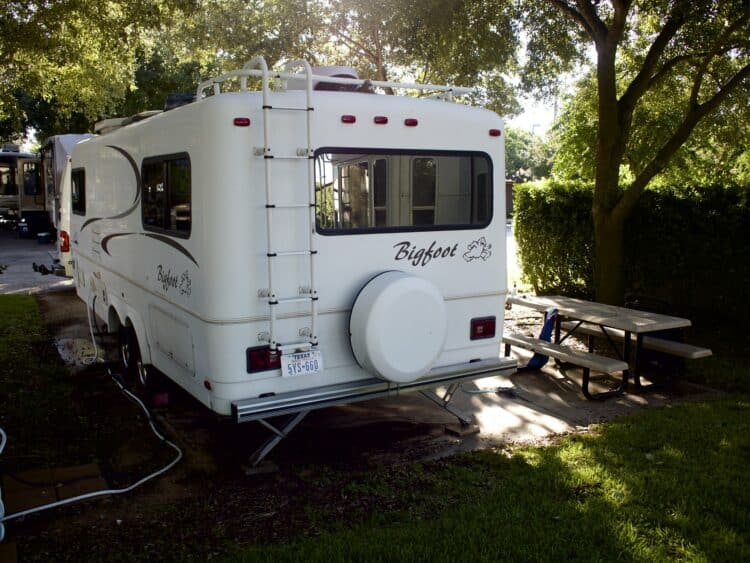 Safe water is hard enough to find as it is. Imagine having to look for pure and clean water out on the open road! Don't let the prospect of hard water stop you and your family from taking the road trip of your dreams – invest in a quality portable water softener!
A portable water softener works similarly to a whole-home water softener, except you can take it anywhere you go to reap the benefits of softened water! Most mobile homeowners choose to install a portable water softener to ensure their families' safety on camping trips or outdoor adventures.
Untreated water can have high mineral content that can affect water quality, such as smells and tastes. Hard water is rich in minerals like calcium, copper, iron, manganese, and magnesium. Hard water can affect water quality, taste, and smell. It can also cause skin irritation and hair dryness. Hard water also makes it difficult to lather soap for your cleaning and laundry needs.
While hard water doesn't pose much of a health risk, the mineral build-up can cause rust and scale build-up in your RV's pipes which can then cause appliance failure and unsightly stains on your water fixtures! All of these will cost you high repair and utility costs.
With the wide variety of portable water softeners in the market, it can be hard to find the best one that can effectively manage your water supply wherever you go. We've compiled a list of the top 6 best portable water softeners on the market to help you find the right choice for your mobile home!
Best PortableWater Softener
Watts Water Quality/Condition M7002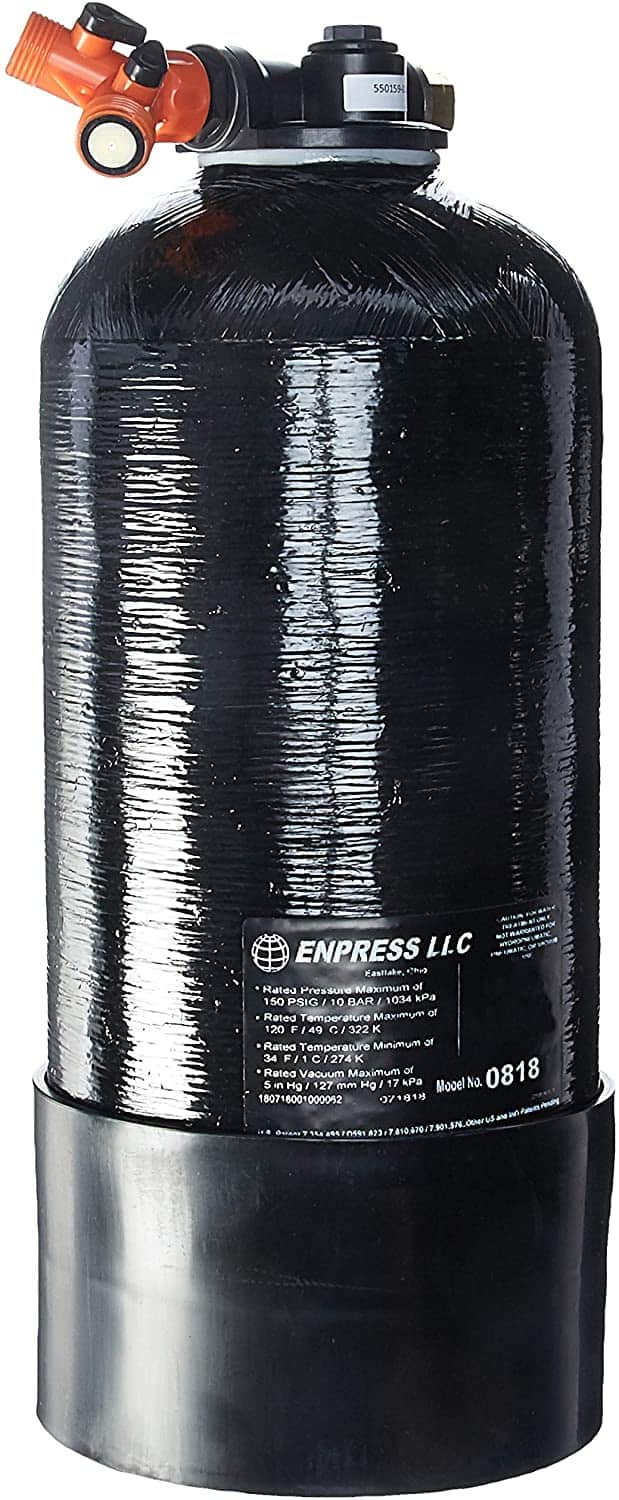 Specs
Custom designed flow valves
Built-in drain line flow restrictor
Full cradle base
Uses common table salt
Weighs 9 pounds
22 x 10 x 10 inches
Hardness Test Strips
If you're looking for a reliable water softener anywhere you go in the world, you can count on the Watts Water Quality/Condition M7002 to provide you with excellent softened water free from rust and hard minerals.
Easy and convenient maintenance
This water softener from Watts knows the importance of a good memory with friends and family. The water softener focuses on doing simple chores like cleaning, washing the dishes, laundry, and cooking more efficient and enjoyable for the whole trip. Less time doing chores means more time for adventures! Appliances that have softened water are also more likely to have a longer lifespan than appliances that are constantly exposed to hard water.
This water softener is also extremely compact, lightweight, and durable, making it easy for vacationers to have safe water minus the hassle of installation and maintenance. Users report that installation instructions are straightforward. The product has a very stable base that makes this water softener very travel-friendly.
Powerful performance
Here's a water softener system that guarantees the best service on the road. The Watts Water Quality Condition M7002 claims to remove up to 10,000 particles that can harden water. The water softener also comes with convenient hardness test strips to give users an indication of when to regenerate the system. This will ensure all owners of the best quality service at all times.
With the help of a quality portable water softener, responsible mobile home and boat owners can avoid these damaging minerals even before they enter your RV. The portable Watts water softener contains premium quality resin that is excellent at removing chemicals and minerals in hard water. The resin is guaranteed to have a long service life before needing a replacement.
Pros
Easy installation and maintenance
User-friendly
High flow rate
Compatible with table salt
Long warranty period
Cons/h4>

Handling of stationary inlet and y-valve may be tricky

CR Spotless DI-120 Deionized Water System
This water softener is the best choice for RV, boat, and aircraft owners that settle in areas with very hard water. The CR Spotless DI-120 Deionized water system guarantees to leave no trace of mineral and scale deposits in your vehicles.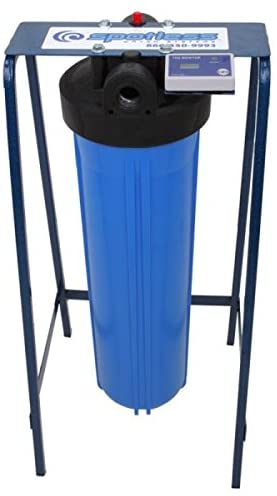 Specs
Battery-powered TDS meter
Activated carbon fiber and pre-filter layer
75 to 1000 gallons of de-ionized water from one 20-inch resing cartridge
Pre-filled filter cartridge
25 pounds
14x14x28 inches
Quality service
The CR Spotless Water System has been the ultimate game-changer for travelers who want to get an affordable and pure, clean supply of water on-the-go. CR Spotless was a pioneer in providing technology that features a compact, affordable and portable treatment system. The CR Spotless guarantees its users to provide the same premium service as more costly portable water softeners on the market.
This small yet powerful water softener makes daily chores like cleaning your vehicles, house, and derailers hassle-free. The system comes with a 20-inch cartridge with a mixed bed of deionizing resin that can supply up to 200 gallons of mineral-free water, following the TDS level of 200 ppm. Depending on your area's water hardness, users can get 75 to 1000 gallons of deionized water from one resin cartridge!
Clean finish
The biggest claim of this product is 'spotless' cleaning thanks to deionized water. According to CR Spotless, users can confidently rinse and dry any surface without fear of stains and the formation of unsightly spots. Users can save as much as half the time in cleaning surfaces because soap lathers quickly, and there is no need to manually dry the surface! You'll also save much on maintenance and repair expenses since you won't have to buy harsh chemicals and brushes that might damage your property.
This product comes complete with a 20-inch resin cartridge, PVC hoses, stainless steel input line, a filter wrench, and a spray nozzle. Users don't have to worry about the quality of their water because the system comes with a powerful inline battery-operated Total Dissolved Solids meter. This TDS meter will accurately help you gauge the mineral content of your water supply.
Pros
Easy installation and maintenance
Compact and lightweight design
Easy to read regeneration indicator
Powerful and long-lasting cartridge
Guaranteed spotless cleaning
Reduce cleaning chores by half
Cons
Slow flow rate
On the Go OTG3NTP1DS
One of the best options for travelers and outdoor enthusiasts is On the Go water softener products. The On the Go OTG3NTP1DS is a reliable portable water softener that promises to treat twice as much water as your regular water softeners.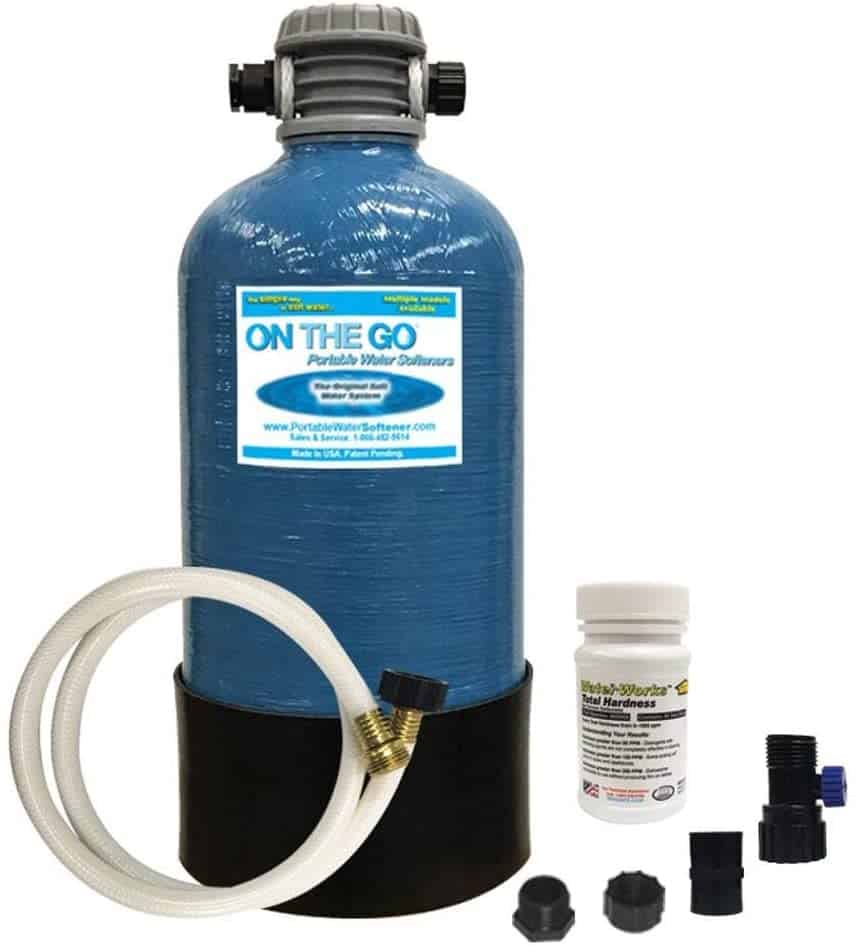 Specs
64,000-grain capacity or 1.5 cubic ft. high capacity 8% crosslinked resin
12-28 GPM service flow
Comes with a bypass valve and safety float
Meter-based regeneration process
Backlit LCD display with touchpad controls
48 hour-internal power backup
Convenient connection
What users will love about this product is the durable build that comes with two fittings, plastic, and brass. The system is compact and designed to fit in the tightest corners imaginable!
On the Go, water softeners are highly recommended for their convenience. The On the Go OTG3NTP1DS features a 36-degree swivel that makes connecting to an inlet house extremely easy. Leakage won't be a problem as the unit comes with a cap and plug. The product also comes with a sturdy handle that maximizes portability for campers, cabin owners, and mobile homeowners.
Smooth performance
This water softener from On the Go offers fast and convenient regeneration with a grain capacity of 8000 to 16000, depending on the standard. The system also guarantees a high flow rate with little to no pressure drop.
The product also comes with a large mouth opening that makes it easy to add salt for its water treatment process. The On the Go OTG3NTP1DS doesn't require electricity to be installed between a park faucet and your mobile home, making it a convenient option for backpackers and long road trips.
Travelers can rest assured that chores and bathing will be more manageable. Stains will also be a thing of the past as the premium-grade resign works to remove rust and scale build-up.
Pros
User-friendly
Compact and lightweigh
Allows higher flow rate
Wide mouth opening for salt
Durable build and construction
Doesn't require electricity
Cons
Mobile-Soft-Water Portable 16,000 Grain
If you are traveling to an area with particularly hard water, you should invest in a high-quality water softener that is guaranteed to get the job done. A powerful solution to hard water is the Mobile-Soft-Water Portable 16,000 Grain.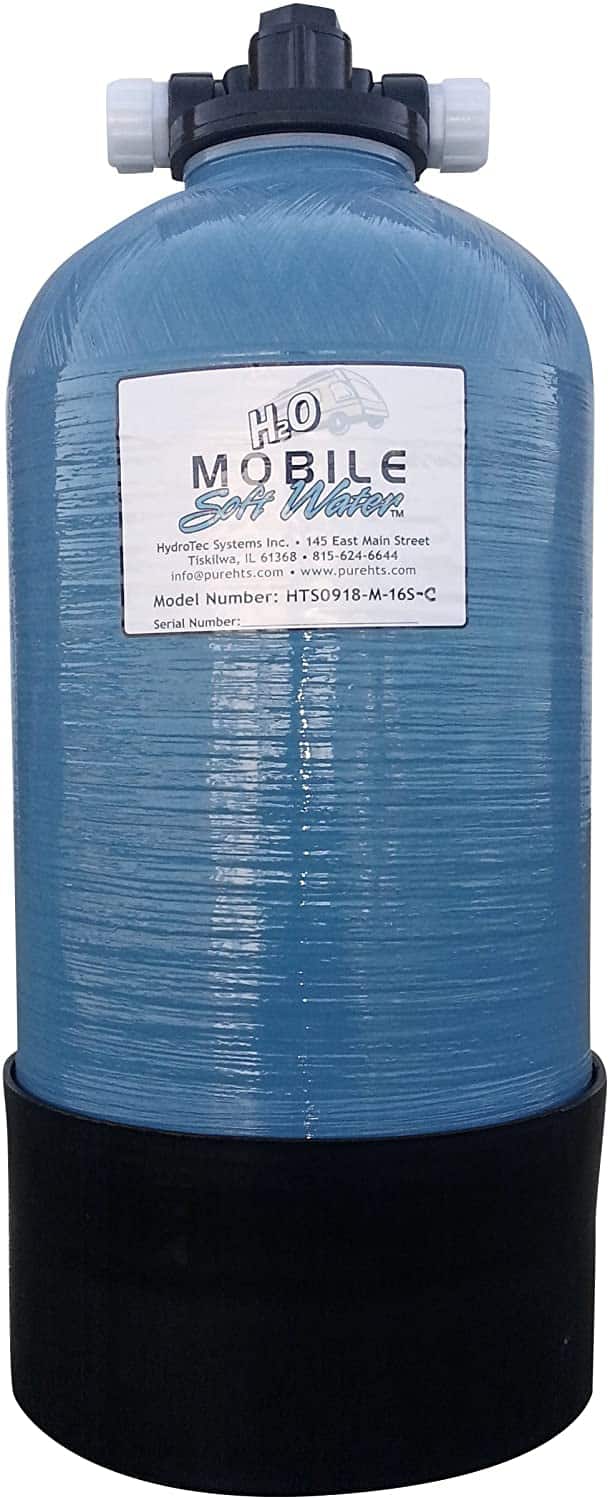 Specs
16,000 grains Total Hardness Removal
Removes Total Hardness and Soluble Iron
Lead-free USEPA, NSF61-Approved Water Connections
16,000 Grain capacity
5 GPM
Powerful process
This portable water softener uses technology to protect your appliances and fixtures through the most eco-friendly and cost-effective solutions. The system doesn't require electricity to soften water, making the process low-maintenance and convenient for on-the-go travelers. Users can easily refer to the easy-to-understand manual for installation and regeneration.
The water softening process is made possible through the product's premium quality resin. Users will find that this powerful resin can soften water no matter the water source and the hardness level. The water softener is also made from materials approved by the National Sanitary Foundation.
Flexible applications
This 16000-grain capacity water softener can treat up to 5 gallons of hard water a minute! Besides providing soft water safe enough for cars, boats, and appliances, users can safely wash their skin and hair with softened water from the Mobile-Soft-Water Portable 16,000 Grain.
You'll also find that lathering and laundering are made easier with softened water. Soft water not only cuts back on your expenses for cleaning supplies it also reduces the time you spend trying to achieve a clean surface! This means you get to spend more time enjoying your trip!
Pros
Easy installation and maintenance
High grain capacity can deal with very hard water
Doesn't require electricity to operate
Strong and quality materials
Cons
Uses nylon fittings instead of brass, but replacement parts are easy to find
SoftPro Water Systems RV Water Softener
The Softpro Water Systems RV Water Softener is the best choice for travelers on long trips. This high-capacity portable water softener is sure to be a convenient and smart choice for your family and your mobile home.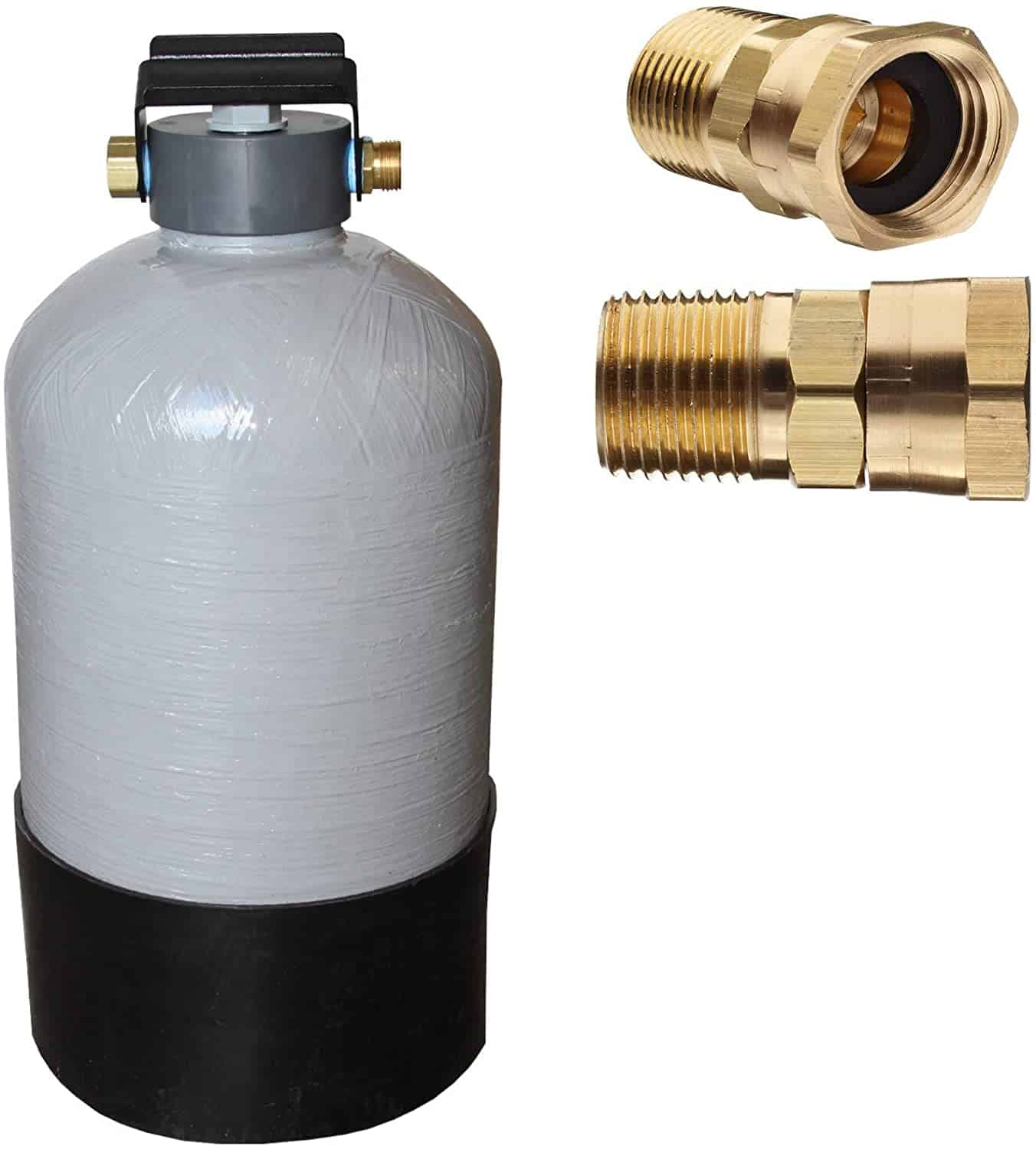 Specs
8000 to 16000 grain capacity
prevents scale deposit formation and encourages scale break down
designed for areas with very hard water
easy installation with no plumbing modifications required
maintenance-free
Convenient and simple
This model from Softpro is simple and straightforward. Even beginner DIY-ers with zero home maintenance experience can easily have the water softener up-and-running. The body is compact and lightweight, and it's performed for many RV models! Some clients choose to store it upright or laid down during travels.
This durable product is also guaranteed to withstand harsh weather and temperatures during the winter on sweltering summering days. The Softpro portable water softener is the best choice for travelers who want safe and affordable softened water that can be used for various applications.
Guaranteed money's worth
You might be wondering how an affordable product could have such great results. Does this Softpro water softener work just as well as more expensive alternatives? According to reviews, most clients saw immediate improvements in their water supply right after installing the Softpro water softener.
The Softpro water softener works to protect your RV's fixtures, kitchenware, appliances, and plumbing from hard water. This water softener also works well to give soap and detergent a much more luscious lather for your daily hygienic and household cleaning needs.
Pros
Lightweight and compact
Easy to install
Significantly improves skin and hair quality
Protects RV fixtures from hard water
Weather-proof and temperature proof
simple and budget-friendly
Cons
Could have included more comprehensive instructions for regeneration
PRO+AQUA Portable RV Water Softener
This water softener by PRO+AQUA is a product you'll be proud to introduce to your family. The treatment system comes with a high-capacity water softening system with a full range of features that guarantee the optimal safety of your home's water supply on-the-road.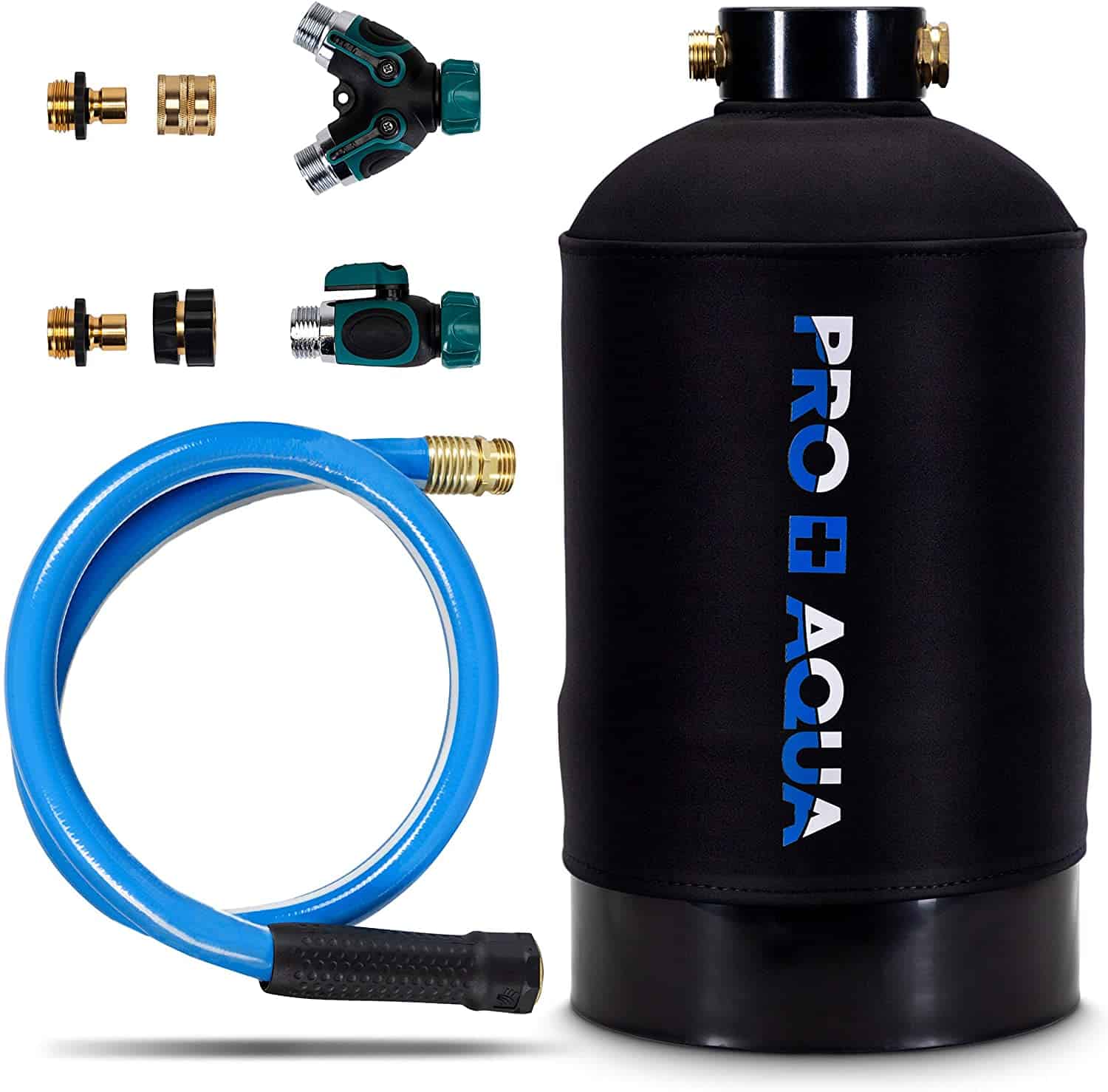 Specs
Wide sturdy base and premium capacity resin
16,000 grain capacity (40 days or 2,000 gallons)
Conditions Well or City water
Reduces Magnesium, Lead, Calcium, Iron, Radium, and other Heavy Metals.
Regeneration in 30 minutes
Ideal for long trips
Unrivaled performance
This powerful device from PRO+AQUA boasts clean and great tasting drinking water. This is all thanks to its 16000-grain capacity tank that helps reduce the amount of magnesium, calcium, iron, and other heavy metals that might contaminate your water.
This high-capacity water softener is the best choice for travelers and vacationers who will be out on the open road for more than a month. The 16000-grain capacity softener can treat water up to 40 days – that's approximately 2,000 gallons of softened water. This will still depend on water hardness level and your consumption. This amount of softened water is about 40% more than the capacity of most water softeners on the market.
What's more, this water softener can also fully regenerate in under half an hour. All you need is about 2 boxes of table salt, a garden hose, a park faucet, and you're good to go!
Superior investment
While this portable water softener might not be the cheapest on the market, we can guarantee that you will get every cent's worth. This high-capacity water softener was designed for serious RV/boat owners and outdoor enthusiasts, so PRO+AQUA made sure to use only robust and sturdy material.
The tank's inner shell is made from food-grade Polyethelyne and a durable fiberglass wrap. The product was designed in California and is built with high-grade NSF-certified materials. The NSF-certified resin is contained within this Polyethylene shell.
Your hard water will go through a comprehensive filtering system that guarantees the water purity down to the last drop. This powerful water softener from PRO+AQUA can efficiently treat city water and well water, so you don't have to worry about your water source anywhere you are in the world!
Pros
Ideal for long trips and large boats/RVs
high grain capacity is efficient
Stable and robust materials
Complete with components and accessories
Innovative and reliable filtration system
Easy to operate
Cons
| Portable Water Softener | Item weight | Item Dimensions | Flow rate | Grain capacity | Warranty | |
| --- | --- | --- | --- | --- | --- | --- |
| Watts Water Quality/Condition M7002 | 9 pounds | 22x10x10 inches | 4 GPM | 10000 | 5-year limited warranty on the Tank and 1-year limited warranty on the Head | https://www.amazon.com/Watts-Water-Condition-M7002-Flow-Pur/dp/B0050EITTK |
| CR Spotless DI-120 Deionized Water System | 25 pounds | 14x14x28 inches | 2.5 GPM | 10000 | 1-year limited warranty | https://www.amazon.com/gp/product/B0056HDCUM |
| On the Go OTG3NTP1DS | 32 pounds | 10x32x24 inches | 4.5 GPM | 8000 to 16,000 | 1-year limited manufacturer warranty | https://www.amazon.com/dp/B00SQFXLNE |
| Mobile-Soft-Water Portable 16,000 Grain | 33 pounds | 10x10x21.63 inches | 5 GPM | 16000 | 1-year limited manufacturer warranty | https://www.amazon.com/Portable-Water-Softener-Separator-Sediment/dp/B07NNRSKTB |
| SoftPro Water Systems RV Water Softener | 30 pounds | Depends on Grain capacity (8,000 or 16,000) | 4 GPM | 8,000 to 16,000 | Lifetime warranty on the tank and valve | https://www.amazon.com/Portable-Water-Softener-000-Grains/dp/B07NNTXPCY |
| PRO+AQUA Portable RV Water Softener | 34.3 pounds | 10x10x20 inches | 5 GPM | 16000 | Contact manufacuter or seller for details | https://www.amazon.com/dp/B079N2L7L6/ |
Shopping considerations for Best PortableWater Softener
Water supply hardness level
Water hardness will depend on the location and your water source. These can range from extremely low mineral content to potentially hazardous levels.
The water softer you choose should be strong enough to treat your specific hard water levels.
Refer to water hardness maps to get a general idea of your vacation spot's area's water hardness level.
Now that you've read through our comprehensive reviews, you should have realized that the best portable water softener for your travels will depend on several factors:
Water softener type
The first thing you have to do is to evaluate the type of water softener you should get. If you are traveling to places with particularly hard water, it will be best to get a salt-based water softener. Compared to salt-free water softeners, salt-based water softeners effectively remove calcium and magnesium ions that will most likely damage your water systems.
Size and weight
Considering that there's minimal space in a mobile home or boat, it will be a smart choice to go with a compact and portable water softener. Remember to take into account home many people will come on the trip and how long you'll be gone.
Efficient regeneration
Regeneration (filling the tank with salt) is essential to ensuring that your water softener will work efficiently and smoothly. The amount of time it will take to complete regeneration will depend on your water softener's size and the salt dosage. Also, consider the wide mouth opening as well as an easy-to-close cap.
Conclusion
Looking into different types and models of water softening may seem daunting with all the features and specifications you need to think about! When you're out on the open road, you need to take all necessary precautions to ensure the safety of your travel group. Review our comprehensive guide to find out how you can safely enjoy your travels with a convenient and hassle-free water softener.