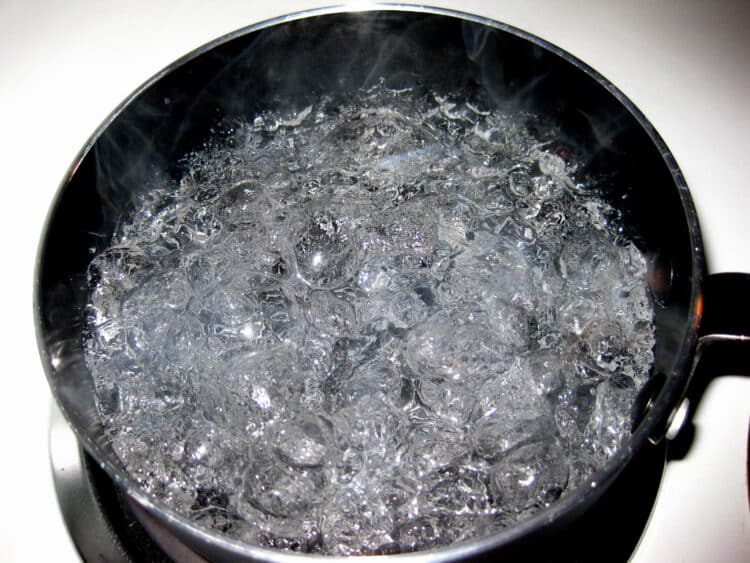 Why should you learn to how to soften hard water?
Sometimes, buying a water softening system may be too expensive for you. You could be living alone, or always be on the move.
But living with hard water is a nuisance for most people. You have to deal with dry skin, residual deposits, bad laundry outcomes, etc.
So how can you get rid of hard water? Before we lay out the facts, we need to understand what hard water is and how to identify it.
Signs You May Have Hard Water
Hard water leaves behind white hard-to-remove stains on sinks, around faucets, and under showerheads.
Calcium residue gets everywhere after water driesÑglasses, bathroom mirrors, shower tiles.
Fabric becomes stiffer, and mineral stains appear on clothes.
Your skin itches after a shower, and you find that both your skin and hair are dried out.
A filmy residue stays on your hands after washing with soap.
Speaking of soap, it doesn't lather or bubble up that well when it comes it is mixed with hot water.
If you're still not sure if you have hard water in your household, brace yourself. It's time for a little Science experiment.
Soap Test for Hard Water
In the absence of a test strip to test for hard water, you can also do this simple test. All you need is a container to place water in, preferably a transparent water bottle or glass, liquid or dish soap, and water from your tap.
Then, follow these steps:
Fill your container with water from the tap.
Add about 10 drops of your preferred type of soap (liquid or dish)
Mix the water and soap with either a spoon or by shaking the bottle
Check for soap bubbles.
If there are none, repeat Step 2 to Step 4 until you get soap bubbles
Keep a close track on how many drops you've added to the water and compare it to the chart below to see what kind of water you have:
No. of Drops
Classification
10
Soft
15 – 20
Slightly hard
21 – 50
Hard
more than 50
Very hard
As you can see, this simple test can tell you so much about the water that you have. Of course, you can always go out to buy test strips to get a more accurate reading, but this method is a DIY.
Reasons Why Hard Water Needs to be Softened
If dry skin and hard residue aren't enough to convince you that hard water isn't always good, here are a few more reasons:
1. Pipe damage and breakage
Lime deposits can start to line the insides of your water pipes as time goes by. The thicker the build ups, the less water can pass through.
It's like fat building up around blood vessels and arteries in the human body. Too much fat either prevents blood from pumping through them, or it can cause it to burst.
Water pressure can cause a pipe to burst, and give you extra bills to pay. Tackle the problem before it becomes an issue.
2. Low Water Pressure
Nothing is more annoying than trying to take a relaxing shower when the water is just a mere trickle.
Since your pipes can line up with material deposits, there is less space for the water to pass through. Hence, you not getting the shower you deserve.
It could also take ages to do the dishes or anything else that requires water such as watering the plants.
3. Clogged Pipes
Sometimes, the lime buildups around the pipe can break off and go with the water flow.
Since it can't pass through most faucets, it's just going to stagnate somewhere down the pipelines and cause a massive blockage that could take a while to locate.
4. Shabby, Worn Out Clothes
Quality clothing is expensive, and needs quality water to stay that way. The minerals found in hard water can cause your clothes to fade out.
And, they could stay in the washing machine for a long time because of your low water pressure. This exposes it to longer periods of being soaked in detergent.
The longer it's soaked, the faster the quality downgrades.
5. Unappealing Dishware
Hard water leaves white stains on dishes, and this can make its user feel as if the plate was unwashed or is dirty.
Guests can judge you for serving them with unclean dishware with water stains.
DIY Hard Water Solutions
Now that you know about the damage hard water can do, read on to see what you can do about it.
1. Ion-Exchange Water Softener
This is the most common way to soften water. And it's also the most effective.
It removes hard minerals like calcium and magnesium and replaces them with either sodium or potassium ions.
You can choose between a resin tank and a brine tank, but some systems offer both.
A resin tank involves small, salt-covered beads made out of resin.
Meanwhile, a brine tank allows you to use three different kinds of water softening salt: Rock Salt, Evaporated Salt, and Solar Salt.
Rock salt is cheap, but it does require frequent cleaning due to the presence of materials that aren't as soluble.
If you don't use that much water, rock salt is good for keeping up with your budget.
Evaporated salt is also known as table salt. It takes less cleaning and is recommended for large households.
Solar salt is purified water crystals that were left behind when the water evaporates from a brine pond. Hence, the name. They are the best choice for this type of system.
2. Salt-Free Water Conditioning: Template Assisted Crystallization (TAC) a.k.a. Nucleation Assisted Crystallization (NAC)
Instead of opting for water softener, you can also try this water conditioner.
Although the salt isn't completely removed from the water, it breaks up the minerals enough to let them be swept away down the drain.
It allows the water to flow without leaving as much residue as it used to. Along with this, it can also remove weird tastes and foul smells from the water.
Nucleation Assisted Crystallization uses microscopic ceramic polymer beads that act as anchors for hard minerals such as calcium and magnesium ions.
By pulling them together, they form nano-crystals that divert away from the water flow. The nano-crystals formed will start to break up within 48 hours, so water can only be stored unused for that long.
The NAC/TAC is recommended for water outlets that are used often.
3. Reverse Osmosis
Reverse osmosis then is the movement of water from an area of low concentration to high concentration.
It removes sediments and dissolved solids through a pressure pump that has a lot of filters. These filters are: a sediment or carbon filter, an R.O. membrane, and an activated carbon post-filter.
Unfortunately, R.O. systems use a lot of water. It more or less follows a 2:1 rule.
2 gallons of water is consumed to produce 1 gallon of water that has been softened. It also removes all sorts of nourishment from the water along with the hard minerals.
DIY Alternative Hard Water Solutions
Sometimes, we just need softened water for specific areas of the house. For example, your favorite sink and shower, as well as the kitchen sink.
Here are some alternatives so that you can soften water without buying a softener.
1. Boiling Hard Water
Boiling water separates hardening minerals from it and these will settle to the bottom. You can then let the water go through a sifter to remove them.
This is a quick way to get soft water naturally without resorting to chemicals.
2. Use Washing Soda for Laundry
Washing soda is a kind of chemical that has sodium bicarbonateÑalso known as carbonic acid salt. It softens all types of hard water whether it is temporary or permanent.
Once the water is soft, soap will lather easily and there will be no mineral stains on your fabrics.
3. Use Water-Softening Attachments
Instead of buying a whole water softener for the entire house, limit it to the bathroom. Water softening attachments are being sold for cheaper prices.
One of them is a shower head filter, which does the same thing as an ion-exchange water softener. It is easy to install and has the same results.
Another alternative is getting a water softening attachment for your sink. It helps you with dry skin caused by hard water, and also allows you to consume water straight from the tap.
4. Vinegar Your Way Through Hard Water Life
If you find some built up residue caused by hard water, vinegar can take care of it easily.
You can use one part vinegar with one part water, or you can use vinegar at its purest form.
Once heated (do not boil), soak the entire item in the vinegar. Leave for at least one hour, depending on the thickness of the buildup.
After enough time has passed, remove it from the vinegar and wash normally. The deposits should come off easily.
If they don't come off, you can either soak it again in heated vinegar (you can reuse the vinegar from earlier) or use a scouring pad or brush.
Alternatively, if the item is fragile or you don't have enough vinegar to soak it in, you can soak a rag with heated vinegar and place it on top of the hard water deposit.
Leave for an hour or so, then break up the deposit with a gentle brush.
Bath Salts
Yes, bath salts actually soften water. They're not just around for show.
They give your bath water a fresh fragrance, while at the same time releasing ions such as sodium and potassium to replace the hard minerals in the water.
This is a great alternative if you just want to focus your water softness to the bathroom. There's no need for filters and attachments, just your regular old bath salts.
Epsom salts are not bath salts. Instead of softening water, Epsom salts actually harden it by releasing magnesium sulfate.
Make sure you're using bath salts to soften water, and not Epsom salts.
Frequently Asked Questions
1. Is water softened with salt drinkable?
Yes. As long as your water hardness did not go beyond 400 mg/L, then it is all right to drink.
2. Can You Water Plants with Softened Water?
No. Water that was softened with salt is very bad for plants. It tricks them into thinking they've already consumed more water than they actually have.
Plants will die of thirst if you give them water softened with salt. That's why hard water is recommended for outside hoses.
3. Who shouldn't drink softened water?</h3?
Most people can drink softened water that underwent a salt replacement process. However, people who suffer from high blood pressure are discouraged from drinking it due to its increased sodium levels.
The same thing goes for people who are on low-sodium diets or people with cardiovascular diseases.
4. Do fish need softened water? Is it safe for them?
This actually depends on the kind of fish you're getting. Most types of beginner fish can easily adjust to whatever kind of water you give them.
It's easier in the long run to get fish that are accustomed to hard water such as Guppies, Swordtails, Platies, and Mollies. The same applies to fish who are from brackish waters.
However, if you insist on choosing fish that prefer soft water, you can add water-softening pillows, peat, and driftwood to the tank.
Alternatively, you can use Reverse Osmosis water for fish tanks.
Conclusion
There are multiple ways to soften water without resorting to buying expensive water filters. It only takes the right search to get the information you need.
These alternatives will help you out in a pinch, and are very friendly to your budget. If you're only renting a property, and are about to move out in a few months, then getting a water softener doesn't really seem worth it.
From using softening attachments for your showerhead and faucets to adding driftwood to your aquarium for happy and healthy fish. There's always a way to avoid hard water.