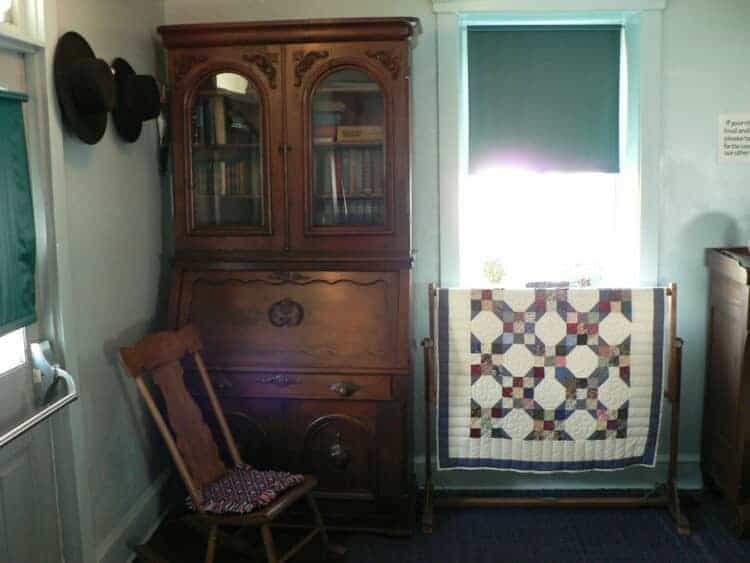 Amish carpenters and woodworkers are some of the best craftsmen out there. They are wholly dedicated to creating quality furniture that will last generations and is usually passed down as heirlooms.
They are known to avoid using wood with obvious flaws and will do whatever it takes so that any blemishes are entirely gone. Tradition dictates that they only use genuine or solid hardwood in their craft.
High-quality wood is the first step to creating your own set of Amish cabinets. If you want the full genuine experience, pay attention because before we tell you the process of building a cabinet from scratch, you're going to get a lesson on the Amish ways of woodworking.
What kind of wood is used in making Amish cabinets?
Like we've already said, Amish woodworkers don't just use any kind of wood. They use high-quality wood—solid wood that will stand the test of time and stay in the family as heirlooms for decades or even longer.
They don't use wood materials like plywood, particleboard, or MDF.
Locally sourced wood is what they use, and the type of wood varies depending on what they want the final product to be. The most common types of wood used are extremely durable kinds such as red and white oak, brown maple, cherry, and hickory.
Since they use locally sourced wood from American forests, they can easily get the material they need for their cabinets. There is less wait between receiving a shipment and the building process.
Some carpenters may even choose to chop down their trees to obtain the wood they need for building a cabinet. This is a sustainable way of protecting the environment because they only cut down as much wood as they need to.
Warehouses that contain lumber are unnecessary, and they don't lend any efforts to deforestation since the only chop down trees as needed. Entire forests of trees need not be cleared, unlike companies that mass-produce furniture.
When choosing wood for their next project, they avoid using green wood or green lumber. This is because of the high moisture content found in green lumber. Since this kind of wood is freshly cut, it won't withstand the test of time compared to drier kinds of wood.
This unseasoned wood bends easily and is susceptible to deterioration, which is the complete opposite of what Amish craftsmen want. They want to build something that stands the test of time and can be passed down from generation to generation as an heirloom.
Untreated greenwood is not going to help them with that, so to ensure they maintain that high level of quality in their work, Amish craftsmen will season all of their lumber before they even try using it.
Local mills are another option for Amish carpenters when it comes to obtaining wood. If they go to a mill for their wood, then that means they can inspect the trees themselves and make the right decision.
This is important because certain types of wood are better for certain types of furniture and designs. Experienced millers can even sort their wood according to furniture type—what kind of furniture it's best for.
Are there more Amish wood details I need to know about?
We mentioned earlier how the Amish consider different kinds of wood for different types of furniture. For example, they will usually use walnut to create furniture such as chairs but reserve cherrywood for when they're going to build a dining table.
Customers also have the option of seeing each type of wood in a different colour than what was originally intended. This allows customers to customise their furniture depending on their favourite colour, intended style, theme, etc.
Below are some common uses for different kinds of wood used by the Amish:
1. Cherry
Cherry wood stains well. As the wood matures, it resists aging and warping and turns into a darker colour as more time passes by. Cherry wood is taken from sustainable forests, lending efforts to the environmental cause.
2. Red oak
Red oak is a type of wood that can be carved easily. It's best for furniture types that are going to be used daily. It is often reserved for larger pieces of furniture such as dressers and beds, but they can also be created into elegant chairs.
3. Walnut
Walnut comes in a dark, rich tone that is caused by its high-density wood. It is extremely sturdy, which makes it a great option for furniture such as tables and beds. But the great thing about walnut is that it can also be carved easily and glued onto other pieces.
4. Q.S. white oak
Known for its beautiful grain pattern, Q.S. white oak gets its reputation thanks to its quarter sawing process. The process involves cutting the wood at an angle (90 degrees) so that the grain is emphasised in the final product. The grain appears in medullary rays, emphasising the tree's vascular cells.
The Amish are extremely talented in exploring the diverse wood options for their furniture crafts. Higher density wood comes from cold northern climates and is known for its great density and strength.
Before being cut down, the wood has to reach full maturity so that the Amish artisans can ensure they provide their customers with furniture that is of excellent quality.
How do the Amish season wood?
Once Amish woodworkers have chosen their preferred piece of wood, they let it undergo a process called seasoning to lower the wood's moisture content. Seasoning is important because it ensures the durability of the wood.
They use two methods for seasoning wood: kiln drying and open-air drying.
1. Kiln drying
During the kiln drying process, greenwood is placed in an environment where the temperature is controlled manually. The wood is then exposed to appropriate amounts of heat and airflow to help the drying process.
When used incorrectly, kiln drying can result in warped wood with stress marks. Amish artisans have to be careful and stay dedicated to their craft by taking the time to ensure each piece of wood has been correctly dried.
During the drying process, Amish carpenters consider the final destination of the wooden furniture they are building. They ensure that the furniture they create is not susceptible to warping and moisture absorption to keep it looking brand new for a long time.
Some woodworkers even go the extra mile and specifically customise wood pieces with the customer in mind.
2. Open-air drying or seasoning
Compared to kiln drying, open-air seasoning is a more traditional method wherein the wood is set out to dry naturally outdoors. It is usually stacked into piles called lumber piles and left outside to air dry naturally.
The lumber piles are arranged to maximise airflow between all lumber pieces that have been stacked together. Other options include placing the wood in an open shed or covering it with a tarp to protect it from rain, snow, and other types of moisture.
Despite the Amish's love for traditional practices, open-air drying simply takes too much time. The goal moisture content of perfectly open-air dried wood is 20%, and that can take months to YEARS to achieve.
This is why most carpenters resort to kiln drying instead.
How are Amish cabinets built?
After the wood dries, Amish woodworkers are putting all the pieces together in a way that speaks about the intense care they put into their creations. Here are some unique features that come into play during this process:
Joints and glue
Amish furniture also isn't built using nails or screws! Surprisingly, you can build furniture without using these joining pieces. Instead, the Amish use techniques like rabbets, dovetails, and mortise-and-tenon joinery.
They often pair off these joint types with wood glue, providing a seamless look on the furniture they create. Below are some of the most common joining techniques they use:
Dovetail joints

Dovetail joints are no easy task for the average carpenter, but an Amish artisan? Then dovetail joints are in good hands. This type of joining technique involves using joint sets that have been interlocked between wood pieces.

These joints are so strong that it is almost impossible to break them once they've been connected. Fasteners, which are considered mechanical components, are not used at all, which speaks for the integrity of each piece of furniture they create.

Dovetail joints are often used in the creation of drawers on hutches and cabinets.

Tongue and groove joints

To join parallel boards together and create wider wood expanses, a tongue and groove joint is used. They are made by cutting a groove on a plank's side and then carving the other plank or board's edge so that they fit together.

Tongue and groove joints are most common in constructions that involve tabletops and shelves.

Mortise and tenon joinery

This joining technique involves using a hole with four corners and its partner, a rectangular component—the mortise and the tenon. They provide great lateral stability and hold up against warping and wood movement.

A mortise and tenon joinery are most common in furniture pieces that have to remain sturdy such as chairs, desks, and sofas.
After connecting these joints, Amish carpenters reinforce them with glue that is chemical-free and non-toxic. The Amish techniques are so durable that they can outlast any mass-produced piece of furniture.
Electricity-free tools
Did you know that the Amish don't use electricity in their woodworking craft? They use manual equipment such as hand planes, hammers, chisels, and saws.
For pieces that require more work, they have pneumatic tools that run on other forms of energy that aren't electricity. They often run on compressed air or a diesel engine.
The most common pneumatic tools you are bound to find in any woodworker's workshop are mitre saws, buffers, and sanders.
Hidden compartments
The Amish love building secret compartments into their furniture, making for some unique and creative storage options. Sometimes, they may not even reveal the secret compartment that they've created.
This can leave the customer guessing for a long time on what secrets their furniture hides. For example, a coffee table made by an Amish carpenter could flip up, showing a space where you can hide magazines or books.
Another time, you might be able to find a hidden drawer in a wooden bookcase if you press the right slot. Ironically, some furniture pieces can be built-in with power outlets, which only speaks to how much they consider what their customers need.
Manual carving and details
Although there are non-electricity options for sanding equipment that the Amish can use, most Amish woodworkers prefer sanding the wood by hand.
And, if you see any intricate details in the woodwork of Amish furniture, then you should know that they were all done by hand. And since no two designs are exactly alike, every piece of furniture created by the Amish is unique and authentic.
What are the finishing touches to building an Amish cabinet or furniture?
Once the Amish carpenters are done building the piece of furniture, they can choose to finish their wood with either a stain or a varnish. The choice between staining and varnish depends a lot on the type of wood that was used.
For example, some wood pieces don't stain that well and are therefore ruined if they undergo a staining process. Walnut is known to lose the depth and colour of its grain if it is stained.
Hard maple wood turns uneven and blotchy when stained, so listen to the carpenters if they tell you your furniture won't do well if they are stained.
Most Amish carpenters use a VOC (low volatile organic compound) varnish that doesn't release harmful gases or chemicals in your home.
The products they use on the furniture they've just made are environment-friendly and catalysed conversion varnishes that do not have any negative effects on your home.
Adding this kind of safe varnish reduces the possibility of damage caused by moisture, spills, and scratches. Nevertheless, you should learn to take care of the Amish furniture you buy because a lot of work went into making them.
Amish woodworkers can also choose to use different kinds of varnishes depending on the furniture they create. For example, if the furniture is meant for a nursery, the carpenters will finish with all-natural linseed oil.
They take the satisfaction and safety of their potential customers seriously, something not all mass-marketing furniture companies to. All items are handled with care.
Once you receive your heirloom Amish furniture, then you can rest assured knowing that it doesn't take much to maintain it. You can dust it every day and have it polished every six months.
We recommend using natural cleaners to ensure the finish of the furniture is not damaged or stripped away.
What makes Amish furniture so special?
Amish carpenters dedicate most of their lives to create beautiful wooden furniture that will last you generations. The skills and tricks they learn are passed down from generation to generation, just like the furniture they create.
Children learn as they grow and are taught and guided by their parents. They receive important and genuine hands-on experience they otherwise wouldn't get from companies that mass-produce their product.
The passing down of skill from parent to child ensures that the quality of work is always maintained. The beauty of woodworking remains regardless of which generation is making the furniture.
The Amish pride themselves in their traditions and their woodworking practices are no exception. Tradition has to be maintained because the world we live in moves so fast that trends come and go.
The beauty of Amish-built furniture is in the classic and timeless quality found in their pieces. No matter how fast the world moves, their furniture remains stylish and provides a beautiful aesthetic to any home it ends up in.
Elegance and functionality are two qualities found in all pieces of furniture created by the Amish, and this ensures that it will look like it belongs wherever it ends up.
How do I make my own Amish cabinets?
By combining all the information found in this guide with the basics of creating a cabinet, you may be able to create your own Amish-inspired cabinets, but with that comes its own set of necessary skills.
You can't make something authentically Amish if you aren't Amish in the first place, so Amish-inspired cabinets are the next best thing. Here are the basics that you should know:
Use authentic, high-density wood
Season the wood using the appropriate methods
Remember that you're not allowed to use any tools powered by electricity or runs on batteries
Finish off your work with a varnish
Conclusion
Amish woodworkers have extreme attention to detail that is practically unmatched by other traditional carpenters. Their level of skill has been passed down from century to century and from generation to generation.
They are a group of people who thrive on tradition, and although you can't make an authentic Amish piece on your own, the least you can do is upholding the techniques and care they put into their work.
The Amish ensure their pieces are individual works of art that are also functional and serve a purpose. Their work is unmatched and contains details and qualities that can never be replicated nor imitated.
Consider all of these when you get to work creating your DIY Amish cabinets.