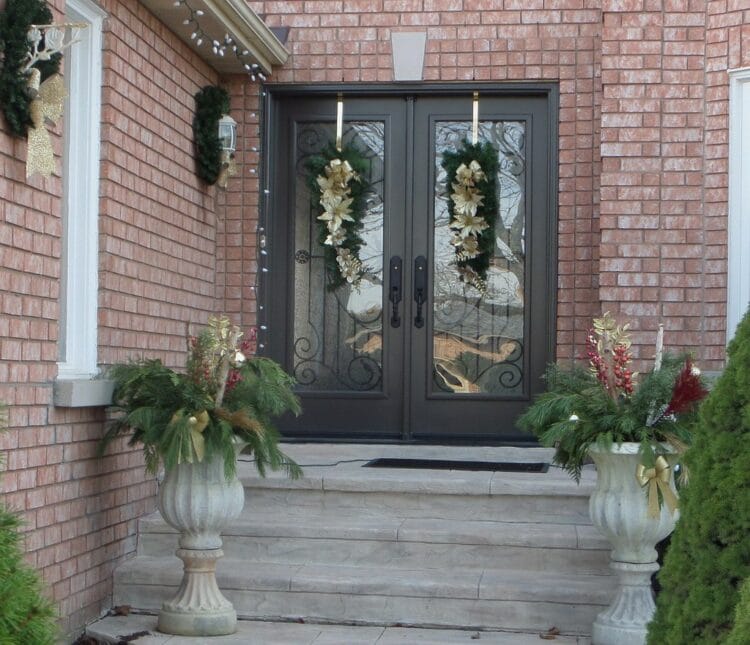 Front doors are an essential part of any home. It should be in its utmost condition, from offering security to ushering in guests and creating inviting spaces in your home.
If your door is damaged, scratched, or just in poor condition, you need to repair it immediately. But before starting your front door repair, you need first to know each part of your door.
Here is a complete guide to getting you started.
All you need to know before doing a front door repair
If you want to impact and upgrade your home, your front door is the most comfortable place to start. If you wish to repair or replace your door, you need to know a couple of things first.
The most important is the different components that make up a door, and the lingo professionals use for these parts.
Here are parts of the door:
The door frame

Also called a door sash, door frames support the door from the sill to the head and the jamb. It's the entire framework.

You can choose either aluminum or wood as material choices for your doorframe. These you can then blend with your home.

The door jamb

The sides of your door frame running vertically is what you call the jamb. It's common to hear people refer to it's as the door jam as well.

Sill

That part of your door frame that rests on the floor in the sill. It's the bottom-most part of the frame.

Head

Where the sill is the bottom-most part, the head is the topmost part. It runs horizontally.

Astragal

If your home has a pair of doors at the entry, the part connecting the sill and the head is the astragal. That's the vertical piece that runs between those two parts.

Panel

The part of your door that opens to usher people in and out things out is the panel. It's the door itself.

Fixed panel

If you have a pair of doors and one doesn't open or close, that's the fixed panel. In this case, only one side of the door opens and closes.

Door sweep

Every home has a weather-resistant strip called a sweep at the bottom-most part of the door. It usually seals the door sill and the frame.

For better energy efficiency in your home, you should consider installing it.

Threshold

Depending on your style, you either have an elaborate or a simple threshold. It's usually a decorative element.

This part of your door is the transition from your sill to your floor in any room.

In or out swing

When you open your door, which side does it swing to, out or inside? If it swings out, it's the 'out-swing. If it swings in, it's in the swing.

Transom

The horizontal beam that separates your door from the window above it or the fanlight is the transom.

Sidelight

The fixed glass panels outside the frame on either side of your door are the sidelight. They look like tall narrow windows.

These can help make your home brighter by allowing in plenty of natural light.
Now that you know the names of all the door parts let's move to the hardware and knobs in a door.
They include:
The hinge

That jointed device pivoting your door panel is called a hinge. There are a variety of hinges you can choose from when repairing your door.

It includes concealed hinges, barrel hinges, and pivot hinges.

Knob

What you turn to either lock or open your door is the doorknob. It's usually round.

Also, you can choose from a variety of materials you want for your doorknob. There are satin nickel knobs, rubbed bronze, and even antique brass.

The foot bolt

It's a unique lock that you can put at the bottom of your door. From the name, you can tell that you use your foot to operate it.

It comes in handy if you are disabled or your hands are full of groceries and other items, and you can reach your keys to unlock the door.

Key lock

When it comes to securing your home, key locks are the best. There are numerous types you can choose from at any time.

The two most common types are the multi-point lock and the cylinder lock. With the multi-point lock, you use one handle, but you have several locking points to offer more protection.

The cylinder lock, on the other hand, works by rotating the cylinder to move the bolts.
How do I repair a rotted front door frame?
The thing about wood is it rots over time. If you notice your wooden door frame is rotting, you should fix the issue as soon as possible to prevent it from the result in an even bigger mess.
When you wait too long before fixing it, the rotten door frame can lead to a bigger structural issue that will cost you more repair or even replacements.
Plus, it's a hazardous situation since the frame is what supports your door. If it were to come off, it might hurt anyone in the vicinity.
So how do you repair it? The best way to fix the issue is to remove the entire door frame and replace the parts of the rotten parts.
You can do this yourself since you need to cut away the rotten sections and replace them. If possible, you can use materials in repair kits to make your door frameless susceptible to rotting by getting rid of the rotting source and deferring moisture.
That way, you can worry less about your doorframe rotting again anytime soon.
What can I do if I notice my front door has gaps?
If your front door has gaps, you may notice that it lets in light around the edges of the door. Also, you may be getting leaks, sagging, and drafts.
First things first, you need to find the source of the gaps. Then you can find simple DIY ways of fixing it.
There are a couple of ways to go about repairs. The first solution is weather sealing your door. You can also consider realigning your door to fix the gaps.
Additionally, replacing your door system can also help. But you can use it as a last option if all the other solutions fail.
Plus, installing new parts for your door may prove cheaper, easier, and less time-consuming.
How does improperly sealing your French doors affect you?
If your double doors are not adequately sealed and secure, there are many things that can go wrong. The most common negative effect is lower energy efficiency.
Sealing your door improves the energy efficiency of your home, leading to lower bills. Also, you are decreasing your home's security by not sealing your door well.
It makes it's so easy for unwanted visitors to break into your home. So how do you secure and seal your French doors well?
The first solution is using accessories and parts specifically designed for French doors. Anything other than that will not work and may only end up working ineffectively.
Also, you can consider using French door kits for repairs, replacements, and installation. Additionally, you can use astragal bolts and systems for better security and sealing.
How can I improve the curb appeal of my front door?
Your front door is the part of your home that creates the first impression. Not just when you have visitors but also the time you want to put your home up for sale.
That's why the paint colors you use and door hangings are important. It would be best if you took your time in selecting these.
Here are other tips to ensure your home looks more attractive and fresh:
Take your time selecting the paint
Paint can help improve the curb appeal of your door in numerous ways. For starters, with time, your paint is going to crack, peel and fade because of the sun.
If you choose lighter paint colors, your door can deflect the heat to prevent major cracking. Plus, it can help keep the smaller imperfections out of sight.
Whereas, if you choose darker paint colors, your doors can swell and warp more. That can add stress to the door's hardware parts damaging it (like the locks or hinges).
That's because dark colors absorb and retain more heat than lighter colors do.
Use storm doors for extra protection
An extra level of protection doesn't hurt. Storm doors are not just for storms and hurricanes. These doors offer additional protection from all outdoor elements.
That can way, your door has a bigger chance of staying longer without damage.
Awnings and canopies offer protection too
Awnings and canopies offer more than just adding personal style to your front door. It also protects it from the elements.
Use UV coating
Sunlight can bleach your front door and make the paint color peel off and fade with time. Also, your door can swell and warp due to heat.
If you apply a UV coating coat, your door has a better chance of preventing swelling, warping, heat retention, and bleaching.
Final thoughts
Your front door is your first defense against the elements and unwanted visitors. It also gives the first impression to your guests.
If it's in bad condition, it looks and feels uninviting. However, by knowing the parts of your door, you can repair it yourself. Use all these tips to help you in your DIY project.