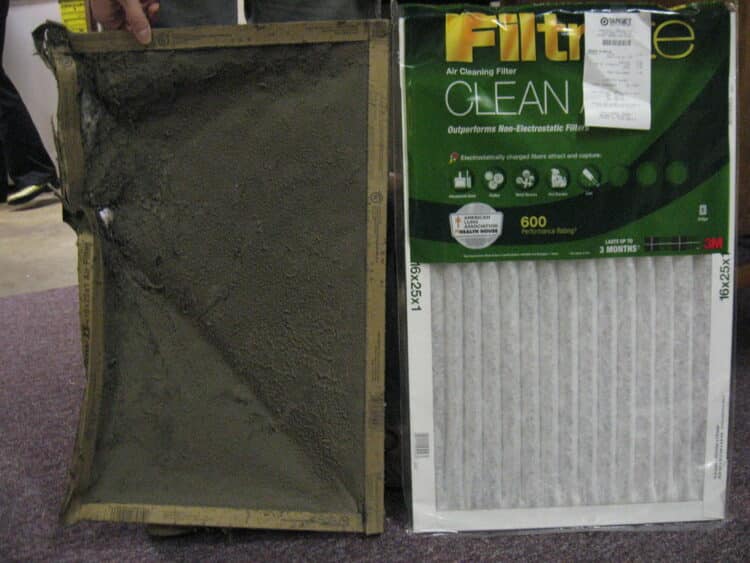 Is dust suffocating you in your home? Are allergies getting worse? When did you change the furnace filter last?
Changing a furnace filter is the easiest and fastest way to purify the air in your home. But the main reason, for making them is to keep the furnace in good working condition.
Furnace filters are for catching airborne particles, dirt, and dust. They prevent the particles from getting to the fan and heating coil. These are areas in the furnace where extensive damage could happen.
That means that the filter's main aim is to keep away dirt and dust particles from the blower motor in the furnace. The filter's main job is to trap the dust, fibers, and all kinds of dirt that circulate in the air and are also microbial.
The filter acts as the guardian. It stops these particles from reaching the blower motor in the furnace cabinet. The filtered air flows through the ductwork to the blower fan for the furnace to work.
The expensive filters filter tiny bacteria particles, mold spores, mildew, and pollen. That is because the air in your house goes through the filter. Furnace filters turn out to be the first place that most of the dirt from the air gets trapped.
To find out if you have a dirty furnace filter, check the furnace at least once every month. If the filter is dirty you need to change it.
That will make heating more efficient in winter. And, air conditioning will be outstanding during the summer for all HAVC. You will save on energy bills. Plus, the furnace will work well longer. To help you do that, are hacks you need, to know how to change a dirty furnace filter.
But first, we need to understand whether a furnace filter and an AC filter are the same things. There are two answers.
First, they are the same thing. That is if you have installed a central air conditioning and heating system in your home. They are also the same thing if instead of the usual furnace and air conditioning system, you own a heat pump.
But, if you own AC units mounted on the wall away from the furnace, they do not use the furnace filter. Thus, you need to maintain the filter all year round. That is because in most cases the systems are together and in full-time use.
When is the right time to change a dirty furnace filter?
It is not right to think that you have to change your furnace filter once a year. That may be contributing to making your furnace have a short life. The furnace filter you have will determine how often to change the furnace filter.
So check your filter every month and see whether it needs changing. Change it every month if you are using the type that needs replacing every month.
To know whether it has turned into a filthy furnace filter, remove it from the furnace. Then hold it up in a place full of light. If you cannot see the light through the filter, it is time to replace the filter.
You should remember other surrounding circumstances. They may make you change the filter. You may have to do it sooner than the timeline the manufacturers suggest. For example, if you live in an area with too much dust, you may need to change the filter often.
Do you own furry pets like cats and dogs or there are people in your home who smoke? If yes, you also need to change the furnace filter more often. Also, if the fan to your heating system is running almost all the time.
In line with this, we know that generally during winter, heaters are on all the time. So you need to be checking the filter as often as you can, at least once a month.
Also, check your furnace filter more often if you are a fan of opening windows and doors to your home every day. Then there is the obvious reason. Be changing the filter immediately you notice the filter has a buildup of dirt and dust.
Signs that a furnace filter needs to be changed
A furnace filter needs to maintain. Expensive repairs are avoidable when you replace the filter when they need replacing.
Staying for a long time without changing the filter will cause the airflow in the system not to be enough. This will cause the furnace to overheat and it will soon shut down.
You may notice your utility bills going up. That is because the heating system has to work harder. It ends up using more electricity or energy in the process.
Another sign that could ignore is when allergies will flare-up. That is because the air is no longer getting filtered as before. Some other health issues include headaches, which in this case could be from lack of fresh air.
Headaches could also come from carbon monoxide poisoning. The poisoning could happen if the heat exchanger cracks from the pressure. That is when the filter is not replaced for a long time.
The heating system will not work as well. You are forcing it to work harder and some parts may fail to lead to costly repairs.
Check and see if the filter has changed color. If it has bits of dirt, dust, and hairs, you need to know that it is time to change it.
Something else to consider is how strong the filter is and the time it takes for them to be dirty. Regular filters go for a month before they need changing.
Pleated polyester filters go for around three to four months. Afterward the need to replace them arises. Special media furnace filters will do a good job for at least six months.
An electrostatic filter can function for years. You only need to clean them after every four to six weeks.
Permanent filters are available in the marketplace but are the least recommended. Mildew and mold tend to grow on them over time. That could turn into a health hazard.
The important thing to remember is to keep checking the filter from time to time. That is the sure way to find out whether it needs changing.
Different kinds of furnace filters
You can buy a cheap fiberglass filter. This kind of filter is okay to protect the blower motor.
The E-Z Flow filters fall in this category. You can order them from Amazon.
Yet, you also want to get rid of airborne dust in the atmosphere in your house. You have to buy one-inch or two-inch disposable filters which are also cheap.
Standard pleated filters are expensive than fiberglass filters. They filter smaller particles of airborne dirt, dust, and pollen. They are also disposable and last longer.
One of these types of filters is the MERV 8 filters by FilterBuy who sell them on Amazon. You will be using them for four to twelve months.
You may want to get rid of even smaller particles of dirt in the air. You have to buy and install a cheap fiber filter that gets charged by electricity. A well-known brand of this type is 3M Filtrete.
Filters that can be in use again are reusable. When they get dirty, you remove them from the furnace, cleaned and reinstalled after drying.
These types of filters are from plastic. Using these kinds of filters is good for the environment too. They are electrostatic reusable filters that last for years.
They are very pricey. Some of the brands are available on Amazon.
All you need to do to clean one of these is to first vacuum it. Then rinse it with a garden hose to get rid of any remaining dirt.
After cleaning, put it out to dry. Make sure it is completely dry before putting it back in the furnace. They filter microbial dirt particles.
There are ways of showing how well a filter can trap dust or dirt particles of different sizes. There are filters for microorganisms like algae, yeast, mold, fungus, mildew, and bacteria.
When buying a furnace filter, consider getting a good quality filter. Especially if there are people with allergies in your home. They may be expensive but worth it in the end.
To maintain the filter, you have to check every month to see whether it is dirty. If you find it dirty, you have to replace it.
The recommendations from the manufacturer are for three months' filter replacements. But to keep your furnace safe, do a routine monthly check.
The rest of the types of filters are expensive but last longer. Like the four-inch mechanical air filter and electronic plate filter.
They work by involving ductwork or electrical changes by heating contractors. They filter microscopic particles.
Fiberglass filters usually have cardboard frames. They are the monthly filters that need replacing every month. They trap large particles of dirt and dust.
There is another way that will help you not to worry about remembering to change the filters every month. Especially if you prefer using disposable filters. Many companies could ship the product to you every month.
You could place an order to a company of your choice online. That will save you from having to remember when to change the filter. Every month when you need to change the old filter, the package with a new filter will arrive.
There are also discounts enjoyed by permanent subscribers of some of the companies. That should give you an incentive. You change your furnace filter without staying too long.
The important thing to remember while making the order is the size of your filter. You may consider quality for better efficiency.
Apart from ordering filters online, you can buy them from HVAC contractors in your area. Also, buy from the hardware store and centers for home improvement.
How do you change an air filter in the furnace?
Changing or replacing a furnace filter is easy and will not take much of your time. Read the manual on how to do it. The steps are more or less the same depending on the brand of the filter.
Start by turning off the furnace. Then remove the service panel after finding it on the furnace. At this point, the manual will be helpful. With some furnace models, you'll need a screwdriver to remove the panel.
You will find the filter close to where the blower fan is. Slide it out. Then slide a new or clean filter in. When everything is back in place, turn the furnace on again.
It does not matter the kind of filter you use. The most important thing is to replace it the right way. That is after you finish removing the dirty furnace filter.
You will see an arrow set on the edge of the filter. It should point toward the blower motor. If you replace it facing the wrong side, it will not work as well as it should.
It is okay if you want to remind yourself of the date you changed the filter so that you'll know when to change it next. You can use a marker pen to write the date somewhere on the frame.
Sometimes after replacing a dirty furnace filter the furnace does not go back to working as well as it did. If that happens you need to service it. The problem could be elsewhere in the heating system and thus the need for maintenance.
It is important to remember that a furnace filter needs replacing. Replace it with a filter that is the same size as the one removed. A different size may not fit well and may affect how the furnace functions.
The size or dimensions given or written are on the frame. Sliding a filter that is the right size is easy. But if it is larger than the original size it might get stuck and bring problems when changing it.
As a bonus, buy furnace filter replacements in packs. They cost as little as a dollar for a filter.
Conclusion
The best way of maintaining a furnace is to change the furnace air filter when it gets dirty. It will save you a lot of money in maintenance and utility costs.