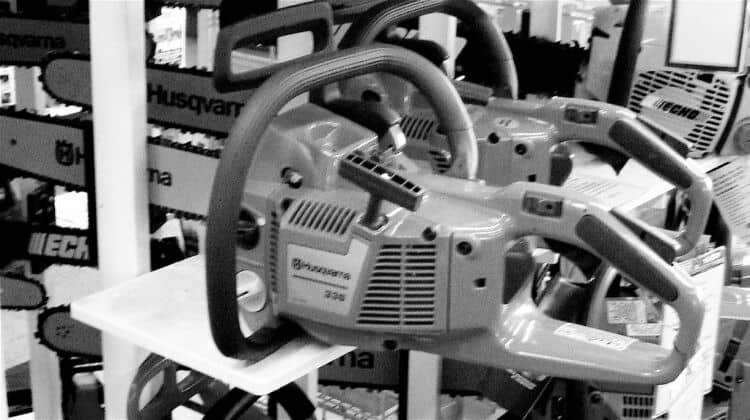 It's pretty common for anyone to get excited when the prospect of operating a new and powerful tool arises.
And the rush is no different when you get your first chainsaw.
However, the excitement can be short-lived if you do not follow the safety operation rules, and you end up hurting yourself and others around you.
If it's your first time to operate a chainsaw and you are wondering what the dos and the don'ts are, then this guide is for you.
The same applies if you are a pro looking forward to recapping the safety tips to use your chainsaw safely.
Tips on How to Use a Chainsaw Safely
Safety gear to always have on when handling a chainsaw
You probably have watched a movie where the main star uses a chainsaw clad in a pair of cool jeans and an overshirt that the wind carries behind him (sometimes even without one).
Looks cool, right? But safe, no. when you plan to use the chainsaw, there is a particular gear that you should have to ensure that you are safe to suppose an accident happens.
You may think that accidents are far off if you have the right skills to handle the tool.
The annual number of chainsaw accidents surpass 36000, and some are severe injuries that require hospitalization.
And yes. Professional lumberjacks are part of that estimate.
Some of these accidents were preventable. Suppose the person had safety gear on at the time it happened.
Here is a list of protective clothing you should always have on when handling the chainsaw;
A chainsaw helmet to protect your head from falling branches
Protective gloves that are both cut-proof and slip-resistant. The last thing you want is the chainsaw slipping from your hand while running and going through your feet.
Protective goggles or glasses help to prevent sawdust from getting into your eyes. It is common for accidents to occur because the chainsaw handler was distracted by something in their eye.
Protective steel toe boots that are cut retardant to protect you against severe injury to your feet suppose an accident occurs.
Chaps with several layers of cut retardant material (no less than five)
Safety tips to keep in mind while using your chainsaw
Apart from the safety gear, here are more guidelines to ensure that your safety and those around you come first. Let's jump right in.
Always let someone else tag along to help in case of an accident
It's always advisable that you have a friend come with you when you log, especially if the area is away from other people or your home.
That way, you will have someone to help you if an accident occurs.
In the rare case that there's no one to help you cut down a tree, then you should have someone on speed dial.
It would be best to take a mobile phone with good reception in the area or tell someone where you will be working to reach you if they can't get you on the phone.
The last thing you want is being alone with severe injurious and a phone with no network. If a friend is with you, they can get help or drive you to the nearest medical facility.
However, it is also best to keep the safety of those around you a priority. Always keep a distance of at least 150 feet from the fall zone between you and them.
And if you are using the chainsaw for a different task like removing the foliage of a tree that you already cut, or chunking the wood, then a 30 feet distance will suffice.
Check the area surrounding the tree you plan to fell for any obstacles
Looking up a tree before getting to work is always a welcomed idea. Numerous things could be on the way to the tree, causing severe damage and injury if you cut it down.
For starters, if you plan on cutting down a tall tree, the tree may be tangling with power cables. And cutting it may cause a major electric accident.
Plus, if there are other trees too close to the one you need to cut down, you may cause a ripple effect by bringing the other trees down with the one you cut, leading to a more significant mess and damage.
If there are other obstacles that you cannot move, such as a barn or a house, then you risk destroying the property by cutting down the tree.
The scenarios with obstacles that you cannot ignore are numerous.
Always avoid using the chainsaw on non-wooden materials
If you are working on wood from an already cut tree, then checking it for metal objects like screws or nails is critical.
The last thing you want is to damage your chainsaw cutting through metal. Also, avoid any contact with the ground while the engine is running.
Practice using the powersaw before working on bigger projects
If it's your first time handling a chainsaw, then practice using it on lighter wood or branches before going on to more complex tasks like felling a tree.
Practice can help you get a feel for the chainsaw's power and give you balance or footing.
Always handle the chainsaw with a firm grip
It's no secret that a chainsaw is a powerful tool. If you do not have a firm grip on it, the kickback can cause you severe injuries.
To get the desired grip, always let your fingers and thumb wrap around the handle for an encircling grip.
Always maintain a comfortable but sturdy posture
Squatting or overreaching while using a chainsaw can lead to severe injuries.
The correct posture for safely using a chainsaw is standing with your feet apart (at least shoulder-width apart) and be on the side of the chainsaw instead of directly behind it.
Understand the terminology
Understanding what the different terms mean can help you make the right decision when working with your chainsaw.
For instance, bucking, felling, and limbing mean different actions.
Felling is cutting down an upright tree (still growing), while bucking means cutting a tree that is already down or one that the branches are already removed (delimbed).
Limbing, on the other hand, means removing branches from a tree.
Chainsaw safety rules
Here are some of the dos and don'ts of using a chainsaw safely. Let's start with the don'ts.
Things that you shouldn't do:
Let your chainsaw come in contact with non-wood material while the chain is still moving. That also includes dirt and metal. Using it will dull your chain.
Leave your chainsaw engine on while moving more than 10 feet with your chainsaw in hand.
Use the chainsaw without a buddy around.
Use the chainsaw when you are tired, drunk, or under the influence of medication (prescribed or not).
Cut above your shoulder height, or squat to cut below you.
Cut with the kickback zone of the tool (tip of the blade). The kickback may strike you.
Use the chainsaw in windy weather or amidst a storm.
Use the ladder when handling a chainsaw.
Take your eyes off the chain while using it or the wood you are cutting. That way, you will see when the cut starts to pinch the chain.
Stop the cutting before turning the wood around (that will prevent a kickback arising from the pinched chain)
Now, let's get to the dos for safely handling a chainsaw.
Things that you should do:
Use both hands to gain control of the chainsaw.
Have protective gear on when handling a chainsaw
Check and recheck the tension of the chain (not too tight or loose)
Use the chain brake when you are not using the chainsaw.
Cut branches closer to the base of the blade
Hold the chainsaw with your left hand on the front handle to prevent the chainsaw from accelerating without you planing it if you are moving to a short distance or not more than 9 feet.
Go through the different scenarios (the what if's) and prepare for a safe exit. For instance, if you plan on cutting down a tree, it may not fall in the direction you expected it to plan on what you will do in case of such events.
Have a warning sign of letting passersby know you are felling a tree in the area.
Have at least two escape routes that are at least 30 feet away from the safe zone. Clear the path in advance to remove any obstacles.
Start the chainsaw engine 10 feet away from the place you added fuel.
Check if the safety features on the chainsaw are working.
Use bucking spikes (metal teeth below the guide bar from digging into the wood) on your chainsaw when bucking a tree. You will get a cleaner cut due to the solid pivot point.
Use the chainsaw only if it's in good condition. No problem is too small, repair it as soon as you find it.
Read and re-read the instruction manual for extra safety tips and rules, as well as for instructions on handling your chainsaw.
Is using a chainsaw on ladder safe?
The temptation to hack away branches that are out of your reach is not an uncommon thing.
However, is it safe to use a ladder to reach these branches? And is it even worth your time to cut them off?
The answer is no. Climbing a tree while using a chainsaw is also out of the question.
You risk getting severe injuries, or even death should an accident occur from that scenario.
It is always safe to use the chainsaw on branches that are below your shoulder height. That way, you have control over the tool and the height.
Should an accident occur, you can safely handle it. It is best to leave the ladder for other uses that do not involve dangerous tools.
If you need to cut branches that require climbing, then a pole saw is the right tool.
How to use a power saw safely
Now that you know all the safety rules and tips, it's time to use your power saw. The first thing you need to do is to prepare your power saw before you set to work.
Here are a couple of things you need to do:
Check the chain tension of your chainsaw
The chain tension needs to just right. If the tension is loose, then the chain can sag and slip off the guide bar.
That can cause severe damage if it happens while the engine is running. And even if the chain was tight an hour ago, it can loosen with use and risk coming off.
For instance, a new chain can quickly stretch the first few times you use it, and you should check after at least 20 minutes of use to readjust it.
For older chains, you can check them after at least one hour of use.
It should not be too tight either so that it can move freely.
Check the power source of your chainsaw
Different chainsaw models have different instructions, and you should revisit the manufacturer's instructions to be sure of what you need to do about powering your chainsaw.
You need to confirm the proper ratio of the oil to gas for two-cycle gas models before filling your chainsaw.
The usual ratio for most models is 40: or 50:1, according to the manufacturer.
You should fully charge your batteries if you are using a battery-powered chainsaw. It won't hurt to carry an extra either.
Plug your corded electric chainsaw into a power outlet before you start using it.
Fill the oil reservoir of your chainsaw before use
Your bar and chain oil reservoir needs to be full before you use the chainsaw.
It lubricates the chain to reduce friction so that you get smooth cuts when using the chainsaw.
If you have an automatic oiler, then you are good to go. But if it's a manual oiler, it will need a few pumps from you to lubricate the chain.
From there, you are ready to use your chainsaw.
Safe sawing
Chainsaws are powerful tools that are extremely useful and make your work easier.
However, without the correct safety measures or precautions, it can be fatally dangerous.
The above safety tips can help guide you into using your chainsaw safely. Whether you are a pro who needs t recap or a beginner, these tips can prove invaluable.