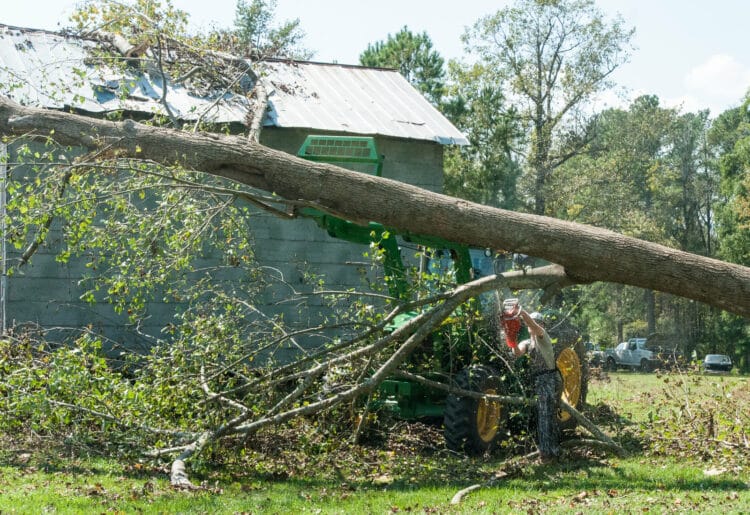 Trees are incredible, and there is no end to their benefits in our compounds. From increasing the property's value to creating a scenic environment and providing firewood, you can always think of a reason to love your tree more.
However, no matter how attached you are to it, sometimes you need to take it down. But how do you cut down a tall tree by yourself? If you have little to no clue how to cut down a tree, read along for valuable insight. But first, let's find out why you may need to cut down your tree.
Why you may need to cut down a tree
There are numerous reasons why you may need to cut down your tree. These reasons are what can help you choose your next tree to cut down.
Here are some of them:
Storm damage – it is not uncommon for storms to cause unrepairable damage to our property and even our trees.
You may need to put your tree down if the storm caused it to bend in a way that's endangering you, your family and friends, neighbors, or can cause severe damage to your property. Hanging tree branches can also cause severe injuries.
A diseased tree – a tall tree can be the perfect home for pests and diseases. However, that is terrible news for you.
The insects can move inside the house and damage your wooden properties, including furniture.
Worse, the pests can move to the other trees and infect them with diseases. Unattended, these can result in a more significant catastrophe for your trees.
It is reducing your property's value – sure, trees can help increase your property's value. But in some cases, the opposite is true. If the trees are blocking the view of the scenic environment in your backyard, that is not just annoying but also bad for the home's value.
It is blocking off the other trees – tall trees can prevent the smaller, shorter ones from getting enough sunlight to grow properly. Hence, it is better to cut it down and create enough space for others.
You no longer want that tree – sometimes, you do not need a reason to cut down your tree. Sure it's healthy and safe, but you do not love it anymore. You can either cut it down and get a smaller one in its stead or plant something else in that space.
Knowing how to cut down a tree by yourself is essential. And it can make neighbors and friends not hesitate to ask you to provide the services.
Plus, it will save you the costs of getting a professional to do the job for you.
But before that, let's get into crucial steps that you should not ignore before felling a tree.
Safety comes first when felling a tree by yourself
There are several safety measures you should take to ensure that you and those around you are safe. The first measure is getting all the necessary safety gear.
Here is a list you should check against before getting your ax and getting to work:
A logger's helmet – it's your responsibility to ensure that you protect your head against falling branches. It is a significant cause of injuries while logging.
Safety glasses – wood chips and sawdust will come off when you are running your chainsaw against the wood.
Earmuffs or headphones– chainsaws and other logging tools can make a lot of noise. So much so that it can damage your eardrums.
Kevlar chaps – accidents do happen. And you don't have to be clumsy to drop the bar against your feet. Even a sweaty palm can make the bar slide from your grip, and the chain can cause severe damage to your feet. The Kevlar chaps stop the chain almost immediately to prevent a severe injury.
So why not be safe (than sorry) and remember this gear the next time you are out felling trees.
What to consider before you cut down a tree
Safety gear is not the end of safety measures to take. You still need to ensure that your tree felling actions do not cause damage property or harm others nearby.
Here are more steps you should take:
Check if there are any obstacles (by looking up the target tree and the surrounding areas) to prevent the tree from falling to the ground.
For instance, the tree may tangle up with other trees or fall in overhead wires, causing severe power line damage.
It's also crucial that you pay more attention to the surrounding trees.
That can help you avoid an even bigger mess when the tree falls, causing a ripple effect with the other trees. That equals more danger and more mess to clean up.
Plus, the last thing you want is for the tall tree (which is extremely heavy, by the way) taking down your house while falling, or your fence or the barn by accident.
And suppose people use that route frequently (or the tree is in a public area), let them know you will be cutting down a tree in that area.
You can do that by putting up active logging warning signs. And while at it, think through the different scenarios to ensure you settle for the safest option.
You cannot afford to take any chances.
Clear your escape route before you fell a tree
You need to find an exact escape route or a getaway path that is at least 20 feet away from where the tree will fall once you cut it down.
It should be clear to ensure that you get out of the way as fast as possible and a reasonable distance away.
If you are unsure if the direction of the getaway path you choose is away from the felling zone, then select a route that is at least 90 degrees away from the fall.
That way, you will be to the other side, where the tree stump and trunk separate.
Now, set to work clearing the area to ensure there are no debris or stones that can make you stumble and fall in your attempt to get away from the tree.
The last thing you want is to put yourself in danger, trying to dodge the tree and falling limbs. To be on the safe side, mark out at least two possible getaway paths.
Removing the low branches of the tree you plan to cut down
Another thing that can cause danger to you while you work on falling the tree is low branches that are shoulder height or lower.
It would be best if you cleared them before you start cutting down the tree. That way, you get more clearance to use the chainsaw on the tree conveniently.
Plus, it will eliminate the weak branches on the edge of snapping and flying straight back at you.
While removing these branches, you need to be careful with the angel of the chainsaw.
The tree trunk should be between you and the chainsaw. That way, there's little to no risk of harming yourself.
Even so, if the lower branches are higher up than your shoulder height, then it's not worth the trouble of removing them.
The action may cause more injury than can result in a disastrous situation.
Which direction should you let your tree fall when felling it?
Now that you went through the possible safety scenarios and ensured that you, your property, and passersby would be safe when you cut down the tree, it is time to pick the direction of felling the tree.
If your tree is leaning in a particular direction, check if there's a clear area (the fall zone) in that direction where the tree should fall (safely) once you set to work.
If the fall zone is clear, this is the best and natural approach to cutting your tree.
You can set about measuring the fall zone to ensure that you are accurate.
If the tree you plan on cutting down is small or medium in size, then getting the article height and matching it with the ground's horizontal measurement will not be difficult.
If it's a super tall tree and measuring the vertical height is impossible, then take an estimate with your eyes.
What if the tree is not leaning in a particular direction? Which direction is best to let it fall?
While it's easy to pick a direction when the tree is leaning a particular way, that is not always the case. In some cases, you may need to cut down straight trees.
And if that's the case, then you can use ropes to guide the tree into falling in the designated fall zone. The same applies if the tree's direction is leaning to have several obstacles that you cannot remove.
Other considerations before cutting down a tree
Another consideration that you can keep in mind is your state's regulations about tree felling. You may need to acquire a permit to cut down a tree (yes, even if it's on your property). While in other states, you only require a permit if the tree you are cutting is on public land or your neighbor's property. Either way, you must check out your state's regulations before you set to work. But that is not the only consideration.
Sometimes you may feel like you are up to the task, and contacting a professional is a cost you are not ready to incur. There are some cases you should consider reaching out to the professionals to carry out the task. Those circumstances include a situation where the tree will damage the tree if you fell it yourself. Or a problem where the tree you want to cut it too close to other trees, and you find it impossible to feel it without causing a ripple effect with other trees. Another critical scenario is where a power cable or an overhead wire is tangling with the tree in question. That is a situation better left to the power company or an experienced arborist.
Steps for felling a tall tree by yourself using a chainsaw
After examining the area and clearing it, it's now time to make the cuts. You will need to make at least two types of cuts before the tree's weight can push it down.
If it's a smaller tree, it may need a little help in nudging it to fall.
Cut one (undercut)
For the first cut, you will need your chainsaw. You can make an undercut that is a V-shaped notch by the side of the tall tree facing the fall zone. However, this cut is not just any cut. The bottom part of the V-shaped notch needs to be straighter for starters, while the upper part should be forming at a 45 degrees angle. Secondly, you need to cut at the lower end of the trunk, and the tip of the notch should go halfway into the tree trunk. It will create a wedge that you can remove.
Cut two (back cut)
It would be best if you made the second cut at least eight inches into the trunk but on the other side of the tree (the opposite side from where you made the first cut). This back cut is crucial because it will trigger the tree to fall in the direction you want it to fail.
Another tip is that the cut should not be at the same level the undercut is. Instead, it should be a little bit higher.
That is because you will require a wedge from the remaining piece of wood (it acts like a hinge) to make the tree fall due to its weight.
As the tree falls, move away from it to your getaway route.
Chunk up the wood
You can now remove the wedge you formed between the two cuts. As for the wood, you need to cut it into manageable sizes to load them in a wheelbarrow and clear the area.
You can use the chainsaw to remove the foliage.
While the wood chunks can be firewood to heat your home in the cold months, you can cut the foliage into small pieces and use it on your garden as mulch.
What do I do with the stump after a DIY tree felling
If you had professionals handle the tree felling procedure, they would have removed the stump afterward.
However, you can still contact them for the job even if you cut down the tree yourself.
But if you are still up to the task, there are numerous ways to deal with the tree stump.
One includes using the extra mulch to help hasten the rot of the stump. Or you can burn the tree stump, which is less work.
Another option is renting a stump grinder and grinding the stump yourself instead of hiring someone to do the task for you.
What do I do with the fallen tree?
As I mentioned earlier, you can cut the wood into chunks and use it as firewood. Another option is selling the tree to lumberjacks.
The prospect of making money out of your felled tree is appealing. Plus, the loggers will come to clear your yard of the tree, and you will not need to worry about it anymore.
How much does it cost to cut down a tree?
You are possibly wondering why you should go through all this process while you could hire someone else to do it.
Well, most people like getting their hands dirty with their work and get satisfaction from a well-done job.
While for others, it is a matter of saving money by doing the job themselves. Most professionals charge at least 100 dollars for felling a small tree to 8000 dollars for a more complex tree felling.
What matters is the weight, the height, and the obstacles surrounding the tree.
The professionals then charge between 50 to 75 dollars for removing the foliage. You may have to pay more if you need extra services like removing the stump and chunking the wood for staking.
Final words
Tree falling can be a safe and straightforward procedure if you have all the right tips and steps. This guide has all the safety measures you need to take and advice to keep you safe while you work.
With these straightforward steps, you can cut down your tree without spending a dime.
Plus, you can choose to sell the wood to lumberjacks, and with your new skills, you can provide the services to other neighbors either for pay or for timber.
Whichever it is, have fun cutting down your trees.