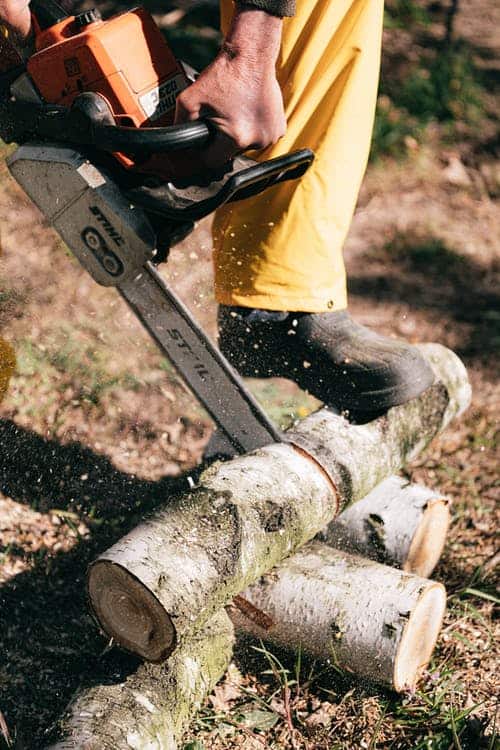 Most of your gasoline-powered yard equipment uses a similar engine. The type of engine they use is a two-cycle gasoline combustion engine. These engines produce vacuum pressure. The vacuum pressure is what draws fuel in, ignites it, and generates energy. Once they create that burst of energy, you can use these tools to complete whatever job you need them to. But, if these tools have compression problems (low or high), they will stop working. Chainsaws function the same way. The pound-force per square inch has to fall between a particular range. Otherwise, they will not work the way they should. To diagnose whether the compression is off on your chainsaw, you need to know about how much compression should a chainsaw have.
How Does A Two-cycle Gasoline Combustion Engine Create Compression?
There is only a single piston used in a two-cycle gasoline combustion engine. Inside a shaft, the piston slides up and then down. On that first stroke of the piston, air squeezes on one part, and fuel gets sucked in through another.
The gasoline ignites at the bottom. At the same time, the exhaust pushes from the top with the second pump of the piston.
This means that on the initial stroke of the piston, compressed air created a vacuum. The vacuum draws the fuel inside. The mechanism cannot draw fuel to the engine if the compression is weak.
How Much Compression Should A Chainsaw Have
Generally, you want the pressure of your chainsaw to fall at around 110 PSI. It's not too high, and it's not too low. At a 110 PSI range, you know that the compression of your chainsaw is ideal. But, this may vary from brand to brand and model to model of chainsaw. The compression capability of a chainsaw may be different because of the size of the engine.
Smaller chainsaws work well with a PSI range of 80, while some larger engines work with a PSI range of 160.
Does Temperature Affect Chainsaw Compression?
Like your car, the temperature of your chainsaw engine needs to stay within a certain range. That's the only way it will stay healthy. Absent an ideal temperature, an engine will not function the way it should. Your chainsaw is no different.
Generally, chainsaws run at high temperatures but can overheat.
A cold chainsaw runs slower than a hot chainsaw. Those are the rules of thermodynamics. So if your chainsaw is not hot enough, it needs less compression to work. If your chainsaw is hot, it will need more compression.
Cold or cool chainsaws use about 85 to 100 PSI. Hot chainsaws might use about 160.
Perform A Pressure Test
If you suspect your chainsaw has compression issues, here are two ways you can perform a pressure test.
Use A Pressure Test Gauge
Using a Pressure test gauge is the more reliable way to test the compression range of your chainsaw. Here's what you need to do.
Engage The Brake
Chainsaws have chain brakes to lessen the risk of injury. The brake ensures that the blade of your chainsaw remains stationary when it is not in use. Be sure to engage the brake on your chainsaw whenever you are doing maintenance work. You should also set the brake when you are carrying it from one place to another.
Locate The Chainsaw's Spark Plug
Most chainsaws have a top cover under which you will find the spark plug boot. If you are not sure where the spark plug is in your chainsaw, consult the manual that came with it.
Take off the top cover and then the spark plug boot.
Remove The Chainsaw's Spark Plug
Wrap the end of a ratchet/wrench around the chainsaw's spark plug. Turn in a clockwise direction until it is loose enough to come out. Pull the plug out, and a hole should be left behind.
Set The Pressure Test Gauge
There are different sized pressure test gauges. If yours is too small or too big, you can use an adapter to make up the difference.
Screw the end of the pressure test gauge where you removed the chainsaw's spark plug. Ensure the seal is tight and no air will escape. If the seal is not secure, your reading will be wrong. You will get a lower compression rate than what your chainsaw has.
Tug On The Chainsaw's Starter Rope
With the gauge in the correct position, tug on your chainsaw's starter rope like you want to start it up. You should see the needle of the gauge move. Repeat this process at least ten to twelve times until the needle no longer moves. The number where the needle stops lets you know the compression PSI of your chainsaw.
Compare this number to the standard PSI rating of the size engine your chainsaw has.
Reset The Chainsaw's Spark Plug
Put your chainsaw's spark plug back in place as soon as you complete the test. After tinkering with your tools, I suggest ensuring the chainsaw works the way it should. Start it up as a test run to be sure. Do not forget to disengage the brake.
Do The Thumb Test
You may not have a pressure test gauge. If you do not, try using your thumb to check the compression level of your chainsaw.
Remove The Spark Plug
Follow the instructions detailed above to remove your chainsaw's spark plug.
Place Your Thumb Over The Hole
Plug your thumb over the hole where you removed the spark plug
Tug On Your Chainsaw's Starter Rope
Tug the starter hard enough like you want to run the chainsaw. There should be enough air pushing out of the hole to dislodge your thumb plugging it. If that happens, your chainsaw has an adequate compression level.
If your thumb does not move, your compression level is too low.
Of course, this method will not give you an exact reading. But it will let you know if your chainsaw has a compression problem.
Problems Caused By Too Little Or Too Much Compression
Low pressure in a chainsaw
Low pressure in a chainsaw causes the following problems:
Misfire
Without adequate compression, the chainsaw's spark plug will not start up the way it should.
Low performance
The chainsaw will not be as powerful as it should be, making regular tasks more difficult to complete.
The chainsaw will not start
In a worst-case scenario, the compression in your chainsaw is so low the spark plugs will not only misfire. They won't start at all.
High compression in a chainsaw
Too much compression in a chainsaw causes the following problems:
Poor performance
The first thing you will notice if your chainsaw has too much compression is an untidy finish.
Difficulty starting
It is a wise idea to treat this compression problem right away. Otherwise, your chainsaw will have starting up issues. The longer your wait to get it fixed, the worse the problem will become. Soon, your chainsaw won't start at all.
How To Fix Chainsaw Compression Problems
The best way to avoid compression problems is with regular maintenance. You should service your chainsaw after every fifteen hours if you want it to last a long time.
But once the compression starts to fail, you need to try to troubleshoot the problem. There could be a few culprits.
Low Compression
Low compression is usually a sign of an air leak in one of these parts of your chainsaw:

Gasket
Crankshaft seal
Engine parts

Locate the leak wherever it is. If it is small, you might be able to repair it. A large tear will most likely end with you having to replace the part. I suggest taking your chainsaw to a professional if this is the case.

High Compression
High Compression could be the result of a faulty spark plug. Check your chainsaw's spark plug to see if it is the problem.
Sometimes spark plugs are dirty and need to be cleaned. Once you do that, they will work how they should. If you see cracks in this part, then you need to replace it. You can do this job on your own. These parts do not cost a lot of money.
Why You Need To Know How Much Compression A Chainsaw Should Have
Knowing how much compression a chainsaw should have is important. That way you will be ahead if your chainsaw should develop compression problems.
You will know what to look for and what you can do to fix it.