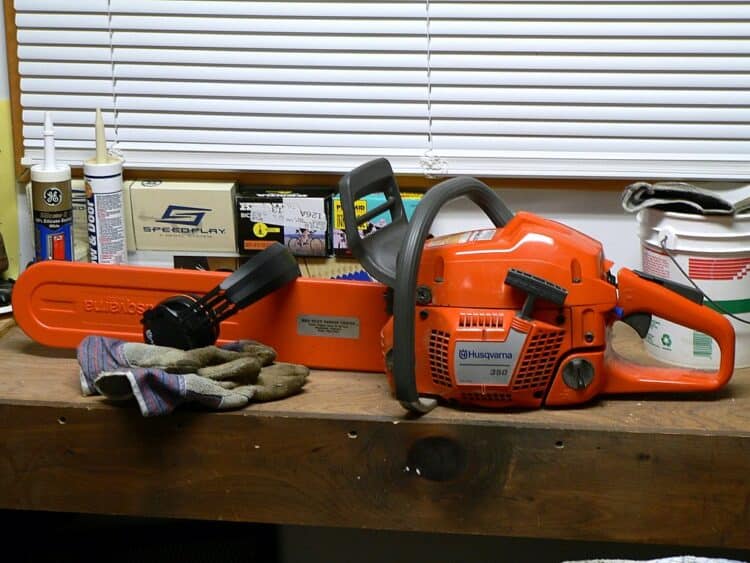 Are you a first-time owner of a chainsaw? Proper chainsaw use doesn't just involve knowing how to point it the right way or start it properly. You also have to know how to mix chainsaw gas the right way.
Alternatively, are you considering purchasing a chainsaw but are unsure of how to fuel it properly? This post is for anybody interested in learning how to mix chainsaw gas, regardless of their experience level.
For example, you would never consider using diesel fuel in your car's engine. Common sense tells you that attempting to run something with the incorrect sort of gasoline would be pointless at best. And at worst, it will result in costly repairs and downtime for the operator.
The use of the proper fuel for your STIHL equipment is crucial to your equipment's safe and effective running. ACCORDING TO THE COMPANY, gasoline-powered STIHL equipment works on a 50:1 blend of gasoline and 2-cycle engine oil.
Knowing how to properly mix your gasoline is the first step in ensuring that your vehicle runs efficiently and for a long time.
Because most chainsaws are manufactured with 2-cycle (or 2-stroke) engines, which require a mixture of gasoline and oil to operate, this is a point to consider. To lubricate the machine's internal parts while it is working, oil is combined with gasoline (i.e., petrol).
The internal components of the vehicle would seize up if there was no oil in the gasoline tank.
This tutorial will walk you through the process step-by-step to ensure fulfillment.
Things You Need To Know First When Mixing Chainsaw Gas
The quality of the fuel you use in your chainsaw significantly impacts the engine's longevity.
Never utilize anything that is too inexpensive. Additionally, never use gasoline that includes ethanol. Use ethanol-free gasoline with an octane value of 89 or above as a bare minimum.
Fuel with a lower octane rating may cause the engine's temperature to rise, resulting in damage to the engine's internal components.
Using Gas With Ethanol Has Some Disadvantages:
It has gotten a lot of attention since it is the only commercially accessible renewable fuel combined with gasoline to run cars and trucks.
Even though ethanol fits many standards for a substitute for petroleum-derived gasoline, its performance in two-stroke cycle engines (also known as two-stroke or two-cycle engines) has raised some questions about its safety.
Several individuals believe that because ethanol has different combustion properties than gasoline. It may cause damage to two-stroke engines utilized in all-terrain vehicles (ATVs), lawn and garden equipment, and marine engines, among other things.
When it comes to fuel, two-stroke engines require a gas and oil combination, and the oil and gas are combined according to the manufacturer's specifications.
A particular type of oil must be blended with gasoline to operate a 2-cycle chainsaw.
You can't just use standard motor oil from a car to lubricate a 2-cycle engine. It lacks certain qualities necessary to grease a 2-cycle machine and would decrease the chainsaw's performance.
As a result, be confident that the oil you purchase has the designation "2-cycle," "two-cycle," "2T," or "2-stroke" printed on the bottle.
Several individuals have a supply of gasoline in our homes to operate chainsaws, tillers, lawn mowers, and other power equipment. However, suppose the chemicals are not handled properly. In that case, an explosion or fire might occur, damaging the house and injuring or killing everyone within.
Gasoline is a petroleum-based substance used to fuel internal combustion engines (ICE). Since it is a very volatile liquid, any spark, flame, or other hot item has the potential to readily ignite it and release its fumes.
A cup of gasoline vapor, when combined with air in the proper proportions, has the explosive strength of approximately five pounds of dynamite. This is more than enough destructive energy to demolish any building or automobile.
The inappropriate handling and storage of gasoline and other flammable products can, of course, result in additional problems, such as utilizing these fuels in the wrong engine or appliance, as well as the possibility of poisoning. Let's have a look at some safe methods of handling and storing gasoline.
A gas can made of milk jugs, anti-freezing jugs, glass containers, or other improvised containers is unsuitable for the transportation or storage of gasoline. Plastics that have not been authorized by the FDA grow brittle with age and are incompatible with the chemical characteristics of gasoline.
Most of those containers are not structurally sound enough to endure the stresses of expansion and contraction produced by temperature fluctuations.
Safety containers are available in multiple sizes and with various systems for opening the valve to allow liquids to be poured out. Funnel spouts can be added to the container to make pouring simpler and avoid spillage,
Even though they are somewhat more expensive than the low-cost cans from the hardware store, they are far safer and outlive many alternatives. Both UL and FM have certain conditions that must be completed before a safety can is authorized to bear their respective approvals on the label.
Safety cans authorized by Underwriters Laboratories (UL) or Factory Mutual (FM) are ideal for handling gasoline. Check to see if the container in which you're combining your chainsaw gas has one of these certifications imprinted on it before you begin mixing it.
Mixing Chainsaw Guide: A Step-by-Step Process
The following are the actions to take while mixing chainsaw gas.
In most cases, a 50 to 1 (50:1) or 40 to 1 (40:1) gas oil combination will suffice for your chainsaw. For further information, consult your product's user manual.
It is important to remember that you should never combine gasoline in a confined place. Always carry out these procedures in a well-ventilated space.
Prepare your supplies by gathering the following:
Container that has been certified by UL or FM
1 gallon or more of ethanol-free gasoline with an octane rating of 89 or higher
2-cycle oil (at least a 3-ounce container)
Chainsaw
Pour half of the gasoline into the appropriate container after it has been opened.
Combine all the oil required for your chainsaw's 50:1 or 40:1 combination in a large mixing bowl. It is possible to obtain these ratios in various ways, as detailed in the following charts.
Close and shake the container for 10-15 seconds once it has been set.
Open the authorized container and pour in the remaining gasoline until the container is full.
Continue to shake the container for another 10-15 seconds once it has been set.
Remove the cap from the fuel tank of your chainsaw. Slowly pour in the gas and oil combination until it fills the tank to about 80% of its capacity.
Before filling the tank with fuel, thoroughly wipe the fuel cap and the surrounding area to ensure that no dirt gets into the tank. Ensure that the machine is always set up such that the cap is pointing upward.
Remove the gasoline cap slowly and carefully to avoid the possibility of fuel coming into direct touch with the skin or inhaling fuel vapor. This will allow any pressure that has built up in the tank to be released gradually.
Other Mixing Chainsaw Gas Tips You Can Follow
When filling the chainsaw's tank, never mix gas and oil together. Only utilize containers that have been authorized by UL or FM.
You must use the right mixture of gasoline and 2-stroke oil in your chainsaw. The improper mixing of the fuel will result in inefficient operation of the chainsaw, resulting in damage.
Do not refill a chainsaw while it is still running. It is pretty dangerous. Always switch off the chainsaw and wait until it has cooled before reloading it with gasoline.
Do not start the chainsaw if there is gasoline on your clothing, a person, the chainsaw body, or the environment around you, and always wear eye protection.
When mixing, refueling, or using a chainsaw, never smoke in the vicinity.
Do not combine more than a month's worth of chainsaw fuel in one batch. Stale gas decomposes over time, resulting in sticky varnish deposits that might block the carburetor while the chainsaw is in operation. The most prudent course of action is to purchase and mix only the amount of gas and oil required for the process at hand.
Remember to never keep your chainsaw with any residual fluid in the fuel tank. Either run the chainsaw until the tank is completely empty or put the gas and oil combination into a properly labeled container for safekeeping and disposal.
On Keeping The Oil & Gas Mixture
It is advised that you just mix enough gasoline for a few days' worth of labor at a time. The amount of time that fuel should be stored should never exceed three months.
When utilizing fuel sitting in a canister for an extended period, shake the mixture in the canister before using it to fuel your machine.