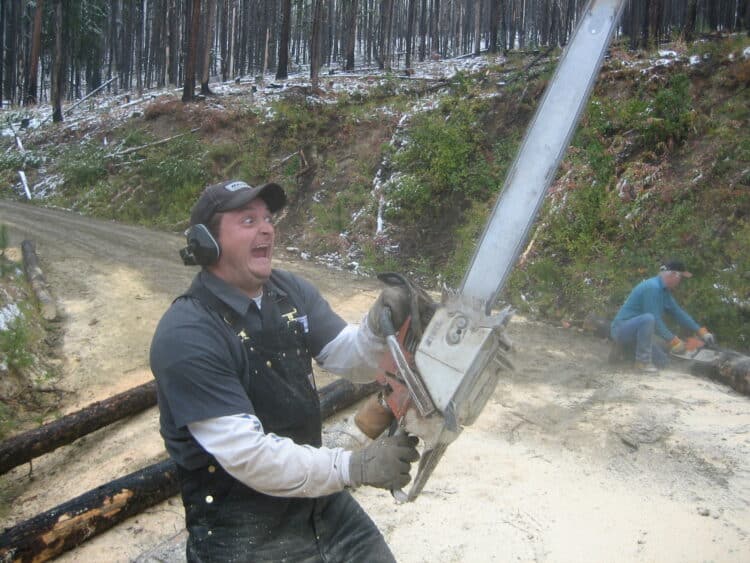 You hear the term "chainsaw kickback" all the time as you're doing more research about chainsaws, but the meaning has never fully sunken in.
Not to worry, this article is going to list down all the information you need so that you will what is a chainsaw kickback and what causes it.
You will also receive incredibly useful information that will help you prevent kickbacks, or at the very least prepare for them.
What is chainsaw kickback?
It is a term that defines the way a chainsaw's guide bar can violently jerk in an upward motion. Kickbacks are very dangerous because they can make even the most experienced chainsaw user lose control.
It could also harm the people near the vicinity if a kickback is violent enough.
What causes chainsaw kickback?
A kickback happens when the nose of your chainsaw snags on a piece of wood, or the ground. It is very dangerous because it can cause you to lose control of your chainsaw.
When the chain of a chainsaw gets snagged somewhere, the chainsaw itself is still running on power, and the power it's exerting has to come out somewhere. More often than not, that "somewhere" happens to be you.
Below are examples of the chainsaw kickbacks you will have to avoid:
Rotational Kickback
This is the most dangerous and unfortunately, the most common form of kickback because its direction is headed straight at you. To prevent this, make sure you don't let the nose of the chainsaw touch anything.
Linear Kickback
This happens when the chain is pinched in between wood and can't continue rotating around the guide bar. Again, the kickback is going to be directed towards you.
Pull-in Kickback
This type of kickback happens when something inside the wood causes it to be yanked forward, away from your grasp. To prevent it, ensure that the piece of wood you are cutting doesn't have any nails nailed into it.
Other causes of a chainsaw kickback
Unmaintained chainsaws
Unsharpened chainsaw chain
Wrong installation of chainsaw's parts
Damaged chainsaw parts
Incorrectly sharpened chains
Excessive depth gauge settings
Incorrect depth gauge shapes
Loose rivets
Longer guide bar or nose
What is the kickback danger zone?
A kick back zone is the area of a chainsaw that is the leading cause of kickbacks. This is the tip or the "nose" of your chainsaw's guide bar.
Due it being a high-risk area for chainsaw kickback, chainsaw owners are advised avoid using this part while cutting.
The larger or longer the size of a bar nose, then the higher chance there is for the chainsaw to experience kickback.
How to prevent a chainsaw kickback
However, there are ways to prevent a kickback from happening, and one of those ways is sharpening the chain regularly and by always keeping them below shoulder level.
You could also try checking the chain's tension to make sure it isn't too tight or too loose. Familiarize yourself with your chainsaw before attempting to use it.
1. Read the manual
Yes, it's a cliche but it is the truth. Before you even think about using a power tool as dangerous as a chainsaw, you have to know its parts and how each of these parts work.
Not all chainsaws are alike. They differ from one another because some may have parts the other lacks and vice versa.
That is why it's very important to read the manual so that you will know the exact specifications that makes your chainsaw model unique so that you know how to handle it.
2. Only use a chainsaw when you are stone cold sober
That includes how your body is feeling. You should never use a chainsaw when you don't feel like yourself.
You have to be alert and you have to be wide awake should you ever decide to use a chainsaw.
This is so that you are more aware of how you're using a chainsaw. A fatigued brain may miss out or forget that the nose of the chainsaw is a dangerous kickback zone.
3. Doublecheck your chainsaw's chain brake
The chain brake serves as the emergency brakes for your chain in case it gets snagged on anything. Make sure it works before you switch on your chainsaw.
4. Take precaution when chopping off tree branches
If the chainsaw's nose encounters any hidden branches that you were not able to prepare for, expect a violent kickback.
Sometimes, it may get hard to navigate around a tree with a lot of branches. Exercise caution to avoid kickback.
5. Do not try to use the chainsaw on anything positioned above your shoulder
When you raise a chainsaw to cut something that is above shoulder level, you are not in full control of your balance. Even if you are on solid ground, it is very easy for a chainsaw kickback to smack you in the face.
Worse comes to worse, the chain also smacks you in the face, earning a trip to the emergency room.
6. While felling a tree, use the bottom part of your chainsaw's guide bar to cut it
The top of the bar is not meant for cutting. Cutting is meant for the bottom of the bar because you are more in control of the machine.
7. Never forget where the position of your chainsaw's nose is
Always be aware of the angle at which you are cutting so that the chainsaw's nose doesn't accidentally hit the ground or graze any part of the wood you are cutting.
8. Consider using an anti-kickback chain
An anti-kickback chain is a chain that minimizes the frequency of kickbacks.
9. Look for chainsaws that have narrow nose bars
The longer and wider a chainsaw's nose is, the more likely it is to experience kickback. Therefore, use a chainsaw that has a narrower nose so that you can have more control when it comes to kickbacks.
10. Protect yourself so that you reduce the risk of injury in case of a chainsaw kickback
Wear the right protective gear that keeps you safe from the danger of a kickback. This gear includes, but is not limited to:
Safety goggles
Safety goggles protect your eyes from any debris that may start to fly around as you start cutting into wood. Dirt and debris that comes from a chainsaw can get so small that they will easily irritate your eyes.
You need to be able to clearly see what is happening as your cutting down wood, and water eyes are not going to help you do that.
Ear mufflers
Using a chainsaw is LOUD. Even the most silent of electric chainsaws are still loud to some degree.
If you don't wear the appropriate kind of ear protection, then you may permanently damage your eardrums.
Chainsaw gloves/Protective gloves
These gloves allow you to get a good grip on the chainsaw and serve as an extra later or protection in case a chainsaw ever kicks back.
They prevent your hands from blistering and keep them firm on the chainsaw as you direct it to cut wood.
Appropriate footwear
Your regular sneakers may not be enough when you're using your chainsaw. You need footwear that helps you gain traction against the ground so that you can firmly stand and balance as you maneuver your chainsaw.
Steel-toed boots are recommended because they prevent your toes from accidentally getting cut off should an accident happen.
They also include the ankles in their protection and provide a thick layer between your feet and the ground, which could be littered with sharp wood pieces.
Chainsaw "Chaps"
Chainsaw chaps are a sort of clothing that you wear over your regular clothing which serve as an extra barrier between you and the dust and debris that comes flying during a chainsaw's usage.
11. Wrap your hands tightly around the handles
Keep a firm, steady grip so that you have the most control over your chainsaw.
The proper way to hold a chainsaw is with both hands. If you are right-handed, the most common position is by placing your left hand in front and wrap your thumb around the front handle.
Your left hand should be straight, and your elbow locked tight to counter the force of the chainsaw cutting into wood. Your right hand should be on the rear handle, with your arm bent slightly.
Maintain this stable position by keeping your feet apart. You may find it easier to place one foot in front of the other so that you can maintain balance.
Stay on the left side of the chainsaw in case there is kickback.
12. Follow the correct maintenance instructions suitable for your product
Again, each product may have different specifications when it comes to giving it the proper maintenance it needs.
Chainsaws need maintenance every now and again so that they stay in working condition.
What is an anti-kickback chain?
An anti-kickback chain is also known as a low-kickback chain. It is a kind of chainsaw chine that minimizes the reactive force associated with a violent chainsaw kickback.
These types of chains limit the amount of wood fiber that is being hooked on the chain's teeth as the working corner starts to go around the kickback zone.
It does this by adding more metal to the tie straps you can find in between the chain's teeth. It means that there is a higher depth gauge as it rounds the bar.
You also have to know that anti-kickback chains are not the only type of kickback prevention found in chainsaws.
There are also other parts of a chainsaw that serve to protect the user from kickback:
Chain brake
The chain break serves as the emergency break in case the chain gets snagged on a piece of wood.
This is so that although there may be kickback, the chain no longer moves to prevent worser injuries.
Front hand guard
The front guard protects your left hand (assuming you're right-handed) from accidental cuts. In some models, this is combined with the chain brake as a safety feature.
Tip guard
The tip guard exists so that even though you forget where you chainsaw nose is, the chain does not get snagged because there is a guard placed right over it to prevent kickback.
How can I safely cut a piece of wood without kickback?
Two of the most common cutting techniques involve (1) a log that is still supported on both ends, and (2) a log that is only supported by one end:
Both ends of the log are supported
This usually means that you have to cut the middle to detach it from either end. Follow these steps:
Starting from the top of the wood, cut down and stop when you are halfway through
If you don't stop halfway through, it would result in kickback because the chain you'd get pinched
For the second cut, start at the bottom of the wood and cut up, meeting in the middle with your initial cut
Only one end of the log is supported
This is usually the situation when you are going to cut a tree that has been downed.
Start from the bottom of the wood and start cutting up.
Stop halfway to avoid a kickback, since the chain would get pinched by the two halves.
Repeat the same thing from the top down and meet the bottom cut neatly.
Your main takeaways from this should be that it is safer to cut a long piece of wood in two parts instead of doing it at once. Two parts is safer because the chain does not get pinched and hence, there is no kickback.
Conclusion
Kickbacks can happen to even the best of chainsaw users, it may even happen to professional lumberjacks. So many things can go wrong in the span of a split second.
Prevention is better than cure, and it is better to take the necessary safety precautions to avoid a chainsaw kickback.