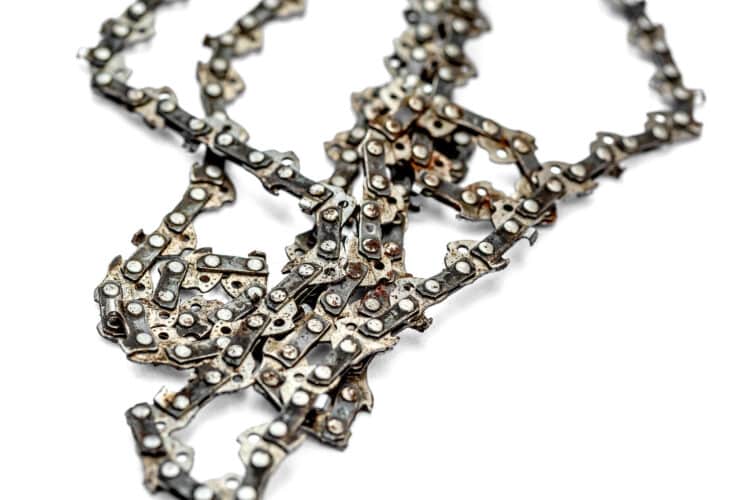 Chainsaws require proper maintenance in order to continue carrying out their function without untoward accidents.
Most of them are made from materials that are of high quality, and hence do not often need maintenance unless used often or are unused for long periods of time.
On top of proper maintenance, they must also be stored appropriately to maintain their integrity while they are unused.
One of the issues the come with storing a chainsaw is that its chain gets entangled. You may be scratching your head, wondering how to untangle a chainsaw chain, but not to worry; it's a fairly easy process.
Frustrations may rise as you attempt to untangle the chain, but that is nothing compared to the frustration of a chainsaw not running properly anymore.
Since this is a common issue when it comes to chainsaws, a responsible chainsaw owner has to know how to untangle a chain safely and with ease so that they can save time and get to using their chainsaw.
First off, you have to know that chainsaw chains have little "teeth" rather than a blade, but these little teeth have blades on them that are very sharp.
The process of untangling a chainsaw chain is similar to the process of untangling a bicycle chain.
Both processes can prove to be a pain, but here a few tips to get your chain back to its regular function:
What equipment should I be wearing while untangling a chainsaw chain?
Safety for yourself should always be your first priority when it comes to using a chainsaw—even if it's turned off and you're only dealing with the chain.
Below, we've made a small list of the bare necessities you will need when handling a chain with all its sharp little rows of teeth.
Chainsaw gloves
Chainsaw gloves are obviously gloves designed to protect you from accidentally cutting yourself on the sharp edges of a chainsaw chain.
Wearing the appropriate set of gloves also prevents any gunk or lubricant from the chainsaw from staining your hands and getting into your nails.
In the absence of a good pair of chainsaw gloves, you can replace them with other types of working gloves or leather gloves to at least have some protection over your hands.
Investing in chainsaw gloves is recommended because you will need it most of the time when you have to use your chainsaw.
Protective goggles
If your chainsaw chain is old, it's bound to contain some leftover dust and maybe the beginnings of rust. These and other types of debris can harm your eyes as you twist the chain around trying to untangle it.
Protective goggles prevent your eyes from getting irritated, and clear eyesight is a must when it comes to dealing with these chains to prevent injury.
What tools and equipment should I need to untangle a chainsaw chain?
Once you've gathered your personal safety equipment for yourself, it's time to look for equipment you'll need while doing the untangling proper.
A wooden table
We don't recommend using your regular old kitchen table unless you (or your spouse) are all right with scratches on your table.
A flat surface is highly recommended, so look for a work bench, or an old wooden table that can help you do the job.
Alternatively, you can also use the floor, but make sure you aren't doing it over expensive floor tiles, or even worse: floors with an expensive wood finishing.
Also, make sure that you aren't using any type of cloth that can snag on your chainsaw's teeth because this will make the process that much harder.
Make sure you have a flat, friction-free surface that will help you untangle your chainsaw chain smoothly and efficiently without causing you worry or extra problems.
Tools
If your chainsaw chain is still attached to the chainsaw blade, it will have to be removed to allow for the best untangling experience.
The tools you need will depend on the model of chainsaw that you own. They're usually a choice between Allen wrenches or screwdrivers to assist you with chain removal.
Lubricant
Before you can even get started with untangling a chain, you will need to loosen the chain's individual links.
Lubricating oil can help you work around rust, dirt, and debris that has accumulated on your chainsaw chain over time.
When using this oil, make sure you don't just dump it all out. This could stain your floors and your table, leaving you with a nasty mess to clean up.
Furthermore, spilled oil is dangerous because it can lead to people (or yourself) accidentally slipping on it and injuring themselves.
In the absence of lubricating oil, you can use WD-40 or other sorts of engine oils as a substitute, but we still recommend using the appropriate kind of lubricating oil that's best for your chainsaw.
How can I untangle a chainsaw chain?
Once you are wearing your safety equipment and have the complete list of materials you need, you can now get started on untangling your chainsaw chain by following the steps below:
Remove the chain from your chainsaw
You will need your tools for this as you detach the saw chain, chainsaw housing, and the guide bar. Once you're done with that, carefully keep the rest of the chainsaw pieces away.
Look for two loops that are opposite from each other
Sometimes, this is all you need to do to untangle the chain. At the very least it will untangle the chain to a certain extent that makes it easier to deal with.
To do this, you have to look for two opposite chain loops. Grasp one loop on each hand and let the hang freely downwards. They should hang from the two points you are holding.
Make the loops bigger
Up next is trying to figure out how to make one full loop from the two opposite loops. Since you can clearly see how badly tangled up the chain is, this should be easy.
Slacken on the chain a little bit so that you can make each loop as big as you can. Your goal is to make them at least three inches wider.
You may have to unravel other loops as you make your two main loops larger. Be careful not to let go of your two main loops.
Keep trying to make bigger circles out of the loops until you have one huge loop.
If you're having a hard time with this step, you don't have to raise the chain to the air. You can just lay it flat on the table and keep track of it from there.
Untangle the chain
Next, you need to find the lowest part of the chain. This is easily identifiable because it is usually the stiffest part of your chain.
The lowest part will stick out and should move away from the loops to untangle the chain. You may find that you are creating more and more loops, but that's part of the process.
As you get rid of your current main loops, more may follow. Keep using these loop pairs until the chain untangles.
Spread the loops apart
Sometimes, the methods above won't help you with untangling the chain. If worse comes to worse, you're still reading this.
Well, instead of focusing on both loops at once, you could try just focusing on one loop until they all disappear. Make each single loop as big as you can.
It may take a while, but it'll be worth it once the whole chain unravels completely and you have a fully functioning chainsaw chain.
Tips and Tricks
Though it may be tempting, do not try to turn the chains or twist them against each other. The teeth will get damaged in this process.
Newer chains are easier to untangle than old ones. Sometimes, it may be best to just let the old chain go and buy a new one.
If you successfully untangled an old chainsaw chain, then congratulations! The next step to that is running it through a sharpener so that you can use it more efficiently and for longer periods of time.
Conclusion
Prevention is better than cure. It's better to prevent an injury rather than tending to a wound caused by negligence.
At the very least, wear protective gloves. If you have it, bust out your safety goggles. Your health and safety are the most important.
Never forgo them just because you think you are going to be safe from injury.
Untangling a chainsaw's chain is a delicate process that requires patience and a little bit of skill. Lubricating oil works wonders, so make sure you use it if the going gets tough.
Now you know how to untangle a chainsaw chain. An easier time comes with more practice so the more this happens, the more you can use it as a learning experience.
You may even come up with your own unique take on untangling a chainsaw chain. Best of luck!