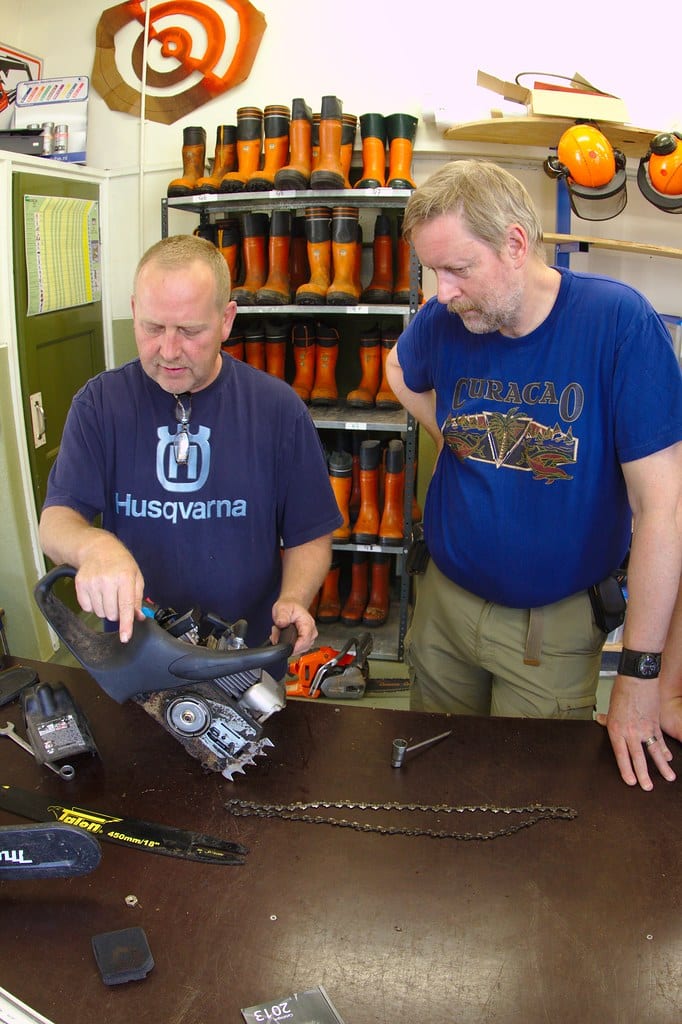 Are you interested in learning how to port a chainsaw? The better question should be, how to get more power out of a chainsaw?
That's what chainsaw porting means, to increase the power of its engine. It's not an easy thing to do and necessitates in-depth knowledge, requiring a particular set of skills and tools to undergo complex tasks.
After doing this process to your chainsaw, power will be increased to ten to twenty-five percent more than it had.
This procedure only works for two-stroke gas-powered chainsaw engines (sorry to those who have electric chainsaws).
How to port a chainsaw
A chainsaw is one of the most common and essential tools for woodworking and cutting. However, some homeowners are not satisfied with the strength and compressor ratios that their chainsaws have.
So what can be done for their chainsaw? Should they not use it and buy a new one?
The good news is, there are ways your chainsaw can get to that higher level. And it's very doable, even with someone that doesn't have technical and mechanical prowess.
The procedure is called porting a chainsaw, which enables it to attain a higher compressor ratio, resulting in more power.
What does chainsaw porting mean?
There are many ways to modify your saw, and chainsaw exhaust porting is only one of them. You will be making a couple of alterations like changing the shape of the cylinder hear, fine-tuning the timing of the port, and replacing the carburetor.
There are a few benefits after the chainsaw porting service is done:
The compressor ratio is increased, which results to more power and better performance. It affects the torque, power curves, and response time of the chainsaw.
The operating temperature will be cooler, which will result to lesser wear and tear and increase its lifespan.
Tools and materials that you will need
Any clothing that protects you from aluminum or metal shavings like an apron or thicker work clothes.
Protective goggles.
A clean rag to wipe of dirt and oil.
Metal file.
Flashlight.
Grinder.
Thin gasket.
Air powered drill.
Other commonplace tools like screwdriver, wrench, etc.
Steps in how to port a chainsaw
Step one: Open up and make the exhaust larger
The exhaust passageway is the entrance path towards the internal portion of the chainsaw. The muffler needs to be opened, but done carefully.
There are methods to do that, which can be done by drilling, grinding, or other tools at your disposal.
Check on the exhaust port and the intake. Make the ports larger using your tools.
Once the muffler has a big enough gap, ensure that the exhaust path is roomy enough to fit your hand.
Step two: Free up more space
After gaining wide admission to the inner portion of the chainsaw., create more space within its exhaust system and intake.
There are ways to do that with your tools (there are YouTube videos dedicated to these).
You will also do squishing, which is to make the chainsaw jug lower. You will be using a thin gasket, and the entire procedure is called milling.
Step three: Tweaking the transfer ports
After finishing the second step, your chainsaw's compressor ratio is significantly improved as it was before. If you want to alter it more, there are a few things that you can do:
The compressor transfer ports can be further modified.
Alter the mechanical timing of the ports by polishing and grinding.
Take out any excess material for the piston to enable it to be lighter.
The piston ports should be polished.
Take out the RPM limiter coil or replace it with a non-limited kind.
After doing this, the engine of your chainsaw will become significantly powerful from the extra supercharge in the compressor ratio.
Step four: Sawdust usage
The first three steps above are standard procedures and are regarded as safe to do. Yet, there are others methods of chainsaw porting which has the same effect of power increase.
One way is considered an irregular method is by utilizing sawdust. Take some of it and fill the combustion chamber to the brim.
The effect is relatively the same in supercharging the combustion ratio and enables the engine to be powerful at sawing. Your chainsaw will operate to its maximum capacity with an inordinately high ratio of compression.
However, there is a disadvantage in this procedure wherein the heat won't lessen. It's the reasoning that most chainsaw owners and users enable porting instead of this, and it will even destroy the chamber if done continuously.
Other less hazardous methods
If you think the above methods are too risky and complex for your own abilities, you still can do light porting, which can still increase your chainsaw's power:
Trim off the jug for only a little bit.
Grind the port lightly for the engine to breath more.
Tune the carburetor to become richer.
Enable the muffler to become wider to its original design.
Cautionary measures
The ports serve an essential function in a typical chainsaw and should be treated with care and deference. As mentioned earlier, there are many YouTube videos dedicated to numerous porting procedures. You can also consult a local repairman for this.
Some people don't practice caution whenever they attempt to increase compression. They enable the exhaust ports to be too broad that the rings might get clipped.
Improperly porting the chainsaw engine will severely cut down in power and in some situations, may even result in destruction. As a consequence, it will have weaker power, and sawing wood would be more difficult and arduous.
If you're interested in knowing how to port a Stihl chainsaw, the previous methods won't work.
For Stihl 1123 and 1127 models, you can do this instead to increase its power:
Modify the muffler
Tuning the carburetor again/
Enlarge the ports
Muffler modification
These aid in moving the gas in a better way for a ported chainsaw and can be done in varying stages. You can either go through with each one or skip at any stage, either which can still work:
Open the cylinder ports and polish them.
Gut or open the muffler.
Retune the carburetor and remove the CAT muffler.
Open and polish the transfer ports.
Polish the piston and make it lighter.
Turn down the piston crown's external part and cylinder base.
Swap the carburetor with a bigger one.
Attach a non-limited type of coil.
Porting benefits
Aside from increasing power, porting can significantly lower the muffler's backpressure. If you also retune the carburetor along with porting it, your chainsaw will have many benefits like:
It will run better and more efficient and reliable.
It will have a lower temperature and run cooler, and won't be worn out easily.
Allow for more breathing room for all the moving components of the chainsaw.
Many chainsaw users incorrectly surmise that porting can make the saw less reliable. It may happen if you do it improperly. But if you do it properly, it will heighten its reliability and lifespan. Thus is a positive impact on the saw itself.
Risks
If you port your chainsaw, it will void its warranty. If you make a mistake and do it incorrectly, fixing your screwup will cost a lot more.
Also, the fabricator you may have hired to port your chainsaw doesn't come with a guarantee if he'll be successful. Some fabricators have strange methods that may or may not work for your saw.
Finally, even if it's an excellently ported chainsaw, you won't get a good price for it if you're going to sell it. In most situations, a fabricated saw won't have any additional value in the market.
Hiring someone or doing it yourself
Hiring a fabricator/builder
Even if the person you've hired has a good reputation and delivers one hundred percent of the work, it won't matter if the fabrication doesn't match your specific needs for the chainsaw.
Before hiring one, do careful research first about this person if your needs will match up with his fabrication style. The fabricator's experience won't matter if his work is not equal to your requirements for your saw.
Also, be sure that the turnaround time for the fabrication will be followed. The average amount of time is six to eight weeks, but some will take a few months.
Hire someone not far from where you live and not in a faraway place wherein you have to ship it, which will cost you more money.
Doing it yourself
Porting a chainsaw is a complex task and requires a special familiarity, sill, and knowledge with engines and tools in general. If you are unaware of engine modification and fabrication, steer clear of this and let the professionals handle it.
However, if you indeed own on, you should have reasonable know-how in the way it functions. You should also be aware of and further practice some minor modifications before thinking about doing major ones.
You should attempt with the lighter fare mentioned earlier, and if you still think it's too complicated for you, then don't press on. It might cause more harm to your chainsaw than good.
Conclusion
If you're willing to modify your chainsaw and take the risk, then go right ahead. A powerful saw will work wonders for you and will make wood cutting a relatively easy chore.
But also remember the dangers involved in doing it. And be careful always in handling a potentially dangerous machine like a chainsaw.