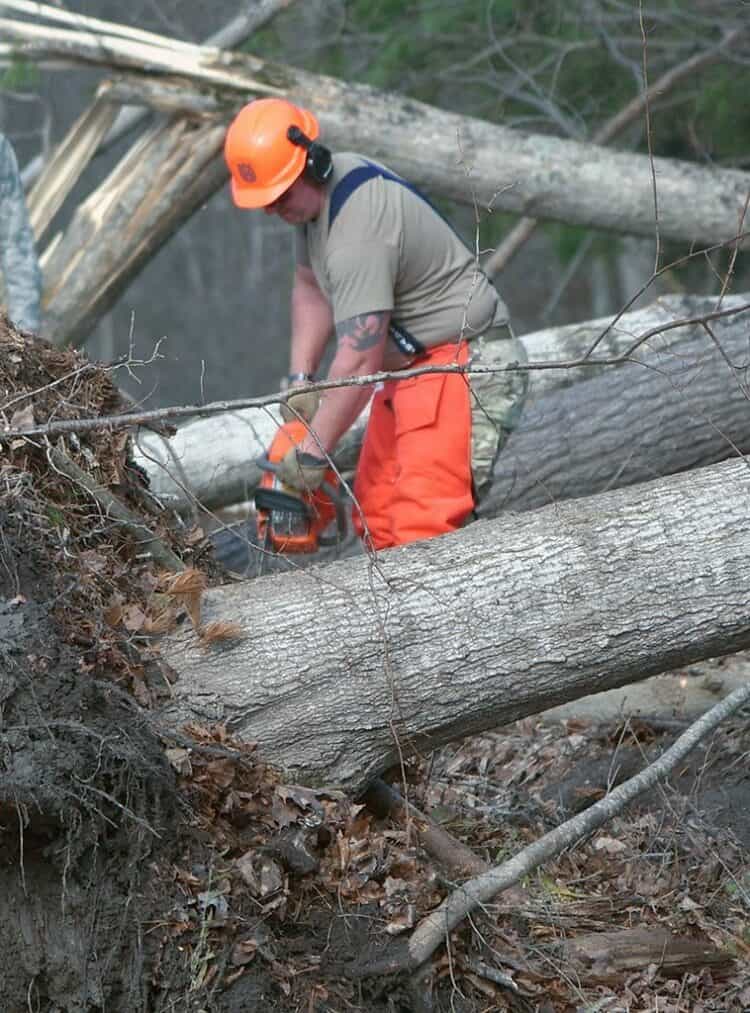 There comes a time when you need to get work done, and the weather won't permit you. If you are dealing with a power tool, you'll probably get concerned. The truth is that not all the equipment is the same. You'll find some working pretty well in wet conditions with ultimate ease. But can you use a chainsaw in the rain?
Well, the simplest answer is yes and no. A gas-powered chainsaw will run perfectly with no issues, even when it's raining. And can a chainsaw cut in water? The answer is still the same. However, make sure not to submerge the engine in the water. As for an electric-powered chainsaw, it's pretty risky to use it around water. Therefore, you should never try to do so.
That said, we have some other handy tips and factors to consider before working in the rain.
Can you use a chainsaw in the rain?
Of course, yes. A chainsaw will continue running even when wet. It won't stall or die, or something like such. And in case it does so, then know there are some other problems with your machine.
Need help with understanding how to run a wet chainsaw? Here's what you need to know:
Which chainsaw can you use in the rain?
Gas-powered chainsaws are an incredible choice for operating in wet conditions. It is also okay to saw through wet wood as this can't cause damage to your chainsaw's blade and bar.
Just expect to have some additional build-up as a result of wet dust. Otherwise, a gas-powered chainsaw is an ideal choice as long as you clean it using a rag.
Electric-powered chainsaws rely on electricity sources for power. As a result, it can be pretty dangerous to use them in wet conditions. So, it is always recommended not to use an electric chainsaw, mostly corded ones, when wet. Its blades may get corroded by rust, and performance can be entirely ineffective.
Gas-powered Chainsaw
Can you use a gas chainsaw in the rain? Yes, this type of chainsaw can work pretty well in wet conditions. For this reason, many professional loggers opt to use this chainsaw. It's not something new that you should not submerge your gas chainsaw in water. However, it can survive and run in the rain without any flaws. If you intend to use a gas-powered chainsaw on a rainy day, here's what you should have in mind.
First, never allow water to enter the fuel tank. The fuel/water mixture might result in lots of complications to the saw's operation. It may cause the blades to rust and even result in engine malfunction. Do the same with the bar oil tank. Even though it may not get damaged, it is wise to prevent water from getting inside the tank.
Secondly, focus on the saw's chain. Yes, water may have a short-term impact on the chain but make sure you dry it after use. Failure to do so, the water accumulated on the chain can cause it rust, affecting its performance.
Then remember to clean the chain before keeping it away. Check and clean up also the chainsaw's air filter before you start using it in the rain. That's especially if your previous project involved cutting dry wood.
Exposing the uncleaned air filter to water causes it to expand and choke out your chainsaw. Lastly, it can be helpful to try running the saw for several minutes before storing it. This helps to get rid of all the moisture from it.
Corded Chainsaws
Can you use an electric chainsaw in the rain? Typically, it is never wise to operate any electric tool in the rain. It can be very dangerous. Therefore, electric chainsaws are not the best choice for such kinds of conditions. Most manufacturers try to design these saws in a way that won't let in water easily. But, it's still risky and not safe to operate corded electric chainsaws outside when in the rain.
Any little amount of water that enters the saw could cause a short circuit to your chainsaw. It may even damage it for good. Another reason why it's risky is that you may get electrocuted. That's common if you are in a damp environment.
Plus, there's a good chance you can slip while holding the chainsaw. As you can imagine, you may get severe injuries, including other accidents. If water finds its way into the electric motor, the chainsaw may malfunction or fail to operate. So, never use your electric-powered chainsaw in the rain or wet conditions.
Cordless Chainsaw
You might think that cordless chainsaws are safer to use in the rain than corded ones. That's not true. Cordless saws often use batteries as a source of electricity, which makes them unfit. Water can get into the motor, causing a short circuit to the chainsaw. Eventually, this may burn and destroy the battery for good.
Like in corded chainsaws, you can slip off with the tool in your hands. Slippage may also happen between the blades and driving links when operating it. This can be pretty dangerous and risky to your safety.
Can You Cover the Chainsaw's Engine with Plastic?
You may have heard people talk about covering the carburetor or fuel tank using a plastic cover. In this case, you won't need to do that. Yes, you can do so if you like, but in the end, it won't add any value.
Safety Risks you should know
Personal safety should be your top priority when using a chainsaw in the rain. However, there are some safety risks to worry about when using a chainsaw in the rain. They include:
Slippery ground
Reduced visibility, mostly when you wear eye protection
Unpredictable winds
Lightening
Flooding if the terrain is flat
Noise in that you can't hear other people or things in the surrounding
Tips for Using an Electric Chainsaw in the Rain
It's always advisable to operate an electric chainsaw in dry conditions. But sometimes you can't avoid cutting wood outdoors in the rain.
Whether it is the snowy winters or rainy autumn, a typical enthusiast logger may have to use a wet chainsaw. It can be safe, depending on what tool you use, but it can cause an accumulation of wet sawdust. The good thing is, you can easily wipe off the sawdust using a rug and keep your tool running.
Below are some essential tips to follow when handling a wet saw. It'll be easier to maintain a safe wood cutting project in the rain if you follow these tips.
Beware of slippage
Since it's raining, the surface ground may be slippery. Determine whether the surface is safe and slip-proof or not.
When using your machinery, make sure you have a solid and firm footing whenever working in the rain or snow. Plus, get a perfect grip on your saw to prevent any possible risks due to slippage.
Wear Your Protective Gear
Before you get into the rain, put on suitable clothing, safety equipment, and gear. Consider getting a good pair of gloves and boots for extra grip.
Warm and waterproof clothing will help you feel comfortable enough. Plus, it makes you stay focused on the job at hand. Use eye and ear protective equipment to prevent any injuries while using a chainsaw in the rain.
Get the Appropriate Chain Type
Note that not all chains are the same. But can you chainsaw wet wood? Yes, you a chain with the help of a rounded or semi-chisel teethed chainsaw.
Unfortunately, your cutting speed will moderately reduce. However, you'll forget the stress of pausing the cutting in the middle of the job to sharpen your saw's blunt chain.
Be Careful with Debris on the Tree
Cutting through debris and rocks may damage your chain. Therefore, it's worth checking and clearing any matters stuck onto the logs. That's most likely around the log's lower bark parts, where they're hard to see.
What you should do when working with an electric chainsaw in the rain
It is critical to ensure that no water enters inside your electric-powered chainsaw. Though it's okay if some moisture accumulates on it while cutting in the rain, you'll need to dry it.
As stated before, water can make your blades rust and that's not something good to your machine. But how do you safely keep your chainsaw rust-free? Well, here's what to do:
Clean and dry your chainsaw's air filter
Wipe dry the clutch bearings in the saw
Seal off the fuel tank to prevent water from entering
Make sure the sprocket cover is clean to avoid malfunctioning
Also clean, wipe, and dry the chain brakes more often to restrict moisture from sticking on to the links
Watch out for the chainsaw's control mechanisms and safety features
Insulate the anti-vibration machine for moisture leakage
Conclusion
That said, we hope you now have all the answers to can you use a chainsaw in the rain. You can use your chainsaw in the rain but be careful with the type or model of the saw you want to use.
A small amount of water may not harm your tool. But, you'll need to practice proper maintenance before storing away. However, try your best not to use an electric chainsaw in the rain or near wet conditions.
That's because it could be dangerous not just to the tool but to your safety. Always put your safety first before going into the rain. And be cautious to keep your chainsaw operational.