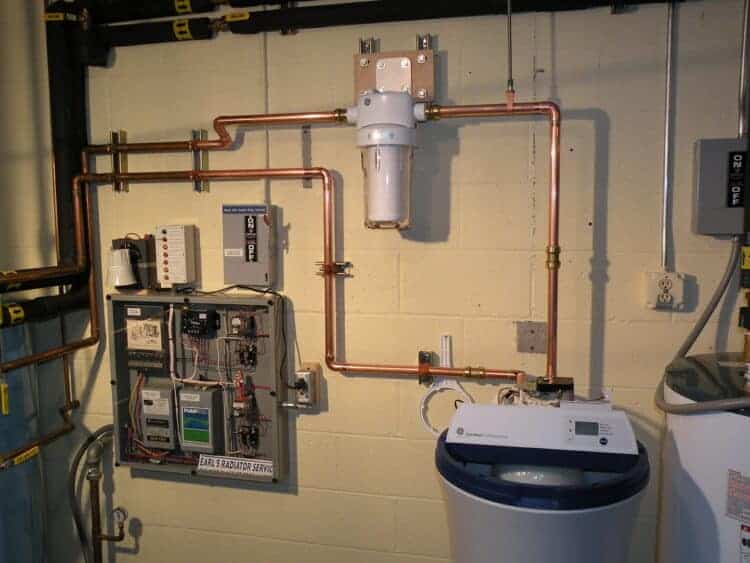 If your idea of relaxation is a steaming bath or a refreshing glass of lemonade, you're in for a surprise. Nothing can bring out your trust issues, like knowing that your home's water supply isn't as safe as you thought!
While your local water treatment may have removed most germs and bacteria in your water supply, there are still some chemicals and minerals that haven't been filtered out. In this case, homeowners can install a water softener system to protect their homes from hard water's adverse effects.
Simply put, hard water is rich in minerals like calcium, iron, copper, manganese, and magnesium. While hard water doesn't pose a significant health risk, it can severely damage your home's plumbing system and appliances. Mineral build-up can cause rust and clogged pipes and drains that eventually lead to appliance failure, not to mention the unsightly stains on your water fixtures! All of these will mean higher repair and utility costs.
With the wide variety of water softeners in the market, it can be hard to find the best one that can effectively manage your water supply and maintain the integrity of your home. We've compiled a list of the top 6 best water softeners on the market to help you find the right choice for your household!
Best Water Softener
Springwell Salt-Free Water Softener

Specs
filters 99.6% of chlorine and other contaminants
resulting in water is cleaner and safer than bottled water
prevents and removes scale build-up
10% crosslink resin
Grain capacity at 32,000 to 80,000
the package comes with all necessary equipment and tools for installation
If you're looking for the best overall water softener that can handle any hard water issue, you'd better take our word for it that this salt-based system from Springwell is the best choice you'll be making for your home this year.
User-friendly interface
This water softener from Springwell knows that the customer is always right. That's why they've designed a system that keeps the users in full-control. A detailed and user-friendly control system allows the homeowner to adjust and monitor water treatment settings from their phone via Bluetooth connection.
From their comprehensive and detailed app, users can easily adjust hardness levels and water pressure. Users can even check how much soft water is left. This makes it super easy to plan when you should begin a new cleaning cycle and regeneration time!
Springwell gives users complete control of the water treatment system – adjust brine refill, rinse, backwash, and valve settings just with the tap of your finger. Managing your water supply and home resources down to the last drop can't get any simpler than with the Springwell softener!
Flexible Solutions
Here's a water softener system that can work well in any home, from a bachelor pad to a large mansion. The Springwell water softener has a grain capacity ranging from 32-thousand up to a whopping 80-thousand!
You'll never go wrong with a product that promises the complete package – Springwell promises to provide its clients all the necessary equipment and tools, down to a comprehensive installation guide.
This gamechanger in the water treatment business also offers services beyond water softening. This Springwell model comes with a UV lamp that effectively filters water to eliminate health-threatening viruses and microbes such as Cryptosporidium and E.coli.
Long-term investment
This Springwell system has an armor made of 10% crosslink resin – more robust than most other water softeners you'll find on the market. A half-year money-back-guarantee backs the system. All clients can return the product and receive a full refund with no additional fees and conditions/
Springwell makes sure that you can use this system for years to come – all its sensitive equipment, including fittings, housings, tanks valve, and other media, are covered by a lifetime warranty! If you're looking for a reliable water treatment system to last you a lifetime, the Springwell water softener system is definitely the one for you (and your grandkids).
Pros
stronger material than most water softeners
flexible applications for different-sized houses
removes more contaminants than most water systems
6-month money-back guarantee
lifetime warranty of sensitive housings, valves, and fittings
Cons
Pelican Salt-Free Water
For consumers who are a bit wary of introducing salt into their water supply, the Pelican Salt-free water softener is your best option on the market. Salt-based water softeners may leave an aftertaste that is unbearable for some people. Water softening with salt also removes some minerals that can benefit one's health.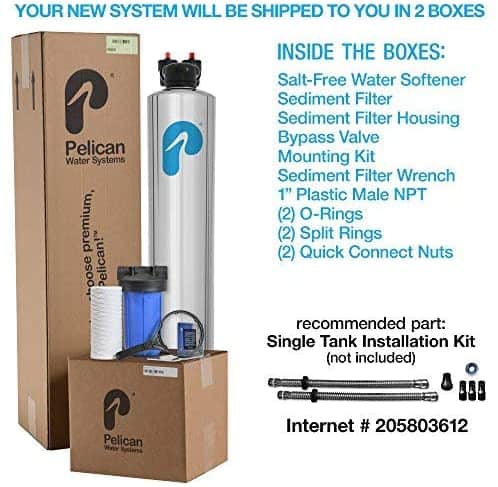 Specs
Only water softener alternative certified 99.6% effective at removing scale build-up
Activated carbon fiber and pre-filter layer
10GPM flow rate
Certified by IAPMO and ANSI for structural integrity
Removes scale without compromising mineral content
Does not produce wastewater
Does not require salt and electricity
Simple installation
Built by the leading company in salt-free water softeners
Expert-certified
If there's one way to prove the effectiveness of the Pelican NS3 Natursoft, it's that the system is expert-certified! The NS3 is certified by the official German association for gas and water to effectively remove scale build-up. It also gained the official approval of the WQA for its quality, safety, and structural integrity.
Full package
The NS3 water softener is the answer to all your prayers. The system guarantees to give its users only the best performance with its pre-filter that removes dust, sand, rust, and all debris down to 5 microns – that's a fifth of the thickness of a single human hair!
The system also comes with a user-friendly installation kit and a full set of tools and equipment, so there's no need to worry about mounting your water softener. Since this system can be installed by the basic DIY-er, the NS3 is significantly more affordable compared to other models requiring professional set-up.
Great investment
While this water softener is more expensive than its rival brands at 1500 USD, we want to ensure you that you get every penny's worth! Loyal users and supporters rave about this system's top-of-the-line service.
The Pelican NS3 is one of the most cost-effective choices you can make in the long run – it doesn't use salt and electricity, and it doesn't produce any wastewater! There aren't any replacement parts to think about, and you'd only have to replace the pre-filter twice a year. While the initial expenses are definitely costly, you'll save much more in the long-run.
Pros
ANSI and IAPMO certified
Retains beneficial minerals
Cost-effective long-term investment
Lifetime warranty
Complete mounting kit and easy installation
Doesn't need part replacements
Cons
High initial cost
Cannot remove mineral stains
Fleck 5600SXT Water Softener
Most water softeners use the salt-based process for a reason. It's highly effective at removing mineral ions. We'd argue that the best salt-system water softener in the market today is Fleck's 5600SXT Water Softener. This electronic water softener has a 64,000-grain capacity and a standard-sized tank, and a 10% resin.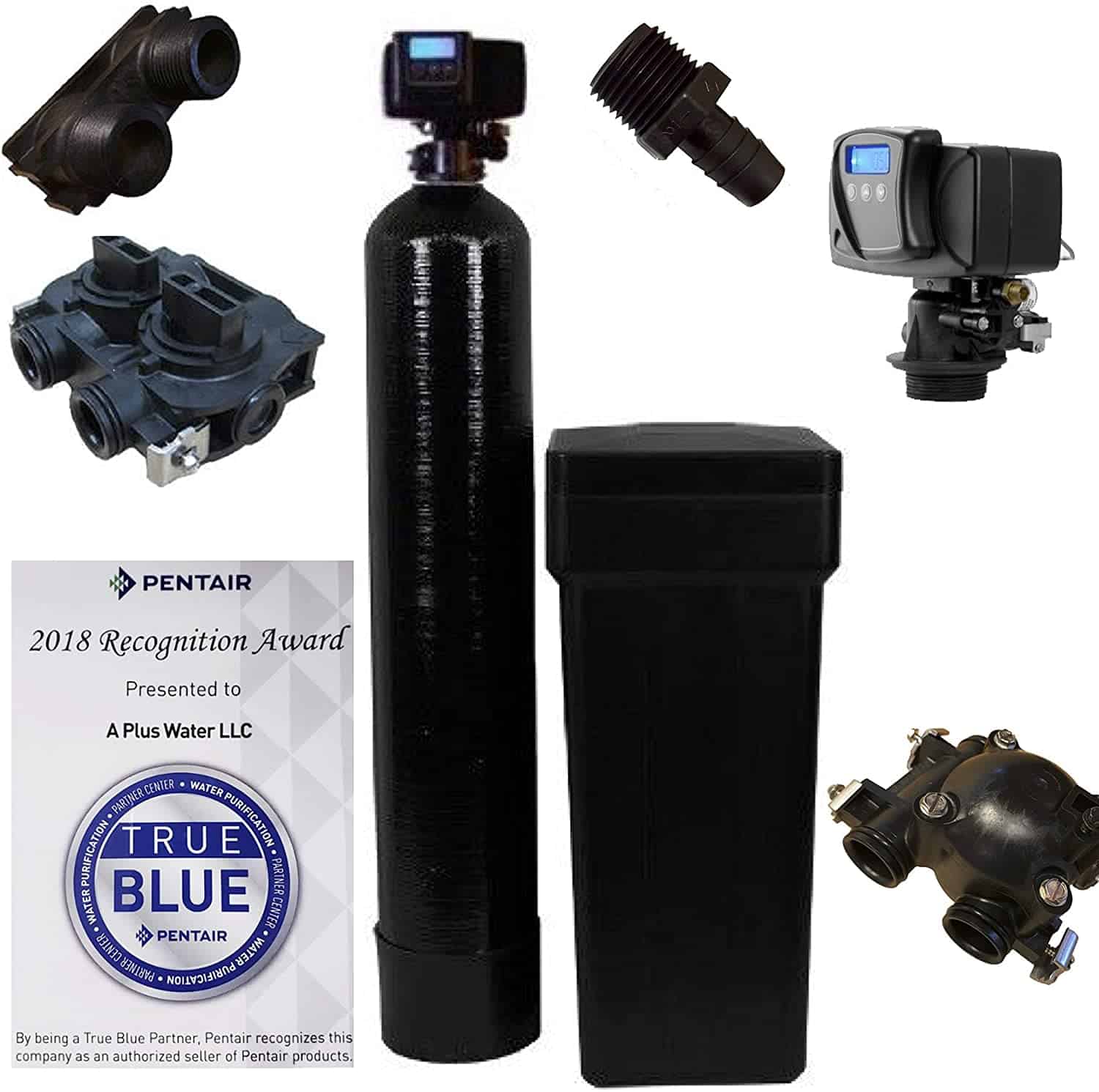 Specs
64,000-grain capacity or 1.5 cubic ft. high capacity 8% crosslinked resin
12-28 GPM service flow
Comes with a bypass valve and safety float
Meter-based regeneration process
Backlit LCD display with touchpad controls
48 hour-internal power backup
Ease-of-use
What users love about this digital water softener is its easy-to-navigate interface. A convenient and intuitive LCD screen continually updates users on current system status and error messages. The idea is to create a user-friendly system that all homeowners can easily navigate and troubleshoot.
On-demand regeneration system
Unlike other salt-process softeners, this device allows the system to regenerate based on a preset time or when the system meets maximum capacity.
This simple feature guarantees that you always have soft water without compromising your electricity bill or using up excessive salt and water.
Pros
User-friendly interface
save-up on electricity, salt, and water consumption with meter-based regeneration
safety float and overflow drain prevents leakage
Up to 5 years warranty
NSF-certified
Easy to install
Cons
Single grain choice offered.
Complaints of resin tank malfunction
Nuvo H2O
This water softener from Nuvo will knock you off your feet! Nuvo guarantees the prevention of scale build-up in your home without the heavy salt, wasted water, and soaring electricity bills.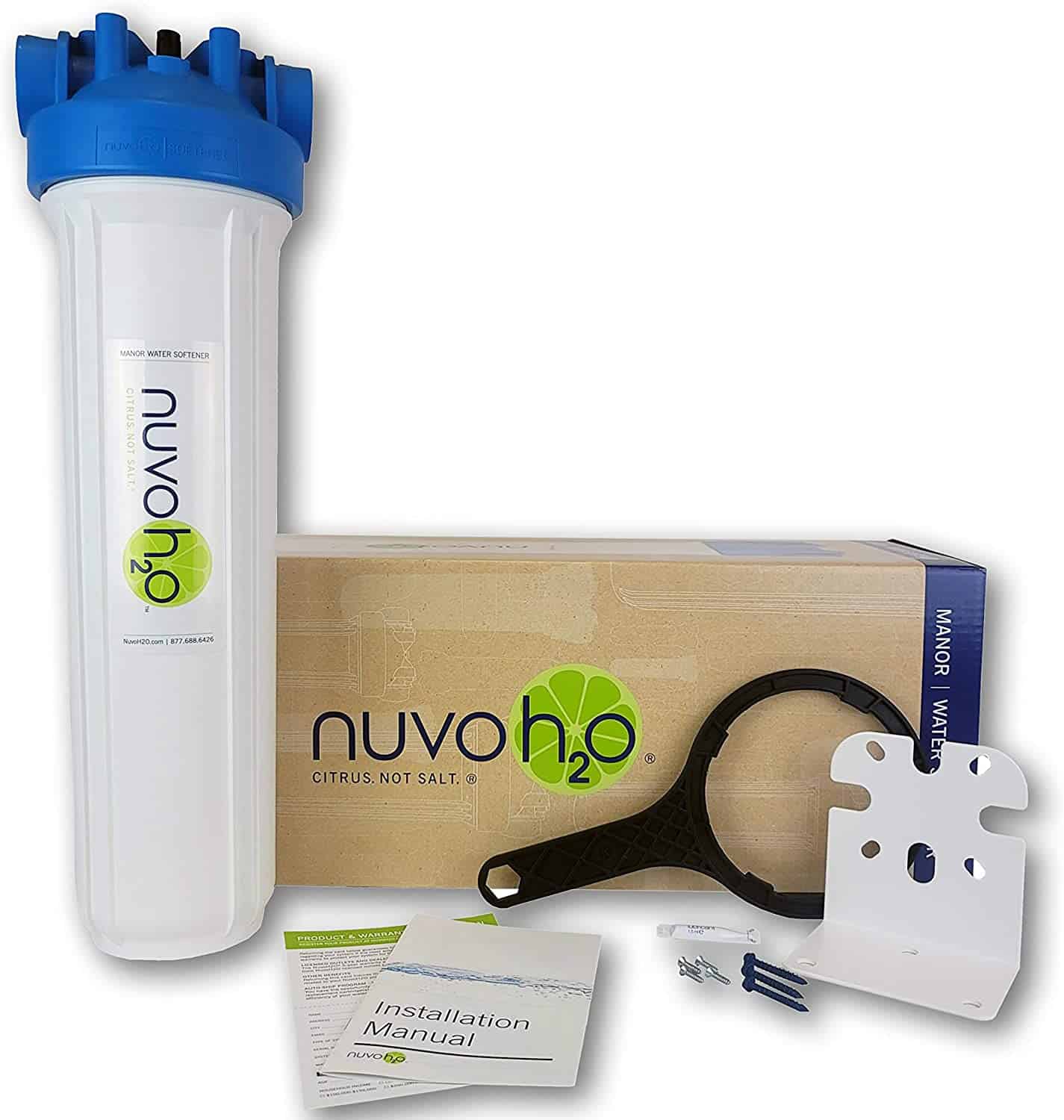 Specs
Removes hard water and prevents scale build-up without electricity, salt, and wastewater
Eco-friendly and cost-effective cartridge replacement
Compact design
Lifespan 50,000 gallons
Resulting in soft water is safe for consumption, household use, bathing, and washing
Innovative chelating process
This water softener uses revolutionary technology to protect your appliances and fixtures through the most eco-friendly and cost-effective solutions. Most experts will argue that the complete removal of minerals from water supplies will rob consumers of its health benefits. Nuvo uses innovative technology to keep mineral ions soluble. This means that you get the best of both worlds: no tiresome scale build-up, plus you get the mineral supplements that are beneficial for humans and animals! Even better, these innovative Nuvo filters come with a refreshing citrus taste!
Flexible applications
This Nuvo softener is available in different grain capacities, so you can easily find the best system for your home. Their most powerful Nuvo H2O system yet is the Manor System – it can effectively support water softening for a large house with four or more residents. For homeowners living in small apartments and RVs, the Nuvo H2I Studio system is a perfect choice.
Pros
Saltless water system that softens and conditions
Beneficial for low-sodium diets
Eco-friendly: no wastewater, electricity, and salt used
FDA-approved
Cons
Not ideal for well-water softening
May be complicated to install
The cartridge needs regular replacement
iSpring ED2000 Whole House Water Softener
For homeowners looking for a cost-effective and eco-friendly solution to salt-based water softeners and descalers, this model from iSpring is the best choice for you.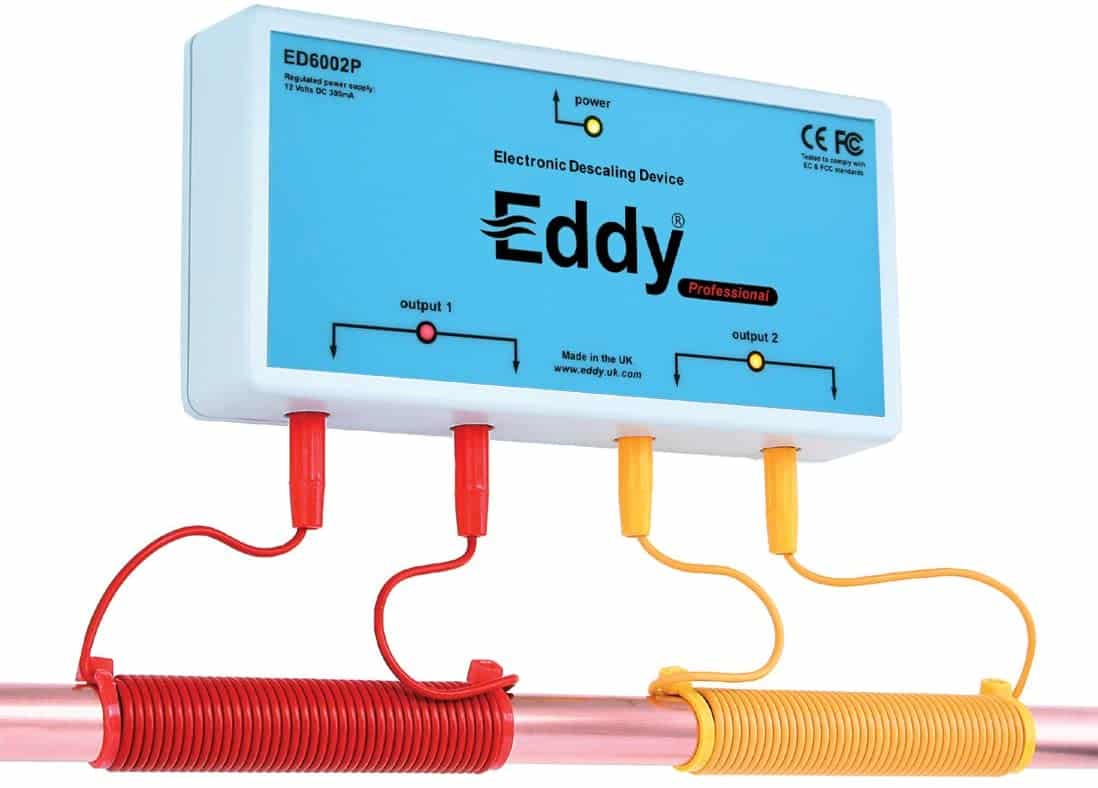 Specs
solves hard water issues without salt and chemicals
prevents scale deposit formation and encourages scale break down
designed for areas with very hard water
easy installation with no plumbing modifications required
maintenance-free
Accessible and simple
The iSpring ED2000 is actually one of the cheapest water softeners you'll find on the market, but rest assured that you get all the benefits of a high-range model! iSpring is one of the most reputable brands that cater to homeowner's water treatment needs – from water filtration systems to descalers and softeners. iSpring is great with customer service – they offer a one-year money-back guarantee and lifetime technical support for all their available products.
This model is simple and straightforward. Even beginner DIY-ers with zero home maintenance experience can easily have the water softener up and running. Simply wrap the coils around your plumbing, and plug the device in – your home is safe from mineral build-up.
Convenient and hassle-free
Unlike large descalers that make a big fuss to soften your water, the iSpring uses an efficient electromagnetic force that doesn't make a huge racket during regeneration. This can also mean huge savings for your family as you won't be spending on salt replacements.
Guaranteed money's worth
It's only natural that many people are wary about the effectiveness of this cheap and simple device. Would this device work just as well as more expensive alternatives? A lot of homeowners believe so – according to reviews, a majority of clients saw immediate improvements in their home water supply.
iSpring users report that stains and mineral build-up on bathtubs, sinks, toilets, and showers seemed to vanish in their homes. They also claim that soap and detergent give a much more luscious lather to their daily hygienic and household cleaning needs. What's more, this water softener effectively improves the quality of water, giving families healthy mineral water that is great for improving skin and hair care.
Pros
salt-free and chemical-free process
great for users with low sodium diets
significantly improves skin and hair quality
does not change water chemistry to make the most out of healthy minerals
lifetime tech support
simple and budget-friendly
Cons
lacks scientific evidence
Aquasana Whole House Well Filter System
This water softener by Aquasana is a product you'll be proud to introduce to your family. The treatment system comes with a full range of features that guarantee the optimal safety of your home's water supply and well system.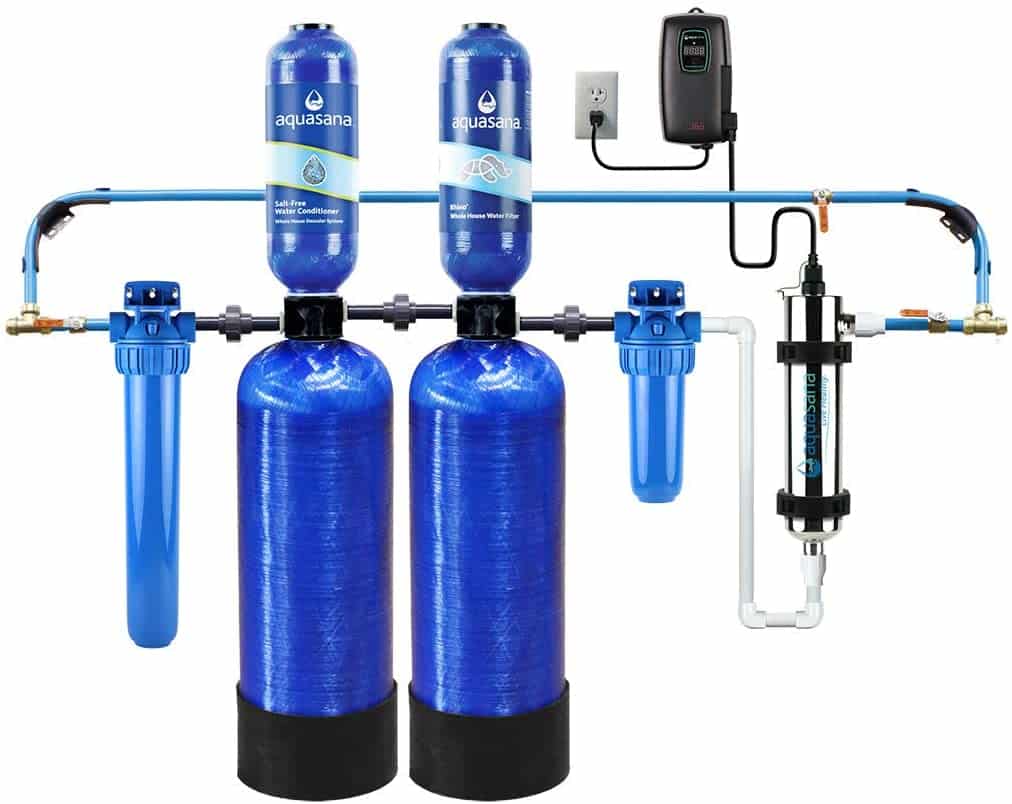 Specs
Removes 97% of chlorine
99. 9% of viruses, bacteria, and contaminants
Carbon & KDF filtration media with UV purifier
Scale Control Media (SCM) salt-free technology
State of the art Well Filter System
Easy maintenance
unique up-flow and dual tank design increases efficiency
Unrivaled performance
This powerful device from Aquasana boasts clean and great tasting drinking water due to its unrivaled filtration system that removes 97% of chlorine and 99% of viruses and bacteria. It also claims to remove harmful chemicals and contaminants like pesticides, herbicides, lead, mercury, and VOCs. This is all thanks to its special components of Copper-Zinc and activated carbon.
We can thank Aquasana's innovative Well Filter System for this unparalleled performance. A carbon and KDF filtration system is accompanied by a UV purifier and comprehensive Scale Control Media that follows salt-free technologies. These salt-free processes claim to reduce the likelihood of scale formation while preserving mineral content. Salt-free water softening works to make total dissolved solids soluble – this is to preserve healthy minerals that are present in hard water.
This Aquasana water softener was specially engineered to make the most out of its filtration media. Homeowners can expect only the best performance from its unique dual tank design that increases contact time between hard water and contaminant-grabbing media.
Cost-efficient and convenient
This system guarantees its clients clean and crisp tasting water for less than 0.01 USD per gallon. This is so much less than buying bottled water daily. This model from Aquasana can purify at least 500,000 gal of water – that's five year's worth of water for your home!
This water softener comes with the complete package, down to the installation kit and all its components. It's also extremely easy to maintain since the system doesn't require any draining and backflushing. For optimal filtration and flow rate results, you only need to replace the pre/post filters every three months.
Ultimate investment
While this water softener might not be the cheapest on the market, you can rest assured that you get every penny's worth. Your hard water will go through a rigorous filtering system that ensures water purity down to the last drop. Hard water is first pre-filtered before being exposed to a salt-free water conditioner, activated carbon, and finally a post-filter carbon. You also have the option of adding a UV purifier to maximize contaminant reduction.
Since the Aquasana PRO-AST relies on salt-free technology, rest assured that your family is also getting 100% of the nutritional benefits of your water supply's minerals. There's really no better investment to make than your family's health!
Pros
an unrivaled well-water filter system that deals with all sorts of contaminants
more cost-efficient than most water purifying systems
easy and convenient maintenance
the warranty covers DIY installation
innovative filtration system
increased contact time with contaminant-grabbing media
Cons
high initial cost
doesn't work well with bleach
expensive fittings and components
| Water softener system | Type | Flow Rate | Grain Capacity | Warranty | Amazon Link |
| --- | --- | --- | --- | --- | --- |
| Springwell Water Softener | Salt-based | 11 to 20 GP | 32000 to 80000 | 7 years for electronic head, 10 years for tanks, and lifetime warranty for valves and fix tires | https://www.amazon.com/Salt-Free-Water-Softener-Bathrooms/dp/B07X6KPSP9/ |
| Pelican Salt-Free Water | Salt-free | 10 GPM | 64000 | 90 days money-back guarantee, Lifetime for defects | https://www.amazon.com/NaturSoft-Water-Softener-System-Bathrooms/dp/B000NG3YJU/ |
| Fleck 5600SXT | Salt-based | 12 GPM | 64000 | 5 years for valves and components, 7 years for electronic head | https://www.amazon.com/Fleck-Softener-Culligan-WH-HD200-C-Filtration/dp/B08V5P5WR9/ |
| Nuvo H2O | Salt-free | 15 GPM | 80000 | 5 years for manufacturing defect | https://www.amazon.com/dp/B01ASXMI44/ |
| iSpring Electronic/Magnetic | Salt-free, electric | 10 GPM | 64000 | 1 year money-back | https://www.amazon.co.uk/dp/B005FWYX9C/ |
| Aquasana Whole House Well Filter | Salt-free | 7 GPM | 1M | Covers DIY installation | https://www.amazon.com/Aquasana-Filter-Purifier-Salt-Free-Descaler/dp/B00LC1KRKO/ |
Shopping considerations for Best Water Softener
Now that you've read through our comprehensive shopping guide, you should have realized that the best water softener for your home will depend on several factors. Keep in mind that each household is different with its own specific needs. It's important that you take into consideration your household consumption and budget!
Water supply hardness level
Your home's water hardness will depend on where you live and your water source. These can range from extremely low mineral content to potentially hazardous levels.
The water softer you choose should be strong enough to treat your specific hard water levels.
Refer to water hardness maps to get a general idea of your area's water hardness level. Additionally, make sure to visually inspect your water supply's effects on your household items. These can be observed by:
Scale and mineral build-up on faucets and showers
Foggy glassware
Faded and stiff laundry
Damaged appliances (washing machine, dishwasher, water heater)
Decreased water flow, clogged plumbing
Decreased lather of soaps and detergents
Higher utility bills
Household consumption
Now that you've evaluated your home's need for a water softener, you need to find a water softener that can match your family's water softening needs. This can usually be measured by grain capacity levels, described by a number in the ten thousands. To put it simply, higher household consumption would need a water softener with a higher grain capacity.
Small households with less than three residents can survive on a small to medium-sized water softener with a 20,000 plus grain capacity. Large houses with four residents and more than two bathrooms should get medium or large-sized softeners with a grain capacity of at least 30,000.
Review features and budget
Once you have a clear picture of your household's water softening requirements, it's time to look for a water softener that ticks all the items on your checklist – within budget, of course! It might help to list down all the features and functionalities you need in your water softener system.
While most water softening terms and processes might seem too technical to understand, it would be beneficial for you to familiarize yourself with some terminologies. This can be a great help when you start crossing off options on your list.
Conclusion
Looking into different types and models of water softening may seem daunting with all the features and specifications you need to think about! Start by evaluating the scale and scope of your home's needs in conjunction with your household consumption. From there, you can start considering models based on the specific features and your budget!
This should ensure that you get the best water softener that protects your home and your family.