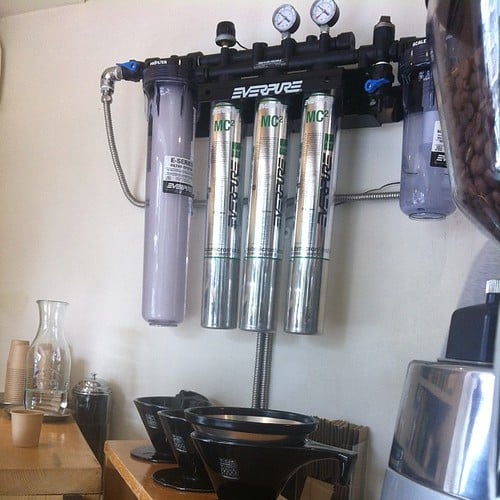 Have you, like me, put off buying a water conditioner because they are so overwhelmingly complex to understand?
Then this is what you are looking for. We have listed out everything you need to know about water conditioners and types of water conditioning systems in the market.
You do not have to be fooled by mass selling tactics or so-called best water conditioners that need so much time and money for maintenance. We have broken down their technologies to the simplest layman terms so you can become an expert on water conditioning after reading this.
Read through, and you will be able to see their pros and cons. Choose the one that is the best for you!
Why do you need a Water conditioning system?
Hard water is a serious problem within certain urban and rural areas. It can impact your house as well as your body. It can create an unpleasant taste in your drinking water and leave residue on your skin. The unpleasant taste is because of the hard ions in your water, which are mostly magnesium and calcium ions. Therefore it is called hard water.
Water Conditioning Vs. Water Softening
There are several ways of treating hard water; water conditioning is one significant option. The other is water softening. The difference between water softening and water conditioning is often misunderstood.
Typically, water conditioning is where one would remove the chemicals and other impurities from water. This would remove such impurities that would otherwise result in a bad smell or taste in water. Water softening is the process of removing hard ions from water.
Most advanced water conditioning systems in the market have both water softening and conditioning built in them. Hence most of them are hybrid systems. Water conditioning systems improve the nature, smell, and other issues in water using various technologies. Nowadays, both these terms are used in place for one another and describe the main functionality of removing hard water from your water supply.
Types of Water Conditioning Systems
There are four major types of water conditioning systems based on the technologies used. Due to their different conditioning technologies and functionalities, they have different success levels.
If you are looking for a quality water conditioning system this will help you pick a system that pleases your pocket while giving you all the needed benefits.
Ion Exchange Water Conditioning System
An ion-exchange water conditioning system, like the name says, exchanges the hard ions in water. The exchange of hard ions is done by replacing these ions with a similar ion, such as Sodium.
Due to that reason, ion exchange water conditioning systems are also named salt-based water softeners. Domestic ion exchange water softeners may be the most used water conditioners in the market. This uses the traditional ion exchange mechanism using a bed of sodium beads. When the domestic water is passed through this system, the water is led to the bed of beads where the ion exchange takes place. The hard ions are retained by the beads as a replacement for sodium.
With any other typical system, there are limitations to ion exchange water softeners. The major issue with ion exchange water softener is that the filtration bed would in time become saturated with hard ions. This reduces the quality of water conditioning. And therefore, this bed of beads has to be replaced after some time.
The replacement time may differ with the size and quantity of the water conditioning system. If you choose to buy an ion conditioning system, your supplier would tell you when exactly you would have to replace your ion bed component. You can get it replaced by the vendor very easily.
There could be multiple concerns when you use ion exchange water softeners. Although it does replace the hard ions in water, it adds Sodium to the water passing through the system. This increases the level of salt in your water. High brine levels in water can be very harmful to the environment. This becomes a serious problem if you live in an area where they have brine restrictions. In those areas, there are restrictions for people to flush excess saltwater down the drain line. This is due to the environmental impact as well as that most wastewater treatment plants do not treat for excess salinity in water. It then limits the reuse of such wastewater.
To summarize all the factors that you need to know about the ion exchange water conditioning system, yes, it is effective. Look below for its pros and cons.
Pros
Affordable and less expensive than other options
Highly effective in removing hard ions
Longer useful life
Cons
Need frequent checks and replace the Salt bed
Results in brine water which is bad for the environment and dry out your body
Electromagnetic Water Conditioning Systems
An electromagnetic water conditioning system uses a coil type of apparatus connected to the inside its filter bed. These create an electromagnetic force field when operated. This is known to reduce the amount of magnesium, calcium, and any other hard ions in water. When the electromagnetic coils are charged, they create an electromagnetic force field around them. When the water comes into contact with the electromagnetic field, the hard ions are attracted to the magnetic field. Magnetism changes the sheet-type shape of hard minerals into spherical or crystal shapes. This change in their shape prevents the hard ions from sticking to fixtures and enables hard ions to wash away with water.
The electromagnetic type water conditioners are also called easy type water conditioners or electronic water conditioners. They require only simple low-level maintenance and can be used for about 40 years.
Although electromagnetic water conditioners are marketed as the latest technology, there are certain doubts about their performance and efficiency.
Pros
Affordable
Lower checkups and maintenance required
Chemical free
Cons
Electricity cost
May be less effective with different designs
Template Assisted Crystallization (TAC) Water Conditioning Systems
This type of water conditioning system uses catalytic media for water softening. They are salt-free. Due to the lowering of sodium levels in the water, there would be no damage to your plumbing and fixtures. Thereby this lowers the impact on the environment.
This type of water softeners are often called catalytic water softeners, Vulcan descalers, or catalytic water conditioners. During the water conditioning process, water goes through catalytic media. The catalytic media encourages magnesium and calcium molecules in water to undergo a chemical reaction. This reaction hardens the molecules of these substances and, they crystalize. When crystallized, they cannot attach to the walls of plumbing fixtures and deposit on them. This prevents the building up of limescale on your fixtures.
However, the TAC type of water conditioner does not remove the hard minerals from the water. It only prevents the building up of limescale and spots on your fixtures.
Pros
Highly effective in preventing limescale build-up
Chemical free
Cons
Does not remove hard minerals
May require electricity
Carbon Filtration
This type of water conditioning system uses carbon filters to filter out impurities and other substances in water. Carbon filters used in these filters are made up of Granular Activated Carbon (GAC). GAC can effectively filter clean water through minute holes in these filters. These filter out most chemicals such as Chlorine, impurities in water and remove bad tastes and smell from your water. The water conditioned by using carbon filters is perfect for any purpose, including for drinking.
The carbon filters may get saturated and clogged after using for some time. Therefore they will have to be replaced frequently. The granular activated carbon filters are low-cost and affordable.
Pros
Highly effective in water conditioning
Does not cause limescale build-up
Cons
Larger systems are expensive, mostly suitable for simple setups
Needs monitoring and frequent replacing of carbon filter
Other classifications of Water Conditioners
Water conditioners may also be categorized based on the type of ionization used in water conditioning.
Salt Based Water Conditioning Systems
This is the same as the ion exchange water conditioning system where Sodium or salt pellets are used for conditioning water. Thus called salt-based water conditioning.
Salt-free Water Conditioning Systems
This type of water conditioning system uses salt-free techniques in water conditioning. Template-assisted crystallization (TAC) and magnetic water conditioners are perfect examples of salt-free water conditioning systems. They simply prevent the building up and sticking of hard ions on pipes and fixtures.
There are also different other forms of water softeners that come in handy in different situations. They are differentiated based on their nature and usage.
Showerhead water Conditioners
These are specifically made to be installed onto your bathroom shower. It is a smart investment to get perfect soft water for your showers. Showerhead water Conditioners can be easily installed by unscrewing your old showerhead and replacing it with the showerhead water conditioner. This has an inbuilt cartridge that filters the hard ions and gives out soft water for you to shower. There are advanced types that claim to add in vitamins and those which add-in fragrances. So you may lookout for the additives before you pick one for your shower.
Portable Water Conditioners
Portable water conditioners are commonly equipped with salt-based water conditioning systems. There are certain expensive one which uses salt-free technologies to filter water. These are small and portable, easy to fit into your trailer, and can be a perfect option for frequent travelers. These do not require electricity and could be used to accommodate a few people. You only have to replace the salt pellets once in a while, and you are good to go.
Do Water Conditioners Work?
The shortest answer to the question is yes, they do. But to what extent do they work?
As mentioned before, different types of water conditioners use different technologies. These technologies affect water in different ways. The output may differ as to what technology is used by your water conditioning system.
Simply said, using an ion exchange water conditioning system would result in high saline water. It would not be hard water, but it would still be full of brine, which would impact your environment and your body. You will see an improvement in the hardness of the water. And you would be able to see many improvements due to the removal of hard ions from water.
Evaluation of alternatives to domestic ion exchange water softeners is tedious due to their similarity in features. They are generally low-cost and need lower maintenance. The other types are comparatively complex in their functionality.
Electromagnetic water conditioning systems are the hardest to evaluate. There are so many advertisements and reviews online to promote this type of water conditioner. But there is no scientific evidence that electromagnetic water conditioners effectively work for a long period. They have to be successful to at least a certain level because they are still in demand.
The main issue with electromagnetic water conditioners is that only the water coming in close contact with its magnetic field may be conditioned through its system. Therefore, the design of the electromagnetic water conditioning system obviously plays a role in their effectiveness. Also, there is no scientific evidence to suggest that the hard ion crystals formed due to magnetism can stay as crystals for a long period until consumed.
If you are planning to buy an electromagnetic water conditioning system: I recommend that you buy from a brand that has genuinely good feedback.
Template Assisted Crystallization (TAC) or the catalytic water conditioning system is comparatively better and advanced than other types of water conditioners. The crystallization of hard molecules is efficient and, they can flow with water which prevents lime scaling.
If you are someone who is constantly burdened with plumbing issues due to hard water and haven't found the perfect solution yet, TAC is the best solution for you.
Carbon Water conditioners are one of the simplest yet most effective water conditioning systems in the market. They not only remove hard ions: but also removes impurities, toxins, some chemicals, and organic matter from water. The result is purified water which you can consume directly.
If your plan is to drink water straight from the tap, carbon water conditioners are the best option out there. But when it comes to conditioning your household or business water supply, carbon water conditioning may take up space and higher investment. The GAC filters used in this kind of setup may need to be replaced quite often and may need closer supervision.
If you are new to the types of water conditioning systems, you may also want to know how long does water conditioner takes to work. This may be different from the type of water conditioner as well as from different brands and their composition inside the water conditioner itself.
Reverse Osmosis filters, what are they?
Reverse osmosis filtration is a word that often comes up when you look for a good water conditioning system. Reverse osmosis is not a type of water conditioning system. But what is it?
Reverse osmosis is a technique that is used to filter saline water. Yes, you heard right. It is used mainly to soften water. It is not always accompanied by a water conditioning system. But some vendors push you to buy a reverse osmosis filter along with other water conditioning systems as it significantly reduces the brine level in the water.
Do you absolutely need reverse osmosis filters?
No. But it could be a healthy addition to your traditional water conditioning system.
A separate reverse osmosis filter could be fixed to your water conditioning system's output very easily. There is a reverse osmosis membrane inside the filter that has microscopic filtration ability. Water is fed at high pressure through the membrane. It will filter through multiple layers to remove hard ions, organic substances, and any other matter which causes smell and different taste in water. The resultant filtered water can be directly used for consumption. Latest reverse osmosis filters are equipped with features to add certain vital minerals into your water system so you will drink in healthy minerals.
Tips
If you plan on buying a water conditioner, first assess your needs. Gather an idea of what outcome you need from the system. It is better to evaluate the hardness of the water in your area, your budget, water utilization, and user requirements and talk to a dealer.
There is no harm in checking out products from different brands too. Most of the vendors have an online presence so that you can evaluate multiple brands from the comfort of your home. Do not forget to check out online user reviews while you are online. If you wait until the New Year or Christmas season, you can get many discounts and offers from dealers.
Happy shopping!