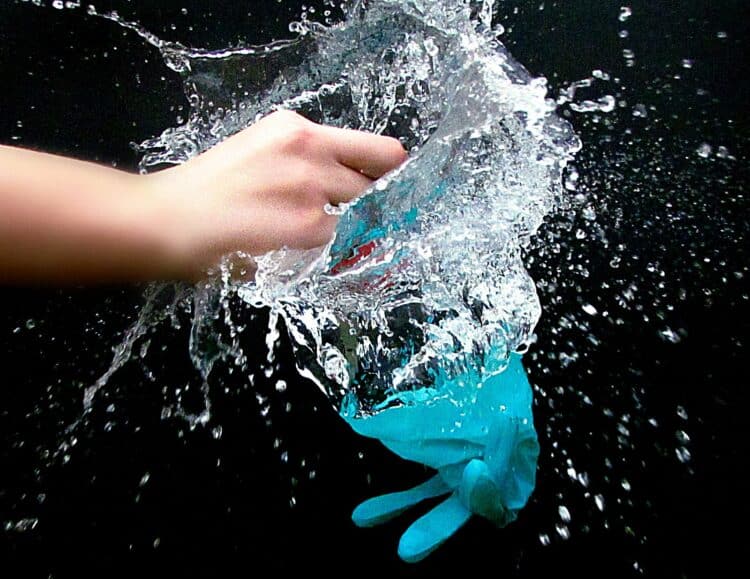 It may come as a surprise to you that water can be "hard". It's ironic since we've been taught as children that water is a liquid.
Liquids are soft, right? Well, when we talk about "hard" water, what we really mean is the minerals found within the water.
Calcium and magnesium are minerals that "harden" water. Their presence dictates whether the water will stick to a surface, or roll off the way it's supposed to.
Hard water is annoying to deal with because it can clog your pipes, ruin your clothes, and prevent you from getting that sudsy satisfaction with soap bubbles.
The easiest way to tell if you have hard water at home is by using the soap test. If soap doesn't lather in your tap water compared to using bottled water, then your tap is probably running hard water.
How is water hardness measured? Is soft water really all that useful? Which areas are more likely to have hard water?
Continue reading to find the answers to these questions.
Measuring water hardness
The hardness of water is measured by the amount calcium carbonate per liter of water. The classification is summarized below:
Grains per Gallon (GPG)
mg/L or Parts Per Million (PPM)
Classification
Less than 1
Less than 17.1
Soft
1 – 3
17.1 – 51.3
Slightly hard
3.1 – 7
51.4 – 119.7
Moderately hard
7.1 – 10.5
119.8 – 179.55
Hard
10.6 – 15
179.56 – 256.5
Very hard
More than 15
More than 256.5
Extremely hard
GPG is used to measure the amount of resin that goes in a water softener. And it also determines how big of a water softening system you have to buy.
Soft water is water that contains little to no hard minerals, making it good for drinking, washing, and laundering. However, water that contains more than 51.3 mg/L of calcium carbonate might cause some issues.
If left untreated, hard water can ruin the quality of fabrics and clog pipes. It leaves a "lime scale buildup" that is similar to the way arteries and blood vessels in the human body can clog up with fat without proper exercise.
With your pipes clogged, there's less water pressure because the water can barely pass through them.
Can water hardness affect my health?
To an extent, yes. But it shouldn't be anything major unless your skin is extra sensitive.
The most water hardness can do is irritate your skin because of the mineral deposits that stick to your clothes.
However, people with sensitive skin can have other reactions that may require them to seek professional medical treatment.
Most of the time, hard water just provides consumption of calcium and magnesium to your diet. That's why water that has undergone water softening still has to be monitored.
When is it time go get a water softener?
If your GPG falls between 0 and 3, you should be all right. You might not even need water softening. A GPG between 3 to 7 can contribute to dry skin and stain spots on your dishes.
If the GPG rises between 7 to 11, this is when your faucets start becoming crusty, pipes begin to develop a lime scale buildup, and porcelain starts forming reddish rings because of too much iron.
Any GPG higher than 11 exhibits the above issues all the time.
Once your water hardness level goes beyond 300 mg/L, you're going to need a water softener. By the time it reaches this point, you're going to start noticing a change in water quality.
The water could taste and look different, there could be more lime deposits around your faucets, water pressure could drop, and a pipe could burst.
Don't wait for anything major to happen because you're a second-guessing the overall cost of a water softening system.
Broken pipes due to lime buildup and a possible trip to the hospital because of a skin infection will cost you more money than getting a water softener.
Never sacrifice your health and safety.
Should water always be soft?
Your ideal water hardness depends on the kind of pipes you have. If you've got PVC pipes, then soft water is preferred.
But if you have metal pipes, water that is too soft can cause leaks and rust, so moderately hard to hard water is recommended.
Houses with gardens or lawns are recommended to have an outdoor water hardness of 121 – 200 mg/L so that the plants can get more nutrients to grow better.
Indoors, soft water is highly recommended if you have dry, itchy skin and hair loss.
Water Hardness Map in USA
The National Water-Quality Assessment (NAWQA) Project conducted a study on 2,100 domestic wells across America.
It found that a majority of Eastern Nebraska all the way down through Western Kansas and Northern Texas had wells that tested for Very Hard water (more than 180 mg/L).
This also included most of Northeastern to Southeastern Minnesota down through the Eastern half of Iowa and most of Northern Illinois and Eastern parts of Wisconsin.
Most of the North Eastern coast showed that majority of the states had Moderately Hard water (more than 60 mg/L, but less than 120 mg/L). Results varied in these parts, with some areas having Soft to Slightly Hard water (less than or equal to 60 mg/L).
A 1975 map on water hardness shows that most of Central America had a larger concentration and probability of more hard minerals diluted into their water.
Hard water regions with more than 100 mg/L of calcium carbonates are the U.S. Midwest, and Southwestern states of New Mexico and Arizona.
Soft water regions with measurements of 1 mg/L to 50 mg/L are found in the Pacific Northwest and Oregon moving through British Columbia.
FAQs on Hard Water
1. How do I remove hard water deposits?
There are plenty of ways to do this, but the most common is the use of heated white vinegar. You can use one part vinegar with one part water, or you can use vinegar at its purest form.
Once heated (do not boil), soak the entire item in the vinegar. Leave for at least one hour, depending on the thickness of the buildup.
After enough time has passed, remove it from the vinegar and wash normally. The deposits should come off easily.
If they don't come off, you can either soak it again in heated vinegar (you can reuse the vinegar from earlier) or use a scouring pad or brush.
Alternatively, if the item is fragile or you don't have enough vinegar to soak it in, you can soak a rag with heated vinegar and place it on top of the hard water deposit.
Leave for an hour or so, then break up the deposit with a gentle brush.
2. Are water softeners good for the environment?
Not really. Water softeners are illegal in some states because they use chloride. Most wastewater treatment plants are not capable of removing it from the water.
Sodium chloride from salt can pollute groundwater and high levels of it can prove toxic to marine life. One small teaspoon of this can permanently render about five gallons of water wasted.
Make sure you really need a water softener before getting one, and you can also limit its use to areas such as the kitchen and the bathrooms. Hard water is good for your plants, and water that is too soft can result in corrosion of pipes.
Water softeners also rely on the number of people living in the house. It usually averages the amount of water each person uses and cleanses that much water for consumption.
Can you soften water if you have copper pipes?
If your copper plumbing is new, then it is recommended to avoid switching on the water softener for a few weeks.
This is to allow enough hard water buildup to coat the insides of the pipe so that it doesn't rust as quickly with softened water.
And, it prevents overconsumption of copper, which is one of the drawbacks of using water that has been treated by a water softener.
Conclusion
Both hard water and soft water come with their own set of pros and cons. Their availability to you may also depend on the laws of your state.
Similarly, the chances of you getting hard water depends on where you live. If you are from the U.S. Midwest, and Southwestern states of New Mexico and Arizona, it is more likely that you will need water softeners.
Otherwise, try and see if a water conditioner may work better for you.
Don't wait too long before opting for a water softener if you're in one of those regions that have hard water. Often, it could be cheaper than suffering from dry skin and repairing busted pipes.
It may seem like a daunting task once you hear terms such as GPG, mg/L, and PPM thrown around. Use the chart to avoid confusion, and make sure to get your water tested before you set out to purchase a water softener.
A good water hardness number is less than 17.1 to 51.3 mg/L. That's the acceptable level of water hardness recommended for most families in their indoor water systems.