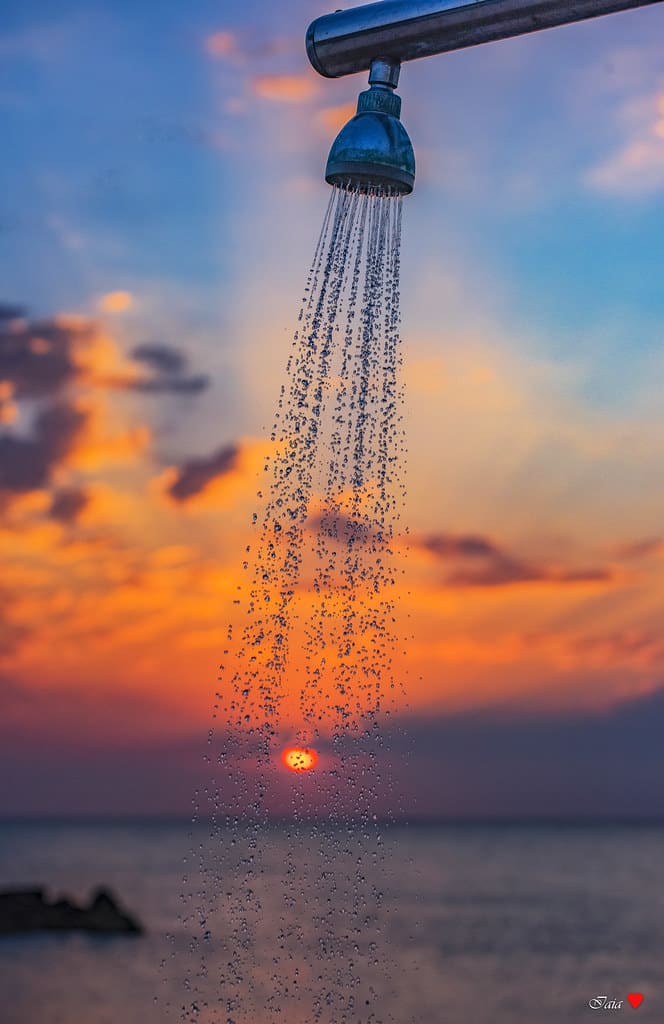 Why does soft water feel slimy? Many people understand the benefits of soft water but they don't like the slimy feel of soft water. So what does it mean when we say that soft water feels slimy?
If you have been using hard water in your home, there are many benefits of switching to soft water. Do you want to reduce the number of cleaning agents? Do you want to cut damage to your appliances as a result of hard water? If that is what you want, the decision to switch to soft water is obvious. When you start using soft water, you notice that it feels different from hard water. The question that lingers in many people's minds is why does soft water feel slimy? Is it normal or is there any cause to worry? This article will answer the question.
What cause the slimy feel in soft water
Hard water contains minerals calcium and magnesium. These mineral deposits make the water feel rough on the skin. Besides, they cause limescale buildup in the pipes and sinks. They can cause even the showers to build up limescale. When softening water, sodium ions replace the magnesium and calcium ions. The softening system uses brine or salty solution to complete the ionization process. The result is salty soft water. This is what gives the water that slimy feel.
When you bathe in soft water, you may feel slippery and slimy. That is what you expect. It almost feels like you have not gotten rid of all the soap. But, when bathing in hard water, it feels hard and rough. This is due to the soap surds that are present on the skin. Soap surds result from the interaction of soap and magnesium and calcium.
Some people don't like the feel of slippery water. The most affected are those people who have recently bought a water softener. If you first start using soft water, you may tend to use the same amount of soap you have been using with hard water. This is the mistake most people make. If that is the case, you should use less soap to reduce the slimy feeling. The whole purpose of softening water is so that you can use less soap. So you don't need to use the same amount of soap you have been using.
Ensure to rinse yourself well to get rid of the slippery feeling. With time, you will get used to using less soap. The same applies to conditioners, shampoos, and other cleaning agents. This is exactly what you want. Use less soap and save money in the long term.
Is there any specific soap I can use for soft water to prevent the slimy feel?
The simple answer to this question is that there is no specific soap recommended for soft water. You only need to use less soap until you get used to soft water.
Why does soft water not rinse off soap?
Contrary to popular belief, it is not a fact that soft water does not rinse off the soap. Soft water rinses off better than hard water. The only reason soft water feels slimy is because the skin is very sensitive. It can tell the difference between soft water and hard water. Hard water contains some dissolved and suspended minerals. It is the reason it will feel rough on your skin.
So your body will notice an absence of friction from hard water limescale. As a result of the absence of these minerals, water will feel smoother on your skin. So when you are rubbing your hand on your skin, the skin does not feel the abrasive minerals.
Hard water inhibits soaps and detergents from working well because of lime deposits. If pipes can get covered in scale crusts, then your skin can also experience the same effect.
In short, soft water rinses better than hard water. The only difference is that no mineral deposits are hindering the smooth flow. That is why one may feel like the water is slimy. What you end up feeling is your natural skin hydration instead of the scaly residues.
Can soft water cause skin problems?
Dermatologists have been preaching about the benefits of minerals on our skins. They have been raging about magnesium and calcium. According to the WHO, the minerals calcium and magnesium don't pose risks on the skin. These minerals are beneficial to the skin.
It is against this background that some folks have had concerns with soft water. The increase in acne disease is an example. When you switch from hard water to soft water, you might experience this problem. But it is crucial to state that soft water does not cause any skin problems. But what we can say is that there are skin benefits of using hard water. If you suspect that your skin is missing calcium and magnesium, you can get the minerals from your diet.
You can also look for a soap that fixes the problem. The majority of soap manufacturers make soaps that contain calcium and magnesium. So this should not be a problem at all. If that does not work for you, you can buy lotion and apply it to your skin every time you take a shower.
You might be wondering whether there is a water softener that can make soft water for bathing only. Unfortunately, there is no such thing. Apart from the ion-exchange water softener, other softeners do not remove the elements. They change the way calcium and magnesium ions interact with soap. But they will still be present. In other words, calcium and magnesium remain in the water as suspensions.
The only benefit of other alternative water softeners is that they don't need you to refill the salt tank. There isn't any salt tank in the first place. Some counties have outlawed ion exchange water softeners because of the resin regeneration. Other than that, ion exchange water softeners are the most popular softeners.
Can water be too soft?
We can say that water can be too soft. As there are degrees of hardness, there are also degrees of softness. Any water that contains less than 1 grain per gallon is soft water. But people don't bother about the degree of softness of water because there is no big difference. But there are different types of soft water. It all depends on the source and the softening method used.
There are 7 types of water softness and their effect on the skin.
Ion Exchange (Salt-based) soft water
Ion-exchanged soft water is the most common soft water. This water result from the ion exchange of calcium and magnesium ions with sodium ions. The resultant soft water is salty. Ion exchange softener completely removes all hard water-causing minerals. But they do not remove other chemicals and bacteria that may be present in water. This type of soft water uses very little, and the water is very slimy.
Salt free soft water
A salt-free softener works in a different manner from the ion-exchange softening system. Here the minerals causing water hardness are not removed from the water. Instead, they pass through a neutralization process. This is to prevent them from reacting with soap. Please note that they are not removed from the water. It means that scales will still clog your pipes and home appliances.
The advantage of this type of soft water is that it doesn't feel slimy. The suspended minerals cause roughness on the skin. If you don't like the salty taste in your water, this type of soft water may be good for you. Also, this type of soft water is good for your skin because the minerals are still present in water.
Reverse osmosis soft water
Soft water produced from the reverse osmosis system tends to be very healthy. The reverse osmosis system removes every substance in water. It then replaces them with essential minerals. A reverse Osmosis softening system is installed under the sink. They are usually reserved for drinking and cooking. An example of reverse osmosis softened water is pure water. There is no ion exchange that takes place here.
Chemically softened water
This soft water comes from removing hardness ions from water on a large scale. The process uses a chemical known as sodium Tripolyphosphate. Expect this type of soft water to feel as slimy as ion exchange soft water.
Natural soft water
Rainwater is a good example of soft water. This is the purest form of water that is free of any ions. That is why rainwater does not feel as slimy as ion exchange soft water.
Here are a few things to keep in mind.
Sodium exchange softened water tends to feel the slimiest with soap. The reason being that soap contains a substance called the lyre. The excess sodium ions and soap produce a smooth feel. If you want to reduce the slimy feel caused by soft water, use potassium-based soaps. A good example is the potassium hydroxide liquid soap.
The same case applies to soft water from chemical processes. They use the same concept where sodium ions replace calcium and magnesium ions. This happens on a large scale. Use potassium-based soaps like potassium hydroxide liquid soap.
Natural soft water contains no sodium ions. Thus, there are no ions exchanged. Bathing in natural soft water will not feel as slimy as ion-exchanged soft water. We are not saying that this water is not slimy. It is still slimy, but not as the ion-exchanged soft water. The same case applies to purified soft water or reverse osmosis soft water.
Please note that high PH soaps produce a more slimy feeling than low PH soaps.
No matter the type of soft water or the PH level of the soap you are using, you are still going to feel some form of slimy feel. The slimy feeling doesn't completely go away. But this should not be something to worry about. It doesn't mean that the water has failed to rinse off the soap. If you still hate the slim feeling when you step out of your shower, you can try the following tips:
Try to use less soap
Sometimes using less soap can solve your problem. Do not use the same amount of soap as you have been using with hard water. Pay close attention when lathering your bathtub. When loading the washing machine, try to reduce the amount of soap or detergent by 1/2. The less soap you use, the less hectic your rinse will be. Expect cleaner whiter garments when using soft water compared with hard water.
Try to use pure soap
Did you know that some soaps contain softening agents in them? The assumption is that most people live in hard water areas. That is why soap manufacturers lace the soaps with softening agents. If you are using such soaps with soft water, the slippery feel will get worse. You should also avoid soaps that contain additives like dyes and perfumes. Soft water increases the effectiveness of soap if such additives are present. Pure soap remains the best bet with soft water. You can also look for liquid soaps with regular ingredients.
Try to get used to the soft water
After all, you have to get used to soft water. There is a remarkable difference in the way you feel with hard water and soft water. With time, you will get used to it. You will love how your skin feels healthy and moisturized. The lack of hardness in water will also make your hair look vibrant. The benefits that come with using soft water will overshadow the slimy feeling. You forget the itchy skins and brittle feel of the hair when you finally get used to soft water,
Conclusion
Feeling slimy does not mean that soft water has failed to rinse the soap. Instead, it means that there are no hardness elements in water to cause the roughness. It should be a good thing. It also means less detergent and long-lasting showerheads and pipes. If the slimy feel bothers you, try using less soap. You can also try potassium-based soaps with low PH. In the end, learning to get used to soft water is the best thing to do.