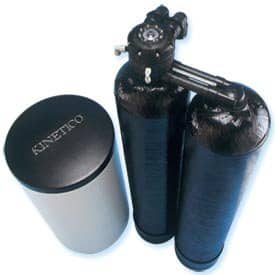 Nothing is more frustrating than a leak you cannot seem to find. Whether it is in the plumbing, pipes or water softener, that leak can ruin your day.
However, if you know where to look for the leak and how to fix it, it can save you many headaches, time and money. Here is all you need to know about water softener leaking and how to repair it.
Can a water softener leak?
Anything that consists of plumbing, drain lines and water can leak. And a water softener is not any different.
However, how first you find the leak and act can determine how much damage you can prevent. More importantly, you should be able to figure out the type and the size of the leak.
The last thing you want has a bigger mess in your hand. Therefore, you should act quickly and collect all the information you need about the leak.
And considering that there are many installations and system setups involved with water softeners, there are numerous ways that it can leak through. It can be a crack in the pipe or an overflow in the tank.
Signs that you have a leaky water softener
There are at least two ways you can tell that you have a potential leak. The first and more obvious sign is a puddle.
You can find one forming on the ground as the water from the leak keeps dripping. The drip should tell you how big the leak is because the more water will drip, the bigger it is.
The second but not so obvious sign is regeneration taking longer than usual. That may be because there is less water remaining in the tank due to the leak.
Why is your water softener leaking? How to fix a leaky water softener
If you find a leak, it is time to determine where it is coming from and fix the problem. The sooner you find the source of the problem, the faster you can fix it.
Plus, considering that numerous parts of the water softener may be culprits of the problem, it is best to do a full sweep.
That way, you can rule out the parts without defect until you find the source of the leak. Here are some of the reasons for a leak in your water softener.
Leaking water softener bypass valve
If you see deposits of mineral build-up anywhere on the valve, it means that your bypass valve is leaking. You may need to buy another bypass valve if you do not have a rebuilding kit.
Possibly, you got a rebuilding kit when you bought your water softener. All you need to do then is replace the O-rings, and you are good to go.
Leaking water softener O-rings
As part of your maintenance routine, you need to lubricate the O-rings every twice or thrice a year. If you fail to do so, they may not work correctly, and a leak is inevitable.
However, you do not have to struggle to fix the issue. All you need to do is lubricate the O-rings and ensure that you do so every time you open the casing.
But if the problem persists, you need to replace the O-rings with new ones. The problem may be that the old ones are worn out.
Leaking water softener resin tank
A crack in the resin tank can be the cause of a leaky water softener. The damage may be in one of the connection lines or at the side of the tank.
It is easy to recognize this leak because water will drip from the crack itself. And there are several ways you can fix the problem.
Firstly, you should check if you still have a warranty. If so, the company can replace the damaged one.
But if your warranty expired, you need to fix the resin tank yourself. But don't worry. It is not as much work as you imagine.
You can start by checking where the problem in the resin tank is. Once you find it, trace it to see the damage and whether you can repair it.
You can then clean the resin tank and prepare for a DIY fix. If it's the connection pipes leaking, you can try re-tightening them.
If that doesn't work, you can check the O-rings to ensure they are in good working condition. Suppose not, and you can replace it.
However, if you find the resin tank's crack, you can fix it by applying epoxy on the crack to seal it. But, you need to ensure that the epoxy is not only an excellent waterproof but can also handle salts well without damaging rapidly.
A leak from the bottom of the water softener resin tank
Sometimes, the crack on the resin tank may not be around it but under it. And you may notice the leak coming from there.
First things first, you should turn off your water softener. You then have to clean and prep it before you do any repair.
You should also know that not all cracks are repairable. In some cases, it is better to replace the resin tank than repair it.
But if you trace the crack and find it is small enough to fix, you need to find the perfect epoxy made for this exact task. Apply it with care.
Leaking water softener hose
If you find out your hose is leaking, you need to find the exact place on the leak. In most cases, it is usually a loose connection.
And all you need to do is tighten it. However, a worn-out hose may be causing the leak and not the connection.
If that's the case, you need to turn off the water softener, disconnect the power and remove the old worn-out hose.
Finding a replacement is not difficult. And you can replace the hose in less than an hour.
Water softener drain line leaking
Your drain line may cause a leak due to any number of reasons. One may be poor installation.
If that is the case, you correct it by ensuring a proper amount of air gap. And re-install it properly.
The second cause may be a crack or a blockage. You can readily notice this leak by following the water trickle along the drain line.
Where the trickle ends is where the crack is. You should check for any blockage causing the damage and fix the issue immediately.
It is always best to replace the drain line if you can't seem to find the blocking.
Brine tank leaking in water softener
Your brine tank may leak for several reasons. And you should correct the issue immediately.
A common reason for the leak may be a faulty tank with a crack. You should contact the company with the warranty and get a replacement.
If your warranty period is over, the company may offer you a discount or even do a free replacement.
You may also have a leak coming from below the brine tank or on its side. You can fix this with epoxy.
But first, you need to clean and prepare it for the setting. While at it, ensure that your epoxy has a repair rating for this task.
What caused the leak? It may be an effect of recent schedule maintenance.
Leaking water softener from overflow
You may have overflow issues if your brine tank float valve is stuck. Or the overflow may be due to a flawed control head.
If either is the case, your brine tank will overfill because nothing is regulating it to stop. The best way to fix this is by replacing the brine tank float valve.
You can also check if the valve and the brine line inside the tank connect properly. If everything is perfect there, then the problem may be due to a blockage in the valves or line.
It would be best if you cleaned these out.
A leaky water softener from the top
Suppose you notice your water softener is leaking from the top, two places may cause the issue: the rotor valve and the O-rings.
If your water softener is old, then the issue may be the rotor valve. That's because your softener receives water via it.
A leak from the rotor valve may be due to a crack. And a replacement will suffice.
If your rotor valve lacks any signs of cracking, then the seals may be the issue. Once you replace these, you will have no more leak.
However, the issue may not be the rotor valve but rather, the O-rings. You should ensure that they are in pristine condition and fully functioning.
If not, find a replacement immediately. But that's not all.
The issue may be from the O-rings in the bypass valve. You can either try lubricating them or find replacements.
Either way, you should do so before they fail when they hit the 15-year mark.
Should you fix your water softener or call a professional?
The best way to decide whether you should hire an expert or do it yourself is to determine the type of leak you have. In most cases, the issue is fixable and straightforward.
You can handle the quick fixes and leave the complex ones to professionals. It usually takes half an hour to get the job done.
It would be best if you also considered the aspect of time and money. Not everyone has enough time to look for leaks and fix them.
If you fit into this category, then hiring is a better option. If you can cover the costs of repairs effortlessly, you should opt for a professional.
One last thing. It would be best if you went through the rules for warranty coverage.
Some warranties will become void if you handle the repairs instead of a professional doing it. And yes, the company will know.
The company can check for any signs of alteration from the originals and deny you a replacement when you need it.
How much does it cost to fix the water softener if it is leaking?
If you have a big leak that you cannot fix on your own, it would be best to have a professional do it.
In most cases, it may only cost between five and ten dollars to fix the faulty softener. However, you may have to pay some professionals per hour to do a complete checkout and fix.
That may prove costlier. But it is also more rewarding.
If they find any defect in your water softener, they will be able to fix it immediately. And save you a bigger future mess and repair costs.
Besides, a professional may do a better job than you would have. But if repair costs prove costly, you may have to do it yourself.
How to know your water softener is defective
Leaks are not the only issue you may have with your water softener. Here are other symptoms that should push you to work.
Water overflows due to a defective rotor valve or faulty brine valve
Defective water meter due to bypassed water flow to the softener, faulty timer or a damaged water flow meter
Softener is not using salt due to a clogged venturi, failure in motor valve, defective timer e.t.c
Leaks caused by poor installation, loose connections or defective rotor
Resin beads in water caused by damaged seals in resin tank, damaged screen and destroyed upper distributer
You are getting hard water caused by a clogged venture, empty salt tank, lack of resin, damaged position switch of the rotor e.t.c.
Water is salty due to a clogged hose, a leaky or a defective rotor valve e.t.c
Final thought
Fixing a leak in your water softener can prove a walk in the park if you have the right tips. With this guide, you can not only find the leak faster but also diagnose and fix it fast as well.
Your water softener may also have other defects that you can diagnose and get professional help if necessary. The faster you find the problem and fix it, the lesser chances of you getting a headache from a faulty system.
For more information, feel free to contact us.