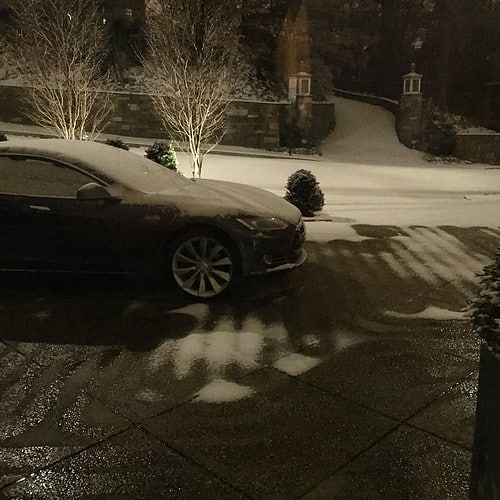 Can I use water softener salt on my driveway? Salt is used in a variety of ways. From cooking to water purification to melting ice, salt plays an important role.
It's November, and you are probably bracing for the coming winter. While we love the snow and cuddling in front of a fireplace, ice can make life miserable.
Winter months will mean frozen and snow-packed yards and driveways. Luckily, salt helps when ice freezes and shoveling becomes futile.
But can you use any type of salt? Can you use a water softener in your driveway?
Let us find out the answer.
How Does Salt Melt Ice?
To understand this, we need to look at the science behind it. Water freezes at 32 degrees Fahrenheit or zero degrees Celsius.During winter when your driveway freezes. A thin layer of water sits above the ice.
The water continuously warms and melts the ice and the ice, in turn, continues freezing the water. At a fixed temperature, the volume of water and ice stays the same.
But it the temperature drops, the volume of ice increases. And if the temperature rises, the volume of water increases
If you sprinkle salt on your frozen driveway, the sodium chloride lowers the freezing point of the water.
So, the ice which has a fixed temperature cannot freeze the water. The balance is broken. The water will continue to melt the ice.
Once the ice melts, it also melts the salt, which mixes with the water and spreads. This way it can cover and deice a large area.
How Does Water Softener Salt Melt Frozen Driveway?
Water softener salt can be solar salt or evaporated salt. These are purer grades of salt compared to rock salt which is used to deice roads and driveways.
They all have almost the same contents, but water softener salts have fewer impurities. Because they are pure, they are even more effective as deicing agents.
Is It Safe To Use Water Softener Salt In My Driveway?
Water softener salt is used in home water softener systems. Some of its contents can get into the water we drink and cook with.
So, it is safe to deduce that, health-wise, salt used in water softeners is safe alternatives to melting ice in the driveway. It is a child and pet-friendly alternative to road salt.
How To Apply Water Softener Salt On Frozen Driveways?
Here are easy and simple steps in using water softener salt to melt the ice in your driveway.
Get a bucket of water softener. The amount would depend on the size of the area you want to deice.
You cannot use salt block and salt pellets for obvious reasons. Salt crystals will work best. You can get more coverage, and it is easier to apply.
But if you only have a salt block or salt pellets, you can just crush and ground them.
Before you sprinkle them, make sure you have a systematic plan to avoid wastage of salt.
Unlike rock salt that has hues of pink, gray, and brown, water softener salt is very white. It can make application a lot harder because you can not see what areas already have salt.
After a few hours, you will notice that ice and snow have melted. If you are leaving early in the morning, it is best to salt your driveway the night before.
Downsides Of Using Water Softener Salt On Frozen Driveways
Although it has its benefits, water softener salt can cause some problems.
Salt damages concrete – The biggest one is its effect on your concrete driveway. Concrete is a porous material. It means it has a small hole where water and air can enter.
So, when the ice melts, water is absorbed into the concrete. Water does not harm the concrete.
But, if you use deicing agents like salt, the minerals in the salt are also absorbed in the concrete.
These minerals can cause damage. They can corrode the concrete and cause cracks, bumps, and breaks to develop.
Concrete contains calcium hydroxide. When it comes into contact with salt, the calcium hydroxide bonds with the calcium chloride in salt.
It results in calcium oxychloride (CAOXY). This substance is absorbed into the concrete. When the temperature drops to freezing point, it also freezes the water inside the concrete.
When the water freezes, the COAXY in it expands. It causes bumps and cracks in the road and pavement.
Salt damages asphalt – Same with concrete, water softener salt can also destroy an asphalt pavement.
The thawing and freezing cycle during winter can create cracks and bumps on the surface.
Salt makes the soil unhealthy – While salt is safe for humans and pets, it can be harmful to plants.
If you use salt as a deicing agent, the salt mixes with the water when it thaws. The salt dissolves. When it does, the bond between the sodium and chloride ions break.
These elements, along with other minerals in the water, wash onto the soil around your driveway.
When they seep into the water, they get absorbed by plant roots. They travel to the leaves and collect there at toxic levels.
It causes scorching in the leaves. So, if you notice your plants or the grass in your lawn are browning in the cold season, salt may be the likely culprit.
How To Combat The Effects Of Softener Salt On Concrete And Asphalt
Here are some ways you can avert damage caused by salt.
Apply concrete and asphalt sealant – You can get around the concrete and asphalt damage by applying the sealant on your driveway.
Sealants work with water repellants like silanes or siloxanes. These two are sprayed together and get absorbed in the concrete and asphalt driveway.
It creates a hydrophobic silicone coat inside the concrete or asphalt. It plugs the pores in the surface preventing water to seep into the concrete. If water cannot penetrate, the minerals from salt can not also seep through. It averts any potential chemical damage. Do the sealing before winter comes. It will give the sealant time to harden.
Also, sealing during winter can be ineffective. While the surface can appear dry and free of ice, underneath, there is ice in the pores of the concrete.
So, putting the sealant will be futile because once the ice thaws, the pores will open up.
Use strong concrete – It is only applicable if you are in the process of constructing your house or during renovations.
The quality of the concrete will determine its durability. Using a stronger concrete mix will reduce the risks of damage caused by chemical expansions.
The minimum strength should be 4,000 psi.
Also, choose an air-entrained concrete. This type of concrete allows air to enter voids in the concrete during the freezing season.
The air void reduces pressure caused by the expansion of CAOXY.
Avoid using a metal shovel – Concrete and asphalt are also susceptible to wear and tear.
Do not use metal shovels or metal blades. When the metals scrape against the concrete, it can cause more breaks in the surface, creating bigger holes for water and salt to seep through.
You can use plastic or vinyl shovels instead. They do the work with less damage to your driveways.
Free up drainage – Make sure your drainages are not clogged. Remove the lids to let the water out when the ice melts.
It prevents ice melt from pooling on the surface of your driveway, limiting the amount of water and salt that enters the concrete.
Other Chemical Deicers
Aside from water softener salt and rock salt (halite), you can buy other chemical deicing agents.
Calcium magnesium acetate or CMA – Calcium magnesium acetate is a common substitute for salt in unfreezing roads.
It's an eco-friendly option because it is biodegradable and not toxic. It comes in solid and liquid forms.
But unlike other deicers that melts the ice, it works by preventing water and snow from freezing.
It can create problems in sidewalks because the melted ice becomes a slush. It wets the boots and makes the pavement slippery.
But on the bright side, it can make shoveling a lot easier.
The ideal time to apply this is before a snowstorm hits. It prevents the snow and ice from bond and freezing.
The application and amount are similar to road salt. But during the first time, you should sprinkle more generous amounts. The succeeding applications can be lesser.
Corn-based deicers – They are created by mixing polyols and juice from corn and salt-brine (amount varies).
There are various corn-based deicers available in the market. One example is safe walking.
They are safe for plants and pets. But like other deicers, they are more expensive.
Safe paw – This deicing agent is advertised as eco-friendly and safe for plants. It is also nonallergen and does not have corrosive properties.
It is made from glycol and carbonyl diamine. It comes as little blue pellets. Its components attract traps heat ensuring an efficient endothermic reaction that hastens to melt.
This product, however, is more expensive than road salt and water softener salt.
Calcium chloride –
Calcium chloride is a type of salt. It is more effective than sodium chloride when it comes to melting ice.
This type of deicer absorbs moisture from the environment. The process causes an exothermic reaction. The heat generated is what melts the ice.
Natural Deicing Alternatives
Though water softener salt is cheaper than road salt, there are still other alternatives that cost less.
Here are some practical deicing ideas for you.
Do it yourself ice melt solution
You can easily make your ice melt solution at home.
You will need:

Half gallon of warm water
One tablespoon of rubbing alcohol
One to two teaspoons of dish soap

You simply mix these three ingredients in a bucket of a sprayer.
It's the cheapest and easiest method to deice your driveway.

Beet juice
Beet juice in itself cannot melt the ice. It needs to be mixed with brine (salt and water solution) to become effective.
It works well in regions with lower temperatures.
Beet juice boosts the effect of salt. Beet juice can lower the freezing point of water down to -20 degrees.
You can buy a pre-packed beet juice, or you can also make it. Fresh beet juice is a safer choice because it has no additive that can potentially react with brine.
Brick sand
Sand is technically not a deicer. But it is helpful to know that sand can enhance traction on your driveway.
Adding sand on ice and concrete will make it less slippery and prevents accidents.
Any type of sand will do nicely. But if you brick sand has bigger grains which gives greater effect with a lesser amount.
Coffee grounds
If you're a coffee drinker, this can be a cool way to recycle your coffee ground.
The coffee ground can melt ice. But its deicing capability is significantly lower than chemical deicers.
The good thing is they can also add traction to your frozen driveway.
Fireplace ashes
Ashes can do two things.
One, it helps melt the ice. Ashes warm up quickly and have the ability to absorb solar heat. It makes it an effective deicer.
Two, like sand, it can provide traction on slippery icy pavements.
Any ash will do, but fireplace ash is the most accessible during the winter months.
Frequently Asked Questions
What Is The Safest And Best Deicing Agent To Use?
There are a lot of choices for deicers. We have discussed chemical deicers and natural homemade deicers.
If you are looking for efficiency, costs, and impact on the environment, we suggest calcium magnesium acetate.
While it can cost more than your ordinary rock salt, it is more efficient.
Moreover, CMA does not produce any harmful effects on plants and animals.
The second choice would be calcium chloride. It is effective and has longer-lasting effects.
Where Can You Get Commercial Deicers?
Deicing agents can be bought in any local neighborhood hardware store. You can also buy them online.
Thrift tip: if you want to cut costs, buy them in bulk before winter arrives. They are much cheaper off-season, and they do not expire immediately.
Which Deicers Are Safe To Use On Concrete Driveways?
There are varying types and brands of deicers, but most of them can cause damage to concrete.
Research suggests that solar salt mixed with anti-corrosion chemicals eliminates the risk of damage.
Safe paw is one product that claims to have anti-corrosive agents.
You can also use DIY ice melters by combining warm water, dish soap, and rubbing alcohol.
Different Kinds Of Water Softener Salts
There are two main types of salt used in water softeners. The most common one is solar salt.
Solar salt comes from lakes, seas, oceans, rivers, and underground reservoirs. It is produced using natural evaporation and wind power.
The purity of solar salt ranges from 96% to 99%. It means that it contains a minimum of 96% of sodium chloride.
It makes it an effective water softener and deicing agent.
The second type of salt is evaporated salt. It is also produced using the evaporation method.
But the process is less natural. It is made in a factory.
It involves drilling at least two wells into the salt bed and pumping down water in. The water reaches the salt bed and dissolves the salt.
The water carries the salt with it as it is pumped out. After this, the brine is placed in vacuum pans that are connected.
Steam is used to separate the water from the salt. The process yields the purest kind of salt.
While it wins in purity level, evaporated salt is much more expensive. That is why solar salt is most commonly used for water softeners.
How Is Water Softener Salt Different From Rock Salt?
Road salt is also known as road salt or sidewalk salt.
Rock salt is harvested from salt mines. It goes through less processing than the other forms of salt.
Because of this, it has more impurities. It contains clay, shale, and other mineral particles.
It makes it perfect for melting ice.
Water softener salt, on the other hand, is made to be purer. It is because additional minerals can damage the water softening system. They need to be processed and cleaned of most impurities.
You cannot use rock salt for water softeners because it can risk clogging up the system. And in the worst cases, it can destroy it altogether.
Water softener salt, however, can effectively substitute rock salt as a deicing agent.
It is more efficient than rock salt.
Conclusion
Water softener salt is an excellent alternative to rock salt. It effectively melts the ice and prevents it from freezing again.
But there are disadvantages to using salt as a deicing agent.
Salt can damage concrete and asphalt pavement. It can also be harmful to plant.
If these bother you, you can always switch to more eco-friendly and safer alternatives.
There are various products in stores that are safe for plants and animals that do not have corrosive agents.
If you cannot find one on google, you can always have a store clerk assist you when you are shopping. This way, you can ask how to apply it and how much you should use it.