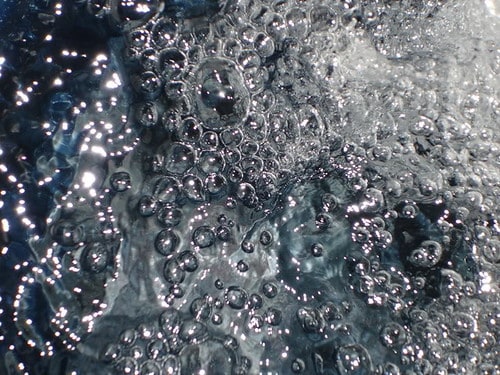 Can you be allergic to a water softener?
Water can either be hard or soft. Hard water is unfiltered water. It contains natural minerals like magnesium and calcium. When these minerals are removed, the water becomes soft.
Most of the time, people do not prefer hard water. It can destroy appliances. Also, the mineral in the hard water can cause itching and other dermatological problems.
Although soft water is generally healthier for the skin, some people can be allergic to it.
How Do Water Softeners Work?
The selling point for water softeners is, it makes the water healthier and safer.
Water softeners work by removing the minerals like calcium and magnesium from the water. It uses ion exchange technology to attract the mineral ions and separate them from the water.
Softened water does not destroy home appliances, and it is gentler on the skin. Once filtered through the system, all the particles and minerals will be removed.
Studies show that soft water makes the skin healthy and moisturized. It makes you look young and vibrant.
Effects Of Hard Water On The Skin
The skin has thousands of pores. The pores release sweat and oil. The oil is the body's natural way of moisturizing the skin. If you bathe or wash with hard water, the minerals and other particles in the water get lodged in the pores.
It creates a blockage. Instead of being released, the oil collects under the skin. If this happens, pimples can form. And if the pimple break out gets worst, it can develop into acne.
Also, hard water can cause dry and itchy skin. People who have eczema can experience more irritation.
How Water Softeners Cause Allergic Reactions
Our bodies can react differently. While soft water is safer for most, some can develop allergies to it. The allergy can be from the chemicals that are added to the softening process.
We have discussed one process of softening water. That is using the ion exchange.
There is another method. It involves using softening agents or chemicals to form insoluble precipitates. These chemicals include:
Borax
Ammonia
Trisodium phosphate
Soda ash or sodium carbonate (it is also known as washing soda)
Slaked lime or calcium hydroxide
But this can be an effective method in softening water on a smaller scale.
Nevertheless, water that is softened this way has a greater chance of triggering allergies. The chemicals and the precipitates that form can be left on the skin.
Another reason why soft water can cause allergic reactions is, the scum in hard water can create a skin barrier. It means that people who have allergies to the scum avoid getting reactions.
When bathing with hard water, the particles get stuck on the skin. It creates a coat-like barrier preventing the interaction of certain chemicals in the water (like chlorine) with your skin.
Also, industrial softeners using ion-exchange uses brine water for cleaning. Brine water is a mixture of salt and water. The salt particles can cause allergic reactions to some people. If you have an allergy to ocean water, there is a chance you can also be allergic to softened water.
Although, ocean water has significantly higher amounts of salt. You can fix this by rinsing your tank repeatedly with water after cleaning.
How To Check If You Are Allergic To Softened Water?
If you have allergic symptoms after installing a water softener, there is a great chance you are allergic to the softener.
You can consult with a dermatologist and have your rash looked at. He may recommend a change of soap or lotion. If this doesn't help, the likely culprit is your water softener.
Symptoms Of Soft Water Allergy
Allergies to soft water can present in several ways including:
Severe reddening on the skin or erythema
Hives
Inflammation
Rashes
Welts
Skin itchiness and irritation
Lesions
Burning sensation
Difficulty breathing (only in severe cases)
Tips To Treat Soft Water Allergy
If you encounter a mild or less serious allergic reaction from using soft water, you may want to try doing these:
Avoid contact – The obvious way to prevent allergies is to avoid contact with the trigger.
If you suspect the soft water, then try not to use it next time. Observe and see if it improves your condition in a couple of days.
If it doesn't, soft water may not be the cause of your allergies.
Change your soap, lotion, body cream, and perfume. These may be what?s triggering your allergies. New clothes and food can also be possible triggers.
If the symptoms persist, you should go and visit your doctor.
Apply anti-itch creams – There are a lot of anti-itch creams that are commercially available.
Calamine lotion and hydrocortisone can work.
Wear loose clothes – Tight-fitting clothes will irritate your skin more.Try putting on baggy and light clothes.
Cool compress – If your skin becomes itchy and fiery, avoid scratching and rubbing it. It can cause bleeding and infections.
Try using a cool compress by showering with cool hard water. Do this only if you're sure that soft water is the cause. Otherwise, you may be making it worse.
You can also get a face towel, dip in cool water and place it on the itchy or burning areas on your skin.
Colloidal oatmeal – Colloidal oatmeal is ground oatmeal mixed with warm water.
It helps with skin inflammation.
When making this, do not use hot water. It can result in dry and irritated skin, or worse, it can burn you.
Seek medical help – If the symptoms do not get better or get worse, it is better to call or visit the doctor.
Other Health Problems Caused By Soft Water
Aside from allergies, another major health problem caused by soft water is increased sodium content.
During the ion exchange process, the mineral ions (calcium and magnesium) are replaced by sodium ions. It increases the amount of your sodium intake if you drink from the tap.
Higher sodium can cause elevated blood pressure.
To be safe if you have high blood pressure, consult your doctor before drinking soft water.
How To Reduce Sodium Levels In Water?
You can lower the amount of sodium in your tap water by:
Using a separate water source for drinking and cooking. Use filtered or mineral water instead.
Ask a plumber to disconnect the cold water from your water softener system. This way, only the hot water that is used for bathing and laundry contains sodium.
Change or pick a softening system that does not use salt or sodium.
Conclusion
While soft water is recommended, some people can be allergic to it.
The chlorine, salt, and other chemicals used in the softening process can trigger allergies.
If you experience symptoms of allergies after using soft water, you can follow simple home remedies to treat them.
Home treatment includes avoiding contact, using anti-itch creams, cool compresses, and using baggy clothes.
If this doesn't improve your condition, do not hesitate to go to the doctor.