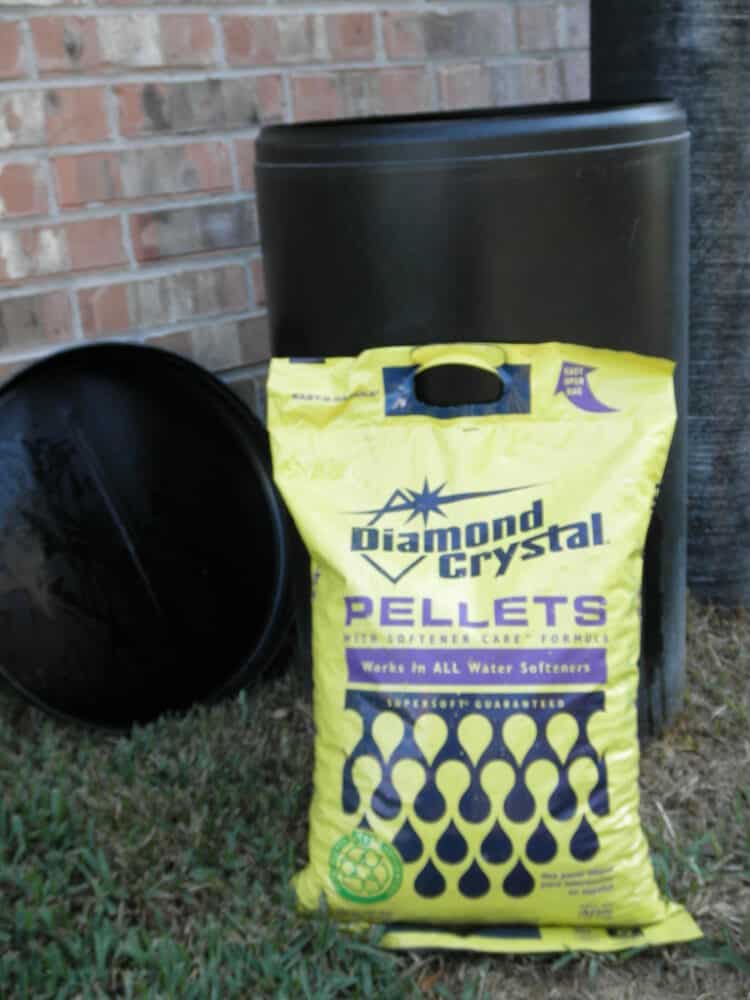 You've had it with the problems hard water causes. You need a water softener. The question is, what regenerant should you get? The water softener salt vs potassium argument may make it hard for you choose. They both work as regenerants but which is better for you?
Sodium water softeners and potassium water softeners do the same job. Yet, there are some major differences between them.
When you decide to spend money on a water softener, you want to ensure you get the best.
There are advantages to using each of these water softeners. But, they both also come with disadvantages.
Here is everything you want to know about potassium vs sodium water softeners.
We've also added a few frequently asked questions to help your decision along.
Why Do You Need A Water Softener?
You use a water softener to soften your water. What do I mean by that?
The water coming from your pipes has mineral and metal traces in it. In some areas, the water may contain higher levels of minerals and metals than others.
Now, these minerals and metals are not all bad. They might even be healthy for you to consume. But, they do not all treat your home and the things inside it well.
The minerals calcium and magnesium are what you need to watch out for more. They are what makes your pipe water hard.
Reasons Why You Do Not Want Hard Water
Limescale buildup
Minerals such as magnesium and calcium create a substance called limescale. Over time, it grows and spreads throughout your plumbing system and clogs them. The build-up of these minerals causes corrosion over time as well.
Damages Skin And Hair
Minerals in hard water also leave deposits on your skin and in your hair. They cause your skin to feel dry and itchy. You end up spending a lot more money on beauty products to reverse the effects of hard water.
Makes Clothes Dingy
Do your clothes look dull and older than they are? It's not the fault of your detergent. That's your hard water at work.
Water Spots And Ugly Stains
Hard water causes unsightly stains that look like rust on surfaces. It also leaves water spots on glass and cutlery. So even after you've done the dishes, they sometimes still look dirty.
Damages Appliances
Limescale buildup ruins appliances. It causes your appliances to work harder which shortens their lifespan. These appliances include:
Washing machines
Dishwashers
Water heaters
Kettles
Coffee makers
Soap Scum
When minerals mix with soap, they create soap scum. Soap scum which collects in bathtubs, toilets, sinks, and is hard to clean.
Foul Odor And Bad Tasting Water
The foul odor and terrible flavor does not make hard water bad for you. But they do make it hard to drink.
For all these reasons, water softener devices are essential tools to have in your home.
But water softening devices do not work to soften water on their own. They need help from water softening salts to treat our water supply.
By doing so, they protect you and your home from the harshness of calcium and magnesium in your water.
Any water that contains more than 3.5 grains of calcium and magnesium per gallon is hard.
How Do Water Softeners Soften Water?
Water softeners have two tanks. The first tank is a media tank, and the second is a brine tank.
Water passes through the media tank first. Inside the media tank are a whole bunch of teeny resin beads. Hard water flows through these beads. The magnesium and calcium stick to those beads. The water that comes through your pipe no longer has calcium or magnesium in it.
So, that's the way water softeners soften water.
Why Do You Need Potassium Or Salt In A Water Softener?
A meter inside the media tank measures how much water you use. After so many gallons, too much magnesium and calcium build up on the resin beads. They can no longer soften your water. At that point, both the tank and beads are due for a cleaning.
The process of cleaning the tank and beads is called regeneration. That's because once you clean them out, you get to use them over and over again. It's a cycle. You do not need to throw out your resin beads to add new ones.
That's where the brine tank and either potassium or sodium water softener salts come in.
The brine tank is where you store either the sodium or potassium water softener salts. The sodium or potassium salt mixes with water in the brine tank and creates a brine solution.
A tube sucks the brine solution into the media tank, so the brine solution washes over the beads. It unsticks the calcium and magnesium that cause water hardness. Once free, the calcium and magnesium build up flush through the drain.
The next stage is the rinse cycle. During the rinse cycle, clean water washes over the beads. When that happens, the water clears away any hard water minerals left behind. It also cleans the brine away.
About Sodium Water Softener Salt
A sodium water softener works through a system called ion exchange. Ion exchange is the same process described above. It removes calcium and magnesium from your water.
Here's what you should know about sodium water softener salt.
Cost
A 40-pound refill of water softener salt costs about $25. An average four-member family goes through about 10 pounds of salt per week to soften water. That family uses about 13 bags of sodium for a year for a total of about $312.
Taste
Salt as a water softener adds a small amount of sodium to your water but not enough to change the way it tastes. It adds about 8 grains of salt to every gallon.
Health
Using sodium as a water softener does add trace amounts of salt to your water. But it does not add enough to affect the health of most people. If you need to lower your sodium intake, consult a doctor about using this kind of water softener salt. Persons with no health issues related to sodium are okay to use a sodium-based water softener.
The Environment
Two kinds of water come from your water softener. The first is soft water which is why you got a water softener. The second kind is wastewater produced in the regeneration cycle.
If you are concerned about the environment, sodium water softeners come up short here.
Sodium-based water softeners produce wastewater. When drained out of your softener system, small amounts of chloride seeps into the ground. Over time, the salt content builds up.
An elevated chloride level is harmful to the soil and groundwater. If it gets into larger bodies of water, it is also toxic to aquatic animals.
But, a sodium water softener helps the appliances in your home that use water function better. By getting rid of limescale, your appliances will work the way they should. When that happens you save on the cost of energy.
How can you avoid this problem? I think there is only one thing you can do. Try to find a way to dispose of wastewater so that it does not harm the environment.
About Potassium Water Softener
Potassium water softeners also work using an ion exchange process. They work the same way that sodium water softeners do.
In case you do not remember what that is, here is a quick recap. The potassium water softener removes calcium and magnesium from your water.
Potassium softener devices have a media and brine tank. They have resin beads that remove minerals from water. And, they also go through a regeneration process described earlier. We will pay closer attention to the differences between the two a bit later.
Here are a few things you should know about using a potassium water softener.
Cost
A 40-pound refill of potassium chloride water softener costs about $45. That's $21 more than sodium. It might not look like much now, but the numbers add up because of maintenance. Remember, you need to refill your potassium water softener ever so often.
An average 4-member family uses about 10 pounds of potassium chloride every week. For the year, that family needs at least 13 bags 40-pound bags. That comes up to about $585 a year. Plus, you have to use a lot more potassium to soften the same quantity of water that a sodium softener treats.
What do these numbers say? Potassium salt in water softener devices is not as capable per pound as sodium. In the end, you will end up spending more than $585 a year.
Taste
Potassium as a water softener adds trace amounts of potassium to your water. That small amount is not enough to change the way the water tastes. It adds about 8 grains of salt to every gallon.
Health
Potassium is a type of salt, but it has 70% less sodium than your salt-based water softener. So, for persons on a sodium-restricted diet, a potassium water softener is safer for you to use.
Small amounts of potassium do escape into the water in your pipes. But that amount is lower than the amount of sodium that remains if you use a sodium chloride softener. And potassium has a lot of health benefits. So this is not a problem.
Environment
Potassium-based softeners also produce two kinds of water. They soften the water that comes through your pipes. But like sodium-based softeners, they also make wastewater.
The difference is that potassium chloride wastewater is friendlier to the environment.
In fact, potassium is a product used in agriculture. So, if you are wondering if watering plants with potassium softened water, it is not a problem.
In the same way that potassium is good for the body, it is also good for the soil.
Adding Salt Or Potassium For Water Softener Devices
The first thing I want to say here is whether you use salt or potassium for water softeners is up to you. But you should also know that softeners do not use one or the other.
What do I mean by that?
A water softener does not know the difference between sodium and potassium. It will work just fine if you use one or the other. What you have to remember when choosing is:
it takes more potassium to do the same job that sodium does
That difference will cost you a few extra dollars
Using sodium is a more efficient way to clean resin beads
if you decide to switch from one salt to another, you may have to adjust the machine.
If you are not a fan of water softener salt or potassium chloride, there is another route you can take.
Water Softener Salt Differences – Potassium vs Sodium
The main differences between softeners with potassium and sodium are
Potassium is almost free of sodium. For this reason, it is better for persons with salt-related illnesses. Potassium is also better for the environment.
Sodium is better at removing hardness from water than potassium. That is why you end up using more potassium to the same job sodium does. It is also the reason you will spend less money using sodium.
Saltless Water Softeners
If you do not like salt or potassium for water softeners, there is another option.
Water conditioners are softeners, but they are salt-free. So, they give you all the benefits of a water softener but with none of the drawbacks.
Water conditioners work by changing what is in your water, not replacing it. While I won't get into the details of it here, I want you to know they are serious contenders. Looking into them for yourself is worth it.
Frequently Asked Questions
What Salt Is Used In Water Softeners?
Water softeners use both potassium and sodium. It does not matter which you put in the brine tank. But, you may have to adjust the system if you switch from one to the other.
Is Watering Plants With Potassium Softened Water safe?
Small amounts of potassium make it into your water when you use potassium chloride. But, potassium is a product used in agriculture every day to help plants grow. So, it safe to water your plants with water softened with potassium.
Is Watering Plants With Sodium Softened Water Safe?
Trace amounts of sodium also get into your water when you use sodium chloride as a water softener. Sodium is not safe for plants. But, there are ways to ensure your plants stay healthy even if you have sodium-softened water.
Conclusion
In the battle of potassium vs sodium for water softener devices, there is no clear winner. It all depends on you, the consumer, and what works for your situation.
There are a few key things to remember when deciding which to get.
Potassium chloride softeners cost more to maintain. But they are better for people on a sodium diet.
Potassium chloride is better for the environment. But sodium chloride is the more effective water softener.