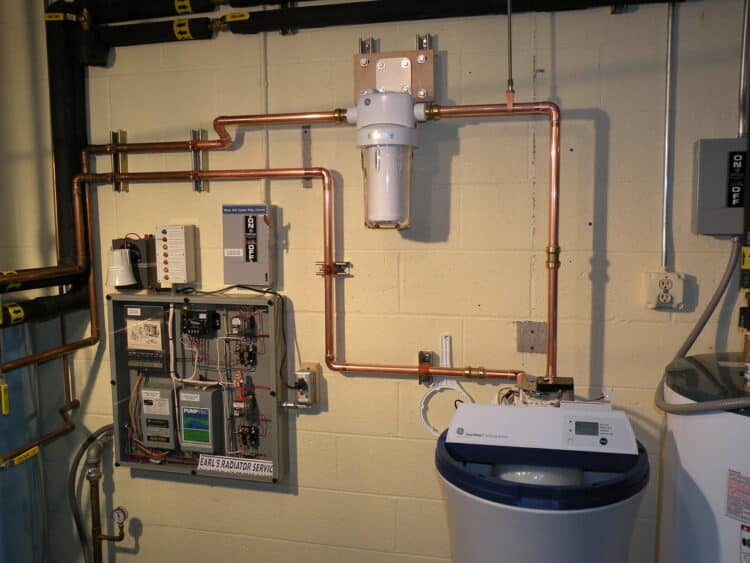 Water softeners, though durable and long-lasting, can't be there forever. There will come a time when it will stop producing quality soft water and will have to be replaced.
There are many factors that contribute to the lifespan of an average water softening unit, and a large part of it depends on how well you've kept up with its maintenance.
So, how long do water softeners last? The average lifespan of a water softener is between 10 to 15 years, but given regular maintenance, it can last even longer and reach 20 years.
Of course, the water quality of an area could also affect its longevity. In areas known to have extreme cases of hard water, it may not last as long.
But in all fairness, water softening units also affect the durability and life of the appliances in the entire household—particularly dishwashers and washing machines.
Read on to find out about what a water softener can do for your household, and how you can use it to its full potential.
How does a water softener work?
To understand how a water softener works, you need to know the basic parts:
The brine tank
The brine tank is a smaller tank that sits beside the resin tank. It is where you put the salt or the potassium, which comes in either pellets, pods, or blocks.
Assuming that the brine tank contains salt pellets, these are dissolved into the water below the tank to "activate" the resin beads during a regular cycle.
It has to be refilled regularly depending on the overall performance of the entire water softening unit.
The resin tank
Also called the mineral tank, this is where hard water is transformed into soft water through the power of the resin beads.
The resin beads contain salt or potassium ions that "exchange" with the hard minerals found in hard water. This is also where water is either drained out or sent to your household for use.
The control valve
The control valve tracks how much water is entering the tank, and how much water still has to undergo the water softening process.
It is what tells the water softening unit whether or not it is time to go through a regeneration cycle. Since it tracks how much water is entering the tank, it can also give close estimates on the GPG capacity of the resin beads.
Control valves are adjusted to suit the specifics of your household to ensure maximum efficiency.
The Process: From Hard Water to Soft Water
The control valve tells your machine that it needs to convert more water to soft water. The brine tank fills itself with a little water to dissolve some salt, and sends this salty water to the resin tank.
In the resin tank, the resin beads are "reactivated" by the salty water. They once again contain salt (or potassium) ions that it can use to exchange with the hard water.
The tank then drains the excess salt water and pushes in hard water to the resin tank. The ion exchange happens where salt (or potassium) ions trade places with the hard minerals, calcium and magnesium.
The hard minerals latch on to the resin beads, and the newly softened water is sent through your home's plumbing system.
How long do resin beads last?
Resin beads are practically the entire heart of a water softener. They are the ones in charge of performing the exchange between hard minerals such as calcium and magnesium and the salt or potassium ions so that hard water becomes soft water.
Resin beads usually last more or less the same amount of time your water softener does. They can go for about 10 to 15 years, but with proper care and maintenance, they can reach 20 years.
Excess amounts of chlorine and iron in the water can lessen the effectivity of the resin beads. Prolonged exposure to chlorine and iron can "kill" the beads.
If your resin beads "die off" quicker than your water softener, then you can easily replace them with new ones. You'll know that they're getting less effective if your machine starts regenerating more often than usual.
Regeneration should happen once a week at the most to preserve the quality of the beads and to save water.
How long does water softener salt last?
It differs from brand to brand and the quality associated with each brand. It will also depend on water usage and the grain capacity of your water tank.
These refillable blocks, pods, or pellets of salt can last for days to weeks. And your machine may not even call for blocks, so it all depends on each individual machine.
Some will require refilling after a few months (maybe around two or three). But the average amount of salt used is usually 2 bags worth 40 pounds each.
That could cost you about $60 in total.
There are also some water softening units that use what is called "intelligent regeneration" wherein it uses less salt to cut costs and be less harsh on the environment.
How can I make my water softener last?
It's important to give your water softener a full maintenance work-up 1 to 2 times in a year. This is when you open its different tanks and give it a good—but careful—rinse.
Keeping up with the salt checks
One of the best ways to keep it fully-functioning is by diligently refilling its salt packets as needed without adding too much or too little.
The salt is what activates the resin beads which transform hard water to soft water. A good tip is to get rid of any salt bridges that have formed between the last time you opened up your brine tank.
They're pretty easy to remove; just use the handle of a brush to clean them off your machine.
Rinsing the resin bed
They may clean out the minerals from your water, but they can't clean themselves all the time. You have to rinse it with softener cleaner at least once a year to keep them in good condition.
Choosing the water tank that's right for you
Each water tank has a specific grain capacity that has to be taken into consideration before you purchase it.
The ideal grain capacity is one that allows your machine to regenerate once a week. That means your water softening unit has to hit its peak grain capacity within 7 days so that it regenerates weekly.
Why is this important? Well, a water softening system that regenerates too often can quickly lose the effectivity of its resin beads and puts a lot of strain on the machine.
It will also use up even more water than needed because the regeneration cycle consumes a lot of water just to rejuvenate the beads.
Meanwhile, a water softening system that has too big a capacity will not be used to its full potential and may lose quality even faster.
How often do I need to replace my water softener?
You need to replace it once it stops working, which will be somewhere around the 10 to 20-year mark. One of the identifiers that your water softener needs replacing is the presence of hard water around the household.
This means your resin beads are starting to lose effectivity, and the whole machine could be due for an important upgrade.
What else lasts longer thanks to the water softener?
A lot of appliances in the household last longer because of the water softener. It reduces the need for repairs caused by hard water.
Appliances that last longer are usually the ones connected to the water supply:
Washing Machine
More often than not, a washing machine has a direct line to the water supply. If not, then it is regularly doused in water in order to do laundry.
If the household were still running hot water, then the sides of the washing machine would have been filled with calcified deposits that could run off on clothes and affect the quality of the fabric.
Thanks to the water softener, the washing machine is able to work effectively, particularly during the soap cycle.
Dishwasher
Dishwashers are automatic appliances that are definitely connected to the water supply. Since they are used at least three times a day, it is largely at risk for hard lime deposits clogging up its pipes.
Because of the water softener, that doesn't happen. Instead, soft water enters the pipes and leaves no trace.
Dishes get washed clean, and, thanks to the presence of soft water, the dishes dry without water spots or stains.
Faucets
Faucets go through so much wear and tear because they are used most often. Over time, it can develop rust and lime scale deposits that can affect its usage.
These deposits are also tough to remove, leaving behind rough stains. A clogged faucet has less water pressure and will inevitably need repairs or be replaced entirely.
None of this happens when using a water softener, so its usage is prolonged.
Showers
Take a look at your shower right now. Odds are, there's some hard white stains around it, or a few nozzles are blocked.
That is what happens when hard water runs through your pipes. You get less of a shower experience, and just like faucets, experience less water pressure.
Soft water from a water softening system prevents this from happening, ensuring that you have a great shower.
Conclusion
Water softeners are a great investment because although the costs to purchase, install, and maintain them are high, it also gives you a higher payoff.
You will be spending less on plumbing repairs and cleaning supplies as well as your water bill (ironic as it may seem).
They're with you for a good 15 to 20 years if you take care of them well enough, and they are definitely worthwhile.