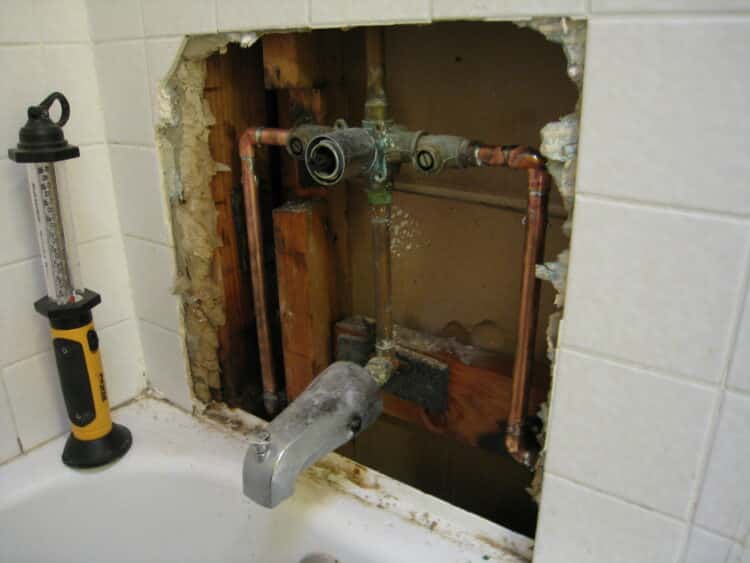 It may come as a surprise to find out that there is such a thing as "hard" water. You might be thinking, "How can water be hard?"
Well, when we say that, we actually mean the minerals that are found within the water. You won't be able to see them, but you will see the effect they have on your regular household items.
Hard water leaves behind stains on your clothing, lime deposits around your sinks and faucets, and prevents soap from lathering effectively.
It can be an annoying issue to deal with over time, and that's why most families in America get a water softener to fight the problem.
A water softener is a machine that gets rid of the hard minerals (calcium and magnesium) found in your water. True to its name, it "softens" the water for your use.
The hard minerals are replaced by sodium or potassium ions that makes the water healthier and easier to work with. Easy peasy. A water softener will solve a lot of your problems.
There are many different kinds of water softeners, and if you're thinking about getting one, it's best to know your options and how much it's going to cost you.
The costs of getting a water softener depend on your household usage, and the amount of work it's going to take when setting it up.
Make sure you really need a water softener before committing to one because the costs can go pretty high.
Should I Install a Water Softener?
That all depends on your water hardness level
It's easy enough to get this number.
If your water comes from a citywide water supply, then you can just drop a call to your local water department and ask them about it.
Well-based water supplies will need a little more effort on your part. You will have to buy a testing kit that tells you more about the minerals your water contains.
Water hardness is measured by the amount of calcium carbonate per liter of water. If there is more than 51.3 mg/L of calcium carbonate, that's when hard water starts becoming a nuisance.
If your results show there is less than 51.3 mg/L of calcium carbonate in your water then you could probably do without a water softener. You should check out water conditioners instead if you need that extra oomph in your water.
A result of 51.4 mg/L is usually bearable. Your water will only give you a hard time through prolonged use, but it can contribute to dry skin and stain spots on your dishes.
Higher than 119.8 means your faucets will become crusty, pipes will develop a lime scale buildup, and any porcelain you may have will start to form reddish rings.
This is when you may start to consider getting a water softener. Don't wait for anything major to happen just because you're second-guessing the overall cost of a water softening system.
Any result higher than 300 mg/L means you definitely need to invest in a good water softener. Especially if your area is more prone to hard water.
Check your location
A study conducted by The National Water-Quality Assessment (NAWQA) showed that majority of Eastern Nebraska all the way down through Western Kansas and Northern Texas had wells that tested positive for Very Hard water (with more than 180 mg/L).
This also included most of Northeastern to Southeastern Minnesota down through the Eastern half of Iowa and most of Northern Illinois and Eastern parts of Wisconsin.
A 1975 map on water hardness shows that most of Central America had a larger concentration and probability of more hard minerals diluted into their water.
Hard water regions with more than 100 mg/L of calcium carbonates are the U.S. Midwest, and Southwestern states of New Mexico and Arizona.
Soft water regions with measurements of 1 mg/L to 50 mg/L are found in the Pacific Northwest and Oregon moving through British Columbia.
So if you belong to the soft water regions, then it's probably all right to stick to a water conditioner or a regular water filter.
But if you belong to the hard water regions, a water softener should be added to your annual budget.
It could also depend on your pipes
Soft water is preferrable when you have PVC pipes installed in your house. But if your pipes are metal, hard water may be recommended.
Why? Because soft water can leak through metal pipes and cause rust, so moderately hard to hard water is best for them.
If you absolutely insist on having soft water even if you've got metal pipes, then have hard water run through them for a few weeks to give them a "protective coat" from the soft water.
You should also consider which area of the house you're softening water in. If you have a house with a garden or a lawn, then it's better to separate the outdoor water supply from the indoor.
It is recommended to have an outdoor water hardness of 121 to 200 mg/L so that plants can get more nutrients and flourish. Water with salt or potassium ions only makes them unhealthy.
Who can install my water softener?
Professionals in the business are obviously the most capable at installing water softeners. They could be plumbers, or handymen who have experience in this area.
Of course, you can also install your own water softener if you have knowledge in handling tools, and the patience to follow instructions.
Doing it yourself can even lower installation costs and bring it down to about $400 to $500 instead of the prices an installation company could charge.
If you're not feeling up to DIY-ing your water softener installation, then you could always ask the company you're buying from if they also provide installation for every purchase.
Home Depot and Lowes will charge you with additional costs if you're looking for assistance in installation. Charges can go from $150 to $1,000 depending on the kind of system you've chosen.
How much does it cost to install a water softener
So you've decided to get a water softener, congratulations! You should know the average estimates when it comes to the price of an actual appliance, all the way to its installation costs, which can go from $500 to $6,000.
This depends on the complexity of your chosen water softening system, the household's average water consumption, and the hard water levels:
Ion Exchanger
This type of water softener is the most common and the most famous. It is known for using resin beads to remove hard minerals such as calcium and potassium and replacing it with salt or potassium ions.
The price range of an appliance that exchanges minerals and ions is about $300 to $1,000. Installation costs range from $500 to as high as $2,000.
Water Distiller
These types of systems are one of the cheapest, but they aren't as effective. They do well enough as a temporary fix or when needing small amounts of soft water.
It produces water vapor that creates a divide between hard minerals and heavy metals. Average costs can go from $50 to $1,500 while installation can run from $50 to $2,000.
The installation of a water distiller is easy enough to DIY.
Salt-Free
A Salt-Free water softener does not really remove hard minerals all that well. It just "neutralizes" these minerals with potassium so that they don't cause build-ups that could clog your pipes and leave behind lime scale mineral deposits.
Average costs go from $500 to $3,000 because potassium is more expensive than sodium, while installation is about $800 to $4,000.
Reverse Osmosis
100-1800
A reverse osmosis system not only softens water, but it removes all pollutants, contaminants, and minerals. It leaves you with just plain H2O.
They're often used with an additional system such as an ion exchange system, but individually, its price ranges from $100 to about $1,800. Installation costs can start at $1,000 and reach as high as $2,800.
What factors affect the cost of installation?
Deciding upon a professional to set up your water softening system is no easy choice. You have to make sure you're getting your money's worth and that the company is of high quality.
Transport
Workers will have to transport themselves and their equipment to and from your home. It is recommended that you choose a company that isn't too far away from your location.
Preparation
They will have to ensure any fragile or breakable items nearby are well-protected to prevent untoward accidents. A rundown of the house's structure may also be done.
Household Size
The materials and equipment used may also depend on the overall size of your household.
Complexity
Some systems are more complex than others, and may require more time and labor to install. Most professionals can get the work done in a few hours to about 2 days maximum.
Cleanup
Putting a new water softener system in place can make quite the mess. If your installation company does cleanup for you, then it will save you time and effort.
How long do water softeners last?
Admittedly, it costs a lot of money to buy, install, and maintain a water softener. But they are worth it because with good maintenance, they can last as long as 15 years.
It saves you more money in the long run by lessening costs on appliance repairs, cleaning supplies, and clothes shopping.
What are the disadvantages of soft water?
Unfortunately, the pursuit for soft water is not all sunshine and rainbows. It does come with a few side effects or disadvantages.
Maintenance and installation costs
The average water softening system could cost anywhere from $100 to $3,000 depending on the type of system you want, but that's not where the cost ends.
You still have to consider the cost of its installation, which could range from as little as $500 to as high as $4,000!
Not to mention the amount of maintenance it takes to keep it going, and the massive amounts of water it uses to convert hard water to soft water. Your water bill is definitely going to rise.
These systems undergo frequent "regeneration cycles" that replenish the resin beads in order to get them to start absorbing calcium and magnesium minerals again.
During this cycle, about 50 gallons is used. Considering that most systems undergo a regeneration cycle at least three times per day, that's 150 gallons used solely to replenish the beads.
The 150 gallons doesn't even take into account the amount of water it uses on a daily basis to convert hard water to soft water.
It doesn't "clean" water—it only "softens"
It could be possible that your water supply is also infected with bacteria and other chemicals such as chlorine. Unfortunately, a water softener will not help you in this case.
You could spring for a reverse osmosis system and pair it with your water softening system, but that will cost you more money.
Reverse osmosis systems will take away all harmful microbial pollutants and contaminants such as lead, arsenic, and copper. It will remove everything that isn't H2O and leaves you with just water.
A reverse osmosis system can't do the job alone. It does not get rid of hard water. But then again, it can also remove the salt ions from your water softener and lead to a salt deficiency.
Soft water is not environmentally friendly
It messes with soil's acidity and provides no nutrients for the plants to use as they grow. Water softeners can even be illegal in some states because they use chloride.
Most wastewater treatment plants are not capable of removing chloride from water. Sodium chloride from salt can pollute groundwater.
High levels can become toxic for marine life. In fact, one small teaspoon of it can permanently ruin five gallons of fresh water.
On top of that, it may not be such a good idea to use softened water if you have an aquarium. Fish are sensitive to their water environment, and often need the right pH levels to stay healthy and happy.
Soft water is prone to fluctuations in its pH levels, and even something as small as excretion of a fish's waste can change it. This could cause fish to get sick, or in extreme cases, die.
What are the advantages of soft water?
Just because you've read all about the disadvantages of soft water, doesn't mean that they aren't worth it.
Everything has a good and a bad side, and you deserve to know all the good a water softener could bring you and your entire household.
Gives appliances around the house a longer life
Hard water leaves behind hard scale deposits that will ruin the performance of your appliances. Soft water doesn't give you that problem.
Look forward to less repairs and issues when it comes to your washing machine, dishwasher, faucets, and showerheads.
Your bathtubs, sinks, and toilets will no longer have stains that can affect their overall look. Your pipes will also experience less blockage, reducing those frequent calls for the plumber.
Laundry and sanitation has never been easier
With soft water, soap is bound to interact better with the water, leading to more lather and in turn, less water used to clean your clothes.
It also means you will get the maximum effect when it comes to cleaning the different parts of your house such as the floors, windows, and sinks!
It allows you to have healthy skin
Hard water is abrasive on the skin, and usually leaves it dry and flaky. This could cause a lot of health issues such as itching and hair loss.
Soft water builds better contact between your skin and the soap, allowing the soap to achieve full moisturization and keep your skin glowing.
Conclusion
There are a lot of factors that can affect the costs associated with installing your water softener. It all boils down to the kind of system you want and the average water consumption of your household.
It's always best to get estimates from professionals who understand the complexity of your individual households.
Doing it yourself may also be a good option, but take into consideration the amount of time it will take you to install.