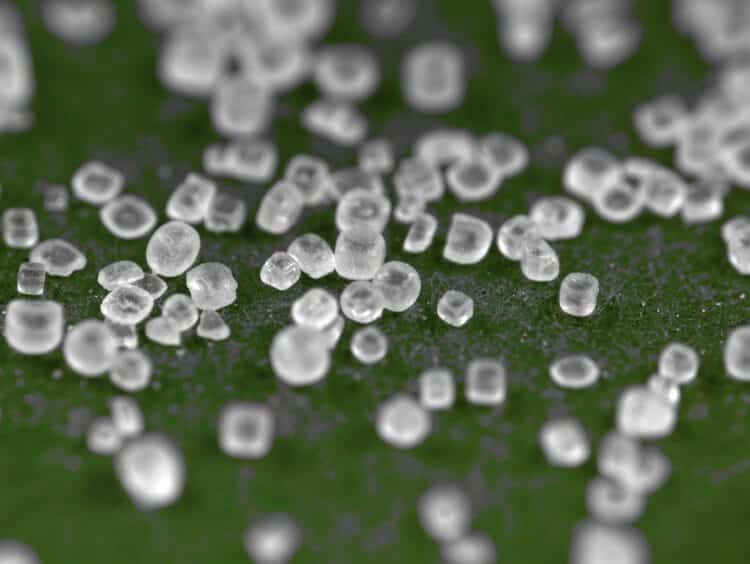 Salt is the most integral part to the softening process of your water. Due to this, it can be challenging to know when and how much salt you needed to add to your water softener.
In order to recharge your water softener's salt supply, we need to observe the water hardness level, water usage, type of water softener, and the brine tank's size for you to know how much and how often you need to add salt.
The water softener's function is exactly as it says. Water softener functions 24/7 as the removal of chemicals that formed hard water.
Every water that is being utilized in your home needs to tread through the softener. In just a single appliance, a water softener can already be a responsible appliance for so many things!
From hard water to soft water, it'll avoid getting your skin dry.
Although it's a given that we do not really have to constantly keep track of the appliance, but water softener does need an average amount of softener salt that can help run the appliance.
That leads us to the question: how much salt does a water softener use? And how often do we need to add salt?
It's quite difficult to often guess how much pounds of salt your water softener needed.
However, you must first understand the basics of what a water softener is before you proceed to a rough estimation of the salt's quantity.
Renowned Brands of Softener Salt
Among the softener salt brands that are available in various stores, these three brands are the most reliable water softener support: Morton, Diamond Crystal, Nature's Own, and Morton.
These brands rarely go wrong and they produce excellent quality than a cheaper salt softener.
Since Morton is the upmost top-tier salt brands than the other two. Morton has a variety of different choices that you can make for you to decide on a favorable water softener type.
As mentioned before, guessing the amount of salt can be a challenge, but with this salt brand, it has 99.98% purity. Morton is a brand that you'll never regret buying as it matches the price with its spontaneous quality.
Diamond Crystal, on the other hand, has a competitive rivalry with Morton.
This brand itself promised that the lowest purity they offer from all their products is 99.6% which is surprisingly very convenient to people who're more likely to spend on the variety rather than the quality.
Lastly, Nature's Own is a brand that manufactures potassium cubes only. It's the only brand where it isn't just sold nationally and locally, but it's also quite recognized and famous in other countries.
Consider buying softener salt from Nature's Own if you're deeply interested on the
massive reputation they have which will give you a sense of relief and satisfaction.
Costs of Softener Salt
Since water softener salt has a variety of salt types and purity levels, the average prices could lead to $4.50 to $30 for just a pound of bag.
However, it really just depends on the amount of hard water accumulated in the appliance.
Types of Softener Salt
Crystals, pellets, and blocks are three types of salt. These are the only types of salt you need for your water softener.
While evaporated salt, rock salt, and solar salt are the purity levels. Here are brief descriptions of the purity levels and the types of salt.
1. Crystals can either be rock salt or solar salt
When evaporated in crystal form, it'll be the more expensive than the others when using it.
Crystals are more likely to leave salt residues inside your tank. Because it turns salt to mush, you will have to clean it often before adding new salt.
2. Pellets can come in solar salt or evaporated salt purities
These are recommended and the commonly used type of salt, because it leaves little to no residue in your tank. However, it depends on the quality of the salt that you'll buy.
3. Blocks come in solar salt or evaporated salt purities, as well
These are great type of salt, but only a few companies would recommend these for water softeners.
If you decided to buy this, please carefully follow the directions for correct usage and always properly clean the tanks.
Purity Levels:
1. Evaporated salt is the most top-tier purity salt due to its 99.9% purity level
This is also the kind of salt that's edible for humans. It easily dissolves into water almost entirely. The good thing about this is that it only either leaves little or no resides at all unlike the other salts.
2. Solar Salt is the kind of salt that will have issues
It is white and opaque, and formed when the seawater evaporates. This may be 99.6% pure, but it can be an issue when handling the hardness level of your water.
3. Lastly, rock salt is the least favorite
Its quality is very low grade. It holds some impurities like calcium sulfate.
Calcium sulfate is not a preferable chemical for your water softener since it will not dissolve smoothly. This salt's form resembled its name.
How Much Salt to Add in Brine Tank Water Softener?
The original water's hardness, water softener type, and family size is what you need to look out for when you decide how much salt you need to apply in your brine tank water softener.
Keeping track of you and your family's usage of water makes a huge difference when you add salt to your tank.
You need to adequately prevent complicated issues regarding your tank and water softener. So, the perfect way to do it is to always make sure that the tank is often consistently full of salt.
But avoid overdoing it. Yet despite that advice, people would still look for its rough estimation of the average amount of salt you can add in your brine tank water softener.
Here are things you need to keep in mind:
First is your water's amount of hardness
The total amount of hardness in your water may impact us on how often do we need to add salt to our softener for regeneration.
There is some hard water that is quite complex as it contains hard minerals and it needs a lot of salt to utilize your water softener in order for it to thoroughly clean it.
Brine solution is a required product to use whenever your softener's resin will tire itself out faster, since brine solution helps with its removal of resin.
Second is the usage of water in your home
Every family have different quantities. Some is a family of three, some are living with their relatives, some are roommates, and some have a lot of siblings.
Although sharing water in showers is a great alternative to water preservation, a lot of people values their personal space.
But it doesn't only apply to bathing water. It applies to every water being used in the household such as boiling water in a pot, sprinklers in your garden, drinkable faucet water, and etc.
The amount of people can help you determine how long your softener can regenerate. One must treat their water with softener fast if your water has been used all the time.
The need to calculate the number of people using your water is the number one reason why people find it quite tricky to determine the schedule when we must add salt to the water softener so it can undeniably keep functioning.
And lastly, checking what size your brine tank is
Obviously, this is the most crucial thing to know first before you buy it.
Simply put, a bigger tank can accommodate a large amount of salt. You'll only need to fill it less often since it'll last long than the smaller sized brine tank.
Make sure to properly fill it up with just the right amount of salt. Leave a quarter empty in the tank.
Should Any Kind of Softener Salt Matter?
Yes, it should matter what kind of salt you're using for your softener. For one, every salt is built and manufactured differently so it has the tendency to change your water's color and your softener's lifespan.
For instance, if you decided to use a very cheap rock salt, your water will have discoloration and your water softener's lifespan wouldn't last too long.
Using conveniently priced pellets with pure salt is a much better choice because of its splendid water results and longer lifespans.
Not only does it have great results, it will also help you save your money from completely wasting it on cheaper products that will only have smaller benefits.
Saving enough money could even make you buy a new water softener.
Does Softener Salt Have an Expiration Date?
Pellets or things with additives are more likely to expire, but only if you've used it for a long time now.
Because of the additives in softener salt, it will expire in about a rough estimation of 5years. However, if it has holes in it, then there's a chance that it will expire soon.
But if not, then it will last longer than usual.
But there are some salt with only a small amount of additives on which will have an even longer expiration date.
Some of them have no additives, so there's a possibility that it has no expiration due to the salt becoming a preservative which has the absence of microbial growth.
Process of Adding Salt to Your Water Softener
Applying salt to your water softener isn't that complicated. In fact, it's quite manageable. Here are instructions to do it:
1. Open the lid of your brine tank
Do not put new salt yet. Please check the walls of your tank first for some salt residue. If there are any, clean the walls with a cloth.
2. The salt level must be observed
By doing this, you'll be able to calculate your daily salt usage.
If there's a need to add salt based from the tank level, then pour some salt into the tank until it fills up to where it is meant to be at.
After filling, close the brine tank
Then, leave your water softener working until you inspect the salt levels again.
The Amount of Salt Used Monthly
Considering these factors like the usage of water, the normal range of using salt for your water softener every week would be around 5-20 pounds of salt or 20-80 pounds a month for good measure.
In a family with about four members and an average water hardness level (7-10 gains per gallon), it's really common for them to use around 9-10 pounds of salt weekly, and one 40 pound bag of salt every month.
However, some families tend to buy 120 pounds of salt in one go so they'll only have to refill the salt once every three months.
Issue: Salt Dissolved Too Quickly
On some occasions, when you suddenly change the type of salt you were using, that's one of the reasons why.
For instance, when you've transferred from using solar to evaporative pellets, there are actually some types of salt that may be denser than the others.
It's best to consult with a water treatment specialist for you to know about the kind of salt you're using. You may also check the system's owner manual, because you can adjust its settings per the type of salt you used.
Companies like WaterTech, recommended that people should use either potassium chloride or evaporated water softener salt pellets with a 99.5% purity rate.
Salt Bridges inside the Brine Tank
Salt bridges are hard crusts that were formed in the brine tank where it creates an empty gap between the water and the salt.
This salt bridge will block off the salt from dissolving completely into the water which hinders in the process of water softening.
It's mandatory for you to often inspect your brine tank every two to three months for signs of salt bridge accumulating inside your tank.
You'll notice the salt bridge in the tank when the salt level does not decrease after months of usage.
Another sign is when your water isn't soft. To solve this issue, you must install your softener in an area with low humidity, acquaint yourself with a high-quality salt, and make sure your brine tank is only half-full of salt.
How Long Does a Water Softener Salt Last?
The tank size, water usage, and how often the system works are factors that you need to observe and keep in track if you want to know the lifespan of your water softener.
It really just depends on these factors and whenever the softener regenerates. However, using various types of salt can also influence its lifespan.
Depending on the situation, it'll take 3 to 4 days for a smaller tank with a lot of water usage and constant use of the system to need more refill of salt. For a larger tank, it'll take a week or two up to a month with less water usage and less water hardness.
Can Salt Oversupply Your Water Softener?
Simple answer: No. Overfilling salt in your water softener will only cause problems such as the formation of salt bridges which will hinder the appliance's process on the hardness chemical removal.
It's just like filling your glass with lemonade. You don't need to make it too full to the point that it's difficult for you to drink it without its liquid tipping over to the side and spilling on your shirt.
Or oversupplying your kids with too much toys that it they'd become spoiled. Overdoing always causes problems.
The tank should be refilled with a lot of salt but there should be an allowance of 6 inches from the top in order for it to avoid overdoing the salt refilling.
Having No More Salt for Your Water Softener
First tip: Never panic. Nothing could be done when you freak out, so please rest assure.
The most frequent side effect of the absence of salt in your water softener is that it will make it very difficult for your softener to filter the chemicals and minerals out of the hard water.
Spots on dishes and getting dry skin are also side effects of hard water.
If you do not have any salt left, your water softener won't be in great shape to function properly and correctly unless you've filled it up salt.
That's why, rather than panic about it, you must go to the store and buy more bags of salt to fix this problem!
One must not cry over spilt milk, after all. If you've forgotten to buy, do not worry. Humans make mistakes.
You'll only have to deal with hard water until you can buy salt again for your softener.
However, it'll probably take between 2 to 3 days for softened water to circulate around the house. It'll always depend on the regeneration cycle when your softener cleans the hard minerals out from your water.
Patience and endurance is virtue.
Conclusion
It may take a while to get the hang of refilling a water softener, but you shouldn't let that worry you. Remember not to overdo it because that could bring a whole host of new problems for your device.
As long as you follow instructions and remain vigilant about how much salt you water softener needs, you're going to do just fine.