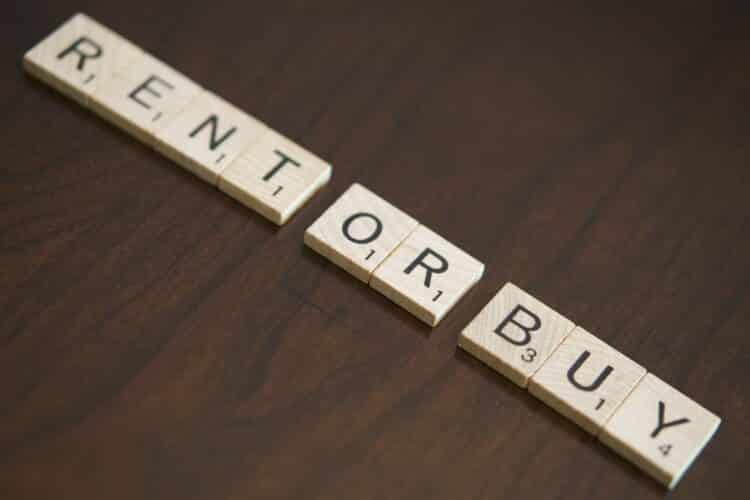 The answer to your water hardness issues lies in a water softener. But, before you commit to a brand or type, you must put some thought into what you want out of that device. There are a lot of things to consider, including if you should buy a water softener or use a water softener rental.
Without a water softener, you will end up dealing with a whole host of costly water hardness issues. And those issues have a way of sneaking up on you. But, making the wrong choice between renting or buying a water softener is also a cause for concern.
You need to know which option, rent vs buy, works best for you. We are here to help you figure it out.
Can You Rent Water Softeners?
For those of you asking this question, by now you've probably figured the answer is yes. You can rent a water softener. Many water treatment businesses rent water softeners month-to-month.
Rent Or Buy Water Softener Devices – Do I Need One?
The first thing you need to know before getting a softener is if you need one. There is no point in spending so much if you do not need to. There are two ways to get that information.
Make a call to your water supplier if you have not received your yearly report on water quality in your area. They should be able to give you information about what is in your water.
Ask them about the level of hardness. Having this information will put you on the path to finding the best water softener.
The second way to find out if your water is hard is by using a water hardness test kit. The test strips should also give you the level of hardness in your water.
Water Softener Types
There are non-salt-based water softeners. There are also water softeners that use salt to soften water. You must know how these softeners work before deciding to rent or buy one. But later we will discuss while how capacity may affect your choice to rent or buy water softeners.
Before deciding on a water softener rental or buy, you need to know what types are on the market.
When Should I Get A Water Softener Rental?
If you have water hardness issues you need a water softener. But, not every situation calls for a permanent install.
When deciding if you should buy or rent water softener devices, here are the things you need to keep in mind.
Water Soft Rental Cost .vs. Buying Cost – Which Is More Cost-Effective?
One reason you may choose to rent a water softener or buying one is the price tag.
The cost of buying a water softener ranges from $700 to $7,000, depending on your household needs. Those prices do not include the installation and maintenance costs yet.
Installation costs fall in a $2,000 range, and the system needs cleaning at least once a week.
For some people, meeting the lower end of those figures is a lot. They can't afford it in one sitting. So, they choose the next best thing. They google water softener rental companies near me to find water softeners to rent.
You may be able to rent a water softener for as low as $35 a month.
Your Living Situation
Living with hard water is not easy for anybody. And homeowners should not be the only ones who get to enjoy the benefits of having a water softener.
Lucky for us renters, we have the option of renting water softening devices as well. That way we get to deal with our hard water issues without owning such a permanent feature.
A water softener rental is for those of us who do not have our own home yet. If you belong to that group, you can find a water softener rental for apartments or where you live.
If you are a traveler for leisure or work reasons, consider how long you plan to use the water softener. If you are there for only one month to a year, it may make more sense to rent vs buy water softener devices.
>h4>Pros Of Renting Water Softeners
The start-up cost is low
High-end system

For a low monthly fee, you can get one of the high-end softener systems you might not be able to afford.

Free to Change it up

If you do not like the job your water softener rental does, you can always change it at no cost to you.

No repair or maintenance cost

Those costs are a part of your monthly $35 fee.
Cons of Water Softener Rental
Limited Choices

Water softener rental companies near you may not have the type of softener you want or need. They may only have older models. Some water softener rental companies offer high-end products. Others do not. In these cases, renting water softener devices might limit the options you have. You may not be able to find a system with the softening capabilities you need.

If that is the case, then your only other choice may be to buy instead of rent.

Remember, to get rid of your water hardness problems, you need a softener with the capacity to do the job. Not anyone will do.

Used Softeners

The age of the softener system may also mean that it needs a lot of repairs and often. But the good news is, you do not have to pay extra for those maintenance costs.

Permission From Landlord

If you are a renter, you may need to get the go-ahead from your landlord to cut pipes.

The Contract

If you move around a lot, you may still need to commit to a one-year lease to rent a softener.
When Should I Buy A Water Softener?
Living Situation
Do you own your home?
If you do, it makes more financial sense for homeowners to buy vs rent water softener devices. Buying one takes a lot of money, but there are options. You can find a company that offers pay later contracts to help you get the softener you need.
The cost adds up over time
Paying a monthly fee of $25-$35 for a water softener rental adds up over the years. Buying a water softener for apartment leasing in the long term might be the better option.
Travelers
If you do a lot of traveling to areas with hard water, it might be a good idea to get a carry-along water softener. An option like this is also a good option for people with mobile homes.
Size
Portable softeners are sized to go. They are about 8.5 by 20 inches.
Price
But the price varies based on the type and softening capacity. You can find a portable softener for as low as $50. But there some that cost as much as $2,000.
Pros of Buying A Water Softener
Long-term water hardness solution

When you buy a water softener, it belongs to you.

Payment options

You can make a one-time payment on a water softener. There are also buy now pay later methods.

Saves you money

Buying a water softener has a high start-up cost. But, in the long run, your water softener will save you money. They make appliances more energy efficient. You all won't have to spend a lot on repairing or replacing appliances because of hard water.

Selling feature

If you plan to sell your home in the future, water softeners are a good selling point.

Get the system you want

Buying a softening device vs rental offers you a chance to choose the type of system you need. There are so many types and brands available. You do not have to settle for what is available.

Money-back guarantee

Most times, buying water softening devices gives you a money-back guarantee. If you have any problems with the device, you can get cashback. You may also be eligible for maintenance over a set period.
Cons of Buying A Water Softener
High start-up costs

The high start-up cost is the only downside to buying water softening devices. They are costly to buy and install. If you can't afford to buy a water softener upfront, there are financing options available to you.

There is another option available to you when deciding to rent or buy water softeners. Let's take a look at it now.

Repairs and Maintenance

Buying a water softener means that it is your job to see that it runs properly. The cost to maintain and repair over the years is yours.
Rent It To Own It Plan
A water softener rent to own plan is like a hire-purchase plan. You sign a contract with a water softener rental company to make monthly payments. The softener will be yours when you've made all the payments.
The rent it to own it option is ideal for homeowners who can't afford the sale price of water softeners. Why? Because you rent with the plan to own that water softener rental in the future.
Pros Of Rent To Own Plans
You get to keep the water softener when the contract ends.
But this happens only if you make all the payments.
Repairs and maintenance costs are in the contract.
Cons of Rent To Own Plans
Costs more money

Like any other rent-to-own plan, you end up paying more than the sale price.

Repossession

If you don't make good on payments, the rental company may take the softener back. You will lose all the money you already paid and the water softener.
Now, let's take a look at a few things you need to remember when renting or buying water softener devices.
For Water Softener Rentals
Ask Your Landlord first
Before installing a water softener, find out if you have permission to do so from your landlord. Whether you decide to rent or buy water softener devices, this is a good practice. Do not go cutting into pipes in a home that is not yours without getting the go-ahead from the owner. You could end up in trouble.
For Homeowners
Home Value
This one is for homeowners. I know that a lot of people say that installing water softeners increase the value of your home. And so, you may be tempted to run out and buy one. Let me debunk this information for you.
Water softeners do not add value to your property. But they could be a good selling feature.
For Water Softener Rentals and Home Owners
Last but not least, you should ensure that your home has enough space for a water softener.
You must install water softeners where accessing plumbing is easy. Water softeners are not all sized the same.
There are small systems, and there are large systems. There is no point in spending money to rent or buy water softener systems that is the wrong size.
A small system may not remove all the hardness from your water. But, a large system will make you spend money you do not need to. There is a balance. You only need to find it.
When putting in a water softener, there must also be a place for wastewater discharge.
To Recap
When is it better to choose a water softener lease or buy one of your own?
Renting A Water Softening Device
You can choose to rent a water softening device if
You do not have your own home
plan to move soon
you move around a lot
you cannot afford to buy one>/li>
Buying A Water Softening Device
You can choose to buy a water softener if
You are a homeowner
You have an RV or travel often

There are affordable portable softeners you can buy to take along with you.

Have the money to buy one
And if all else fails, there is the rent to own options that both renters and homeowners can use.
Conclusion
Having a water softening device solves just about all your hard water troubles. In the long run, it saves you a lot of money. You will save on the cost of repairs for appliances and plumbing. You will also save time and money on cleaning and cleaning agents. You will spend less replacing clothes and hair and skin products.
Getting a softener is a smart decision.
But when deciding to rent or buy water softeners, you must use wisdom. If you're a renter, or move around a lot, consider a water softener rental instead.
Homeowners with water hardness issues should buy a softener. In the long run, that softener will bring financial returns.
So, should you buy or rent a water softener? Think about your situation and then decide.