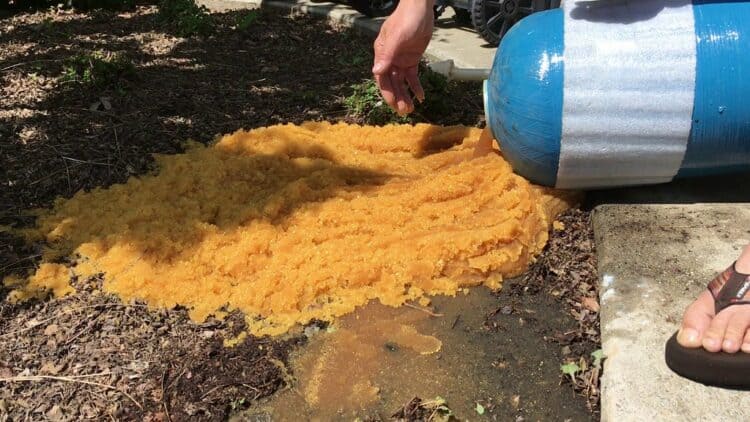 Every water softener functions differently depending on their make and model. But their main objective is the same: To get rid of lime scale developing in pipes and give you soft water.
One of the most common types of water softeners is the ion exchange water softener. It creates an exchange between hard minerals and sodium ions in order to provide soft water.
Working through gallons of water a day, the ion exchange is prone to glitches and malfunctions.
If you're a first-time water softener owner, you may want to figure out How to Tell if Your Water Softener is Working.
Continue reading to figure out whether your water softener is working or not.
Signs your water softener is NOT working properly
The water tastes different
Water can start to taste salty if there is a buildup of salty water in the brine tank. It could be caused by draining issues or a clog inside the tank.
If the water does not taste different, then there could also be a thin, salty film that surrounds the insides of dishwashers and faucets.
This may also be caused by a valve that's been jammed the wrong way, or a faulty control system. That's why it is recommended to give your machines some regular maintenance.
The water pressure at home changes abruptly
Too much salt building up in the brine tank can cause abnormal drops in water pressure. It's always best to check the water softening system to confirm.
Also give the brine tank some regular checks. It could be in need of more salt.
The water doesn't feel "soft"
Soft water has a certain feel to it, especially when you use it to wash your skin. Water that has been unprocessed in a water softener (also known as hard water) leaves a sticky film on the skin that itches and causes dryness.
Soap also won't lather as easily when hard water runs through the pipes again instead of soft water.
There are signs of hard water throughout the household
There could be subtle signs around the house telling you about the return of hard water. One of the easiest to identify is the buildup of lime scale deposits around faucets and pipes.
There could be water spots found in clothing that was washed in hard water. And the same goes for dishes.
The water softening unit is off
Obviously, if the unit is off and doesn't turn back on, that should be an indication that it is not working.
This could be caused by electrical issues—check your outlet to make sure it's live and plugged in—or issues within the device itself.
If your unit is more than 10 years old, it is possible that it's reached the end of its life and needs to be replaced.
But if it's a newer model, then a repair may still be possible.
Signs your water softener IS working properly
Here's what you need to know to see what you water softener unit SHOULD be doing:
It passes the soap test
In the absence of a test strip to test for hard water, you can also do this simple test. All you need is a container to place water in, preferably a transparent water bottle or glass, liquid or dish soap, and water from your tap.
Then, follow these steps:
Fill your container with water from the tap.
Add about 10 drops of your preferred type of soap (liquid or dish)
Mix the water and soap with either a spoon or by shaking the bottle
Check for soap bubbles.
If there are none, repeat Step 2 to Step 4 until you get soap bubbles
Keep a close track on how many drops you've added to the water and compare it to the chart below to see what kind of water you have:
No. of Drops Classification:
10 Soft
15 – 20 Slightly hard
21 – 50 Hard
more than 50 Very hard
As you can see, this simple test can tell you so much about the water that you have. Of course, you can always go out to buy test strips to get a more accurate reading, but this method is a DIY.
Your water softener passes the test if it bubbles up within the first 10 drops.
The water in your household passes the water hardness test
If you really want to go the extra mile and make sure you're using soft water, buy a water hardness test kit and test your water.
Soft water has 0 to 17.1 mg/L or PPM. If your results fall between that, then congratulations, your water softener is working great.
It goes through a regeneration cycle once a week
The regeneration cycle is one of the most important automated processes that a water softener goes through.
If it runs through its regeneration cycle weekly without any issues, then it is a sure bet that it's working.
What's a regeneration cycle?
A regeneration cycle is a process that water softeners do in order to rejuvenate the resin beads found inside the resin tank.
With time, these beads can be so full of hard minerals that they aren't able to absorb any more. To keep them functional, the system lets it undergo the regeneration process.
During this weekly occurrence, the brine tank produces salty water that it flushes through the resin tank to revive the beads.
Whichever type of regeneration your machine is set to do, if it deviates from its regeneration schedule, then this is a sure sign that it isn't functioning well.
Timed Regeneration
This type of regeneration involves the automated scheduling, usually at night when water is barely being used.
This works best when you've chosen the right water softening system and are aware of the grain capacity.
The ideal regeneration frequency is once a week to avoid overusing the beads, and to avoid wasting water.
There are calculations that may be done in order to ensure you have the best water softener with the right grain capacity for you.
Demand Regeneration
Using this type of regeneration is tricky because it will depend on the amount of water you use. Instead of the weekly automated scheduling, units can regenerate as often as every day or every few days.
Frequently Asked Questions
If my brine tank runs out of salt, is that bad?
Yes. It could cause a lot of damage to your tank over time. It can also cause overflows and spills.
Is there such a thing as water that is "too soft"?
Water can't be "too soft", but it can be "over-soft." This is a term used to define water that has been overloaded with so much sodium ions that it starts to affect taste and texture.
Make sure your water hardness level calls for a water softener before getting one.
Do water softeners clean themselves?
Not really. Although they are capable of rejuvenating resin beads on their own, they still need regular maintenance to keep the rest of the systems in great shape.
The brine tank particularly needs more care than other parts because it can form salt bridges that could clog it up and cause problems.
Conclusion
There you have it. A few signs to tell whether or not your water softener is working and then some additional information about regeneration cycles.
The best way to troubleshoot a confusing water softening system is by taking a look at its manual and familiarizing yourself with your own unit.
The better you know it, the better you'll be able to work out its kinks and processes.