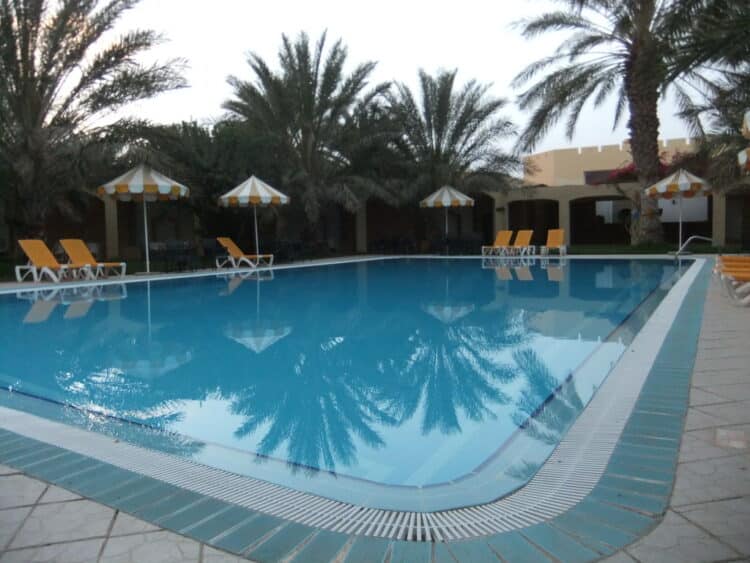 Can I put water softener salt in my pool? Hard water is a major household problem that affects many appliances. But do you know it can also affect your pool?
Yes, that's right. Using hard water for your pool can lead to scale buildup and dermatological problems.
How can you fix this? Can you use water softener salt to soften your pool water?
Is It Safe To Use Water Softener Salt In Pools?
The answer is yes, it is. Water softener salt can be used to safely treat pool water.
Softening your pool water will prevent stains, white, chalky buildups, and skin irritations.
There are many types of salt. There is food-grade salt or table salt. There is also salt used to deice roads. The purity of the salt will determine its use.
Pool salt and water softener salt have the same purity. So, essentially, it is safe to use water softener salt in pools.
But there is a science behind treating pool water. You cannot just toss salt pellets in and expect them to be softened and safe.
You have to put the right amount and the right combination of substances.
Are Pool Salt And Water Softener The Same?
Technically, no, they are not.
Although, pool salt and water softener salt have similarities. They have the same grade and work in the same way when treating your pool.
These two types of salt purify your pool water via the production of small amounts of chlorine over time.
Differences between water softener salt and pool salt
Here are some of the dissimilarities between pool salt and water softener salt.
The quality and contents of water softener salt vary. Some will have more additives than others. These additives can cause stains and discoloration on pool walls and floors.
Unlike pool salt, there are many grades level of water softener salts. For best effect, you might want to try one with the highest purity. That is 99% salt and 1% chloride.
Water softener salt takes longer to dissolve. It is because it usually comes in coarse pellets.
Meanwhile, pool salt is more efficient because it has a finer texture and, thus, dissolves faster.
What To Know Before Putting Water Softener Salt In A Pool
Here are some things you need to think about when treating your pool with water softener salt.
Using water softener salt removes minerals from the pool water and makes it safer and healthier.
Choosing the right type of water softener salt is vital. Check the label on the bag to see the purity level. You can also judge the salt by its appearance. If it looks like road salt or it has a pink, grey, or brown tinge, it is not good for your pool. These contain manganese and iron that cause stains. The best salt to use is white pellets or chips.
When using salt, small is the best way to go. It is okay to put salt incrementally. Test the pH level of the pool water every after an addition. This way, you will put just the right amount of salt to make your pool clean and fresh.
Softening your pool water with salt takes time. It takes longer than two days.
Pour the right amount of salt, depending on the size of your pool. Pool water should be softened, but only to a reasonable degree.
If the water softener salt is not dissolved and mixed properly with the pool water, it settles at the bottom for some time. It can destroy the pool's plaster. To avoid this, brush the pool floor after adding salt to help dissolve the salt. Or better yet, dissolve the salt in a bucket of water before adding it to the pool.
The amount of salt depends on the amount of water and the level of hardness of your pool water. Do not overdo the salting. The only way to fix an oversalted pool is to drain some of the water and refill it. It can be expensive.
Salt can cause a buildup in the chlorine generator. You can remove the scales and clean the cells using a mild solution of muriatic acid.
Water softener salt can damage the surrounding concrete deck. Concrete contains calcium hydroxide, and salt contains calcium chloride. If these two substances interact with each other, they produce calcium oxychloride or CAOXY. CAOXY crystals can expand. If this happens, the concrete can crack and crumble. It can be fixed by putting sealant in concrete and rocks.
Salt can harm your plants. Splashing and overflow can cause the salt to flow into the soil and destroy your plants.
Keep a log to note the substances and the amount you put in your pool. It can help keep track of the chemistry of your pool water. And if you mess up, it can make the job of pool services easier.
If you are considering softening your pool, the first thing you should do is know the hardness level of the pool water. There are several ways you can do this. One is using do-it-yourself kits like the dish soap kit and the color strip kit.
Dish soap method – The dish soap method involves taking a sample of your pool water and placing it in a glass bottle.
Small amounts (drops) of dishwashing soap are added gradually. After every drop of dish soap, the bottle is shaken and observed for suds.
The hardness level is determined based on the number of drops needed to form suds.
Strip method – The strip method uses strips of paper with color patches.
The strips and dipped into the pool water. The color patches will change depending on the mineral contents of the water.
The strip is then compared to the color chart to determine the level of hardness.
Another way to determine the hardness level of your pool water is to take a sample and have it tested in a lab. This method yields a more detailed result. It can give you a list of the minerals and substances present, including their amount in proportion to the volume.
Types Of Softener Salts For Pools
There are four types of water softener salt. Let's discuss each of them and see what would work best for your pool.
You can get around it by dissolving the salt in a bucket of water before mixing it into your pool water.
Rock salt – Producing rock salt takes more effort. It involves mining salt deposits that formed underground.
But this type of salt is less processed. It is naturally formed over hundreds of years. Rock salt is drilled, crushed, and made into pellets.
Rock salt is cheaper than other types of salt. Although, it contains impurities, including calcium sulfate and shale.
It is less soluble, and the shale particles can lead to buildup in your pool. It can also clog your drainage and destroy your salt cell or generator.
Rock salt is not recommended for pools. Even though it is cheaper, the maintenance and cleaning will cost more.
Solar salt – Solar salt is made by evaporating salt water using solar power. The process is more eco-friendly and produces a minimal carbon footprint.
Seawater is put on evaporating pools and exposed to the sun and wind. The resulting product is crystallized salt.
Solar salt can are commercially available in crystal form and pellet form.
Although it can be effective in treating pool water, it has a lesser purity level than evaporated salt.
The downside to using solar salt is the low solubility level. If the salary salt is not dissolved properly in the pool, it can cause salt buildups in the bottom of the pool.
Block salt – It comes and large blocks. Block salt is a special type of salt made for water softeners. It is 100% soluble and very pure.
Because of its purity level, it should only be used for very hard water.
Evaporated salt – Evaporated salt is the purest type of salt. It has the highest grade level.
It is made and collected using steam. Saltwater is evaporated using steam. The process yields crystallized salt.
These are cleaned, washed, and dried. All or most impurities are removed.
Finally, they are formed into pellets.
Evaporated salt is more expensive than the other types of salt. But if you consider the benefits, it is more cost-effective.
Because it has fewer impurities, it is more soluble and more effective.
It can be used in generous amounts if your pool water has a high level of hardness. Otherwise, evaporated salt should be used in moderate amounts.
Pools naturally use salt. But if you are improvising with salt water, you might want to know how it would affect your pool water.
Adavantages Of Using Water Softener Salt
Here are some of the reasons to use water softener salt in your pool.
Using salt to purify the water repeatedly is eco-friendly. It saves you from replacing the water. Properly maintained pool water can last for several at least five years.
Water softener salt is cheap.
Water softener salt purifies the pool water from potentially harmful minerals like calcium and magnesium. Minerals and particles in the water can cause skin problems like clogged pores and eczema. Softening the water makes it healthier to swim in.
Disadvantages Of Using Water Softener Salt
Despite the many benefits of water softener salt, using it can also cause problems in your pool.
If you used impure water softener salt, it can lead to calcification of the salt cells or salt generators. The cells are responsible for producing chlorine that cleans the water. The additional minerals from the water softener salt can build up in the cell electrode. It prevents from regulating chlorine and recognizing the right amount of salt in your pool. The buildup can potentially cause permanent damage, and you will have to replace your salt cell.
Water-softer salt dissolves at a slower rate than pool salt. It can lead to salt and mineral buildup, which can appear as scales in the walls and floor of your pool.
The mineral components of water softener salt can also cause stains and discoloration. It is very unappealing to a swimmer. It makes the water look dirty.
Water softener salt can make your pool water hazy. is because of the impurities of the salt.
Salt does not increase or decrease the ph level of your pool water. But unlike pool salt, water-softer salt contains added substances. These substances can cause changes in ph levels. Although, you can use other substances to balance it if this happens. Some use small amounts of muriatic acid to bring down the ph level. Ideally, your pool water should be between 7.4 to 7.6 ph levels.
Parting Words
Water softener salt can be used as a cheaper alternative to pool salt. It does the same to your water. It purifies it from harmful minerals and keeps it clean and hygienic.
But using water softener salt also has its downsides. To prevent these, you need to use the right type and right amount of water softener salt.
If you are in doubt, you can always call a professional to help you with your pool maintenance.