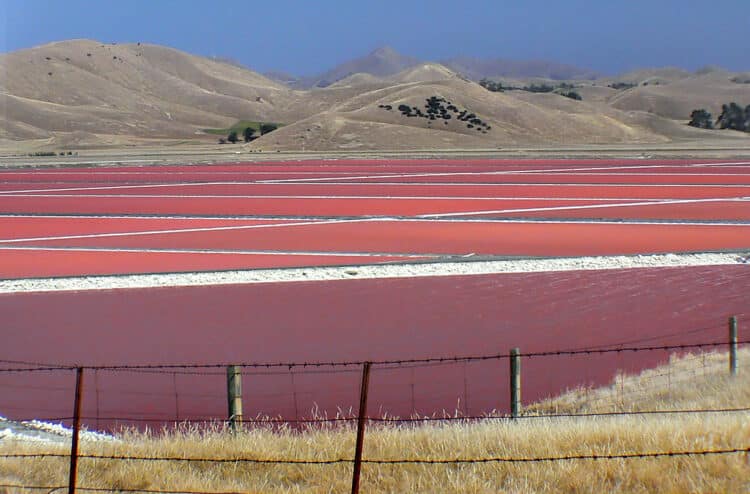 What is a solar salt water softener? If you have a water softener system installed at home, you probably know that it uses different types of salt.
Solar salt is one example of salt that is used to clean a water softener. From the word solar, you might already have an idea of how it is made.
Let us see if you are right. Let us learn about what solar salt softener is, and how it is used.
What Is Solar Salt?
Solar salt is made mainly using solar energy. It comes from seawater that is evaporated under the sun.
Solar salt is a small white opaque crystal.
How Solar Salt Is Made?
The process of making solar salt takes advantage of natural evaporation and precipitation. It is the earliest and most eco-friendly method of making salt.
First, salt water is gathered from natural bodies of water like lakes, oceans, rivers, and underground water. These waters are directed to a series of shallow interconnected ponds.
The water slowly evaporates as it moves through the ponds because of exposure to the sun and the wind. When the water evaporates, sodium and chloride are left. These bond together to form a salt.
The water that reaches the final pond is very concentrated. The salt in the brine (salt and water solution) then crystalizes.
The salt crystals are then cleaned, washed, and dried to remove impurities. They are stored in a stack while waiting to be examined.
Magnets and metal detectors are also used to remove the unwanted mineral from the salt.
The crystals are crushed to various levels of fineness. Food grade solar salt will be finer in texture, while water softener solar salt will be coarser or pressed in blocks.
Salt contains 60% of chloride and 40% of sodium. The salt purity will depend on the amount on the concentration of sodium chloride.
Food grade salt has a higher concentration which is 97% and higher.
How Does Salt Help To Soften Water?
When you think about the water softening process, it can be a little confusing.
If you put salt in the tank, does that mean that you are using saltwater? But the water that comes out of the faucet isn't salty. How is that possible?
Dont worry. There is a simple explanation.
Salt is composed of two elements, namely sodium (Na) and chloride (Cl).
Essentially, your water softener does not add salt to your water. It breaks the bond between sodium and chloride and only uses sodium.
But why only sodium? To answer that, we need to understand how a water softener works.
A water softener is used primarily to remove minerals like magnesium and calcium in hard water.
The system uses a process called ion exchange.
A water softener has a resin bed consisting of resin beads. These beads are negatively charged sodium.
The minerals in the water are positively charged. Because they are opposites, the positive charge minerals get stuck to the resin beads. It purifies the water.
When the resin is filled up with minerals, it needs to regenerate. It is where the salt comes into play.
Salt is added to the brine tank, where it mixes with water. The sodium, which has a positive charge, separates from the chloride and bonds with the resin (negatively charged).
Once the brine flows through the resin, the minerals in the resin separate. The minerals are flushed out of the tank.
That leaves the resin with positively charged sodium ions on it. If you run the hard water, another ion exchange happens. But this time, it is the sodium ions that get separated and mix with your water.
So, no, a water softener does not make your water salty. It only adds sodium ions.
Now you dont have to worry about the sodium content. It is completely safe to drink the water as long as the sodium levels are normal.
Our bodies naturally need sodium for functioning. It helps the nerve and muscles to work better.
But sodium does have risks to some people, even in small amounts. If you have any of these, you may want to rethink installing a water softener system:
Cardiovascular disease
High blood pressure
Low sodium diet
Kidney and gallbladder disease
Reasons To Use Solar Salt As A Water Softener
There are three reasons why you should use solar salt in your water softeners.
Solar salt has a high purity level. The most commercially available solar salt for a water softener is 99.6% pure. It means that solar salt dissolves faster and has almost zero impurities. It makes them more efficient.
Unlike rock salt, solar salt has no shale particles that can clog up the water softener system.
Also, solar salt undergoes a process of mineral separation, which involves the use of magnets. It makes it free from any metal, which can be harmful to humans if mixed with drinking and cooking water.
Additionally, solar salt is a cheap alternative. Although evaporated salt is the highest grade of salt and is most efficient, it is expensive. Solar salt can do the work satisfactorily at a lower cost.
Other Types Of Salt
Rock salt – Rock salt comes from salt mines. It is formed naturally over hundreds of years.
It is harvested using drillers and large machines.
The salt may not necessarily be a large chunk of rock. It can appear as veins much like coal.
Most of the process happens inside the salt mine.
When the salt is hoisted out of the mine, it is examined and separated. The packaging will depend on the texture and sizes of the crystals.
Rock salt contains shale and other rock particles. These can cause problems to your water softener system.
The particles can clog the particles filter brine tack, resin bed, and even the supply pipes. It can ruin the whole system.
Evaporated salt – Evaporated salt is the purest form of salt. Like solar salt, it is made using evaporation.
But unlike solar salt, evaporated salt goes through a process that involves steam to separate the salt from the water.
The evaporation method starts by drilling wells into the ground. The depth can reach a hundred to a thousand feet until it has access to the salt bed.
Water is then released down one well. It flows through the salt bed, dissolving water in its way. And it exits the other well as brine.
The brine exits the other well and is stored in large tanks.
It is then poured into huge vacuum pans. The pans are connected.
The first pan is heated by introducing steam inside it. Once it boils, the steam goes to the next pan, and the process starts again. It increases energy efficiency.
The resulting salt is very pure. It can be used in water softener systems.
It is very efficient and will not cause salt and mineral buildup in your system.
But this type of salt can be expensive.
Things To Know Before Using Solar Salt
Here are some of the things you should think about when using solar salt in softening your water.
Resin beds should be regenerated or recharged regularly. It is advisable to do it at least every three days. It keeps the resin bead healthy and active.
Solar salt is a high-grade salt. It has fewer impurities that can damage your water softener.
Put the right amount of solar salt for each regeneration. The brine tank should be filled with one-quarter of salt.
Although solar salt is pure, there is still a possibility of buildup in the system over time. Do a regular check of your tanks and pipes to avoid any clogging.
The purity of solar salt can range from 96 to 99 and above. You can check the label if you want to ensure the quality of the salt you are using.
If you are using salt blocks, make sure that it is submerged in water. It will make sure that the salt block will dissolve faster. Otherwise, the regeneration will take more time.
Conclusion
Solar salt is made using exposure to sun and wind. These natural forces separate the water from the salt.
The process of making it so natural and eco-friendly.
Solar salt is used in water softener systems. It will work perfectly with fewer risks of causing buildups and other problems because it is high-grade salt.