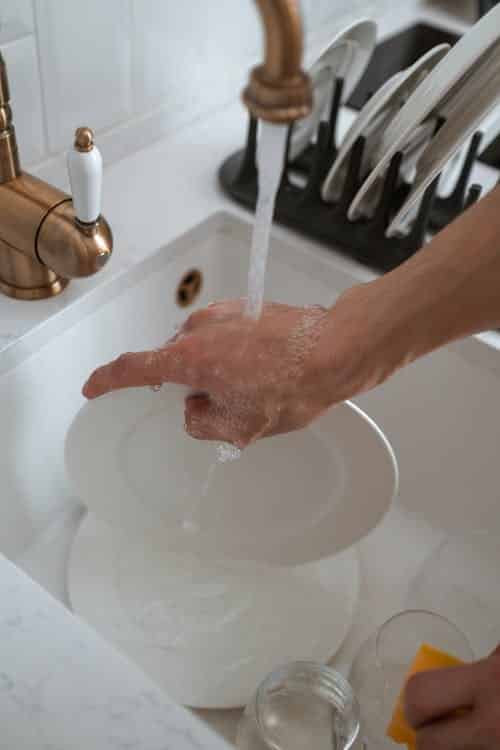 Do electronic water descalers work in making mineral-filled tap drinkable? That is a question that homeowners need to think about if they are earnest in maintaining their water source's potability.
If you live in an area where the water coursing through your household pipework has components that make it "hard," you will need to do something about it to make it lose its hardness and be suitable to drink.
You might think that you would not need a water descaler and do not matter to the general health and safety of the people living in your home.
Yet, you may be wrong in this assumption because, in truth, water descalers do matter and are relevant to the issue of water purification.
Nonetheless, the question: do electronic descalers work, does not have a simple yes or no answer. Descalers do work, but not to the full extent as you may have surmised, but are certainly still necessary to your household.
Do electronic descalers work against hard water?
You may be one of those people who, by unfortunate chance, live in a home whose main water source is regarded as hard water, which is detrimental to everyone that uses it.
Hard water is a type that is jampacked with minerals and especially damaging to the plumbing. It also leaves mineral deposits on the surfaces it contacts with (like tableware), which you might end up consuming by mistake.
Hard water becomes that way by picking up different mineral particles like magnesium and calcium on their way from the chief water source towards your home. The accumulated minerals then make your tap water hard and difficult to get rid of.
The mineral residue will creep its way in and wreaks havoc on your faucets, showerheads, and pipelines. Your dishwasher, washing machine, and any household appliance that comes into contact with hard water will lose their effectiveness and will slowly be damaged by it.
You will know if your tap is hard if you won't get much lather from soaps and laundry detergents. It is because the minerals in the water will intervene with the substances in the soapy products and suppress lathering.
Soap mixed with hard water will stiffen your clothes, leaving a grimy material on your skin, hair, and tableware.
To make hard water capable of being put to use in your home, you will need a water descaler, which works to a certain degree.
How does an electronic water descaler work?
A water descaler functions by reducing the effect of hard water on the surfaces that it comes into contact with. It has coils that envelop around the water intake pipe that is where water comes to a typical household.
Descalers are easy to set up and do not require any connections or cuttings from any component of the pipelines that courses through your home. Simply wrap the coils on the pipe and plug them in an electrical socket.
Once turned on, the electronic descaler generates an electrical current akin to a magnetic field that charges the mineral particles via the surface of the pipe. The charge keeps them in place and hinders their capacity to adhere to themselves on any surface. Of which includes within the pipework or any water-based appliances.
Yet, the water descaling process does not soften the water and only disables its ability to become harmful residue within the pipework. The minerals are still present and still make the water hard.
How can you tell if the electronic water descaler is functioning as it should be?
How would you know if the electronic water descaler you have purchased is working?
It might be a bit difficult to find out if the water descaler is working or not, since it does not soften the water. It will lessen the impact on your household pipework, but the trace minerals are still there.
The best way to tell is after washing the dishes on the dishwasher. If you live in an area with prevalent hard water, the white spots that you often see on your plates will lessen.
To make it clearer, here are the things that electronic water descalers cannot do:
It does not get rid of iron in the water
If iron is present, it will cause a hindrance to the electromagnetic activity of the water descaler and renders ineffective
Your household fixtures that an existing scale will not lose it
After it has been operating for a while, the ppm or parts per million of the hard water will stay the same
As mentioned, water descalers do not remove minerals, especially iron. The way to get rid of iron in the water is through a reverse osmosis process or an iron filter.
Which is better: a water softener or a water descaler?
As mentioned, a typical water descaler only has a specific function and can affect the pipework. Mineral particles are still there that makes the water hard.
If you want to make the water soft and therefore drinkable, you will need a water softener, which removes trace minerals and turns hard water into soft water.
A water softener works by utilizing polystyrene beads charged with sodium chloride that takes hold of the mineral particles.
As the water, along with the trace minerals courses through the beads and entrapping the particles, sodium chloride ions takes their place and continues with the flow.
The content of sodium chloride is not significant and does not harm the water.
Since the water is now soft, your clothes will not become stiff after washing, and soap and detergent products can now produce bubbles. Your appliances will not be bogged down by the minerals and can function to their full extent.
However, a water softening system is costlier than a water descaler unit. The price of a typical descaler ranges from two hundred to three hundred dollars, which you might regard as an investment.
The price of a water softener ranges from eight hundred dollars to three thousand dollars. And you cannot install it on your own and need to hire a professional water softener specialist to do it.
Installing a water softener has additional complications. It is not only difficult to install, and you need to add new pipes with valves to your current pipework. It is because the water has to be directed to the softening device then goes back to your household.
To get the best outcome in your home (and if you can afford it), is to install both water softer and descaler units in your pipework. They will provide the best benefits to your water, thus making it more drinkable and useful.
Does a water descaler descale the pipework in your home?
No, the electronic water descaler process does not descale the plumbing. It only entails charging the water and slowly dissolving the mineral residue in the interior surface of the pipework.
For proper pipe descaling to be done to your pipework, bring in a local plumber to do the job.
How can you descale your pipes overnight?
If you do not have an electronic water descaler, it can be done manually and overnight. A professional plumber should do this, but there is a DIY procedure that you can also do.
As mentioned, the purpose of pipe descaling is to get rid of mineral residue within the pipework that hinders the flow of water. You will need a water heater and two gallons of vinegar for the procedure.
Turn off the water heater- If you have an electric water heater, make sure it is switched off. If you have a gas-powered one, switch it to pilot mode and turn off the valves on the tank.
Fasten a hose to the valve found below the water heater- You have to drain a portion of the water heater to pour in some vinegar. You will have to switch on the hot water faucets to reduce the vacuum created when tank draining begins.
Drain portions of the tank- You will have to pour in two gallons of vinegar, so you will have to take out about two gallons of water from the tank.
Slowly put in the two gallons of vinegar in the tank- For you to do this, you have to open one of the openings into the tank.
Switch back on the water heater and hot water valves- This action enables the vinegar and water mixture will course through the entire household pipework.
Open all the hot water faucets in your home and wait until you smell vinegar- After the odor or vinegar is apparent, leave it alone overnight for about six hours. During this period, the vinegar will proceed to remove all the mineral residue in the pipework and underneath the water heater.
Flush out all the water until the odor of vinegar has disappeared- Do this after hitting the six-hour mark.
After finishing the procedure, the mineral residue has hopefully been removed, and the interior pipework is cleansed. If the water flow has not changed, you can do the process a few times more to get off the stubborn residue remaining.
If it still would not work, then it is time to call a professional plumber to do the pipe descaling process for you.
Are there other pipe descaling procedures that you can do?
Besides electronic water descalers and the DIY pipe descaling process mentioned above, two other methods can be done. And your plumber will be the one doing this.
The plumber will first inspect your pipework and recommend the most appropriate pipe descaling method:
Hydro-jet descaling – This technique is done to pipelines that are excessively clogged. A pressurized jet stream of water, with a force of three thousand five hundred pounds per square inch, will be blasted through the pipes to remove the mineral obstruction.
Chemical descaling – This method is not as forceful as the one mentioned above and is often utilized if the pipework is generally clear of other types of blockage. It is done by flushing an acidic liquid to break up the calcium, magnesium, rust, and other minerals from the interior pipes.
Why do you always have to descale your pipes?
Current descaling techniques like the ones mentioned above (including electronic water descalers) are non-invasive. Compared to older methods where parts of a home will have to be destroyed to descale the pipes.
When homeowners often descale their household plumbing system, it will improve the flow and drainage of water and thus increasing its lifespan.
DIY methods to remove stains caused by hard water
After descaling the pipes with new methods like using an electronic water descaler, hydro-jet, or chemical descaling. The stains coming from hard water are still present on the surface it comes into contact with, which you still need to remove.
Surfaces and fixtures like sinks, bathroom floors, or faucets are some of the areas that hard water frequently interacts, leaving disgusting stains that are difficult to remove.
Here are a few effective ways to get rid of those despicable stains, and all of them are common household items:
Vinegar – It has been used in one abovementioned methods of pipe descaling and will also work to remove stains. Put in a sufficient amount in a spray bottle and spray it on any stained spot.
Give it about fifteen minutes to let the vinegar do its magic, then brush it off with an old toothbrush.
Cream of Tartar and hydrogen peroxide – Hydrogen peroxide can work on its own to remove stains. But to get a cleaner result, make a paste out of cream of tartar and apply it on the same area as the one previously applied using hydrogen peroxide.
Wait for thirty minutes, then wipe it off with a slightly wet sponge.
Fluoride toothpaste – It is known to whiten teeth but can also get rid of stains, and along with an old toothbrush, you can brush the stain away.
Baking soda – Make a paste from the baking soda and apply it to the stained area. Wait for a few minutes, then use an old toothbrush to scrub the stain away.
Conclusion
Do electric water descalers work in removing unwanted mineral deposits in your household pipes? Yes, they can, but do not assume that the water is already free of minerals and other contaminants.
To make your household tap water soft and free of pollutants, you still need to adopt other water purification methods, aside from using an electronic water descaler. This way, you and your family will have safe water to use without any worries.