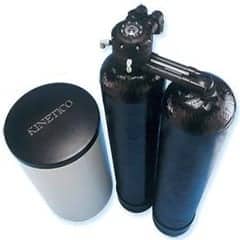 Someone may suggest that picking a water softener is easy. It's a simple matter of walking into a home improvement store and buying the one you want. You might think the fanciest and priciest one is the best. The customer service representatives at the said store may be able to offer advice. But the truth is, choosing a water softener is not as easy as that. There are many factors to consider. Having information on how to choose a water softener is the only way to get one that is worth the money you spend on it.
In this article are the guidelines that will help you make the right choice.
What To Know Before Buying A Water Softener
Water softeners have different softening capabilities. If you buy one that is not big enough, you will be disappointed with how it works. Hard water might escape into your water supply. The system might also tap out before time. But buying one that is too big is a waste of both resources and money.
So, here are the things you need to know about how to pick a water softener.
How Hard Is Your Water?
The first thing you want to know when getting a water softener is whether you even need one. Why do I say that? Because not every home has hard water issues.
85% of most households in America have water hardness problems. But, you could be a part of the lucky 15% who doesn't have to deal with this issue.
If you do not have to deal with water hardness problems, there is no need to spend money on a water softener.
To know if your water supply is hard, you need to test your water. There are a few ways to do that.
One of the fastest ways to learn if you have water hardness problems is to wash your hands with soap. Let the water dry on your hands. If your skin looks dry, cracked, has a white film, or is squeaky, then you have hard water problems.
Another quick way to identify hard water is by washing a clear glass bottle, cup, or dish with soap. Leave the glass to air dry. Once it dries, check to see if you notice any spots or film on the surface. If you do, those spots are a sure sign that you are dealing with hard water.
The more visible the film and spots are on your hands or the glass, the harder your water is.
You can also take a look at your sink or bathroom for soap scum buildup. Scaling is a direct result of hard water.
But, these tests cannot tell you how hard your water is. Knowing the exact level of hardness of your water is essential to choosing a water softener.
The hardness level of your water lets you know the type and size of water softener you need to get.
Below are the ways to get exact readings of the hardness of your water supply.
Water Quality Where You Live
If your home is in America, the EPA regulates the standards for household water where you live. Once a year, you should get a confidence report from the EPA about the water supplied by your water supplier.
That report also has information about your water hardness levels. You may get that information:
in the mail
online
through email
in a text
via an app
Look out for your yearly report and read through it to find out the water hardness level in your area. If you are not sure you received one, contact the EPA or your water supplier to get that information.
Water Hardness Measuring Test Kits
Another reliable way to test for water hardness is using a water hardness measuring kit. There are free options available if you do not want to spend any money. If you don't mind spending the cash, there are low-cost tests as well.
These tests come with instructions on how to use them. They also have a color coding and numbering system to let you know how hard your water is.
In the U.S, water hardness is based on either how many grains are in every gallon (gpg) or milligrams in every liter (mg/L).
These are the measurements.
0 to 2 GPG which is equal to 0 to 16 mg/L
3 to 5 GPG which is equal to 16.1 to 60 mg/L
6 to 8 GPG which is equal to 61 to 120 mg/L
9 to 11 GPG or 121 to 180 mg/L
12-13 GPG which is equal to 181 to 240 mg/L
Water that is extremely hard
Higher than 14 GPG which is the same as 241 mg/L or higher
By knowing the water hardness in your area, you can choose a softener with the capabilities you need.
Now that you know the level of water hardness, it is time to pick a water softener.
Household Water Usage
Besides knowing if your water is hard, you need to know how much pipe-borne water your family uses daily. Why? Water softeners come with different grain removal capabilities. You may hear the term grain capacity.
Grain capacity refers to how many grains a softener is able to remove from the amount of water you use each day.
How do you calculate that?
Multiply the number of people in your home by the gallons of water each one uses daily. The average is 75-80 gallons of water for each person. Then use the number you get and multiply that by the hardness of your water.
This information is necessary to know what size system you need to buy. The more people there are in your home, the larger the system you need.
For a household of three, a small to mid-sized water softening device is ideal. For homes with four or more people, a mid-sized to large water softening device will do.
Flow-rate Of Water To Your Home
The water flow rate in your home is also essential to know what capacity softener you need to get. To find out your water flow rate, you can buy a meter. Or you can perform a simple home test.
Put a single-gallon bucket beneath an outside tap. Open the pipe and record how much time passes for the bucket to full. Divide the results you get by 60.
So, let's say your bucket took 15 seconds to reach capacity. Your water flow rate is 4 gallons in a minute.
Water softeners come in capacity ranges of gallons in a minute. It may also be called water flow rate in a minute. A bigger tank means a higher water flow rate capacity.
Water Softener Types
Water softeners come in different types. These types also have different sizing, water softening capacity, and water softening methods. To help you make a decision on a water softening device, we discuss these variants below.
Ion Exchange Salt-based Systems
These are traditional water softening machines. They are also proven and reliable systems.
Ion exchange salt-based systems work using either sodium or potassium to soften water. They come with two tanks.
The first is the media tank.
The media tank has a lot of very tiny beads called resin beads. The water coming to your home flows through them before reaching the pipes. Any calcium and magnesium deposits in your water get stuck to those beads. So the water coming to your faucets are free of the minerals that make water hard.
After a while of treating your water, these resin beads will have too many minerals stuck to them. They can no longer soften your water. That's where the second tank comes in.
The second tank is called a brine tank. Inside the brine tank are water and either sodium salt or potassium salt. Either the sodium or the potassium mixes with the water. Together, the two make a brine solution.
The brine solution passes through a pipe into the media tank. It washes over these resin beads. When that happens, the magnesium deposits and calcium deposits unstick. They stay in the brine solution. That mixture of brine and minerals gets flushed into the drain.
If you are on a salt diet, consult your doctor before buying a sodium-based water softener. Do not let this frighten you. It is just a matter of being careful. A small amount of salt or potassium may seep into your water supply.
Pros Of Ion Exchange Salt-based Systems
reliable water softeners
Good for plumbing systems
They prevent the buildup of scale in pipes that cause clogs and corrosion.
Healthy hair and skin
Reduced spotting on glassware
Less dingy looking clothes
Water heater works more efficiently
An efficient water heater will help to reduce your energy use and lower your energy costs.
Better for appliances that work with water.
These appliances include washing machines, dishwashers, coffee machines).
Cons of Ion Exchange Salt-based Water Softener
No water softening happens during the bead cleansing process.
During that time, your home will not have soft water. But washing the media tank occurs at odd hours (most times at two in the morning.) By then, most households are asleep and not using pipe-borne water.
Large salt deposits into the supply of wastewater
These salt deposits may seep into the ground and groundwater over time. With potassium softeners, this is okay. Potassium is good for plants. But with a sodium softener, the salt is toxic to the soil and some aquatic animals.
Extra costs to refill the brine tank
Slippery feel to the water in your pipe
Increased sodium or potassium intake
Small amounts of salt or potassium may seep into your water supply. These amounts are not enough to taste. But, remember to consult a doctor before buying these water softeners if they pose a health risk.
Dual Tank Ion Exchange Water Softening System
Dual tank softener systems are also salt-based. The difference is that they have two media tanks. With two tanks, these softeners run day in and day out to treat your water. While one tank goes through the cleaning process, the other continues to treat your water. So you will never be without treated water.
This feature is the only thing that sets a dual tank softener from a regular ion exchange system.
Point-of-Entry Water Softeners
These water softeners treat all the water coming to your home. So all pipes outside and inside your house are treated.
Portable Water Softeners
Portable units are small. These systems have only one tank, and because of their size, they cannot treat a lot of water. So, although they are cheaper, they are only suitable for a small household.
Now, if you do not wish to use a salt-based softening system, there are other options available to you.
Salt-Free Softeners
I would not say that Salt-free softener devices soften your water. Why not? Because they do not remove the minerals that cause hardness in water.
What do salt-free softeners do? They condition water using conditioners. Through conditioning, the minerals will not stick to your pipes and other surfaces.
They help prevent scale buildup and keeps deposits out of your appliances.
Pros of Salt-Free Softeners
Very little maintenance needed
Adds no salt in your water if you have sodium-related health concerns.
No wastewater produced
Cons of Salt-Free Softeners
Might not reduce the spotting or staining effect of hard water
Some salt-free conditioners need softening agents to help them do the job. They come at an extra cost.
Magnetic Descalers
Magnetic descalers are not water softeners. They fit around your main water pipeline and create a magnetic field. So your pipes repel the minerals that cause water hardness. What this does is stop scaling in your pipes. It does not remove the minerals that cause hardness in your water.
Calcium and magnesium are a healthy part of our diet. So, if you do not mind these minerals in your water, then a descaler will work for you.
These devices do not need maintenance.
What Else Should I Know Before Buying My Water Softener?
Cost
You may want the best water softener on the market. Depending on your budget, the price may play a deciding role.
Water softeners range from $300 to $3500. And that does not include the cost to refill the brine tank. It also does not include the extra cost of water you use to clean the media tank.
Cost depends on:
removal of other contaminants in water
Added features
Added features may be touch screens, flow valve ability, salt gauge, and water flow gauge.
Conditioners and descalers are cheaper.
Conclusion
The things in your house that use water to work are costly. That's why you must do everything you can to make them last a long time. Buying a water softening device is one such way.
If you plan to spend money on a product, you should get the best value out of it. Most homes have water hardness issues. So, you're not alone. And it's a good thing to want to solve them.