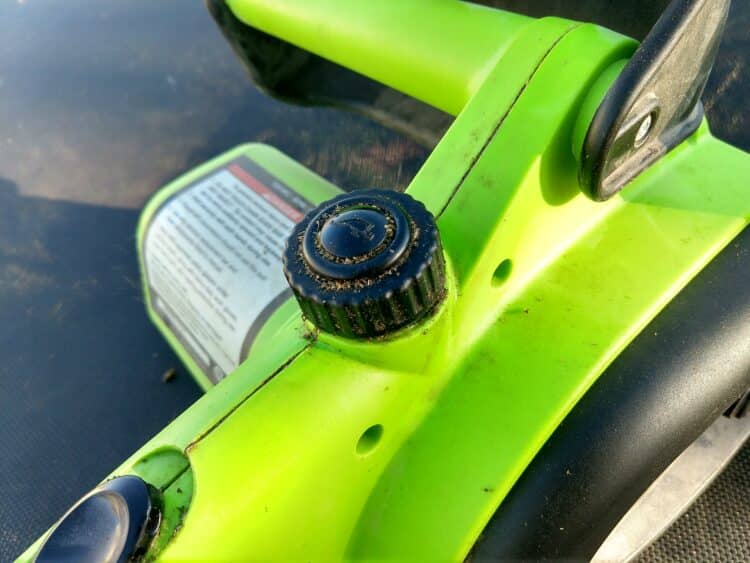 Routine maintenance is the key to extending your chainsaw's lifespan and keep it running smoothly, just as it did when you first got it.
One essential part of maintenance is the level of your bar and chain oil. And no, I'm not referring to the oil you mix with gas for gas model chainsaws.
Read on to find out more.
What you need to oil your chainsaw
Here is a list of items and tools you need to oil your chainsaw. if you cannot get the exact item, you can use its alternatives.
Paper towels or shop rags – to clean surfaces on the chainsaw and any spills and excess oil.
Funnel – unless you have remarkably steady hands, you will need the funnel while pouring the oil into the reservoir. That prevents spills.
Gloves – the last thing you want is filthy and grimy hands covered in oil. The gloves can help with that.
Bar and chain oil is the best kind of oil for chainsaws because of its perfect viscosity.
Read on to learn how to oil your chainsaw.
How do you oil an electric chainsaw
The first step in oiling an electric chainsaw is disconnecting the power source by unplugging the cord. You can then set your chainsaw on a level surface or a work table.
After that, you need to find the oil reservoirs of your chainsaw. That won't be difficult.
In most chainsaw models, the reservoirs are transparent. That means you can be able to see the level of your oil.
You can also find the reservoirs by the oil cap on the chainsaw's main body. If the cap is dirty or the surrounding area, you need to clean it.
You cannot risk any residue falling into the tank as you fill it with oil.
The residue can end up in the guide bar's grooves, and with every movement the chain makes, it can get into the links preventing the chain from lubricating.
That is why cleaning the surrounding area is vital.
The next step involves unscrewing the oil reservoir's cap and pour oil into it using a funnel. But not too much or overfilling.
Some models have a marked line that tells you when the tank is full to prevent you from overfilling it.
You can screw the cap and fasten it back on before wiping the reservoir with paper towels to remove excess oil and spillages.
When do you need to do an oil refill?
Chainsaws feed oil while running, and most tanks are large to hold more oil, matching a full gas tank.
However, it would be best if you always made it a point to check your oil level before and after use.
If you plan to spend a significant amount of time working, refill your tank before setting out. The last thing you want is running out of oil while working, subjecting your chains to high levels of friction.
Like I mentioned earlier, this can also damage your engine.
Why you need to oil the chain?
Oiling your chainsaw is a routine maintenance task that you should not ignore.
For starters, you need to lubricate the guide bar and chain to ensure that the chain moves swiftly with little to no friction.
Too much friction can cause the chain to get hot and wear out faster. Plus, that will make cutting harder than it would be if the chain is well lubricated.
It is best to check your chain and bar oil often and replace it as part of your maintenance routine.
Oiling the chain and bar will ensure that your chain does not bind and it does not overheat.
How to lubricate the bar nose sprockets
If you have a professional or a large-sized powerful chainsaw, then it probably has this particular bar.
The bar, mainly made for chainsaws that run for long periods and have remarkably long chains, features a series of sprockets at the rear.
These sprockets are what guide the chain as it moves around the groove.
To lubricate it, you will need to get a grease gun. With this, you can shoot a few skirts into the needle well.
How to know it is time to oil your chainsaw
Although you need to oil your chainsaw every so often as part of your routine maintenance, other times, you might have to oil it sooner rather than later.
The tell-tale signs of a malfunctioning chain should tell you the chain needs lubricating.
One of the signs includes a chain that is not cutting the way it should or turning correctly.
Plus, if your chainsaw is slower than usual, then it is time to take action. You may also catch the smell of heat coming from the chain.
Not lubricating your chain after these signs can cause the engine to overheat due to its effort against the friction. That can eventually damage it.
What kind of oil do you use for a chainsaw bar?
The right kind of oil to use should be bar and chain oil. You can see this written on the oil container.
You can also refer to your chainsaw's manufacturer's manual to see the type of chain oil that is acceptable.
In most instances, you will get a sample bottle of oil when you buy your chainsaw. You will also find a list of suggestions for oil to use.
However, you should not use regular motor oil. The bar and chain oil match the high friction from spinning the chain.
It has just the right viscosity.
What can I use instead of chainsaw oil?
Sometimes, you may be out of chain and bar oil, and you need something to lubricate the chain before setting to work. The best substitute you can go for is vegetable oil.
It is convenient because you can get it straight out of your kitchen, and it is also remarkably effective.
Still, please refrain from using it when working in extreme conditions (either too hot or too cold).
You can limit it only to use when the area you are working in has restrictions on using petroleum oil.
Can you use car oil in a chainsaw
Chainsaw oil alternatives are welcome. However, car oil is not the best substitute.
For starters, car oil has the wrong viscosity needed to lubricate the chain. Even so, you can use it in a pinch.
But ensure you pick a clean 30 weight motor oil that is free of debris and other substances to avoid it getting caught in the bar groove and making the chain create burrs.
Can I use chainsaw without oil?
No, using a chainsaw without oil will only damage the chain due to the excessive friction when the chain moves.
The chain will also heat up as well as the engine. You need oil to lubricate the chain for a swifter and ease of moving.
Without oil, your chainsaw's efficiency will reduce, starting with a sluggish performance followed by a less smooth cutting experience.
Can you use vegetable oil in my electric chainsaw
Vegetable oil is an adequate substitute for chainsaw oil; yes, you can use it. However, only use it in areas that experience standard conditions.
Can I use wd40 on my chainsaw?
Wd40 products are excellent for cleaning your chain. You can use it to lubricate the chain before you reinstall it on the bar.
How do self-oiling chainsaws work?
You've probably heard of self-lubricating chainsaws or even gotten the pleasure of using one. But how do they work precisely?
These chainsaws have a reservoir that feeds oil to the chainsaw's chain and guide bar while it runs. Oil pumps out through the crankshaft, which the engine is powering the chain runs.
It then moves through a small canal and into a tiny hole on the guide bar to the groove where you will find the chain.
The chain lubricates the groove on each spin and moves smoothly.
In case of debris or other substances falling into the groove, it mixes with the oil to form a semi-solid substance.
That increases the chain's friction, preventing a smooth operation.
Which is why you need to keep the oil and the groove clean. And remember to check it for refills every so often.
Conclusion
Oiling your chainsaw is an essential maintenance routine that you should not take lightly.
Neglecting oiling your chainsaw will make your chainsaw's lifespan reduce as the chain and engine will wear out quickly from overheating.
This process is short and straightforward. And it will take you less than 20 minutes to complete the task.
It would be best if you remembered the substitutes of bar and chainsaw oil that you can use and the ones that are out of the question.
All in all, enjoy sawing in confidence with your newly oiled chainsaw.