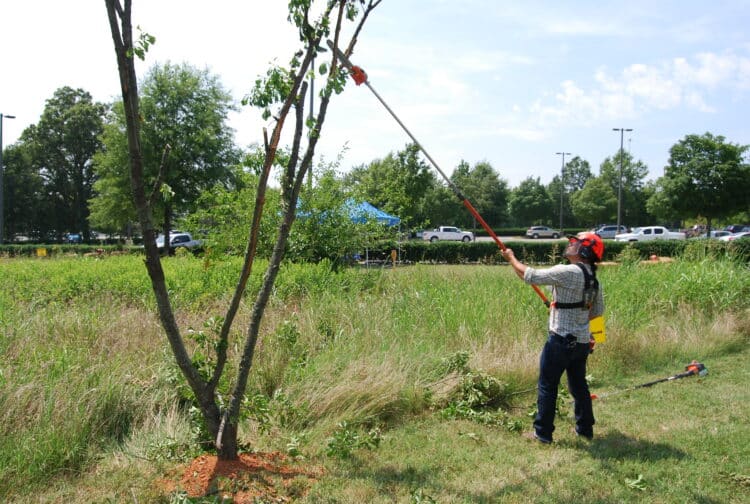 Pruning and trimming your trees are one of the best ways to keep your property looking its best. To keep your trees healthy and looking good, you have to regularly thin out thick limbs and get rid of broken branches.
When it comes to such tasks, the pole saw is the power tool for you. It is the combination of a chainsaw that is powerful enough to handle thick branches and cut down thin trees and a pole that allows you to work on high and hard-to-reach places or keep your distance while doing the task.
Types of pole saws
Cordless/Battery powered pole saws
This type of pole uses a rechargeable battery as its power source. A cordless pole saw can run for 30 minutes to an hour; this will depend on the model and the type of battery used.
Since they are powered by a battery, the cordless pole saw has the lowest power among the three types of pole saws. However, they are also the easiest to use among the three.
Cordless pole saws are easy to maintain as well. All you have to do is ensure that the chain is sharp and replace the battery from time to time.
It's a great and handy tool if you do occasional pruning on your yard. The bars usually come between 8 and 10 inches, enough to trim small and medium trees.
Corded electric pole saws
As the name implies, corded pole saws draw their power from an electrical outlet. The need to be near an outlet limits your range. You will be needing an extension cord if you need more mobility.
Among the three types of pole saws, the corded electric pole saw is the most lightweight. It does not have the added weight of battery packs or gas tanks. This makes them the most portable option among the three.
If you spend more time than the usual trimming your trees, you can benefit from a corded electric pole saw. Like the cordless pole saw, the bars usually come between 8 and 10 inches.
Gas pole saws
When you are doing serious landscaping or have to handle large and thick branches, you should get the gas pole saw. Among the three types, gas pole saws have the most power to handle heavy-duty work.
Gas pole saws also have longer bars that usually come in 10 to 12 inches. This makes them capable of handling thick wood.
The catch is that gas pole saws are louder and more expensive. However, you will be free to move around and handle bigger tasks with a gas pole saw.
Other factors to consider
Bar length
The cutting bar length is one of the things that you should dwell on when taking a pick. Think about what projects you plan to do with a pole saw. The general rule is that the bar length should be at least 2 inches longer than the diameter of the branch that you plan to cut.
Pole length
The length of the pole is also one of the things that you should consider. How high are the trees in your yard? Some pole saws can go as high as 20 feet, which is more than enough for you to reach the top of small trees.
Take note that the higher you go, the less control you will be having.
Material
You should pick a pole saw that has high-quality materials. Metal and aluminum are the top picks since they can resist corrosion and rust for a longer time. The saw itself should be durable.
Features
Modern pole saws have features that are not really necessary, but they make everything more convenient for you. Most models have features such as rear-mounted engines for better balance, non-slip grips, vibration reduction, locking pole segments, and automatic oiling systems.
Taking your pick
When it comes to picking out the best pole saw in the market, the answer will depend on the type of tasks you want it to handle and how much power is needed to accomplish it. The best pole will not be the same for everyone because they have their own unique needs.
Picking out a pole saw that seems tailored to your needs is one way to get the most out of your purchase.
A pole saw is a versatile power tool that you can use for different tasks. Owning one will definitely make your yard look beautiful and appealing.