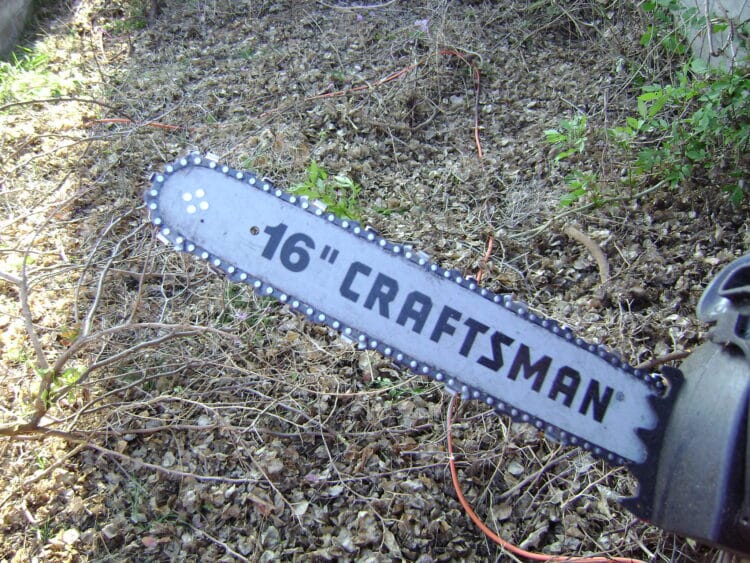 Before, chainsaws only used to have a blade, a chain, and a gas engine. Nowadays, chainsaws come in all sorts of shapes and sizes. There are so many types and features that it can be overwhelming for someone who is just looking to buy their first chainsaw.
Chainsaw types can have categories within categories. You could have a gas-powered chainsaw that has a different type of blade length and numerous kickback safety features that aren't found in other types of gas-powered chainsaws.
However, the best way to figure out what kind of chainsaw you want is by narrowing down the reason you want to buy a chainsaw. You need to determine exactly what you need from a chainsaw so that you can get one that suits you best.
There are at least 5 different types of chainsaws, and this article is going to differentiate each and every single one of them. Included in this article is other relevant information about chainsaws and its uses.
What are the uses of a chainsaw?
A chainsaw is a power tool that comes with so many uses. It can save you so much time and effort whenever you have a project that involves wood. The following are a few things you can do with your chainsaw:
1. Cutting down trees and branches
This is perhaps the most common and most obvious use of a chainsaw. Since they are typically easy to carry, you can bring them to the middle of the forest and start cutting down trees (as long as you have the permission to do so.
Cutting down trees requires a specific type of chainsaw that is long and strong enough to cut through all that bark. Branches can be cut off using a pole saw or a smaller chainsaw.
2. Creating lumber from logs
Once you've successfully felled a tree, you can use the wood from the tree trunk for construction, decor, or sculpting. You can build whatever you want out of the wood from a tree.
3. Chopping firewood
If you have your own chainsaw, you can just cut your own firewood if you still have a manual or wood fireplace. There's no need to pay extra for pre-cut firewood nor do you need to exert a lot of effort with an axe just to get firewood for your fireplace.
With a chainsaw, you can finish chopping firewood in less than a day.
4. Sculpting foliage
If your property has some foliage lying around, you could use a chainsaw to sculpt them however you want. You don't have to spend extra on a landscaper when you already have your own chainsaw (or pole saw) to do the work for you.
Throw away those shears and use a chainsaw.
5. Carving wood
It takes practice and a steady hand to be able to carve something beautiful from raw wood. Like ice sculpting, you can also try wood sculpting—but this time, you're going to be using a chainsaw to express your feelings.
What are the five different types of chainsaws?
1. Electric Chainsaws
Electric chainsaws need to be plugged into a power outlet to run so they may not be your top choice if you're planning to take it out for a spin in the middle of the woods. However, they are very light compared to the other chainsaw models and are cheaper than chainsaws that are gas-powered.
This type of chainsaw is by far easier to operate than the rest of the chainsaws and usually come with a button that you have to press in order to start. You don't have to do much maintenance if you choose this chainsaw, and if you have a small budget, an electric chainsaw is the way to go.
On top of that, the length of its bar and chain can start as short as 6 inches, and as long as 18 inches. The only downside to an electric chainsaw is that it needs to always be plugged in to run, so you can't use it in a place with no electricity. It's also tricky to fix them so more often than not, you will need a professional to help you repair a broken or damaged electric chainsaw.
And compared to a gas-powered chainsaw, they're not as fast in cutting wood. However, they are perfect for a beginner because of their easy-to-use controls and light weight.
2. Battery-operated Chainsaws
This type of chainsaw rose through the ranks and became one of the main competitors of the gas-powered chainsaw. They have similar qualities to the gas chainsaw but with the added benefit of not requiring fuel to power itself up.
Its disadvantage? It is also the most expensive. Battery-operated chainsaws run on lithium-ion batteries and those are not cheap. Luckily, this type of chainsaw saves you a lot of money in the long run since there's no need to buy fuel.
This type of chainsaw can be brought and used anywhere as long as it's fully charged and the length of its bar and chain can start as short as 6 inches to 18 inches. The estimated time usage and recharging will depend on the model you buy. It varies from 20 to 30 minutes to as long as 1 to 2 hours.
However, its cutting speed is still slower compared to a gas chainsaw, but it does have similar speeds to an electric chainsaw.
3. Gas-powered Chainsaws
Taking a break from the new chainsaw types and looking at the classic gas-powered chainsaw. These are known for their portability, cutting power, and the loud noise it makes when it's being used. Neither the electric nor battery powered chainsaw types can match the power of a gas-powered chainsaw.
But with great power comes great cons: It's heavier and requires more maintenance from the owner in order to help it last longer.
4. Pole Saws
Pole saws are basically chainsaws that are attached to a long pole. It allows you to reach places you otherwise wouldn't be able to safely reach with a regular chainsaw. It is not a valid replacement for a regular chainsaw and does have its limits.
Like a regular chainsaw, it comes with a few possible power sources: gas, battery, or through an electric main. Although there are manual pole saws available for use.
5. Manual Chainsaws
A manual chainsaw is a chainsaw that has a handle on each end. They are used with a sawing motion that moves the chain back and forth across the wood in order to cut it. Shorter versions can be used by just one person, while longer versions are meant to be used for two people.
Obviously, a manual chainsaw can be used without electricity or gas powering it. They won't be as effective as an automated chainsaw but are a good alternative when you can't get your hands on a chainsaw.
What is the difference between a Top Handle and a Rear Handle Chainsaw?
There are two main designs in a chainsaw: one with a top handle, and another with a rear handle. Each one has its own pros and cons, and have to be handled depending on the use they were intended for.
Top Handle Chainsaws
A top handle chainsaw is usually used by professional tree cutters—otherwise known as arborists. It is meant to easily access trees at tall heights because it allows the user more control because of the placement of the handles. Other than that, a top handle chainsaw can also be used for cutting wood while on the ground.
Top handle chainsaws are more compact than their alternative due to the position of the handles. Kickback is harder to control in a top handle chainsaw because of the position of your hands. These chainsaws should never be used to fell trees since that is not their intended purpose.
Rear Handle Chainsaws
Rear handle chainsaws can be used both by amateurs and professionals. It is the most common type of chainsaw design and can be used for to cut up firewood, logs, trim branches, fell trees, and anything else a chainsaw can be used for.
A rear handle chainsaw gives you more control in case of kickback because your grip can stay firm. And they are more famously known than their top handle counterparts.
Conclusion
Chainsaws have evolved to make our lives easier and the variety available ensures that we can get the chainsaw that suits our intended purpose. Whether it's felling trees or cutting up firewood, you can easily find the right chainsaw for the job. Even if you're on a budget, you don't have to worry because electric chainsaws are some of the cheapest out there and they still manage to get the job done.
The most important part of owning a chainsaw is keeping up to date with its maintenance so that it lasts longer. And of course, always make sure you're following the right safety protocol. A chainsaw is still a power tool and using it the wrong way can expose you and other people to danger.