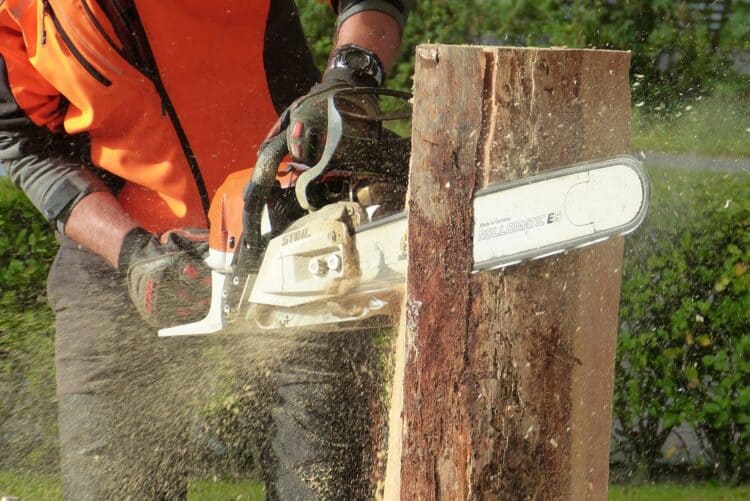 Wood carving is an art that has evolved throughout history. One of the ways sculptures sculpt wood today is with chainsaws. Developing this craft is no easy feat. A chainsaw is a powerful tool. Maneuvering it can sometimes prove difficult, especially for beginners. But, it is doable. And if you have an interest in this craft, you have to start somewhere. Why not start with us. Let us guide you through your chainsaw carving journey with our how to chainsaw carve article.
Wear Protective Gear
Accidents happen. Whether you are a professional in your field or a novice, sometimes, they just happen. For this reason, whenever you are handling tools, you should consider safety first.
A chainsaw is a handy piece of equipment. But using it can turn deadly if you are not careful. When learning how to chainsaw carve, you need to wear the appropriate protective gear. to avoid injury.
Here is a list of the protective gear you should always wear when operating a chainsaw.
Helmet
Goggles
Faceguard
If you do not have a faceguard, you can wear a mask. Using a faceguard, you will not inhale any pollutants or sawdust. These can cause respiratory issues.
Earmuffs
Heavy-duty rubber work gloves
Any old rubber glove will not do the job of protecting your fingers and hands while using a chainsaw.
Chainsaw chaps or kevlar pants
Steel-toed boots
Find A Suitable Chainsaw To Do The Job
Whether you plan to cut down a tree or carve a log into a piece of furniture, you need the right tools. It's the only way to get the job done the correct way. Chainsaw carving is no different. You may need an assortment of chain and blade sizes at different stages of the project to complete it.
For example, you may need a chainsaw with a larger pitch to cut the piece of log you plan to work with down to size. Then you may have to switch to a smaller blade to shape the piece of wood into the design you want to make.
As you progress, you may find yourself moving back and forth between chain sizes. You will need smaller chains to complete the finer details of your project.
Not only do chainsaws come in big and small sizes, but there are also different types. You can use an electric chainsaw to carve. You can also use a battery-operated chainsaw. Most professional carvers tend to lean toward gasoline-powered chainsaws.
Choosing a Suitable Chainsaw For Beginners
For persons learning about how to chainsaw carve, find a chainsaw that you are comfortable using. The ideal chainsaw for carving is one with which you can grow familiar easily and use it at ease. One of the things you can do to get accustomed to the feel of a chainsaw is to get to know your equipment. Read your manual. You can go as far as taking the chainsaw apart and putting it back together. Practice cutting through the wood until you are comfortable doing it.
It is a poor idea to have a chainsaw that is too much for you to handle. Your chainsaw should not be too big, too heavy, and, I dare say, too powerful.
Carving with a chainsaw means you will spend a lot of time holding it and moving it around at different angles. You will be using it a lot. If you have a chainsaw that is too heavy, you will exhaust your strength.
Getting tired while using a chainsaw has the potential to be dangerous. Even when you are wearing protective gear injury can occur.
Here are a few other things you can look for in a chainsaw.
Ensure your chainsaw has a comfortable grip. That way, you can concentrate on carving rather than the saw.
Consider chainsaws that have triangle-shaped guide bars. These chainsaws allow for more precise cutting of more difficult cuts.
Make sure your chain has the correct tension for carving and anti-kickback capabilities.
These are the qualities a beginner should look for in a chainsaw. But the most important of all is a sharp chainsaw with which you are comfortable.
Choose The Right Carving Wood
You have a chainsaw you can handle. Now it is time to find a good piece of wood with which you can work. There are a variety of wood species from which you can choose. You need to know the qualities that make each of these species special.
Each species has its own texture and characteristics. These features will influence how it reacts to your chainsaw and carving techniques.
Get to know the qualities of the different types of wood. Doing so will help you make a decision when learning how to chainsaw carve.
You can carve almost any wood on the planet. That means your options are just about limitless. You must find your wood from a wood dealer, regardless of the sort of wood you choose.
If you do not know much about the species, use wood from your lumber pile or garage. While you do, you can become familiar with the options available to you.
The design you want to create should influence the sort of wood you choose. So, choose accordingly. Here are a few of the most common choices:
Basswood
Walnut
Mahogany
Oak
Cottonwood
Butternut
The qualities of these species of wood are ideal for wood carving for persons just getting into the habit.
Teach Yourself To Carve Simple Shapes
Chainsaw carving is an interesting craft. But, there are simpler tools you can use to practice sculpting. If you are new to chainsaw carving, it will probably take a while to find your rhythm. Do not be disappointed if you do not take a shine to it right away.
Start with a piece of wood or log and cut it into pieces. Try to aim for equal sizes. Then move on to assorted sizes and angles. It should not take more than a couple of practices to become acquainted with this. Once you think you are ready for something more comfortable, move on to simple shapes. There is a very low chance that you will move on from slicing wood to 3D shapes. Instead, a welcome sign or a tree is a good place to start.
Once chainsaw control is second nature, begin challenging your sculpting mind. Choose more complicated subjects.
Move On To Small Carvings
You have better control of your chainsaw. It is time to move on to actual carving. Do not start with a large undertaking. Doing so might prove too much for you. You do not want to start with a log that is too small either. Maneuvering your chainsaw will also be difficult. Even a saw as small as 16 inches can create problems on a log as small as two feet.
Try to use a medium-sized log of three to four feet until you get comfortable working with that scale.
Give Your Work A Stable Anchor
You do not want your project tipping over or moving around while you are carving. Not only is this potentially dangerous. You can also ruin the work you did. For this reason, you need a steady base.
Place the log you plan to carve on a large sheet of plywood. Screw the log into place on the bottom center to give it a better foundation.
You can also try clamping your long to wood bench vise or use sandbags to keep it stable.
Larger, heavier pieces are less prone to move under the saw's pressure. Anchoring may not be necessary while you do the carving. Before working on a large chopped log, ensure the base is straight and level.
These Steps Will Teach You How To Chainsaw Carve
Every woodcarver has their approach and preferences when the time to work comes. Here are a few simple procedures that beginners can follow.
Find An Example Of The Design You Want To Create
Choose a design you want to create and lookup examples online or in magazines. You can print out a few pictures that you can look at during the project, so the idea is always fresh in your mind.
Make A Carving Plan
Design your carving plan drawn to scale. Be sure to keep the correct dimensions in mind. You can sketch your plan on graph paper to get the proper measurements. Try using one-foot markings on the carving's height. Run a line down the middle.
Make a scale model. To put out the carving plan, I like to sketch on graph paper. Give your scale drawings 1-foot markings on the carving's height. Put a centerline running through the middle. A grid makes copying to the wood easy later. It makes carving a lot easier if you design two outlines – a front perspective and a side perspective.
Use Spray Paint
It is always better to start your carving with an outline. Make grid marks onto the piece of wood you plan to carve. Also, include the basic outline of your design from a front perspective.
Begin Carving
Use your scale drawing as a reference and carve your front outline with the chainsaw. Repeat the step above to complete the side perspective.
Start The Blocking Out Process
You have the basic outline of your design ready to go. Now it is time for the block-out procedure. The block-out is where you begin to round off the corners and remove all the bulk you can get rid of with your chainsaw. Stop as often as you need to redraw your layout as you cut the outlines away.
Add The Details
A chainsaw can handle some features and textures. But finer details are often enhanced using other equipment. To carve out those details, try a small chainsaw bar for carving. Die grinders can also work as well as rotary equipment that has burr bits.
Smooth Out The Finished Work
At this stage, your carving is almost complete.
Sand the carving to make it smooth.
Use compressed air to clean up any debris left behind.
This next step is optional. You can enhance the finish by using paint, propane torch, or stain.
The last step is to seal your carving with water and a UV-resistant topcoat.
Tips and Tricks for Carving Wood with a Chainsaw
Get to know your chainsaw's maintenance requirements and basic operating principles. The manual that came with your chainsaw is your best friend. It is the best place to start getting to know your equipment.
Working with a chainsaw has the potential to be dangerous. Be sure you have the correct safety equipment.
Keep your chainsaw sharp all the time. Remember that a dull chainsaw is more harmful than one that is sharp. You can do the sharpening yourself. If you are not comfortable doing it yourself, some professionals can do it for you for a fee.
Make sure you have a range of saws on hand. To chop away broader chunks of wood, you will definitely need a bigger saw at first. Then, for detailing, switch to a smaller saw or a grinder.
Woodcarving books, in general, are quite helpful.
Beginners should start their carving journey using the wood species listed above.
Find the right size piece of wood with which you can practice. Do not use a log that is too big or too small.
For a carving bar with a quarter tip or dime carving bar, try using a carving chain with a quarter-inch pitch.
Finally, get a compact workbench dust collection tool. It can be an important aid when perfecting the finer details of your project.
These gadgets function by sucking hazardous airborne pollutants out of the air. They hold them in a filter, according to a Snoring source. This keeps microscopic particles out of your lungs. Inhaling these particles can cause dangerous respiratory problems.
Final Thoughts On How To Chainsaw Carve
Learning how to chainsaw carve is a difficult and time-consuming operation. Breaking down the project and removing tiny pieces over larger ones is the key to refining the work.
Chainsaw carving may appear almost frightening and even impossible at first. But, it is a skill that anybody can learn. All you need is the interest, a willingness to learn, and the time dedicated to practicing.
Always keep in mind that a chainsaw is a potentially incredibly dangerous tool. It must be handled with caution.
It is crucial to remember that every second you spend practicing carving, the better you will get. Even the world's best chainsaw carvers started out as novices. They improved with each practice over time.
Do not be discouraged if your first carving does not turn out the way you saw it in your mind. Just keep working.